Best Incense Sticks
In a Hurry? Editors choice: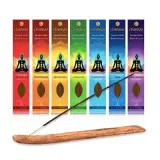 Test Winner: Chakras Incense

Burning incense is an enjoyable and relaxing experience. Choosing the right product can help you calm your mind from the stressors of the day. It can also help you become charged. The scent of burning incense can also help you fall asleep bring in the mood for a romantic affair and many more. However, there are different varieties in the market today. There is no shortage of supply when you check online for incense sticks. There are various types of
scents
that you can enjoy. Because there are lots of options, it is also difficult to choose one. These sticks are usually associated with
meditation
and
yoga
exercise. If you go to Asia and visit some of their temples, you will find them burning some of these incense
sticks
. They use this for praying and religious activities. Depending on the manufacturer, most are made from natural materials.
Standout Picks
Criteria Used for Evaluation
Style
Incense is prepared in different methods of processing. There are two types – the direct and indirect type of burning. One may prefer the other type from another depending on their personal taste, culture, and tradition. The indirect type of burning is also known as the non-combustible form of incense. This contains a combination of fragrant materials that is non-combustible. For this type of incense to burn, it will require a separate type for a heating source. The burning time of this type varies depending on the material used and the size of the material. Smaller ones may burn faster while bigger chunks may last longer. The commonly used form of incense of this type in the west is myrrh and frankincense. This is usually used in churches and uses charcoal to sustain the burn. There are 3 types of non-combustible incense: paste, whole, and granulated.
The opposite of non-combustible incense is the combustible type. Incense sticks are classified under this type. This is used lighting the incense directly by fire and it sustains a glowing ember that releases smoke containing the fragrance. This releases the scent without continuously keeping a heat source. This type requires a proper formula of materials to make sure that the fragrance is right without being overpowered by other materials used. This type is pressed, extruded or coated in a support material. Aside from sticks, there are other forms of combustible incense, such as a cone, coil, cored stick, powder, paper, solid stick, and rope.
Use
When choosing a type of incense or a certain fragrance, you also have to consider where you are going to use the product. It can be for meditation, prayer, healing, like air freshener for a spa business or for calming. The best one used for spiritual activities and meditation is sandalwood incense. If you visit some of the Eastern temples, then you have most likely inhaled this type of fragrance.
To help improve mood, some would advise the use of jasmine incense. It is said to help one feel happier. It also creates a relaxing and calming effect. If you want to sleep well or you have problems with your sleep pattern, lavender is the best type of fragrance to opt for. This has a relaxing effect mentally and physically, enabling one to fall deeply asleep. If you feel that your mind is bothering you a lot. Or there are a lot of things inside your mind, you can choose pine fragrance. This is known to help melt away anxiety and stress. When you burn this incense you will feel as if you are walking on a shady green forest. For feelings of contentment and inspiration, it is advisable to go for chamomile scent. You can also go for lemongrass aroma with the same inspiring effect of chamomile. The citrusy smell also wards of insect such as mosquitoes in your home. Finding the right fragrance to use can really bring a transforming effect on the user. This is an important thing to know when you are planning to purchase incense products.
Materials
When choosing one it is important to settle for a product with natural elements. If the incense is made from natural ingredients it is less likely to cause harm and respiratory issues. Some of the elements to look for are oils, plant-based materials, paste, herbs, flowers, wood, and leaves. Those that are made from pure materials and free from impurities gives off the best aromas. Handcrafted incense is a mixture of these nature-based materials, rolled into bamboo or wood then set aside to dry. Also, look for the ones that do not contain synthetic chemicals or alcohol.
It is not really advisable to go for incense that does not provide accurate information about the fragrance. Mixed types also do not provide quality and lasting fragrance. Usually, this gives of synthetic aromas that are not originally from plants. Quality and superior class incense are commonly produced in Asian countries such as Japan, India, Nepal, and Tibet. They produce products that are handmade and a hundred percent made from natural ingredients.
Potency
When choosing an incense stick, of course, one of the first things to consider is the scent. There are different fragrances to choose from but you have to be wary because some may be made of synthetic components and chemicals. Some of the most common fragrances are:
Sandalwood: This gives off a woody and fresh scent. This can be used at any time of the day. When used in the morning it can help you wake up and release an energetic atmosphere. In the evening this can help you calm down and relax after the long day. This is usually used in Eastern tradition during spiritual activities.
Frankincense: This will help you relax and rest, this also helps the mind ease down from all the pressure and demands of life. This smells like the incense usually used in the church. This is also commonly used during aromatherapy and in spa and massage centers.
Patchouli: This fragrance gives off an earthy and minty scent. This is also commonly found in men's perfume. This also creates a warm and energetic feeling.
Rose: This is not just a beautiful flower but also its scent is associated with affection and love. This creates a romantic air and is best used during the summer and spring season.
Top 10 Picks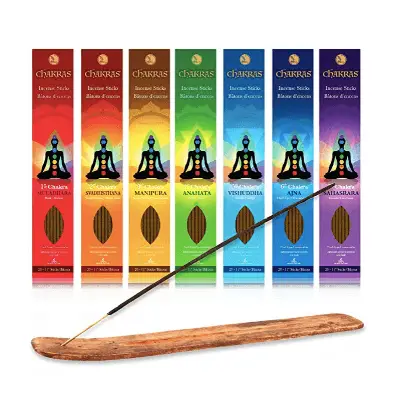 This is best for everyone especially those who have spiritual practices. For those who practice yoga and meditation, this is of great use. This will also help you achieve relaxation and invigorate your energy. You can use all of the fragrance or you can just choose a particular scent to target a specific chakra.
Read more
Components
This is made of 100 percent natural elements. This has no synthetic chemical and harmful components such as charcoal and accelerants. The packaging is very creative and eye-catching. It has seven types of fragrance and each target a particular chakra.
Scent
The scents are made from of jasmine, lotus, sandalwood, patchouli, bergamot, rose, sage, frankincense, and peppermint. This is best used for meditation, yoga and Reiki practice.
Size
The sticks are 11 inches long and will last for 1-hour max. The product has a dimension of 12x3x3 inches. It weighs 14.7 ounces.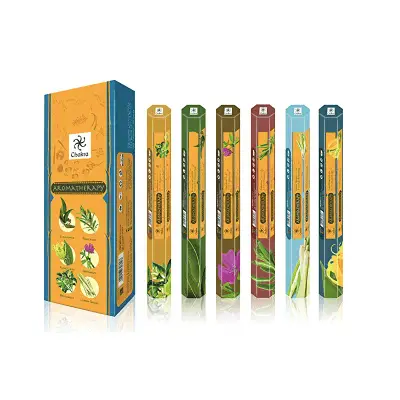 If you want to experience therapeutic aroma in your home or room, this is the perfect product for you. This contains fragrances with a myriad of benefits and can help improve health and bring balance.
Read more
Components
This pack contains 6 hexagon boxes containing sticks with different fragrances. The aromas are blended of essential oils from eucalyptus, lemongrass, bergamot, rosemary, and geranium and ylang-ylang. The bergamot plant is known to help relieve anxiety and stress. Eucalyptus also has lots of medicinal qualities such as antibacterial and anti-inflammatory. Lemongrass helps repel insects and it has analgesic and sedative effect. Rosemary helps reduce pain and boost brain activity. Ylang ylang reduces depression and improves energy levels.
Scent
The product has varying scents and has different effects. The maximum burning time of this item is 45 to 50 min. The scents give of wonderful sensation of scents of flowers and may make you feel like you are in a garden.
Size
Each box contains 20 sticks. Overall you will enjoy 120 sticks of amazing aromas. The package has a dimension of 10 x3.7x2.5 inches.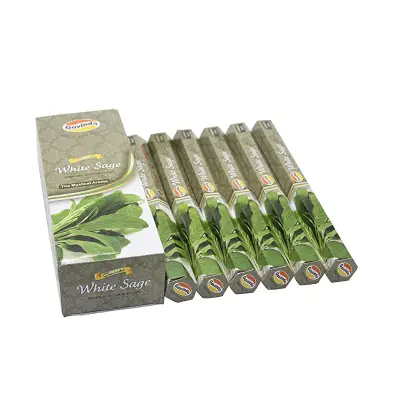 This product is made from India, like the other products. It is also best for vegans as the product was not tested on animals.
Read more
Components
When you buy this incense this includes a holder made from real wood. This holder is handmade just like the incense. This is made from non-toxic materials and it does not contain alcohol. This is a perfect item for gift giving as it is also a well-known brand in the industry
Scent
The scent of this item is Nag Champa which the combination of two different fragrance – plumeria and sandalwood. Aside from incense this is also popularly used in soaps and essential oils.
Size
This product has a dimension of 8.7x4.3x2.5 inches. The product itself weighs 250 grams.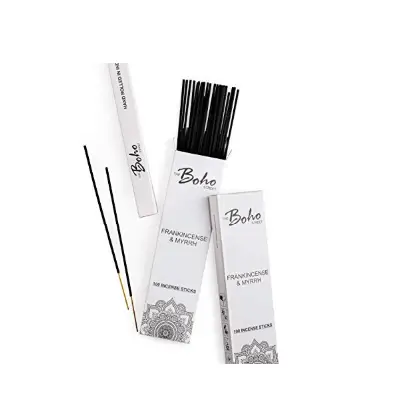 This is made from all natural components and it provides a long-lasting scent. This is perfect for relaxation and meditation. Anyone who wants to have a pleasing and welcoming feel for their home can use this product. Also, this is free of synthetic additives and carbon, so if you are a parent and thinking about your kid's welfare, you can opt for this clean product.
Read more
Components
This hand rolled and hand dipped product is made of frankincense and myrrh. These aromatic blends are once considered as priceless materials. Materials used are all natural and this is free some synthetic materials. Depending on the availability the core may be available in bamboo or sandalwood.
Scent
This offers a subtle and gentle mixture of fragrances that fill the air even when burned. This is also used in spas, yoga centers, and spiritual practice and for aromatherapy. If you have a stressed friend or loved one, you can give this to them as a gift. They can burn this at their home to help them relax.
Size
Each pack weighed at approximately 100g and approximately includes 80-90 sticks. Its sticks are approximately 9 inches in length and will burn for as long as 40-50 minutes leaving behind a trail of scent that will linger for up to a day.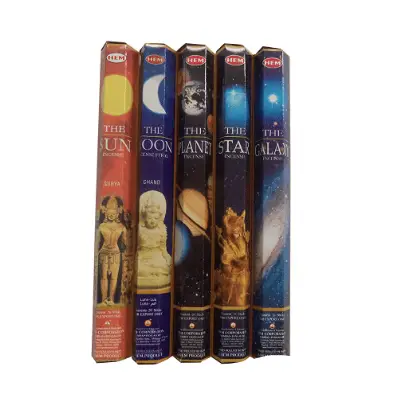 If you want to experience scents that will lift you in a higher platform of your existence, this is a must try. The name of the product itself is after celestial bodies including packs named as: The Moon, The Galaxy, The Sun, The Planet and The Stars.
Read more
Components
This item is produced from India by HEM Company. This makes use of natural ingredients such as herbs, oils, wood, and aromatic plants and flowers.
Scent
There are five scents in the package. Each pack corresponds to a particular scent. The planet pack has a classical incense scent. It has a woody and deep aroma. The galaxy pack is oozing with the smell of magnolia with a slightly feminine feel. To help you sleep and relax you can burn the moon pack just before bedtime. This brings a soothing feel and cologne scent. To relax after work and to remove the odor of food from your home, you can burn the sun pack. This helps clear the head and removes the pungent aroma of food. Lastly, the star fragrance gives off a clean scent it is lighter than the sun pack. It is also good for removing the smell of food after meals.
Size
The package contains 5 hexagonal boxes with 20 stick inside. Overall the entire package consists of 100 sticks. This burns on average for 30-40 minutes.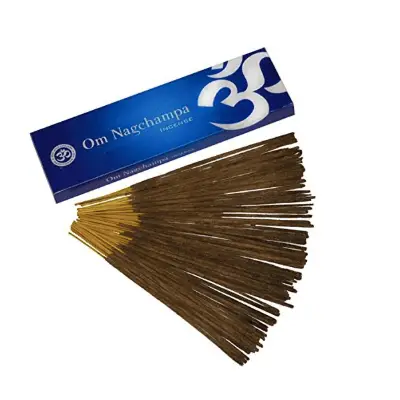 This Indian incense is handmade and created following traditional practices. We all know that India is the source of many spiritual practices that we know today such as yoga and meditation. These sticks are daily essential in India for praying and worship and cleansing. These have been used for centuries and became an essential part of their rich tradition.
Read more
Components
All of us would like to choose stuff that has less or no harmful effect on our body. This is why this product is made from all natural ingredients and free from harmful chemicals. This makes use of herbs, wood gums, and essential oils.
Scent
The average burn time for this product is 30 minutes max. This Nag champa scent is popular in India. It is sandalwood and frangipani combined. If you haven't tried this before, this is a perfect stick to burn at home for meditation or yoga practice, or just for the purpose of relaxation.
Size
The package has a dimension of 2x2 x12 inches, it weighs 1.1 pounds. If you purchase this item you will get 5 holders and 150 sticks to burn. It is composed of 5 boxes and each one has 30 sticks inside. This is also perfect for gift giving.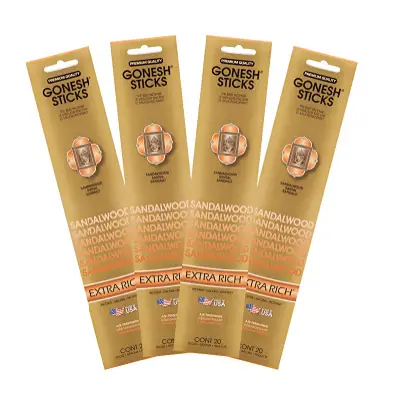 If you are looking for high-quality material merged into one incense stick, this is the product to look for. If your friends and loved ones are new to using incense, this is the best product that you can give them. It is also easy to use with a holder included in the package.
Read more
Components
This product uses top quality charcoal content and because of that, it is able to deliver a clean burn and rich fragrances. They use only the highest quality materials. And they collaborate with the best perfumes to produce the best fragrance in the market.
Scent
Its number one fragrance is the sandalwood scent which provides a relaxing, soothing and warm feeling. This product is produced using eco-friendly practices. Even the warehouse of the company makes use of solar panels to help reduce their carbon footprint.
Size
The item has four packages with 20 stick each. The item has a dimension of 2x2.5x12.5 inches and weighs 4 ounces.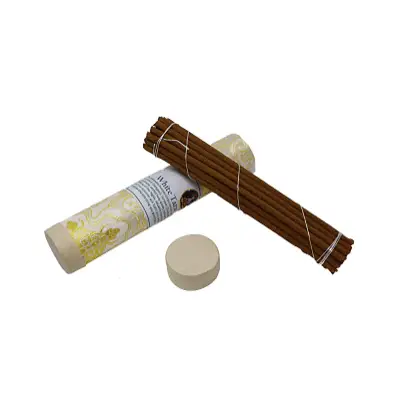 If you want to experience a Tibetan feel from your incense this is the right product for you. This will let you experience a healing scent made from traditional Tibetan methods.
Read more
Components
Like other incense, this one is also composed of natural materials such as minerals, holy water natural herbs and holy soil. This is handcrafted by refugees situated in Nepal. This is encased in a fabric box. This product is produced based on ancient tradition and texts. By using this you will be able to experience the healing practice of Tibet.
Scent
This provides a pure scent as the incense itself is made with no wooden stick. However, this makes it fragile and may break during shipping. It has a sandalwood base combined with other medicinal plants and various aromas sourced from the Mountains of the Himalayas. This makes it best for aromatherapy, meditation, spiritual practice and purification of the environment. The stick is also slow burning according to the user and the scent may linger for hours.
Size
What makes this different is the packaging of this product. It is also not based on the number of sticks but the weight instead. When you buy this item you might get 21 to 24 sticks depending on the sizes of the sticks. If the incense is smaller you might get more. It has a product dimension of 9.3x8.5x1.6 inches.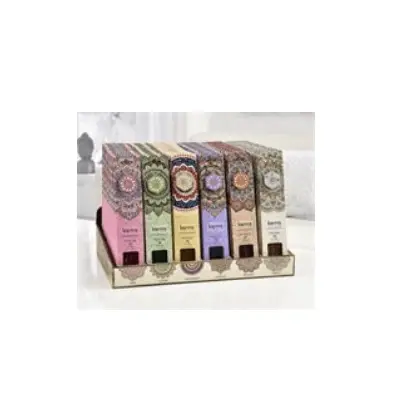 If you are up to try a variety of scents this is the best pack for you. This premium item has a healing and soothing effect.
Read more
Components
This product can be used for meditation and praying. It is made from natural materials such as wood gums, oils, and herbs.
Scent
The package includes six incense holders and different packs. The scents are rose, vanilla, patchouli, jasmine, sandalwood, and lavender. Each pack holds 30 stick, so overall you will enjoy 180 sticks of incense.
Size
The product dimension of the package is 14.1x11.6x2.2 inches and it weighs 1.19 pounds.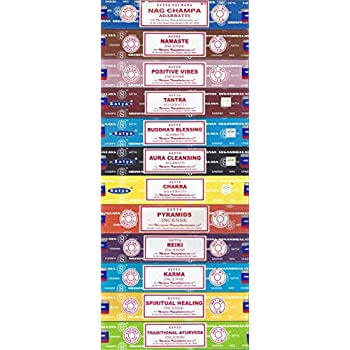 This Nag Champa Namaste Positive Vibes Tantra Buddha is a great incense stick and comes in a set of 12.
Read more
Components
These Nag Champa incense sticks are all hand-rolled in India and all of the scents have a floral base.
Scent
These are available in a wide array of scent options. Enough so, that even the pickiest person should be able to find a pleasing aroma.
Size
Each product is 15 grams

Subscribe to our Newsletter