Best Meditation Chairs
In a
Hurry? Editors choice: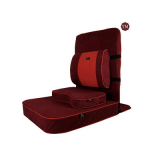 Test Winner: Friends of Meditation

For people practicing meditation, being comfortable during their practice by having the right meditation chair is a big advantage. Not only because the accessory offers full back support, but also because it provides the extra comfortability needed to sit for long periods holding a certain position. It is highly helpful for people with physical difficulties as the back has something to rest on and the cushioned chair can be cozy and convenient.
The main difference of a meditation
chair
from a regular cushioned stool or chair is the back support which provides rest on the lumbar region. It promotes back alignment and guarantees maximum comfort, relief, and relaxation. Unlike sitting on the floor without anything you can lean on, a meditation chair can help you sit in one pose for longer periods. This is because the accessory alleviates much of the tensions and pressure when doing a certain pose.
Standout Picks
Criteria Used for Evaluation
Materials
The materials used to create the meditation chair is one of the primary considerations you need to understand because it affects how you can achieve focus and the mind-body connection.
The materials used are relevant for meditation because it allows you to find comfort and the sitting position needs to be relaxing and convenient as possible.
While most of the meditation poses are hard to achieve on the floor, these accessories help you get into the position quicker. Mats and cushions for bending your legs might not be adequate enough, a meditation chair helps sustain your energy by keeping you comfortable in that position.
Features
You gain benefits from the features of every product.
In this sense, meditation chairs with the most features allow you to reap the benefits of your choice. Not only do they need to be comfortable, but they should at least offer the qualities of a meditation chair you are looking for. So, for instance, you are looking for a meditation chair that is easy and convenient to store, one that is foldable or compact will allow you to quickly put them away without worrying about storage space.
While most of the products we listed offer portability, it can also be helpful to determine what kind of meditation chair you are looking for. Knowing the features will allow you to judge if the tool is what you need or whether you need one which has the most number of extra features.
Size
The size of the meditation chair matters because it affects your overall comfort.
One that does not fully support your body will ultimately lead to less posture support and compromises the quality of your yoga or meditation concentration. The size of the meditation chair has to be adequate enough to accommodate for body position.
Weight
If you are a person on the go and meditates or practices yoga all the time, considering the weight of the meditation chair should be considered.
People who travel from place to place and tags their meditation chair along will benefit a lot from having a lightweight meditation chair. Compact and lighter ones are easier to carry and will not be cumbersome to carry. Additionally, one that includes a carrying case will save you time from looking for a convenient bag to carry your meditation chair.
Subscribe to our Newsletter