Best Grill Covers
last updated:
Apr 06, 2020
As a consumer, it is only wise to protect your investments. Otherwise, you are simply wasting money that could be used otherwise. One of those investments is a grill. Due to the fact that grilling requires adequate ventilation and wide-open areas, you typically will simply store it outdoors. But, leaving it unprotected can damage the steel and other interior components. The logical answer is to invest in a grill cover and that is exactly why you are here today. There are some common characteristics that you will need to look for, such as weather-resistance and durability, but also others that can slip your mind, such as sizing and fitting. Either way, let's get started, shall we?
This is the best product on our list that is currently in stock: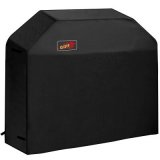 VicTsing 3-4 Burner
Why is it better?
Very easy to clean
Designed with a waterproof PVC layer
Comes with double handles for easy fitting
In a
Hurry? Editors choice: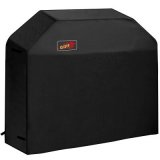 Test Winner: VicTsing 3-4 Burner

15
Researched Sources
1k
Reviews Considered
11
Hours Researching
16
Products Evaluated
Durability
Weather Resistance
Protection
Size
By Default
Criteria Used for Evaluation


Durability
When you first begin to conduct some research into this technology and attempt to find the right model for you, it all starts with the build quality. While this will be broken down section by section here, it all is in regard to the build quality. To begin, understand that grill covers can be designed in a few different materials. Firstly, you have canvas and this is actually a really good material. But, in actuality, it is typically the cheaper alternative to the next material, polyester. Without a doubt, polyester is the most common type of material you will see and that was evident throughout this list.
Part of the reason why it is so popular is due to its high resistance to the weather and also its durability. You will also see vinyl covers out there and this can be a plausible material, as well. But, if you do decide to go with a fabric such as polyester, you need to pay close attention to the denier. You may notice something like 600D or 300D and the "D" is the denier. This is basically referring to the fibers thickness of individual threads that are used to create the fabric. The higher you go, the more durable it will be.


Weather Resistance
Above all else, this may be the single most important consideration of this entire guide. Given the design purpose of grill covers, they need to be weatherproof to not allow any water or debris inside. The question is, how can you determine if one is weatherproof and then subsequently waterproof? There are a few factors to look for but interestingly enough, this is one of the reasons why polyester is such a nice material. Though it technically is not fully waterproof, most of its fibers will not absorb water and instead will repel it. Thus, it can be considered a water-resistant material.
However, this alone is not going to cut it. In addition to this, analyze the design of the seams. Specifically, ensure that they are heat sealed as this will help to eliminate water from seeping through the seams themselves. Also, a popular manufacturing method is to add PVC lining. This is ideal as PVC itself is a highly flexible, waterproof geomembrane. Thus, this adds to the weatherproofing of the cover, which means more protection for your grill.


Protection
Alright, so this is the last section in regard to the build quality and it could actually be seen as a bit controversial. Not controversial in the sense that it does not matter. But, rather, in the sense that it seems that even the best models in the world still have the problem that is about to be addressed. With any fabric that spends the extent of its life outdoors, the sun is going to be the enemy. In specific, the ultraviolet rays of the sun as these rays are what is going to degrade the fabric.
This is where UV-resistance comes into play which is usually achieved with a UV coating. Make no mistake about it; this is a vital feature to look for. Without it, the fabric will fade and degrade extremely quickly. But, based on consumer feedback amongst various top models, it seems that it is only going to limit the fading. So, even with a UV coating, you should still look to store your grill and cover in an area that is not exposed to the sun too long during the day.


Size
Now that we look past the build quality, it is time to analyze another critical point of assessment. Quick question, how effective is a shoe that does not fit your foot? The answer is it is not effective at all. Well, grills and covers work the same way. If the cover does not fit, what good is it really going to do? If it is too small, it can't shield and protect the grill against the elements as best as it should. But, if it is too large, there will be excess material on the ground that can catch water and get damaged.
The key is to find the perfect fit and to do that, you need to measure your grill beforehand. While this will be explained in-depth a little later, getting the right dimensions will be a lifesaver in the long run. Once you have the dimensions of your actual grill, you can then shop accordingly. Of course, do not forget about the shape of your grill as not all of them will be shaped in the same manner. Also, some grill covers will be designed to fit specific grills and if you happen to have that grill, then you will also be good to go.
Expert Interviews & Opinions
Most Important Criteria
(According to our experts opinion)
Experts Opinion
Editors Opinion
Users Opinion
By Default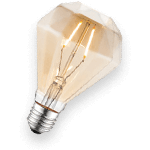 Protect your grill
It is always a great idea to invest in a grill cover, as when you buy a grill or barbeque they usually are not cheap and by leaving the grill outdoors unprotected is a quick way to start looking for another grill as it will not last as long as it would with proper protection. Grill covers are usually quite inexpensive and will protect your grill, so you can enjoy it for many years to come.
Other Factors to Consider


Fit
Last but not least, you need to ensure that the grill cover is going to stay put. Firstly, you may want to look for an elastic design on the bottom as this can not only improve the form fitting of the cover, but it can also prevent little critters from getting underneath. In addition, not all covers will be designed in the same manner in regard to security.
Not security as in theft but in stability. Some consumers may want to stick to the tried-and-true formula of Velcro straps. However, there are other methods available such as hooks or strings that attach to your grill. It really is up to you as long as the method secures the cover during high winds and storms.
Frequently Asked Questions
q:

How Do You Measure Your Grill?

a:

Okay, so now let's talk about what you should do to actually measure your grill. It really is not a complicated task and granted you have a tape measure, anyone can do it. There are three measurements you are looking for. Firstly (and it really does not matter where you start as long as you match up the measurements according to the actual cover), you need the height. For this, measure from the ground to the highest point of your grill.

Now, you will need the width. For this, measure from left to right across the front of the grill. If you have side tables and want them to remain up, measure them, as well. Lastly, you need the depth which is going to be from the front of your grill to the back.
q:

What Are Some Care Tips?

a:

Given the design purpose of a grill cover, it is only logical that it will need to be cleaned eventually. While its sole purpose in this world is to keep your grill clean, to extend the shelf life of the cover itself, you will want to clean it. Once again, just as with measuring, the process in which to do so is not difficult. To be honest, you may be able to get away with simply rinsing it off with a garden hose.

For tougher situations and grit, you can use mild soap and water with a sponge to clean it. About the only thing you want to do is to avoid using chemicals such as bleach or abrasive cleaning pads. Also, when finished, dry it off with a towel before placing it back on your grill.
q:

How Do You Clean Mold Off Of One?

a:

No one and that means not a soul on this earth, enjoys when mold forms on their belongings. The reality of the situation, though, is that when moisture is an issue, mold can subsequently be too. So, what happens if it forms on your grill cover? Well, and you may have heard of this solution before as it is quite popular to rid mold, you may have to turn to a combination of bleach and water. While bleach is advised for cleaning, it can still suffice for ridding mold.

Dilute around ¼-cup of bleach into a gallon of water. With this solution, and the cover lying on top of the grass or patio, take a sponge and wipe the area that has the mold. Allow around five or ten minutes to pass to allow the solution to do its work.
q:

Do You Need to Cover a Stainless Steel Grill?

a:

This question may not necessarily have anything do with the buying process here but it is one that some users may have. In specific, users who currently own a stainless steel grill. Would it shock you to know that stainless steel appliances and equipment are not indestructible or completely resistant to the weather? Sometimes, it seems as if people believe that it is but the bottom line is stainless steel can discolor and yes, it can rust.

So, the simple answer is this. Yes, even with a stainless steel grill, it needs to be covered. Okay, moving on then.
q:

When Should You Use One?

a:

Okay, now this is an interesting question here. One would automatically assume that you should always keep your grill covered, right? Well, it may be more complicated than you may realize because, in some situations, a cover can do more harm than good. It goes without saying that you should always cover your grill if inclement weather is on the horizon. But, what about if you live in an area that experiences high humidity?

In this case, you may actually want to leave the cover off. The reason for this is with the cover on, the humidity is allowed to be trapped inside and this can lead to corrosion.
q:

Can They be Washed in a Washing Machine?

a:

There was a reason why this was glossed over when the question about cleaning came up earlier. This deserves to be its own question because it seems that across the web, it gets asked frequently. However, it is a bit of a controversial one as some buyers have gone on record as to stating that they have placed their cover in the washing machine with great success.

Yet, most sellers will probably recommend the contrary as the agitation and stress it puts on it may damage the material. Plus, if you do this, it will probably end up voiding the warranty if there is one included. Your best bet is to stick to hand washing.
Subscribe to our Newsletter