Best Grill Covers
In a Hurry? Editors choice: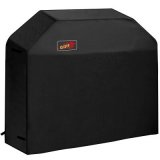 Test Winner: VicTsing 3-4 Burner

As a consumer, it is only wise to protect your investments. Otherwise, you are simply wasting
money
that could be used otherwise. One of those investments is a
grill
. Due to the fact that
grilling
requires adequate ventilation and wide-open areas, you typically will simply store it outdoors. But, leaving it unprotected can damage the steel and other interior components. The logical answer is to invest in a grill cover and that is exactly why you are here today. There are some common characteristics that you will need to look for, such as weather-resistance and durability, but also others that can slip your mind, such as sizing and fitting. Either way, let's get started, shall we?
Standout Picks
Criteria Used for Evaluation
Durability
When you first begin to conduct some research into this technology and attempt to find the right model for you, it all starts with the build quality. While this will be broken down section by section here, it all is in regard to the build quality. To begin, understand that grill covers can be designed in a few different materials. Firstly, you have canvas and this is actually a really good material. But, in actuality, it is typically the cheaper alternative to the next material, polyester. Without a doubt, polyester is the most common type of material you will see and that was evident throughout this list.
Part of the reason why it is so popular is due to its high resistance to the weather and also its durability. You will also see vinyl covers out there and this can be a plausible material, as well. But, if you do decide to go with a fabric such as polyester, you need to pay close attention to the denier. You may notice something like 600D or 300D and the "D" is the denier. This is basically referring to the fibers thickness of individual threads that are used to create the fabric. The higher you go, the more durable it will be.
Weather Resistance
Above all else, this may be the single most important consideration of this entire guide. Given the design purpose of grill covers, they need to be weatherproof to not allow any water or debris inside. The question is, how can you determine if one is weatherproof and then subsequently waterproof? There are a few factors to look for but interestingly enough, this is one of the reasons why polyester is such a nice material. Though it technically is not fully waterproof, most of its fibers will not absorb water and instead will repel it. Thus, it can be considered a water-resistant material.
However, this alone is not going to cut it. In addition to this, analyze the design of the seams. Specifically, ensure that they are heat sealed as this will help to eliminate water from seeping through the seams themselves. Also, a popular manufacturing method is to add PVC lining. This is ideal as PVC itself is a highly flexible, waterproof geomembrane. Thus, this adds to the weatherproofing of the cover, which means more protection for your grill.
Protection
Alright, so this is the last section in regard to the build quality and it could actually be seen as a bit controversial. Not controversial in the sense that it does not matter. But, rather, in the sense that it seems that even the best models in the world still have the problem that is about to be addressed. With any fabric that spends the extent of its life outdoors, the sun is going to be the enemy. In specific, the ultraviolet rays of the sun as these rays are what is going to degrade the fabric.
This is where UV-resistance comes into play which is usually achieved with a UV coating. Make no mistake about it; this is a vital feature to look for. Without it, the fabric will fade and degrade extremely quickly. But, based on consumer feedback amongst various top models, it seems that it is only going to limit the fading. So, even with a UV coating, you should still look to store your grill and cover in an area that is not exposed to the sun too long during the day.
Size
Now that we look past the build quality, it is time to analyze another critical point of assessment. Quick question, how effective is a shoe that does not fit your foot? The answer is it is not effective at all. Well, grills and covers work the same way. If the cover does not fit, what good is it really going to do? If it is too small, it can't shield and protect the grill against the elements as best as it should. But, if it is too large, there will be excess material on the ground that can catch water and get damaged.
The key is to find the perfect fit and to do that, you need to measure your grill beforehand. While this will be explained in-depth a little later, getting the right dimensions will be a lifesaver in the long run. Once you have the dimensions of your actual grill, you can then shop accordingly. Of course, do not forget about the shape of your grill as not all of them will be shaped in the same manner. Also, some grill covers will be designed to fit specific grills and if you happen to have that grill, then you will also be good to go.
Top Ten Grill Covers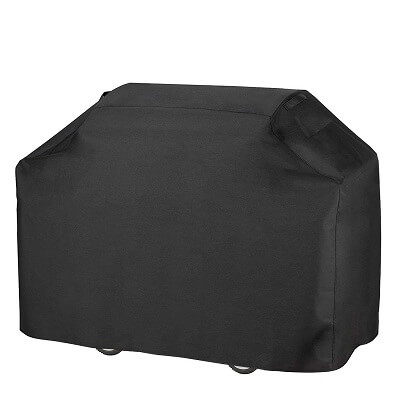 As a complete package, you are not going to find a better model than this offering from Anglink. Though no grill covers are foolproof, this one is as close as it gets.
Read more
Build Quality
To ensure this has enhanced durability, Anglink designed it with ripstop 600D oxford material. In addition to this, the seams are double stitched and heat sealed.
Weather Protection
Adding on to the superior seams is a waterproof PVC layer. Overall, this will resist water seepage and can also withstand water pressures up to 2000 Pa.
Sun Protection
First off, this does come with protection against the sun and ultraviolet rays. What is even nicer, though, is the manner in which this dries as it remains colorfast.
Overall Size
For most of the famous brands in the world, including Weber, Holland, Char-Broil, and Brinkmann, this is going to fit. For the record, it measures 58 inches long by 24 inches wide by 48 inches tall.
Security
On each side, there are adjustable straps and windproof buckles equipped. But, even more so, there is also a drawstring closing gadget that ensures a custom fit.
Overall
Granted you are not one of the consumers who receive a dud, which has been an issue with only a few, you can enjoy one of the most complete designs on the market today.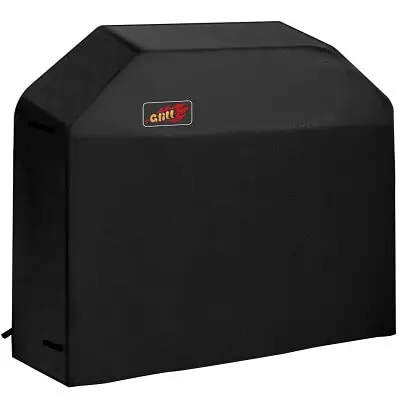 For sheer popularity and customer feedback, this next design deserves to be on this list. Even though some consumers have reported there can be longevity issues, while it lasts, this is phenomenal.
Read more
Build Quality
First off, this is comprised of 600D polyester fabric for durability. However, for added protection and longevity, the edges are bounded which is ideal as the edges are typically the first area to get torn.
Weather Protection
Not only is the polyester composition weather-resistant in its own right, but there is also an added PVC layer which adds enhanced waterproofness. The result is further protection for your grill.
Sun Protection
Due to the UV coating, this is ready to withstand the sun in some capacity. Again, full protection is all but impossible but this UV coating is a big plus.
Overall Size
Due to the fact that this measures 58 inches by 24 inches by 48 inches, it is going to be compatible with a wide range of grills.
Security
Thanks to the integration of the side straps at the bottom of this cover, it can easily be tightened down to prevent any winds from blowing it off.
Overall
The vast majority of consumers agree that this design is fantastic. The million dollar question becomes how well you treat it as that can go a long way to determining its shelf life.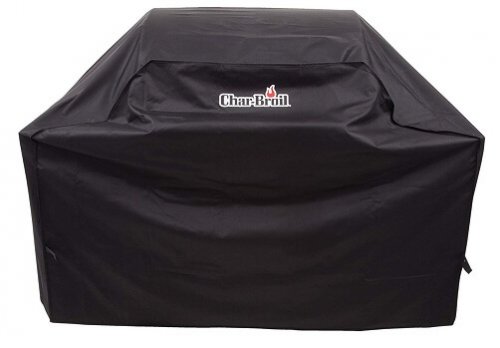 Char-Broil is another brand that many of you have either heard of or own. They make several fantastic grills but in case you do not know, they also sell one of the best all-season covers on the market.
Read more
Build Quality
Char-Broil markets this as a medium-duty grill and due to the 300D polyester material that makes sense. Either way, your grill is going to be protected.
Weather Protection
All things considered, this is an adequate weather-resistant model. In spite of this, one buyer did report that during a heavy rain, small bits of water were allowed to seep through.
Sun Protection
Not too many consumers have complained about fading, which is a big plus. Given the fact that this is a common issue, it goes without saying that this is a huge advantage.
Overall Size
The model presented to you is designed for two to three burners and measures 23 inches by 52 inches by 38 inches. Now, there are larger options available if you require them.
Security
As with other common designs, this integrates convenient side closure straps for security.
Overall
While it is a bit surprising that Char-Boil decided to go with 300D material instead of 600D, it all works out in the end. Be aware, though, this is not great for torrential downpours.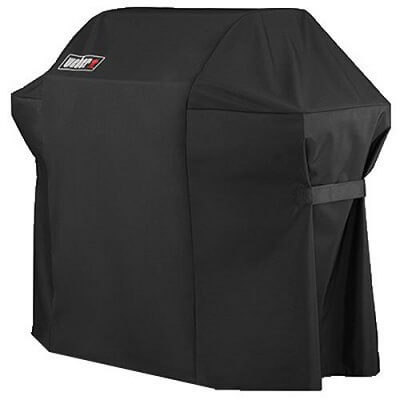 Any consumers who are familiar with this technology should know that Weber is one of the more esteemed brands out there. It just so happens that all the acclaim aimed in their direction is well-deserved.
Read more
Build Quality
Due to the fact that this is crafted 100 percent of polyester, it is as durable as vinyl while remaining breathable and pliable in colder conditions. Plus, this is as lightweight as it is tough.
Weather Protection
Not too many consumers complain about the waterproofness of this model. It is worth noting that the fabric that is utilized is waterproof and will protect your grill from rain.
Sun Protection
Weber rates this to be UV-resistant. Yet, and this is a problem with nearly all covers, some consumers have claimed that it will fade if left in direct contact with the sunlight.
Overall Size
Even though this is marketed to fit Genesis Gas Grills, it measures 44.4 inches by 60 inches by 27.9 inches deep and can fit grills accordingly. So, be sure to measure yours first.
Security
On top of the fact that this is a form-fitting design, it also comes equipped with Velcro straps for security. This is as simple as it gets and will prevent wind from being an issue.
Overall
Again, Weber is a well-known manufacturer and seeing them so high on this list is not surprising. Then again, you should still probably avoid leaving this one out in the sun.

5

. Classic Accessories Veranda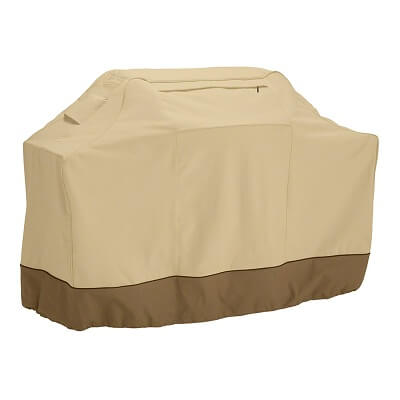 If this were strictly a popularity contest, this would be the number one model on this list easily. For the most part, the acclaim is well-deserved and the brown and tan design is a nice touch.
Read more
Build Quality
On top of the polyester material itself, Classic Accessories outfitted their Veranda model with interior bound seams. This, in conjunction with the high-density stitching, adds strength and durability.
Weather Protection
To be honest, this is quite the ingenious design. The Gardelle Fabric System is unique in the sense that it integrates a water-resistant top with a dark splash guard skirt and a waterproof backing.
Sun Protection
Note that there have been consumers that have reported fading. The good news is it is not as noticeable as fading on a black model (as this is a combination of tan and brown).
Overall Size
Once again, there are several sizing options available here. But, the medium-sized model measures 58 inches long by 24 inches deep by 48 inches high and will fit many top-name brands.
Security
Classic Accessories designed their grill cover with an elastic hem cord. What this allows you to do is adjust the cover for a tight and personalized fit.
Overall
With the sheer amount of positive reviews that this bad boy has racked up, it is hard not to take notice. As you now see, though, all for good reason.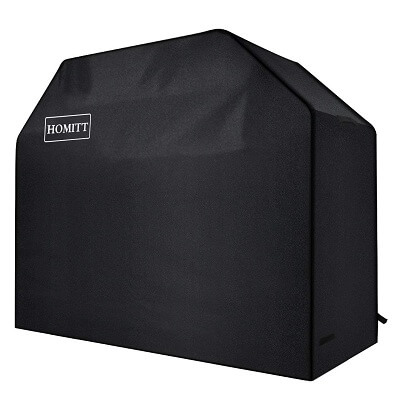 In spite of the fact that you can probably expect this next model to fade in the sun, it is designed with durable 600D oxford fabric and also a PVC layer which adds waterproofness.
Read more
Build Quality
Due to the fact that this is made of heavy-duty 600D oxford fabric, you can expect it to last for seasons to come. What is also nice is the cover itself is rip-resistant.
Weather Protection
Homitt is able to make the core of their model waterproof thanks to the added PVC layer. Even during snowy or rainy days, your grill is going to be protected.
Sun Protection
Clearly, the biggest issue with this model (based on customer feedback) is the fact that it will fade in the sun. As such, take precaution to ensure it stays out of the sun.
Overall Size
There are a few sizes available for your convenience but this one, in specific, measures 58 inches long by 24 inches wide by 48 inches tall. But, there are options for 60 inches and 72 inches.
Security
Homitt went back to the basics and only integrated Velcro straps on each side of their cover. However, this goes a long way in adding wind-resistance.
Overall
Once again, this is a model that is well adored by consumers. But, once again, it is also a design that is not perfect in every way. Still, for the money, it is a wise investment.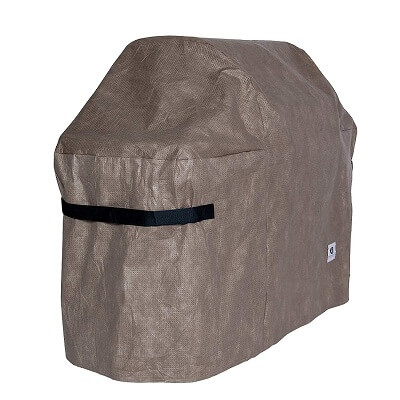 Per the product description of this next model, it is waterproof much like water off a duck's back. While that is quite the unique analogy, it fits this next design to a tie.
Read more
Build Quality
As opposed to other designs on this list, Duck Covers actually went with polypropylene instead of oxford fabric. Unfortunately, there have been a few users report it only lasted a few seasons.
Weather Protection
This could just be the most waterproof model on this entire list. In addition to the material itself, the cover also features ultrasonically welded seams which are designed to let no water seep through.
Sun Protection
Thanks to the fact that this has been UV treated, it will do an adequate job holding up in the sun. While it still may fade a little over time, it should be kept to a minimum.
Overall Size
Although there are smaller options available if the included size does not fit your grill, this specific size is going to fit most brands up to 65 inches in width.
Security
Duck Covers added two-inch wide hook and loop straps to their cover to ensure that it will not fly off during higher winds.
Overall
The uniqueness of this model alone is what stands out. For nothing else, it is made with polypropylene and ultrasonically welded seams for supreme water protection.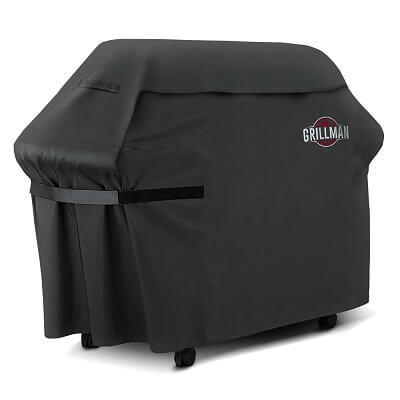 Though many consumers seem to agree that this is a lot lighter than most other models they have owned, it is designed with PVC-lined Oxford material to provide a waterproof core.
Read more
Build Quality
This is designed with heavy-duty PVC-lined oxford material and is outfitted to withstand tears. Do note, though, that the material as a whole is thinner than other models out there.
Weather Protection
The same PVC lining that was just mentioned offers the weather-resistance that all consumers are looking for in this technology. As such, this is waterproof.
Sun Protection
While some users claim this can fade easily, which is not a surprise, it is engineered with UV-resistance. Still, you should try to keep it out of direct sunlight to slow down the fading process.
Overall Size
Grillman decided to design their cover with a little bit of enhanced girth to fit most popular brands around the world (with the actual measurements being 58 inches by 24 inches by 48 inches).
Security
Due to the integration of the Velcro straps, you can sleep easily knowing your cover will not blow away.
Overall
Even the caboose of this list manages to be an excellent value, which says something about the technology. Just keep this one away from the sun and you should be golden.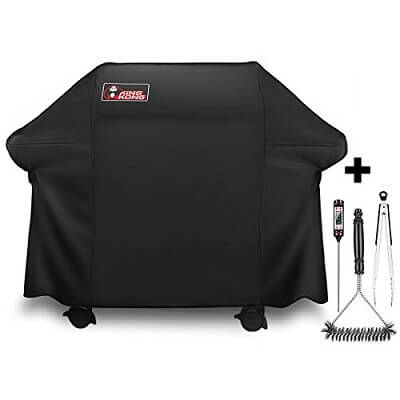 King Kong is known for manufacturing top-of-the-line products and their grill cover is no different. Yet, though minuscule to some, be aware that the embedded logo can come off as extremely tacky.
Read more
Build Quality
Though this is yet another model that is made of 600D oxford fabric, some consumers have commented on the fact that the thinness is noticeable.
Weather Protection
Yes, this is water-resistant and also overall weather-resistant. However, due to the aforementioned thinness, there have been users who have questioned its ability to protect during heavy storms.
Sun Protection
Most of the complaints of this model stem from the logo or the thinness. But, it is UV-resistant and appears to do hold up fairly well outside (in terms of colorization).
Overall Size
As is pointed out in the product description, this is going to fit the most models in the Weber Genesis 300 series. Even for other grills, it will fit and measures 60 inches by 24 inches by 44 inches.
Security
The form-fitting design here is one thing but even with it securely on, you can connect the Velcro straps for enhanced protection against bursting winds.
Overall
For whatever reason, a lot of customers were really bothered by the integrated logo on this model (something to be wary of). But, in regard to performance, it hits the nail on the head.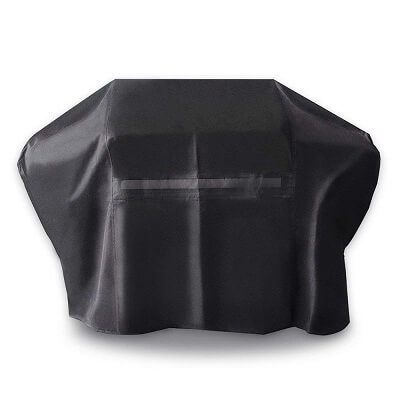 Next up, we have the iCover grill cover and this is a good example of a model that needs to be taken care of. While it is in good condition, it will superbly protect your grill from the elements.
Read more
Build Quality
What a surprise, the composition that is present here is 600D polyester oxford fabric. But, if the word of customers is any indication, this may only last a few years (though various factors can be involved).
Weather Protection
While it lasts, this is going to provide ample protection against rainfall thanks to the water-resistant PVC coating and durable water repellent finish.
Sun Protection
iCover upgraded this model with a UV protective finish and although fading can still be an issue, it does a solid job overall.
Overall Size
For even bigger and deeper grills, there are larger size options available. However, the one presented for you today measures 60 inches by 22.5 inches by 41 inches.
Security
iCover is another designer that kept it simple here. To secure this to your grill, all you need to do is place it on evenly and connect the Velcro closure straps.
Overall
If you are an individual who analyses life via a glass-half-empty moto, you may be concerned with the users who have had issues with this cover. But, the good massively outweighs the bad here.

Subscribe to our Newsletter