Best Grill Covers
In a
Hurry? Editors choice: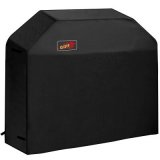 Test Winner: VicTsing 3-4 Burner

As a consumer, it is only wise to protect your investments. Otherwise, you are simply wasting
money
that could be used otherwise. One of those investments is a
grill
. Due to the fact that
grilling
requires adequate ventilation and wide-open areas, you typically will simply store it outdoors. But, leaving it unprotected can damage the steel and other interior components. The logical answer is to invest in a grill cover and that is exactly why you are here today. There are some common characteristics that you will need to look for, such as weather-resistance and durability, but also others that can slip your mind, such as sizing and fitting. Either way, let's get started, shall we?
Standout Picks
Criteria Used for Evaluation
Durability
When you first begin to conduct some research into this technology and attempt to find the right model for you, it all starts with the build quality. While this will be broken down section by section here, it all is in regard to the build quality. To begin, understand that grill covers can be designed in a few different materials. Firstly, you have canvas and this is actually a really good material. But, in actuality, it is typically the cheaper alternative to the next material, polyester. Without a doubt, polyester is the most common type of material you will see and that was evident throughout this list.
Part of the reason why it is so popular is due to its high resistance to the weather and also its durability. You will also see vinyl covers out there and this can be a plausible material, as well. But, if you do decide to go with a fabric such as polyester, you need to pay close attention to the denier. You may notice something like 600D or 300D and the "D" is the denier. This is basically referring to the fibers thickness of individual threads that are used to create the fabric. The higher you go, the more durable it will be.
Weather Resistance
Above all else, this may be the single most important consideration of this entire guide. Given the design purpose of grill covers, they need to be weatherproof to not allow any water or debris inside. The question is, how can you determine if one is weatherproof and then subsequently waterproof? There are a few factors to look for but interestingly enough, this is one of the reasons why polyester is such a nice material. Though it technically is not fully waterproof, most of its fibers will not absorb water and instead will repel it. Thus, it can be considered a water-resistant material.
However, this alone is not going to cut it. In addition to this, analyze the design of the seams. Specifically, ensure that they are heat sealed as this will help to eliminate water from seeping through the seams themselves. Also, a popular manufacturing method is to add PVC lining. This is ideal as PVC itself is a highly flexible, waterproof geomembrane. Thus, this adds to the weatherproofing of the cover, which means more protection for your grill.
Protection
Alright, so this is the last section in regard to the build quality and it could actually be seen as a bit controversial. Not controversial in the sense that it does not matter. But, rather, in the sense that it seems that even the best models in the world still have the problem that is about to be addressed. With any fabric that spends the extent of its life outdoors, the sun is going to be the enemy. In specific, the ultraviolet rays of the sun as these rays are what is going to degrade the fabric.
This is where UV-resistance comes into play which is usually achieved with a UV coating. Make no mistake about it; this is a vital feature to look for. Without it, the fabric will fade and degrade extremely quickly. But, based on consumer feedback amongst various top models, it seems that it is only going to limit the fading. So, even with a UV coating, you should still look to store your grill and cover in an area that is not exposed to the sun too long during the day.
Size
Now that we look past the build quality, it is time to analyze another critical point of assessment. Quick question, how effective is a shoe that does not fit your foot? The answer is it is not effective at all. Well, grills and covers work the same way. If the cover does not fit, what good is it really going to do? If it is too small, it can't shield and protect the grill against the elements as best as it should. But, if it is too large, there will be excess material on the ground that can catch water and get damaged.
The key is to find the perfect fit and to do that, you need to measure your grill beforehand. While this will be explained in-depth a little later, getting the right dimensions will be a lifesaver in the long run. Once you have the dimensions of your actual grill, you can then shop accordingly. Of course, do not forget about the shape of your grill as not all of them will be shaped in the same manner. Also, some grill covers will be designed to fit specific grills and if you happen to have that grill, then you will also be good to go.
Subscribe to our Newsletter