Best Gas Grills
In a Hurry? Editors choice: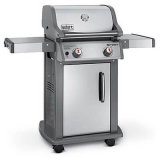 Test Winner: Weber Spirit E210

There is something about being
outside
, throwing on some veggies and some strips of meat, and hearing that sizzle that only a gas grill can provide. Cooking on a gas grill provides the satisfaction of not only cooking outdoors but also the
meat
, veggies, or whatever you are grilling seems to taste that much better. Gas grills in the twenty-first century have come a long way, and there are many features each provides to their owner, so it may be difficult finding which gas grill will be best for your
backyard
. We have come up with a list of the top ten gas grills, and why they made our list. We have also listed some criteria on what to look for and what features may be beneficial to you in your next gas grill.
Standout Picks
Criteria Used for Evaluation
Top 10 Picks


This is one of the best grills out that is currently on the market. It has the trusted name of Weber behind it, it is made from the highest quality of materials, has some handy additional features, and it's available at a reasonable price. For the outdoor cooks that are looking for a great grill at an affordable price, you cannot go wrong with this gas grill.
Read more
Brand Recognition
Founded in 1952, Weber is one of the most trusted names in the industry when it comes to grilling. They were the first company to design the dome-top grills that protect grills from the elements when cooking outside and this model of grills is still being implemented by all of the leading grills on the market even today. When you buy a Weber grill you know that you are getting the very best.
Materials
The lid of this unit is made from porcelain-enamel. The use of this material for the lid is a great feature because stainless steel is able to resist corrosion, it is lighter in weight, and resists being damaged by heat and chemicals. It has 360 square inches of cooking area and an upper rack that measures 90 square inches for warming food. The grill top is made from stainless steel flavorizer bars.
Features
This model also offers two separate burners that fold down while not in use, and the burner grates are made from stainless steel with stainless steel burner tubes. There is a sleek and easy to read dial to measure the temperature of the grill, and an indicator near the propane tank to indicate how much gas is left in the tank.
Durability
The porcelain-enameled lid and cookbox are very durable and rust-resistant. The lid is also very durable and holds in plenty of heat. While some customers have not received great customer service from Weber regarding the warranty, many haven't had to use it either.
Summary
Offered at a fantastic price point, this grill offers all the things that a serious griller would want in a grill. The retractable burners also serve to make this model smaller than most and easy to store when not in use.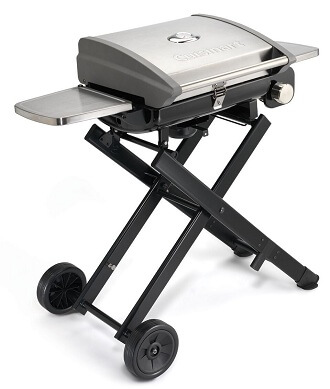 Versatility is the name of the game when it comes to the Cuisinart CGG-200 gas grill. If you are looking to take your grilling game on the road to tailgate, to the beach, on a camping trip, or to any place that calls for expertly cooked hot dogs and burgers, this grill will be a great benefit to all of your outdoor cooking needs.
Read more
Brand Recognition
Cuisinart is a trusted brand in the world of cookery. In your kitchen right now, you most likely have a Cuisinart product already. Cuisinart, the inventor of the modern food processor, was founded in 1971 and has been improving the lives of home cooks ever since with affordable and high-quality products. Users who have purchased Cuisinart products are consistently impressed with their innovative designs and practicality.
Materials
For a portable grill, it provides an impressive 240 square inches of grilling space on cast iron grates that are easy to clean. Instead of using large propane tanks, the fuel source for this unit is smaller propane camping cartridges, eliminating the need to haul a big heavy propane tank to be refilled. The stainless steel lid provides even heat distribution and is resilient to corrosion and damage from heat and chemicals.
Features
The number one benefit of this grill is the ability to fold it up and take it to wherever the party is.
The stainless steel legs can be detached to allow this grill to be set upon a table or other flat surface. Much like traditional grills, there are two folding side shelves to provide an excellent space to chop vegetables and season meats to be grilled. After use, they can be folded back up under the grill.
Durability
With proper upkeep of the cast iron grates and the grill as a whole, this grill should last you for quite a long time. Most reviewers say that the grill continues to be durable even after folding it up after each use. However, as always, there are some reviewers who have had the complete opposite experience. We think that with the proper upkeep and cautious handling, this grill will be a reliable addition to your outdoor space.
Summary
For the griller on the go, this is an excellent choice. Additionally, if you have a smaller patio, or do not have a lot of room for a traditional grill for your outdoor space, the foldability of this grill makes it great for storage when not in use.

3

. Char-Broil Performance 475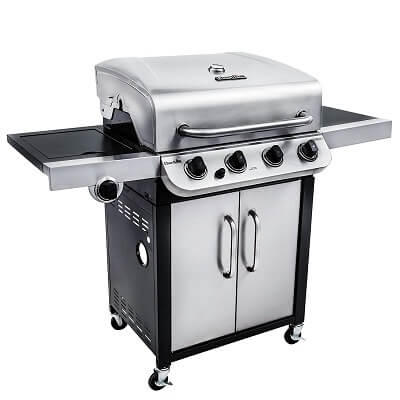 This gas grill from Char-Broil is an excellent addition to any patio. It delivers a large cooking surface, a sleek design, and many additional features not offered on other gas grills. Plus, it is made by Char-Broil- a long-running and trusted brand in outdoor cookery.
Read more
Brand Recognition
Char-Broil was founded in 1948 and is one of the most respected brands in outdoor cooking. Since its founding, it has provided many innovative designs to grills that have been copied and now come standard in most grills on the market- such as a system to handle grease. Consumers know that when they buy a Char-Broil product that they are receiving one of the best quality products in outdoor grills currently on the market.
Materials
The lid of this unit is made from stainless steel that makes it ideal for containing heat and is resilient to damage from heat, chemicals, and corrosion. This grill offers an impressive 475 square inch cooking surface with an additional warming rack. Cast iron and porcelain coated grates keep food from sticking, as well as making clean up a cinch. Additionally, it has an electronic ignition to make lighting this grill up a snap.
Features
Along the sides of the grill are two stainless steel prep stations, and beneath the prep stations is one additional gas burner for preparing sauces. It offers an additional 175 square inches of cooking with a swing-away rack that has a porcelain coating, making for easy cleanup. On the lid, there is a dial that shows the interior temperature of the grill to make for more effective grilling without having to open the lid, and silver double doors that conceal the propane tank.
Durability
A few customers have had some issues upon delivery with parts of the grill being dented, but that comes from the handling of the grill. Make sure that you look over the grill upon receiving it. Considering all of the great stainless steel components that make up this grill, it has proven to be a durable product. The wheels move easily and have not given reviewers any issues.
Summary
The Char-Broil Performance 475 checks all of the boxes that a seasoned griller would want from their outdoor cookery. It comes from a trusted brand that stands behind their products, has plenty of cooktop space to provide hot dogs for the whole neighborhood, and can deliver all of this without breaking the bank.

4

. Char-Broil TRU-Infrared Patio Bistro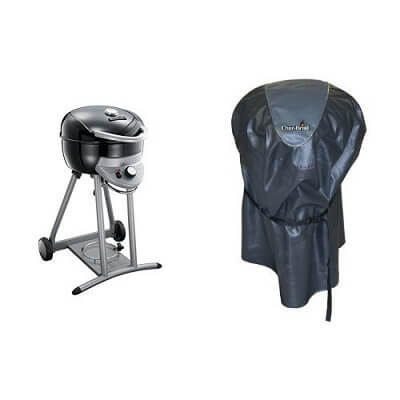 For the user looking for a more classic looking grill to accent their outdoor space and is still able to cook up some excellent hamburgers and hot dogs, this grill is a perfect choice. It offers cooks all the things that they need in a good gas grill, is offered at a reasonable price and comes with the guarantee of any Char-Broil product.
Read more
Brand Recognition
Char-Broil has been manufacturing top of the line grills to home cooks since the 1940's. It is one of the most trusted brands in the grilling industry, and buyers know that when they purchase a Char-Broil grill that they are receiving the best quality product in terms of materials used and reliability.
Materials
This grill is a tad smaller than other models and offers approximately 240 square inches of cooking space- about the size of two large steaks. It has a small upper warming trey that is possibly big enough for two ears of corn. It has a porcelain coated steel heat lid, as well as a stainless steel burner. This unit can output an impressive 13,000 BTUs of heat. It has a small footprint that makes it the perfect addition to smaller patios and outdoor spaces.
Features
The TRU-infrared cooking features reduce the risk of dangerous flare-ups and make claims that this system provides foods that are juicier. The purchase of this model also comes with a black stylish grill cover to protect your grill when it is not in use during inclement weather.
Durability
With proper use, care, and set-up, this is a strong little grill. There was an instance of the propane hose melting, so we want to remind you to also fully inspect your grill and it's components before lighting it up. Aside from this, this is a durable grill.
Summary
The Char-Broil TRU-infrared Patio Bistro gas grill offers the powerful punch of a larger grill without taking up as much space on your patio. It comes at an affordable price, and carries the valued name of Char-Broil.

5

. Weber Genesis II E-410


The Weber Genesis II is a fantastic grill that looks sleek and modern and will surely impress all of your BBQ party guests.
Read more
Brand Recognition
Weber is one of the biggest brands out there in the grilling world. After World War II, this company helped improve the lives of families by offering great outdoor grilling products that brought families and neighborhoods together. Even today, they continue to improve upon their original product designs to create some of the best outdoor gas grills that are currently on the market.
Materials
What makes this grill unique is the copper grill lid. Using copper for cooking is incredibly popular right now, and it is because copper serves as an excellent heat conductor. Total cook area has an impressive 646 square inches, and two stainless steel workspaces next to the grill make food prep simple and concise.
Features
The Infinity Ignition is backed by a warranty and guarantees a simple start every time. Beneath the stainless steel workspaces are two pairs of gas burners that have stainless steel grates. On the lid, there is a dial to check the temperature, and next to the propane tank there is an additional dial to show how much gas is left in the tank.
Durability
It's made from the highest quality materials and carries the trusted name of Weber so that you know that you are getting a superior product. Grilling grates are composed of stainless steel flavorizer bars, and beneath the grill grates is a tray for catching excess grease and drippings.
Summary
If you are in the market for a new grill that looks great, is made from the top of the line materials and are willing to pay a little more than the average consumer spends on a gas grill, the Weber Genesis II is an excellent addition to all of your outdoor BBQs.

6

. Napoleon Grill Rogue 425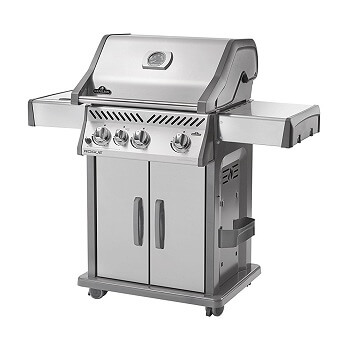 The Napoleon Rogue 425 looks as if it just stepped off of a spaceship. It has a sleek and interesting design that makes it stand apart from some of the other grills. It offers many beneficial additional features and provides unique grilling methods that haven't been seen on other models of gas grills. This grill is definitely worth checking out.
Read more
Brand Recognition
Napoleon Grills are not the most recognized name on this list, but they have been manufacturing quality products in outdoor cooking since 1976. They pride themselves on listening to what the consumer needs and wants into their outdoor grills and brings to market. Past users of their grills are consistently impressed by their innovative and quality products.
Materials
The lid of this grill is made from a high-quality stainless steel that helps retain heat, as well as protect the unit from corrosion, heat, and chemical damage. The grill surface can accommodate 425 square inches of hot dogs and burgers. The sleek stainless steel grill grates have a unique wave design that creates interesting grill marks on steaks and vegetables. The unit can be lit with ease and has a Jetfire Ignition System.
Features
What makes this grill stand out from some of the other gas grills on the market is the side burner that has an Infrared Sizzle zone for quickly searing steaks before popping them on the grill. It can also be used as a traditional burner for sauces and additional side dishes. The propane tank is concealed behind a set of double doors that are equipped with a condiment rack for easy storage of ketchup and mustard.
Durability
Again, we have another product that has had some issues in transit. A few customers have received the grill with a scratch or a piece broken off. However, this can happen during the shipping and you should always inspect the item upon delivery. Aside from that, the grill is outfitted in stainless steel and has proven to be durable over the years.
Summary
For the griller that is looking for something a little different and unique with features that aren't found on any other grill, the Napoleon Rogue gas grill is with taking a chance. It may cost more than some of the other grills, but guests at your backyard BBQ will be impressed with not only the look of this grill but the quality of the food it can craft.

7

. Blackstone Grill Tailgater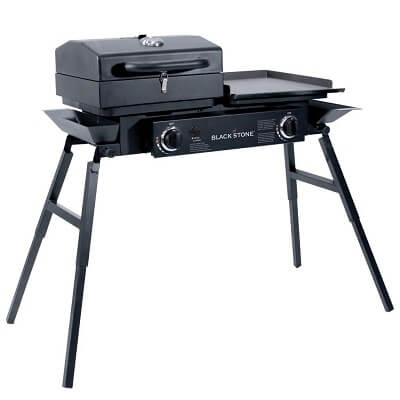 If you were undecided on whether you wanted to purchase a traditional gas grill or an outdoor flat top, then you need to look no further because this unit does them both. Not only does this gas grill offer multiple cooking options, but it's also incredibly versatile and is able to be brought along for tailgating, camping, to the beach, or on fishing trips.
Read more
Brand Recognition
Blackstone is a relatively new company to the grilling space. They launched in 2005 with their premium and unique griddles, and since then they have expanded with more diverse cooking options such as gas grills. Users that have taken a chance on their products have been consistently pleased with not only their performance but also their additional features and sleek design.
Materials
Between the grill box that is located on the left and the flat top on the right provides an impressive cook space of approximately 512 square inches. It's composed of heavy duty steel that makes it incredibly durable. The grates on the grill are cast iron, making them ideal for stick-free cooking, and very easy to clean. The flat top is made from steel plate griddle that is composed of cold rolled steel that is perfect for frying vegetables or used to heat soup or sauces. The heat source is derived from a full propane tank that it hooked up on the bottom.
Features
The grill and the flat top can be removed to provide two standard burners that are independently controlled and is able to emit 20,000 BTUs of heat. The legs of this unit can be adjustable to accommodate cooks of any height, and then folded up and packed into a car when the party's over and it is time to go home.
Durability
As for the grill itself, it seems to be durable. It features cast iron grill plates and a steel griddle plate. However, there have some issues with the legs of the unit. Luckily, the issue is that they are difficult to fully close. This is a pain, but it would be worse if they didn't open, right?
Summary
For cooks on the go that don't want to be limited by just one cooking option, and still want the power of a standard gas grill, the Blackstone Tailgater is a fantastic choice for all of your outdoor grilling needs.

8

. Char-Griller 3001 Grillin' Pro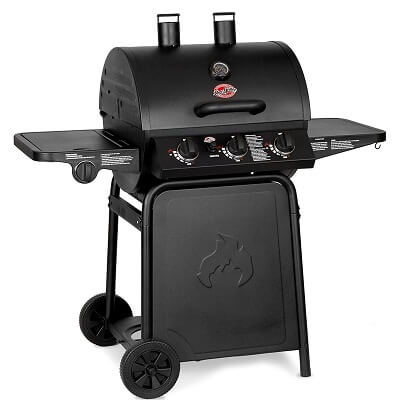 This is a tank of a gas grill that is willing to endure years of outdoor exposure in the elements. It checks all of the marks of what an outdoor cook wants from a gas grill. It's reliable, affordable, and offers many additional features to help create the best meal on warm summer nights.
Read more
Brand Recognition
Char-Griller is a relatively unknown brand within the grilling industry. This company got its start over 20 years ago with its very popular barrel-style charcoal grills and has since then expanded its inventory to offer affordable and reliable gas grills. Users that have taken a chance on their products have not been disappointed by the performance of these grills.
Materials
The grill top is made from cast iron grill grates that are incredibly durable and easy to clean, and the interior offers an impressive 438 square inches of cooking space with an addition 192 square inches on an above heating rack. The entire unit is made from heavy-duty steel that has a black powder-coated finish that makes this unit exceptionally durable in the elements.
Features
There are two workspaces for chopping vegetables and seasoning meats on their side of the grill, and one workspace also opens up to offer an additional burner for preparing side dishes or sauces. It has an electric ignition that makes turning on this grill as simple a pressing a button. The propane tank is concealed by a stylish front panel.
Durability
On paper, this grill sounds durable. It is made from steel with a powder coated finish and has porcelain-coated cast iron grates. However, there have been some issues with the burners retiring after a couple of years and peeling paint.
Summary
This is a great grill for those looking for a sturdy and reliable gas grill that is available at an affordable price point. The sturdy and beefy design just begs to be rolled out of the garage in the middle of January to cook some burgers on a bleak winter evening.

9

. Dyna-Glo Smart Space 3-Burner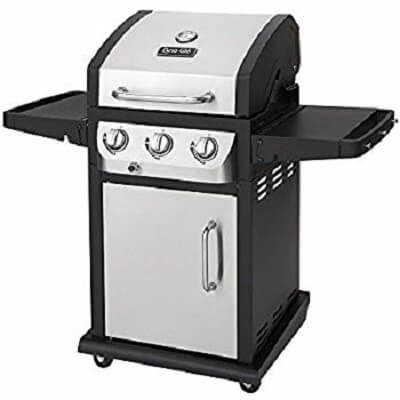 With some grills costing well over $500, it's easy to get overwhelmed by the number of options and the high costs. Enter the Dyna-Glo Smart Space 3 Burner Grill. It has all of the features you need and a few features you didn't know you wanted, all at a price you'll love. Who says you can't throw the party of the year while still being frugal?
Read more
Brand Recognition
Dyna-Glo is owned by the GHP Group, was established in 2003. While not as ubiquitous as Weber or Char-Broil, the Dyna-Glo brand is sold in physical retailers across the United States and is also available online. It's established itself well by providing high-quality grills at an accessible price.
Materials
With 503 square inches of grilling space and 36,000BTUs of power, the Dyna-Glo Smart Space Living Gas Grill is big enough to grill for the whole family, and maybe even some of the neighbors. Three enameled steel heat tents keep the burners safe as well as vaporize juices from your meats, creating a flavorful smoke that's right at home at any BBQ. The grates are cast iron and do not require seasoning before being used.
Features
Where this grill stands out is its small size. The large grilling surface is built efficiently to save space, making this grill ideal for small patios and balconies. The grill comes equipped with a Dyna-Pulse electric push-button ignition for fast startup, and the grates themselves heat up very quickly. The two shelves on each side fold down for easy storage and have integrated towel bars and utility hooks to keep everything you need right at your fingertips. A closed cabinet with stainless steel doors provides a place to keep spare propane tanks or any other larger items you need to have at the ready.
Durability
Off the bat, this grill has all of the wonderful features to be a durable grill. It has cast iron cooking grates and stainless steel, however, it may be an issue with the flame or perhaps just the materials itself that lets us down. After a few years of use, reviewers have noted that the heat tents and grease pan have rusted through. These parts are replaceable, but it will cost you.
Summary
If you don't have much space to work with, but want all of the features of some of the larger, more expensive grills, the Dyna-Glo Smart Space Living Gas Grill is the way to go. Its stainless steel finish is stylish and modern, and the push-button ignition ensures you'll be grilling in no time!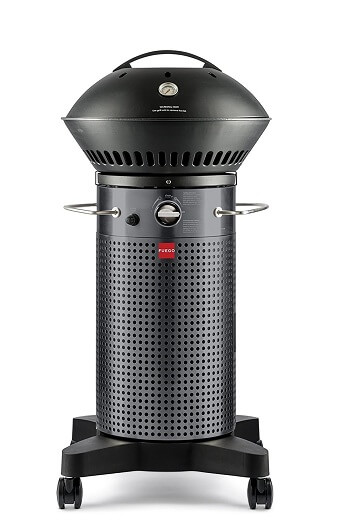 The Fuego Element F21C is an award-winning grill that made a huge impact on the grilling world. It's long, narrow and compact- making it a great choice for balconies, smaller patios, or to take along on camping trips. The unique design is unlike any other grill to make this list and is sure to become a talking point at any of your outdoor BBQs.
Read more
Brand Recognition
Fuego is a relatively unknown company, but this grill made quite an impact when it hit the market. It was designed by a former Apple Chief Designer and has been referred to as the "iPhone of grills". It has won a myriad of awards such as the Spark Design Award and the International Design Excellence Award. Fuego might not have the brand recognition of companies such as Weber or Char-Broil, but it has earned enough recognition in the industry to earn a spot on this list.
Materials
The design of this grill is what makes it stand out the most, however, it also stands upright along some of the best grills on the market in terms of performance. The round cooktop is deceptively small- it offers an impressive 346 square inches of cooktop space, and it can reach heat levels of 500 degrees in just under 5 minutes. With the addition of a porcelain enamel cast iron grilling grate, this unit can reach a whopping 650 degrees.
Features
It has a recessed thermometer on the domed lid that that provides a convection-like cooking space to ensure that food is evenly cooked. A 21-inch base has four sturdy wheels to make moving this grill quick and hassle-free.
Durability
Depending on how you feel about Apple, you may or may not be surprised to hear that this little grill has a few of its own issues. It definitely has its strong points and not everyone has experienced these issues, but a few customers have had problems with the electric starter giving out and then materials peeling after a few months of use. One other thing that surprised us about a grill of this caliber is the fact that the wheels are made from plastic. However, no one has voiced issues with the wheels so far.
Summary
At a reasonable price point, this grill is definitely worth a try for the griller that is looking for something a little different from the general gas grill models. Just be prepared to talk about this grill when you are hosting an outdoor party and cooking hot dogs over such a unique and sleek looking grill.

Subscribe to our Newsletter