Best Tarps
In a Hurry? Editors choice: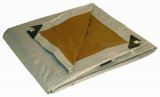 Test Winner: Dry Top-Heavy Duty Poly

The uses for tarps are
endless
, so think outside the box before you make your decision and consider a tarp that will last; one that you can use for purposes beyond your original thought. The following guide was created to assist you in finding the best tarp so that you don't throw your hard-earned money away on some measly tarp that won't
survive
through an entire use. We researched many tarps before narrowing them down to the best ten. We took some more time to sort out some of the important facts and features of the tarps and we will even explain why the color isn't just a fashion statement when it comes to
tarps
.
Standout Picks
Criteria Used for Evaluation
Features
Before now, you probably didn't know that there were so many different features to look for in a tarp. That's why we have included them in this guide. Some of the most important features you should look for are the mils (thickness), size, grommets, material, and colors. You need to know the thickness, so you can decide if it will hold up for the task you what to use it for.
The size matters according to the use. You obviously don't want to use the smallest tarp to cover your sailboat, and you don't want to use the largest for yard work or gardening. The grommets are the eyelets around the tarp that are used to hold the rope or bungee when you tie the tarp down. You need to know how many and their distant placement, so you will know if it will fit securely in the place you will be using it.
The material matters for various things such as the water, rust, and mildew resistance. The material falls into the durability category as well because you don't want material that will tear or crumble easily.
Color
A silver tarp will block the sun, so if you're using it for shelter then you will want to face the silver side out, so you will stay cool on the other side. White tarps will provide some shade, but it won't block it out completely, so again, if this is for your shelter, you will want to face the white side out and take shelter under the other side.
Other colors such as green and brown are used for things like camping or to cover tools and equipment. You might find these tarps on construction sites, and you can use them to assist you with landscaping or in your garden.
Durability
The durability will come from the thickness and type of material used to construct the tarp. The type of grommets also matters where durability is concerned. You will find that grommets can be made of aluminum (the weakest of them all), plated steel, and brass (the most durable of them all). The spacing of the grommets are determined by the size and grade of the tarp, but they are usually spaced between 18 to 36-inches apart. The more grommets, the sturdier the tarp will be when it is tied down.
You want to be sure you choose a tarp that matches your climate because if it isn't waterproof you wouldn't want to use it in a rain forest, and if it crumbles in the sunshine then you wouldn't want to use it in the middle of the desert where the sun will beat down on it all the time.
Ease of Use
When it comes to the ease of use you need to think about where you will be using the tarp and what it will be used for. If you will be backpacking, then, of course, you will want something that's easy to pack and light to carry. If you will be securing the tarp for any purpose you know you will need to use bungees or rope. One thing you need to consider is the spacing and number of grommets because if you don't have enough it will be hard to secure it in place. Likewise, if you have too many, think about how that will affect the ease of use.
If the tarp is large or heavy you might need to recruit a friend to help you place it, so if you're working or traveling alone, be sure and get one that you can handle by yourself.
Top Ten Tarps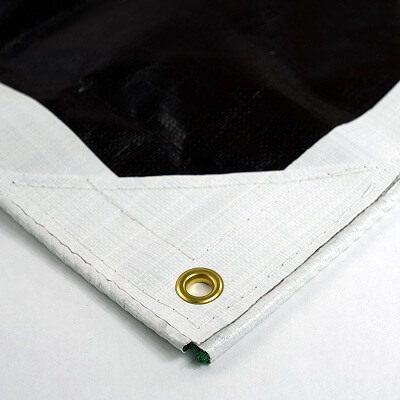 If you have an RV, this tarp will serve as cover, and not only is it cheaper than an RV cover, but you will be surprised at how well it does the job.
Read more
Features
This tarp will cover 18x24-feet of space giving you the versatility to use it in many different ways. One side is white, the other side is brown, and each serves a different purpose. White is designed to reflect the sunlight, keeping the other side cooler. When the brown side faces the sun, it will absorb the heat, making the other side warmer. You can see how this tarp can serve many purposes in various weather conditions. It provides 18 grommets with an edge rope that can be used as leverage when you tie it down.
Durability
16 mils of thickness make this one more durable than some. With its professional strength quality, it will pass the test against harsh winds, rain, sun, snow, and extreme hot and cold temperatures. The grommets are made of high-quality materials and the edge rope is extremely thick. This tarp will last season after season without noticeable wear and tear.
Ease of Use
It's easy to move around and position in place. The grommets are placed conveniently to make them easy to tie ropes or bungees through. If you're covering large RV's and boats, you might need to seek the help of a friend to make it easier to maneuver.
Value
It might come with a larger price tag than some, but it still isn't as high as others. When you compare the features, this one will probably hit the mark. Knowing this one will last year after year, you will suddenly realize how much value it holds.
Summary
There are so many added features to this tarp you can understand why you should consider it for long-time use. With the versatility of this tarp, you can use it for anything from your RV and boat to your shed and porch. This one would make a perfect tarp to take on your camping trip or use it in the yard for a slip and slide.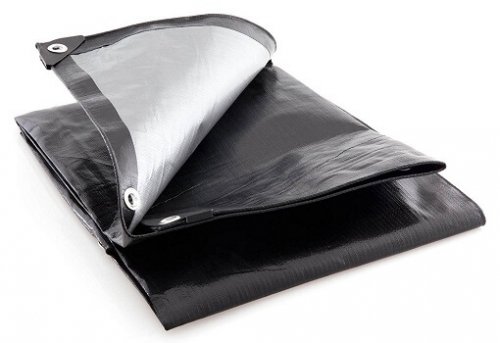 If you're in need of a tarp that has above average quality that will protect your boat through the winter season, this one would be your best choice for the purpose.
Read more
Features
With a professional military grade, this 20 x 20-foot tarp provides a silver side to block the sun, while the black side will work wonders when it comes to protecting your valuables. Although it's thick, it's not extremely heavy. The aluminum grommets are spaced far enough apart to assure security when it's tied down and it will keep most of the water out. Not only could you use this one for protection when storing lawn equipment, firewood, and your boat, but it makes the perfect ground cover under a tent as well.
Durability
With 14 mils, this tarp resists holes caused from uneven terrain and the edges are reinforced to avoid tearing. Since the grommets are made of aluminum, the chances of them holding out longer than the tarp are slim, but they are rust proof, so they will last longer than you would expect.
Ease of Use
It's not as heavy as it looks and can be handled quite easily. It's simple to place the tarp over the objects and tie down the tarp with the 18-inch grommets. Use caution when handling the tarp in the heat because it can get extremely hot to touch when it's been in the sun.
Value
This tarp is made with an extreme quality and thickness that will last for a long time, that makes it worth the money in the long run.
Summary
No matter your reason for needing a tarp, this one is made to handle any chore. Cover your valuables, use it as ground cover, or use it while camping, there is a long list of uses for this heavy-duty tarp. Although it might seem to be priced a little higher than some, you won't regret the money you spend.

3

. Dry Top-Heavy Duty Poly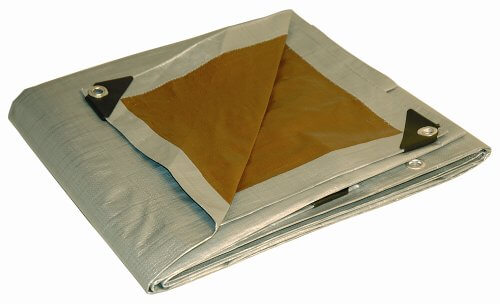 This one is better than a basic tarp, and it will tolerate any level of weather it encounters without crumbling, fading, or blowing away.
Read more
Features
This is a well-constructed 10x12 poly tarp. It's waterproof and ready to conquer any task it's given. It provides a silver side to block out the sun, and the brown side is intended to follow through with the protection of equipment, catching leaves, covering roof leaks, or hiding the patio furniture.
Durability
Heavy-duty is what you would expect from a higher end tarp, so this one will surprise you when you see how strong it is. It's well constructed with quality materials and it will withstand the beating of wind, rain, sun, and snow. Unlike the 10 mils of thickness from this one, the grommets are not as good as you would expect.
Ease of Use
It might not be light as some of the others, but it is still not as heavy as others. Your bungee or rope will fit nicely through the grommets and you will have no problem with maneuverability.
Value
For the quality of this tarp, you would think it would come with a higher price.
Summary
This is everything and a bit more than you would expect from a tarp in this price bracket. It's one that you will either love or hate, but you can be sure you will love it.

4

. MP Heavy Duty Shade Mesh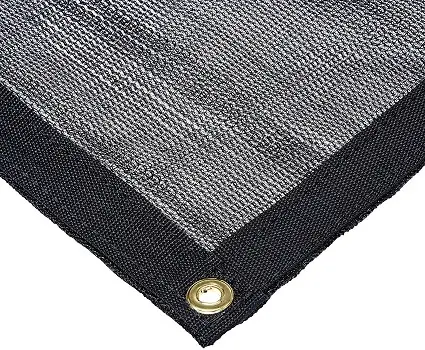 This tarp is the perfect solution for keeping the sun to a minimum while maintaining visibility and fresh air.
Read more
Features
Unlike the other tarps on our list, this one is a shade tarp made of mesh. It serves as a screen and can be used in multiple places. Use it to cover the top of your pergola to provide some shade for a cooler place to enjoy your tea. Keep your dogs cool by shading their kennels and cover your inground pool when the sun beams directly into the water. Keep in mind that it is mesh, so the rain will get in, but on a hot day that could be a cool relief. The airflows nicely through and the heat won't build up on the opposite side. This 10x10- foot tarp offers a lot of versatility and with the 24- inch grommets, it's easy to secure it to any surface.
Durability
This tarp has been remarkably constructed with heavy-duty materials. It provides reinforced edges that won't fray or tear, and the grommets are stronger and larger than the average. It has been proven to hold-up through treacherous weather conditions, and it tolerates heat and sun without a complaint. It's durable enough to last through many seasons.
Ease of Use
The material makes this one light enough to maneuver with ease. The size isn't bulky or hard to handle for one person, and the grommets are the perfect size for feeding your rope through the eyelets.
Value
This tarp will stay intact season after season keeping you safely out of the direct sunlight. The money saved from sunburn accidents and heat stroke is worth every dime you will spend on this blessing.
Summary
Enjoying the pool in the shade is enough reason to consider this ingenious tarp. Move it around from place to place or enjoy the comfort in knowing you have more than one to enjoy everywhere you go.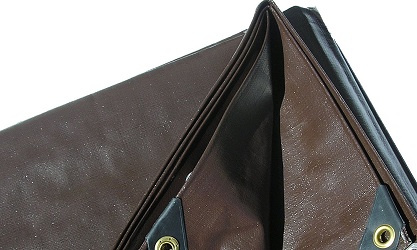 Use this tarp in the place of a patio furniture cover or secure it to your grill. It's multi-functional and flexible enough to fold and fit.
Read more
Features
This is a 6x8-foot brown, polyethylene tarp that can serve the purpose of many uses. It provides 18 grommets for properly securing it over your valuables and 16 mils make it the perfect thickness for covering your utility trailer full of construction equipment. It resists rain, snow, and sun like a gem and it's thin enough to provide the flexibility you will need to position it into place.
Durability
It's extremely durable and responds well to extreme temperatures. The edges are sealed better than most and the grommets are of excellent quality. The manufacturer took one more step when they constructed this tarp by reinforcing the grommets on the corners reassuring they won't pop off or tear. Since it's made of polyethylene, it's completely waterproof and it's sturdy enough that it won't flap with the wind.
Ease of Use
This tarp is functional and easy to maneuver. It ties down smoothly, and it can be shaped to fit anywhere you want to use it.
Value
With its affordably and functionality, this tarp is well worth the time, effort, and money spent.
Summary
This proves to be one of the best tarps on our list. It extremely durable and can serve as patio furniture covers, construction tarps, and it could even become a tent at the last minute. So many uses for this make it the perfect one to choose.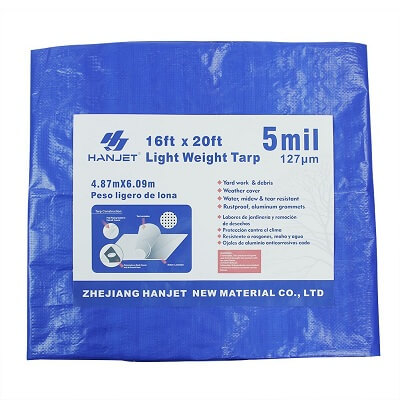 This is a basic blue tarp with a small price, but it does the job it's meant to do. It's the perfect footer for the tent, and it will cover a bicycle like a champ.
Read more
Features
This 8 x 8 tarp is smaller and lighter than you might expect, but it works well with many lighter tasks. It's made of polyethylene; therefore, it's guaranteed to be waterproof. You can use this tarp in any climate, so use it to cover your firewood or rake up your leaves and haul them away using the tarp. If you need additional shelter for your tent when it rains, the grommets spread 3 to 4-feet across the tarp and will easily assist with tying it to the trees above your tent.
Durability
This tarp might not be as thick as some of the others, but it is made of quality construction and will serve its purpose without worry. The grommets are a little weaker than most, but they won't rust, and the tarp itself is mildew resistant so your equipment will be safe when stored underneath. Since it is thin, you should heed caution of tears and punctures when pulling it or piling things on top of it. The corners are reinforced, so when you have it secured it won't break.
Ease of Use
The grommets make it easy to assist with tying it down and it's lightweight, so it's easy to maneuver and carry.
Value
For a basic tarp, this one follows through with the job. It's priced where it should be for a tarp of this quality.
Summary
When you think of a tarp, this is probably the one you remember working with as a kid. It's basic, yet durable to complete every task it meets.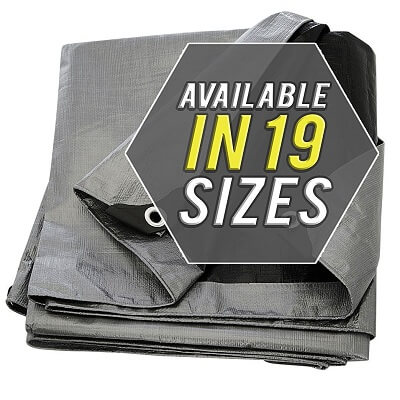 This tarp will come in handy when it's time to cover up all those toys for the winter. It's perfect for any climate and ties down securely with the grommets.
Read more
Features
This 12x14 tarp provides two sides of protection. The silver side will block out the sun to keep the black side cool. It's heavy-duty and waterproof, so this would be a perfect addition to your camping supplies. This one is the perfect size to cover your wood pile, and the tools on your utility trailer will stay protected from the rain. The grommets are 3-feet apart, so you will have enough to secure the tarp to any tree, pole, or other surfaces.
Durability
The 8 mils of thickness assure that the tarp will stay intact when then the wind belts through and it won't rip when you move it around. Although the grommets are reinforced on the corners, the ones in the middle are a little weak.
Ease of Use
It's easy to maneuver and the grommets are simple to slide your rope through. It's lightweight, so you can carry it with ease.
Value
For the price and quality of this tarp, you won't make a mistake when you choose this as one of the best tarps for you.
Summary
Overall, you get what you would expect from a tarp of this quality. It serves many purposes, and aside from the weak grommets, it proves to be a heavy-duty tarp.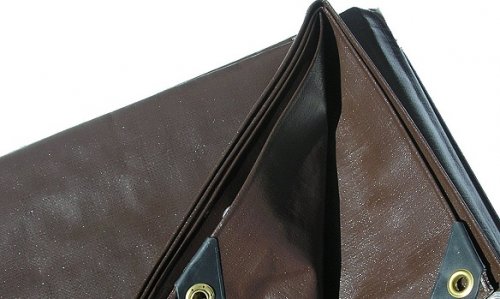 For that wood pile stacked up behind the house you will need to keep it covered and out of the way of the rain and snow, this tarp is exactly what you need.
Read more
Features
This is a 10 x 12-foot brown heavy-duty tarp that is ready to serve its purpose covering your wood piles or your dog's kennel. Unlike the cheaper brands that you can buy everywhere, this one is much more durable and will last four times longer. You can use this one in the rain or the direct sunlight and it will always look like new. Although it is constructed of durable materials, it might not be as flexible as you would like, but it does do the job it's intended for.
Durability
With exceptional strength and durability, this tarp will hold out long after your others retire. It provides 16 mils of thickness and the grommets are durable and securely attached to the tarp. You can leave it in the sun or rain and it will never show any signs of wear. It won't fade or peel from the sun and the winds won't cause it to tear.
Ease of Use
It is a little stiffer than you might be used to, therefore it might take you a little longer to secure it, but once you're finished you will be amazed at how well it does its job. You can strap it securely through the grommets that are spaced every 18-inches around the edges of the tarp.
Value
The superior quality and fair price of this tarp can't be beaten. This is money well spent.
Summary
Overall, this tarp delivers outstanding performance with its quality and durability. You can use it for so many things and it will last well beyond the cheap dollar store tarp.

9

. CCS Heavy Duty Green Silver Poly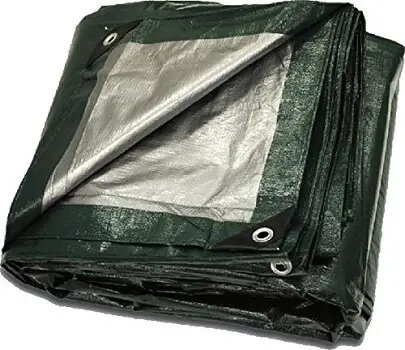 This tarp is a must-have in any emergency kit or camping pack. It works well for ground cover and makes a great tent for shelter.
Read more
Features
This 20x20-foot double sided tarp offers versatility and flexibility for all your needs. One side is silver to block out the sun while you stay cool under the green side. It provides just the right amount of thickness and because it is made of polyethylene, it is completely waterproof to keep you dry when you're under it. The 18-inch grommets provide just what you need to secure your tarp to the trees or poles. This tarp is a perfect choice for covering your pool in the winter or you could use it on the ground for various lawn and garden needs.
Durability
Quality and structure are above average when it comes to the durability of this tarp. Although it's not as thick as some of the others on our list, it does offer 8 mils of thickness making it the perfect amount for camping and other light uses. The grommets are made of soft metal, so they are not as strong as some, but they will hold up under lighter pressure.
Ease of Use
It's simple and easy to maneuver, it folds well, and the grommets provide enough compatibility for easy security.
Value
For the size and quality of this tarp, it offers the value that you would expect. The price is easy to swallow, and you will get your money's worth with every use.
Summary
For camping and emergency situations, this tarp is one of the best. It holds up well through any climate, and it won't tear as easy as some of the other tarps you find in the discount stores.

10

. Home Plus Multi-Purpose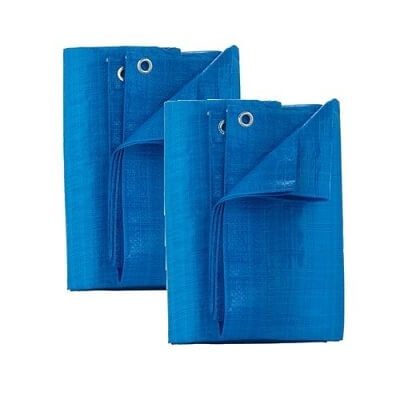 This one provides the perfect size and quality to handle small chores that the larger tarps are usually too big to do.
Read more
Features
This is a simple tarp with endless possibilities. It's 4x6 which makes it the perfect job for lighter tasks such as lining the back seat of your car when you are hauling plants home to your garden. You could use it as an accessory with your camping supplies, or put it in your emergency kit, just in case. It provides eight grommets, so you can tie it down securely when necessary.
Durability
It's a basic tarp, so it isn't as durable as some of the more expensive tarps, but it will complete the task at hand without a problem. The grommets seem to be strong and it will tolerate all weather situations.
Ease of Use
It's lightweight and easy to handle. You can lay it down and fold it with easy, and packing it isn't a problem either.
Value
The point to this one is that it is basic, so for the money and quality, you are getting a better tarp than you would expect.
Summary
Easy to use, lightweight, and durable; with all that, you can expect this tarp to do any light job you put in front of it.

Subscribe to our Newsletter