Best Tarps
In a
Hurry? Editors choice: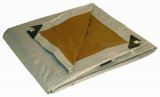 Test Winner: Dry Top-Heavy Duty Poly

The uses for tarps are
endless
, so think outside the box before you make your decision and consider a tarp that will last; one that you can use for purposes beyond your original thought. The following guide was created to assist you in finding the best tarp so that you don't throw your hard-earned money away on some measly tarp that won't
survive
through an entire use. We researched many tarps before narrowing them down to the best ten. We took some more time to sort out some of the important facts and features of the tarps and we will even explain why the color isn't just a fashion statement when it comes to
tarps
.
Standout Picks
Criteria Used for Evaluation
Features
Before now, you probably didn't know that there were so many different features to look for in a tarp. That's why we have included them in this guide. Some of the most important features you should look for are the mils (thickness), size, grommets, material, and colors. You need to know the thickness, so you can decide if it will hold up for the task you what to use it for.
The size matters according to the use. You obviously don't want to use the smallest tarp to cover your sailboat, and you don't want to use the largest for yard work or gardening. The grommets are the eyelets around the tarp that are used to hold the rope or bungee when you tie the tarp down. You need to know how many and their distant placement, so you will know if it will fit securely in the place you will be using it.
The material matters for various things such as the water, rust, and mildew resistance. The material falls into the durability category as well because you don't want material that will tear or crumble easily.
Color
A silver tarp will block the sun, so if you're using it for shelter then you will want to face the silver side out, so you will stay cool on the other side. White tarps will provide some shade, but it won't block it out completely, so again, if this is for your shelter, you will want to face the white side out and take shelter under the other side.
Other colors such as green and brown are used for things like camping or to cover tools and equipment. You might find these tarps on construction sites, and you can use them to assist you with landscaping or in your garden.
Durability
The durability will come from the thickness and type of material used to construct the tarp. The type of grommets also matters where durability is concerned. You will find that grommets can be made of aluminum (the weakest of them all), plated steel, and brass (the most durable of them all). The spacing of the grommets are determined by the size and grade of the tarp, but they are usually spaced between 18 to 36-inches apart. The more grommets, the sturdier the tarp will be when it is tied down.
You want to be sure you choose a tarp that matches your climate because if it isn't waterproof you wouldn't want to use it in a rain forest, and if it crumbles in the sunshine then you wouldn't want to use it in the middle of the desert where the sun will beat down on it all the time.
Ease of Use
When it comes to the ease of use you need to think about where you will be using the tarp and what it will be used for. If you will be backpacking, then, of course, you will want something that's easy to pack and light to carry. If you will be securing the tarp for any purpose you know you will need to use bungees or rope. One thing you need to consider is the spacing and number of grommets because if you don't have enough it will be hard to secure it in place. Likewise, if you have too many, think about how that will affect the ease of use.
If the tarp is large or heavy you might need to recruit a friend to help you place it, so if you're working or traveling alone, be sure and get one that you can handle by yourself.
Subscribe to our Newsletter