Best Electrolyte Tablets
In a
Hurry? Editors choice: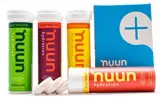 Test Winner: Nuun Hydration

To understand why electrolytes are so important, we must first understand what an electrolyte is. An electrolyte is an ion in your body that
carries the necessary energy
to many parts of your body, especially your muscles. When you get a cramp while running, this is your body's way of asking you for electrolytes.
Electrolytes can aid in strengthening your immune system, preventing fatigue and muscle cramps, and even headaches caused by exertion or dehydration. Sometimes we think that water is all we need, but when you are physically active, your body craves a bit more. The best way to replenish your electrolyte supply is through an electrolyte tablet.
Standout Picks
Criteria Used for Evaluation
Responsiveness
Using tablets that have electrolytes in them can provide you with a wide variety of benefits, including the ability to keep you hydrated to help your muscles recover more quickly after workouts. Of course, they do far more than that, and if you are endurance training, you'll get quite a bit of assistance with building up your strength so that you perform better.
As far as working out is concerned, not only will you get the minerals and electrolytes you need to recover more quickly. Your muscles will experience far fewer cramps, soreness, and fatigue overall, and of course, that will allow you to keep performing your hardcore workouts effectively. Plus, if you don't hydrate correctly, you can also wind up feeling nausea or getting headaches, which can affect your overall performance. By using these types of tablets, you won't have these issues.
These types of tablets also allow you to build up your strength much more quickly than if you didn't use them because you'll be able to not only recover more quickly, but your body will be getting everything it needs to build muscle quickly. That will improve your overall endurance, and help you improve your effectiveness as well.
Product Purity
These types of tablets usually feature a combination of electrolytes and minerals at the very least. Some also feature other ingredients as well in them, and whether or not you need or want that is a matter of personal preference. The electrolytes and minerals that are commonly found in these types of tablets include potassium, sodium, calcium, and magnesium, and these are all materials your body needs to perform well and loses when you sweat and workout.
That's why to make your body stronger and to keep training hard, you need to replace that loss.
Some of these electrolyte tablets also come with additional items in them like caffeine and vitamins. Others feature carbs as well, and if you are on a low-carb diet, you might want to avoid that. But again, carbs can also help you work out more effectively, so you'll need to decide if you want them or not.
Effectiveness
Typically, these types of products are very effective and do produce results. Of course, how well the product works can depend on the brand, but what we've listed here gives you a good set of options that all work very well. When you want to figure out how effective a tablet is going to be, make sure you check out the ingredients and descriptions.
Some of these products are made to absorb quickly and they will state that in the description. Others feature vitamins that will help your body absorb the electrolytes faster, and those vitamins are usually A, B, C, and sometimes D.
Value
Value is a measurement of how much a product costs, how much you get, and how effective the product is. So, of course, you want to check out price range, quality, and quantity. You'll find some choices of different quantities with many of these tablets, and if you are buying a product for the first time, we'd suggest getting the smaller quantity to make sure the product works well for you. To come up with the overall value of a product, we took a look at all of the listed criteria and then compared that with the price of the product.
Subscribe to our Newsletter