Best Coffee Makers For Camping
In a Hurry? Editors choice: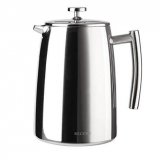 Test Winner: SECURA FRENCH PRESS

There is nothing better than waking up in your
tent
and smelling the great outdoors and building your own fire to brew your own
cup of coffee
. Camping offers so much beauty and tranquility it is no wonder why so many of us enjoy it. Spending the day outdoors adventuring is a time to reconnect with nature and leave the stresses of life. One thing that many people love to enjoy together in the mornings while outdoors is a cup of coffee as that delightful scent of a freshly brewed cup of Joe is hard to beat. But along with the rich aroma, it also provides a sense of warmth and comfort that many avid campers enjoy, not to mention a caffeine boost you might need to
head
off on your next adventure. Below we have listed the top ten best coffee makers for camping.
Standout Picks
Criteria Used for Evaluation
Effectiveness
Good products are always ones that are built to last, so it should not come as a surprise that the exterior design of coffee makers is so crucial. Bu
t, there are multiple materials that will provide the same end result; although some are superior to others. Throughout the entries on this list, a lot of them altered in terms of exterior design. Still, all manufacturers either chose stainless steel, glass, or plastic (or a combination).

Each has its advantages, but stainless steel may be the winner in terms of pure quality. Any coffee makers that sport a stainless steel exterior are virtually indestructible. By "virtually" this accounts for idiots who will purposely try to cause damage to the stainless steel to prove a useless point. Accidental cracks and breaks are very unlikely to happen unless a serious accident happens. Also, stainless steel will provide great protection against rust. Thus, making the visual appeal and craftsmanship superior for years on end. Lastly, this type of steel will keep the coffee hot inside (without damaging it as it is heat-resistant), while keeping the exterior cool to the touch.

Not too many are, but what happens if a coffee maker is constructed from plastic? Do not be fooled, plastic is not a bad material. A couple of benefits for using it include an exterior that is harder to break than glass (most generally), it is resistant to corrosion and it possessing tremendous insulating properties.

Really, all three will suffice but stainless steel may be the one to prioritize over the others.
Materials
This is just as, if not more, important as the exterior design. What good is a coffee maker that does not make great tasting coffee? It is about as pointless as basketball that does not bounce. However, it takes two key components to make a great cup of coffee: the machine and the user. The machine is what you will have to concern yourself with at the moment and there are a few factors that come into play.
The first is how well the coffee maker will insulate your coffee. Most people will not be satisfied with anything less than a smoking-hot cup of coffee. Of course, if you make enough coffee for one sitting than you will pour it all into your mug. Thus, not needing concern yourself with the insulation too much. If you ever intend to make more than needed, and save the rest for a little later, it is nice if it is kept as warm as possible.
However, the way the coffee maker filters the grounds is where the true quality lies. It is important for there to be zero grounds left in the finished product. To achieve this, most high-quality models will use a double mesh filter system (typically stainless steel) to reduce the sediment and grounds. But, in the meanwhile, not affect the natural flavors and oils from the beans themselves. Which is why glass and stainless steel exteriors are so nice, as they do not affect the flavor in the slightest.
Next, you need to have adequate skills to make a great cup of coffee yourself. If you do not like your coffee black, bring creamers and extra ingredients to stir inside them. For novices, some manufacturers will include detailed guides to making excellent cups of coffee. This may be something to consider.
Portability
This entire guide has taken a priority to coffee makers that can be specifically used for camping. That is not going to prove to be an easy task if they are not portable because it would defeat the entire purpose. With your current coffee maker, that you may have sitting on your countertop at the moment, there is a possibility that you could take it camping with you. It just depends on the way you camp. In other words, if you do so with a camper, tent, or simply under the moonlight. With a camper, you will find a place with electrical access. This is a possibility even with a tent unless you camp in the middle of the woods and not at a campground.
Either way, to accommodate all types of campers, all the entries can be used no matter how you camp. Besides the way they are designed, they are extremely lightweight in nature. Even though you will find models that do not include a storage bag, most will easily fit into any backpack or storage bag you have. From there, they will take up little to no room in either your tent or campsite.
Capacity
Remember the opening statement that asked how many of you are dependent on coffee to the point of addiction? Well, chances are, if you intend to camp with other people (and that is the most enjoyable way to do so) they could be just as addicted as you are. What if they do not have a portable coffee maker like yourself? Depending on how kind you are, you may want to make them a cup of coffee as well. If you want zero downtime in-between, this is where the capacity will come into play.
Typically, it takes a coffee maker several minutes to brew coffee. While we are not talking hours here, to get the proper transfer and flavor it does take a brief amount of time. Double that, or triple that, if there are multiple people in your camping group that require coffee in the morning. But, all this time can be eliminated if you invest in a coffee maker that accommodates for more coffee in one single brew. The models on this list vary quite a bit in this compartment and it is strictly user preference.
The best bet, if you are having any doubts on how many people will want to use it, is to shoot for more than you need. In the morning, if one cup is sufficient enough for you, choose a model that makes up to three or four. This way, if there is a revelation that other people would like some coffee you are perfectly prepared to make their day. Generally speaking, though, the more it makes the more expensive it will be. Keep that in mind and use discretion with your decision.
Top 10 Picks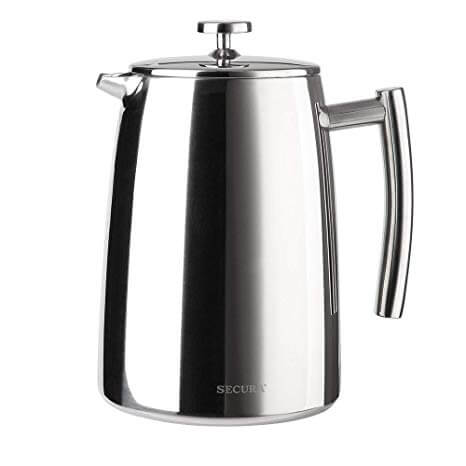 This is a truly fabulous coffee maker with a nearly impeccable makeup that makes it one of the best available. This Secura french press has a 3-layer 1.5 liters stainless steel coffee maker that comes with a filter to help trap all of the coffee grinds to give you the best and most fresh taste. This coffee makers exterior and interiors material is from stainless steel. This coffee maker can outlast almost any coffee maker on our list with its durable and high-quality construction. This coffee maker is also dishwasher safe and the filter screen is easy to clean. It even comes with a cool to touch handle to make sure you do not burn yourself while pouring your coffee. It is a wonderful product with great features and an even better price value which make it a great camping coffee maker.
Read more
Effectiveness
Secura is known for its high-quality kitchen and wine quality products that are easy to use and get the job done well. This coffee maker has a double insulated wall so it is known for being more efficient than many other coffee makers on our list. This double wall feature has the ability to keep your beverage warm for a longer period of time and makes it more popular as it keeps your coffee more fresh at all times. Its 3-layer filter helps to collect the smallest coffee grounds which help give you the best tasting coffee and keep it fresh. If you stack screens on top of one another you get an even fresher and nicer strong taste of the coffee.
Materials
This Secura french press coffee makers interior and exterior are made from stainless steel. The inside of the French press is insulated which help maintain its heat. When it comes to other french press they may use stainless steel on one side only which also makes this coffee maker outlast many other products on our list.
Portability
This coffee maker features a cool to touch handle that helps you with not burning your skin while you are pouring your fellow campers a cup you are able to carry it around safely. With its stainless steel handle, it is also very easy to transport and being just 10.7 x 8.5 x 6.8 inches and just 3.84 pounds it is very easy to carry.
Capacity
This Secura coffee maker is known for being a 1.5 Liter stainless steel french press coffee maker. Both the exterior and the interior are made from stainless steel to help make it outlast many other coffee makers on our list. The capacity of the Secura is rather large so it does fit a higher quantity of water and coffee which is great for larger groups of people while camping.

2

. BRUHEN LARGE STAINLESS STEEL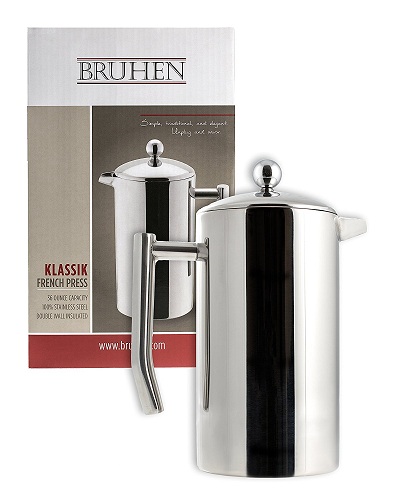 Perfect for inside your home or on your next camping trip, the Bruhen Coffee Maker is ideal for any scenario you can think of. Disassembly is a breeze and it is 100 percent dishwasher safe. The Bruhen Coffee Maker surely sports all the goods and is a terrific choice for every single coffee lover in the world.
Read more
Effectiveness
For a clean cup of coffee every single time, double steel mesh filters filter out everything but the good stuff. The inside insulation will also keep it hot for an extended period.
Materials
Constructed from BPA-free stainless steel, there are no plastic or rubber parts and no fragile glass to break. In addition, the handle is both sturdy and comfortable.
Portability
It will fit perfectly on your tabletop counter, but it works even better when transported. Lightweight enough for easy transportation.
Capacity
In one brew, it will make a liter worth of coffee. This will fill approximately three to four full-sized cups.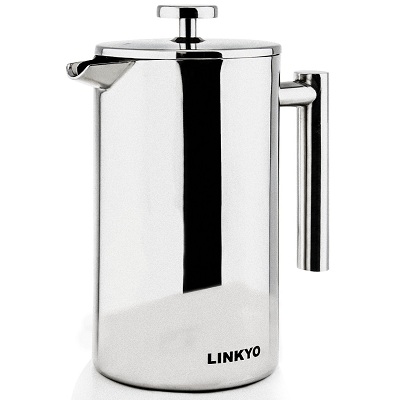 Securing the top spot is the LINKYO French Press Coffee Maker. It was a very close call, but you will not find a coffee maker superior to this one. Every single part is made of 18/10 stainless steel; which makes them all dishwasher safe. The stainless steel makeup, fantastic coffee quality, and multiple capacity options provide a near-perfect coffee maker.
Read more
Effectiveness
The insulated double walls will keep the coffee hot for a good deal of time and the double mesh filter system reduces the sediment in your coffee cup.
Materials
Built with solid stainless steel, it is virtually indestructible. For the most part, you never should worry about breaks or cracks in the exterior.
Portability
Weighing in at just under two pounds, this handy coffee maker can easily be taken anywhere.
Capacity
There are two size versions available; 34 ounces and 50 ounces (of coffee made).

4

. IDYLC HOMES KONA FRENCH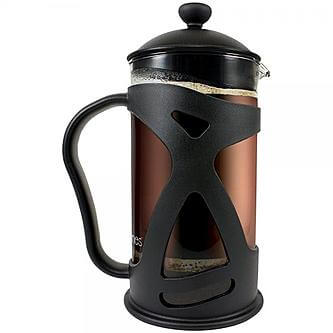 Strolling down this list we hit another tremendous coffee maker that will easily accommodate for camping trips. The stainless steel filter screen can easily be removed and the coffee maker itself is dishwasher machine safe. While there are slight downsides that hurt its overall nature, it does not prevent the KONA Coffee Maker from being an utmost recommendation.
Read more
Effectiveness
Right into a large carafe, the coffee beans will brew and no grounds will make their way into the coffee. The result is a smooth and rich flavor.
Materials
The outer shell is extremely attractive, coming in either black or red, and will protect from accidental cracks or chips. The pitcher itself is made from extra-thick borosilicate glass.
Portability
It is both portable and eco-friendly; perfect for camping and hiking.
Capacity
There are two options at your disposal, either 12 ounces or 34 ounces.

5

. AEROPRESS COFFEE AND ESPRESSO MAKER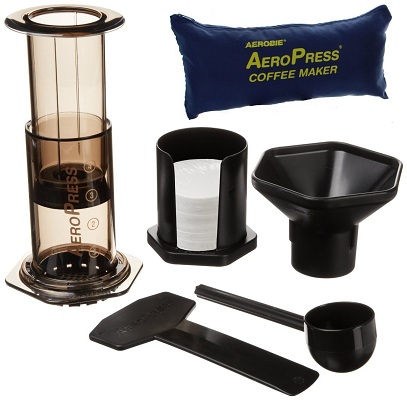 While the AeroPress Coffee Maker is constructed a little different than the above models, it is still stupendous. In mere seconds, all parts can be cleaned. The plastic makeup provides a fast and easy clean-up. The included storage bag is a really nice touch and its design is perfect for travel.
Read more
Effectiveness
The AeroPress uses total immersion and a tad bit of pressure to ensure each cup of coffee has immense flavor. Inside, the microfilter will prevent and particles from entering your coffee.
Materials
All parts are made from plastic and phthalate and BPA free. While not stainless steel, this makes it great for traveling.
Portability
Included with this coffee maker is a portable travel bag, making it perfect for travel.
Capacity
It will fill enough for one to four cups of coffee (depending on the size) or around one to two mugs.

6

. CAFÉ DU CHATEAU FRENCH PRESS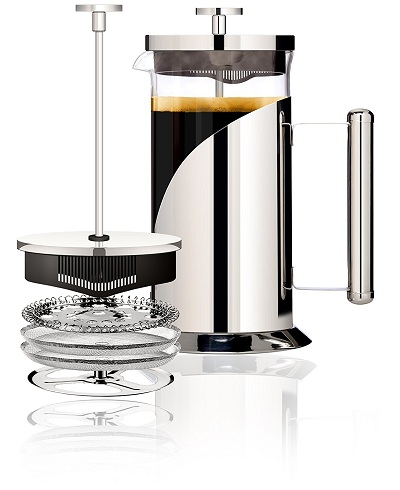 No shame with coming in second and the Café Du Chateau is as good as it gets. Only a few minor downsides prevent it from taking the top spot. For the easiest clean possible, every major component is dishwasher safe. Could not think of a better second option with its terrific portability, capacity and coffee quality.
Read more
Effectiveness
It combines double stainless steel screen filters and a final top lid strainer to ensure a pure brew with zero grounds, making it perfect for coffee, tea, or espresso.
Materials
All pieces are constructed from 304-grade stainless steel. This protects it from rust and also makes it visually appealing. Plus, the large carafe is made from borosilicate glass and will withstand boiling water.
Portability
It is small enough to fit in a carry bag and will work perfectly on your camping trip.
Capacity
In one brew, it will make 1000ml of coffee.

7

. COFFEE GATOR POUR OVER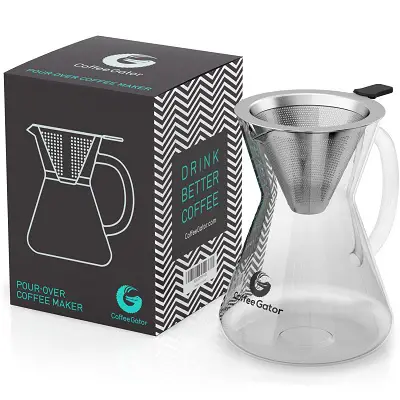 The best aspect of the Coffee Gator Coffee Maker is the pour over method utilized. On top of the stainless steel, this provides a fantastic product. Cleaning is incredibly simple, just be careful with the beaker as it is constructed from glass. Glass may not be as efficient as stainless steel, but that does not make this an insufficient model (nor a bad design choice). Instead, all the other factors on top of it make it more than worth it.
Read more
Effectiveness
The pour-over method assists your beans in delivering maximum flavor, while the laser-cut reusable steel filter retains the flavors and oils.
Materials
No aluminum is used in the design, instead of a stainless steel mesh and ring. However, the overall exterior is glass.
Portability
Weighing in at a minuscule 14.4 ounces, the Coffee Gator can be easily transported.
Capacity
One brew will make 400ml of coffee; which will fill around three cups.

8

. PRIMULA SINGLE SERVE BREW BUDDY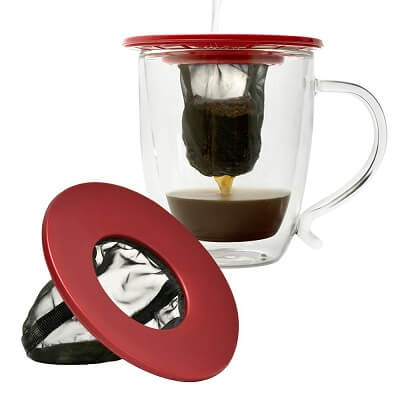 The magic of the Primula Single Serve Coffee Brew Buddy is that it brews you a cup of coffee to any strength you desire within 30 seconds. How can you go wrong with this? Essentially, one flaw may be that it only brews one cup at a time, but when you are camping, you have all the time in the world. So take in the scenery, breath in some fresh air, and brew you and your friend a cup of Joe each. This coffee maker is safe, easy, and fun to use. The mesh filter is economical and can easily be replaced when it needs to be refreshed. This design is unique and unlike many others on the list.
Read more
Effectiveness
The fine mesh filter allows any grind size that you would like or prefer. And you can brew the coffee to your own desired strength.
Materials
This coffee maker is quite a unique design. It features a single serving mug that has a coffee bag placed right within. It is a simple set-up that works easily for many who have reviewed and tested it.
Portability
The Primula Single Serve Coffee Brew Buddy is small, compact, and lightweight. It is easy to clean and transport.
Capacity
It makes one mug of coffee at a time.

9

. GSI OUTDOORS COLLAPSIBLE JAVA DRIP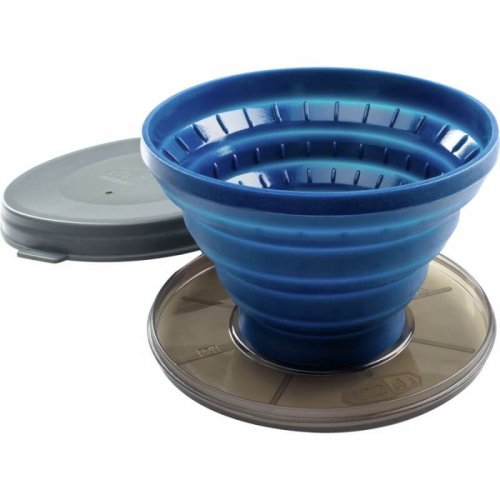 The GSI Outdoors Collapsible Java Drip Camping Coffee Maker is a useful and innovative way of having your coffee in the morning (or whenever you feel like it). All the parts can be dissembled in mere seconds and cleaned just as easily. Not too many aspects are lacking with the GSI Collapsible Java Drip Coffee Maker. It's ideal for camping and backpacking and it a great, tiny addition to any camp kitchen.
Read more
Effectiveness
To be used with any #4 filter, this drip coffee filter is very similar to your average drip coffee filter. It shouldn't affect quality or taste.
Materials
The IncrediBrew is constructed from high-quality silicone that can easily be collapsible for easy storage and travel.
Portability
Like you've seen already, this little guy is so convenient and portable. Not only can it tucked in anywhere, at 1" by 5.5" it can basically fit in your back pocket.
Capacity
Can brew between 1 and 12 cups of coffee.

10

. GSI OUTDOORS JAVA PRESS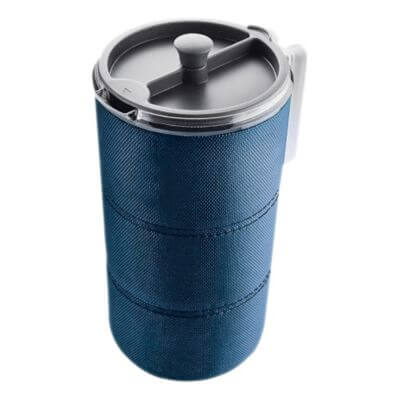 Last on this list is the GSI Outdoors Coffee Maker. As the name so eloquently implies, it will work great for a camping trip. Besides the slight issue that can result with the coffee grounds, the GSI Coffee Maker is a great choice and will work sufficiently for hiking, camping or any other outdoor activity.
Read more
Effectiveness
The inside is double-walled and the lid is insulated to hold as much heat as possible. While pressing the plunger too quickly can result in grounds in your coffee, most of the time mud-free coffee results. After easily removing the EVA sleeve from the beaker, you can hand-wash it with relative ease.
Materials
The carafe is crystal-clear and covered with a blue insulator; this adds extra protection.
Portability
Once again, the lightweight nature ensures easy transportation time and time again.
Capacity
A few options are available including 30 and 50 ounces.

Subscribe to our Newsletter