Best Dome Tents
In a
Hurry? Editors choice: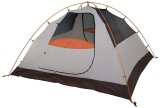 Test Winner: Alps Mountaineering Lynx 4

Going
camping
? Dome tents are one of the most popular types of tents because they really fit the bill for a lot of different types of campers. This is due to their ease of use, size, and variety of choices on the market. If you're looking for a dome tent we've taken hours of research and reviewed many, many options. For simplicity and popularity, we've chosen best dome tents that fit at least 3 or 4 people
comfortably
and some can fit even more than that easily.
We've narrowed our favorites down to a top ten to make your shopping task easier so you can pick one, pack up, and get out there and camp. Whether you're looking to
hike
and camp alone or spend a long weekend with the whole family, we've got an option for you, your needs, and your budget.
Standout Picks
Criteria Used for Evaluation
Weather Resistance
A big wind can pick up anytime. Be prepared!
We want you to find a tent that you can feel safe in. No one wants to worry that the wind might be picking up and could take your tent with it. We chose tents that could withstand very strong winds. Several of our tent choices were made to withstand 35 mile per hour winds or stronger! We checked things like pole and line strength, fly materials, and other user experience to come up with tents that will keep you safe even if things get a little windy.
Speaking of safety, protect yourself from the sun! Not everyone even knows that tents can be UV protected or that it's even important. Tents are not made of very thick material and they are often not great reflectors of sun rays. Tents, and usually their fly, can now offer UV protection. This is especially important to consider if you're out camping in the desert, on the beach, or a campground without a ton of tree cover.
Water Resistance
A good tent should have no issues keeping you dry.
You never know exactly what the weather will be when camping. It's really stressful to try to plan an outdoor adventure vacation knowing a downpour could ruin everything. We only chose dome tents that would keep you dry, even in fairly severe storms. We especially like bathtub bottoms and waterproof flies but found other cool technology like inverted seams and zipper covers we had never even thought about before.
Ease of Use
No one wants to struggle for a long time just to set the tent up.
We came across some really great tents in our research that we simply could not include because they were way too difficult and timely to set up. We had to narrow down our choice to only ten, so we only included tents that took a reasonable amount of effort and skill to set up. Once you arrive at your camp spot, you want to set up as quickly a possible. If you are exploring a new destination and arrive later than expected, setting up your tent in the dark can be a difficult task. Easy efficient set up is also really important for correct use and safety.
Weight
Some tents are too heavy to carry for long hikes. Plan ahead.
The reason you need to consider weight is that you might want to take your tent hiking or cycling or you might just have a long walk to your site. Our choices ranged from around 8 pounds to over 20. 20 pounds might not sound like a lot if you're not used to backpacking with gear, but that 10 pounds can make a huge difference. Most of our tents are honestly better used as car campers instead of backpack campers. We included these weights though so you could be aware and make that decision yourself.
Value
Altogether, the features need to be worth the money.
We took all of these things together; weather and water resistance, ease of use, size, and weight, along with any cool features or lack thereof and came up with what kind of value each tent would hold for the average user. Of course, everyone has different needs and wants when it comes to camping, so we made sure to explain why we thought a tent would or would not work for certain types of campers.
Subscribe to our Newsletter