Best Camping Mattress
In a Hurry? Editors choice: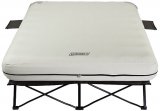 Test Winner: Coleman Airbed Cot

If you have ever been camping, which most likely you have then you know that when you head to sleep after a fun day of camping, most of the time the only comfort that is provided is from your sleeping bag. Sure your sleeping bag keeps you warm and snug but with regards to padding, most sleeping bags lack and you end up feeling the ground under you. Many have decided that they deserve a little more comfort when they go camping and have invested in a camping mattress. Camping mattresses offer the comfort of extra padding, so it simulates that you are sleeping on a bed rather than the floor. If you have decided to leave the floor and upgrade to a comfier sleep on your next camping trip than the camping air mattresses below are listed for you.
Standout Picks
Criteria Used for Evaluation
Support
The best air bed for camping should be able to support your body by distributing your body weight evenly and prevent lumps from being formed. This is a quality that is pretty difficult to find and if you do manage to find a model that possesses it, it will come at a higher price. Such air bed would have a net of air coils that are well distributed and as many as possible. These internal chambers would contribute to the comfort of the air mattresses and they could count as high as 30. If you are looking for a double air bed, it is recommended that you do not even look at the models that are without an internal chamber system. If they don't possess this feature, your partner and you will end up cuddling all night. This might not be such a bad thing if you are the cuddling type, but if you are not, definitely go with the coils.
Overall the two major features you want to keep in mind when looking for an air mattress that will offer a supported sleep is air coils and a raised bed. The air coils will allow your body to mold into the mattress and support your spine which will not only keep you comfortable but also waking up without any pain. A raised bed will keep you off the ground and allow your body to be supported rather than feeling the ground underneath you and pushing back up against you which can cause body pain the morning.
Comfort
How comfortable an air mattress, or any mattress for this matter, is opinion. However, we felt that this was an important topic to address and we scoured the reviews to get a feel for the overall consensus. In this section, we focused on whether the air mattresses for camping were too soft, too hard, or just oddly uncomfortable.
This is the main reason you are investing in the best camping bed, as you are tired of being uncomfortable sleeping on the ground in your sleeping bag and think it is about time you wake up feeling relaxed and without body pain. To ensure you get the best air mattress for camping, make sure to check the materials, air chambers, and if it is a raised bed or not. All these factors come into play when making a mattress comfortable or not. You can also check the customer reviews which is highly recommended as it will give you a first-hand account on how comfortable the camping air mattress was for other customers who decided to purchase it and put it to the test.
Durability
No one wants to throw away their money. In this section, we focused on how well the product stands up. A camping mattress gets put through a lot of wear and tear. If the materials of the camping air mattress aren't strong enough, you are likely to end up with a hole. A simple way to help elongate the life of your camping mattress is to use a mattress sleeping pad underneath it. This will act as a barrier between your mattress and the outdoor ground.
Another thing to consider is whether or not the sleeping surface comes with a warranty and what exactly that warranty offers. The warranty time varies from one brand to another. However, if it is not at least one year, it is not a recommended model. There are warranties for the pumps as well regardless of whether you have purchased it separately or it came together with your most comfortable camping bed.
Features
Inflation and deflation process
If you are looking for a single sized best camping mattress you might manage without a pump. However, anything above that size would greatly require a pump that will take care of the inflation process. If you blow it with your mouth it would take about half an hour to get it fully inflated. If you, however, have a pump at your disposal, it only takes 1 minute and you don't even have to get yourself involved in the process. However, a pump requires that you are camping near an electricity source or at least camp with your vehicle nearby. Most pumps come with a car charger, so this is one way to go.
The tricky part is that once you manage to inflate the air mattress to the desired level of firmness, it should stay that way during the night. However, with air beds, this almost never happens. Over the night, the temperature outside is not constant. In fact, it greatly differs. For this reason, the air inside the mattress is spreading or shrinking depending on the temperature. This causes that the mattress gets more inflated or deflate itself. The only way to prevent this is by purchasing a mattress with an inflation control system. This system is measuring the pressure inside and it is maintaining the desired level. This way, you are able to sleep on your camping air bed and not wake up in a hole in the morning.
Another thing is that when using an air bed, always make sure that the valves are tightly sealed. This will prevent air leaks and it will decrease the temperature deflation.
Other features that we focused on in these sections were things such as weather resistance, color options, ease of use, and storage abilities.
Top Ten Camping Mattresses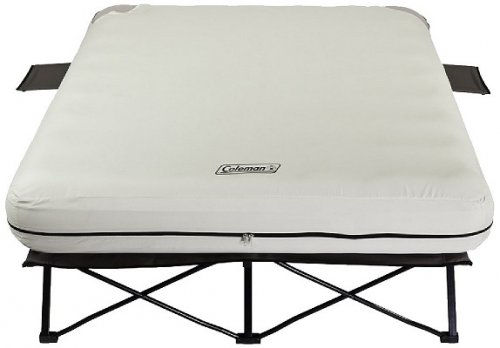 This is the best air mattress for camping option that we highly recommend if the weight is not an issue for you. It is made with steel construction that will provide excellent support, but it will take you a bit of an effort to carry it from one place to another.
Read more
Support
As far as support goes, there is no other camping air mattress that will give you this feeling and a good night's sleep. It feels very similar to domestic beds and the weight it can support makes it really stand out. It could hold up to 600 lbs which are quite impressive.
Comfort
Some have compared this best camping air mattress to theirs at home. It is agreed that this is a comfortable mattress, but not if you are a very tall person.
Durability
When the steel construction and the inflatable mattress are combined, they are very durable. The pump is also going to last you for a long time and you could use it for other purposes as well. It is included in the price of the air bed for camping, but it is a battery one pump so you will have to purchase the batteries separately.
Additional features
The additional features include tables on both sides of this best rated air mattress for camping where you can keep your phone, battery lamp or some personal items that you might need. The steel construction is connected to an inflating mattress with a low height which you can choose to use separately or combined. Using it separately is only recommended indoors or with an isolation pad because the material is not as tough.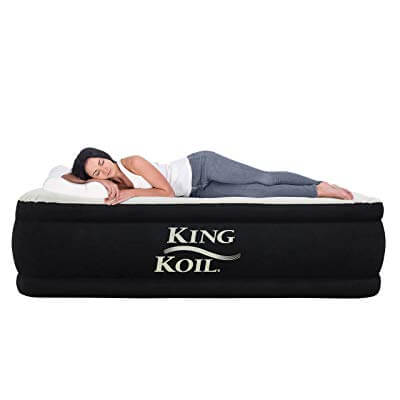 This camping air mattress from King Koil is a comfortable raised bed to ensure you get a great night's sleep on your next camping trip. This air mattress for camping comes in a twin, queen, and king to ensure that you have a variety of sizes to choose from.
Read more
Support
This camping air mattress comes equipped with coils that fill with air to provide you with support and allows your spine and body to mold into the bed, so you are not putting extra strain on your body and can have a comfortable sleep.
Comfort
This air bed is quite comfortable as it has a raised level to keep you off the ground and elevated for a comfortable sleep. The material on the top of the air mattress also feels great against your skin so you will not be uncomfortable while sleeping.
Durability
This air mattress for camping is quite durable as it is made from PVC and also comes with a one-year guarantee ensuring that this air mattress is the one for you.
Features
This air mattress comes equipped with a built-in charger to ensure you always have a charger on you to inflate your air bed. It is also waterproof to ensure that if water does seep into your tent, the mattress with not be damaged.

3

. SoundAsleep Dream Series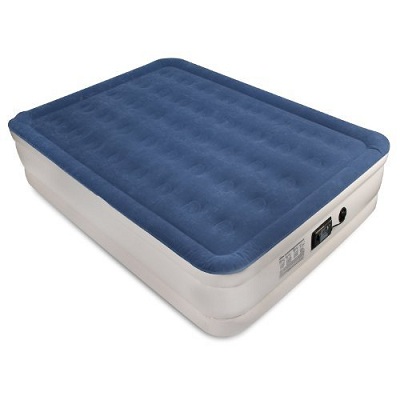 This is a high air mattress for camping that is comfortable for getting in and out of but it is not suitable to use in small spaces. However, this is a 40 coil camping bed that offers great support to your spine and it is large enough for two people to sleep in, even if they are not the cuddling types. This is the kind of mattress that is excellent for camping and also suitable for guests in your house.
Read more
Support
The weight that this air mattress for camping can hold is 500 pounds, which is quite impressive comparing to camping beds of this price range. Thanks to the 40 internal coils the bed retaining its form during the night, you won't wake up sleeping on the ground as it is the case with many competitive products. The advanced coil technology is allowing the beds to stay flat and maintain their original shape.
Comfort
The air chambers in this mattress are horizontal, not vertical as many others. Reviewers believe that this is what makes this mattress so comfortable. It has been noted that you should sleep on the mattress three times before taking it outdoors. The fabric stretches and therefore deflated slightly with the first few uses.
Durability
This mattress owes its durability to the high-quality material used in the manufacturing process. It is composed of multiple layers in order to prevent punctures. This is making the camping mattress more resilient to rough rocky terrains.
Nevertheless, placing it on sharp objects and rocks is never a good idea. Also, the material is tough enough so that inflation and deflation don't cause wearing off or changing its properties at all. The bottom is reinforced with a waterproof piece of material which is also preventing it from slipping if you place it on an uneven surface.
Additional Features
This camping mattress comes with an integrated pump that is very easy to use and the inflation and deflation process will finish before you put on your pajamas.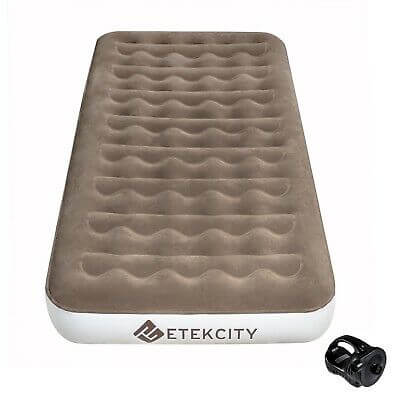 This camping air mattress from Etekcity is quite popular among campers alike and for good reason as it is affordable, easy to inflate and deflate, and provides a comfortable sleep. This mattress for camping comes in a queen and twin size to ensure that no matter if it is just you camping or you are bringing your family, there will be enough room for everyone.
Read more
Support
This mattress offers quite a bit of support and will leave you enjoying a comfortable sleep. It comes in a twin or queen size so you can ensure that you will have enough room for whoever you bring along camping with you. The air mattress is also quite firm but flexible as well to ensure you do not sink into the air mattress and become uncomfortable.
Comfort
This mattress will leave you comfortable and sleeping easy so you can enjoy a great day of camping adventures the next day. The reason this air mattress is so comfortable is due to the raised design, so you are not feeling the ground beneath you. The material of the air mattress is also smooth against your skin so it will not make you uncomfortable.
Durability
This mattress is durable as it has welded seams to ensure no air will escape and not slowly deflate on you during the night.
Additional Features
Some great features with this mattress are the fact that it has a skid-proof bottom to ensure that if you move around at night while you sleep, this camping air mattress will not. It also comes with an AC/DC charger to ensure no matter if you are at home or near your car, you can inflate your air mattress without issue. Comparing it to the best air mattress for camping, this one is also a high-quality product.

5

. Therm-a-Rest MondoKing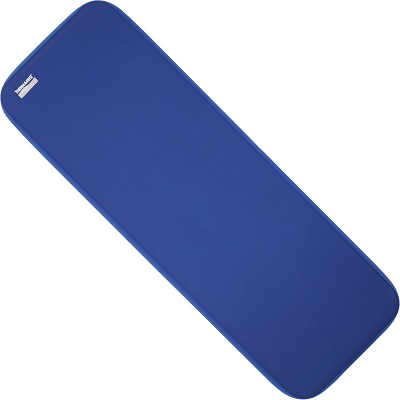 Therm-a-rest is a basic type of camping air mattress that will provide you with enough comfort so that you feel well-rested on your next camping trip. It is not suitable for uneven ground since its height is only 4 inches and even a small rock will create discomfort. If you need a camping mattress for such terrains, look through our higher suggestions.
Read more
Support
It offers great support which is shown with its R-value. The R-value is recommended to be higher when the temperatures are higher since, with a higher R-value, your mattress will resist the heat better. The insulation power will also be higher, although this does not guarantee that it will stay the same during the night. This camping mattress has an R-value of 11.4 which is much better than the average of 9.
Comfort
Reviewers refer to this as one of the best air mattresses for camping. The insulation will keep you warmer than traditional camping air mattresses. There are many different size options available to keep you comfortable and the pad seems to be long enough for tall people, also! However, you must be cautious about where you decide to set up this mattress, it is not very thick and you may be able to feel rocks or sticks underneath you.
Durability
The urethane foam core promises a durable, long-lasting camping air mattress. While the company has been around since 1972, this particular bed is new and may not have been tested enough to truly report on years worth of durability.
Additional Features
Thanks to the core construction made of foam, this is a camping mattress that you would be able to use in all weather conditions. The foam will keep your body warm and it will serve as isolation between the ground and yourself.
The sleeping space is also about 20% bigger than the average size of such camping air mattresses, and this definitely increases comfort. The inflation and deflation are controlled by the valves on the top which are tightly closed and don't leak air.

6

. Intex Cozy Kidz Inflatable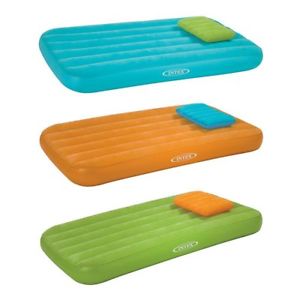 Camping is often a family adventure in which the children are included. This range of camping air mattresses for children will ensure they are comfortable and happy. These Intex air mattresses are insulated from the ground and will provide a good nights sleep so your children will be well-rested and ready to join in the families daily activities.
Transporting this is easy at a light 4.21 (Lbs)
Read more
Support
This will support a child's weight up to 200 (Lbs). A pillow is built into the product for ample head and neck support.
Comfort
Kids claim that is a comfortable mattress. Many prefer to use their own pillows, but if your child can carry that to the campsite, why not?
Durability
Many people are surprised by the durability of this mattress. It is strong enough for inside and outside use, and some have even used it as a make-shift crib mattress while traveling. We all know how tough a child can be on toys and air mattresses for camping, but this one seems to stand up to them.
Additional Features
This air mattress is good for camping or as a put-me-up at home if your child has a friend for a sleep over. The surface area for sleeping is flocked to ensure gentle contact with the child's skin. Even better, is the built-in pillow, so you have one less thing to carry. This mattress is also available in a nice range of kid-appealing colors. This is a single bed model, with dimensions of 34x62x 7inches.

7

. Exped Comfort Megamat 10 LXW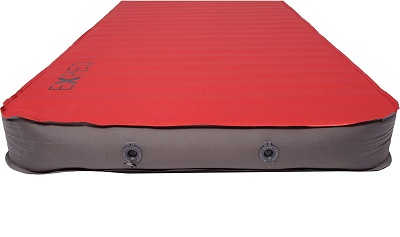 If you are ready to invest in a great, longlasting product and spend a little bit more on a camping mattress, this mattress will be your loyal companion on every camping trip you take. It is designed and manufactured using a 3D technology which ensures that you will be able to enjoy a good nights sleep without seeping into a hole.
Read more
Support
It is interesting to sleep on a camping air mattress that provides equal support at the center of it and on the edge. The fabric used in the production process is durable and very pleasant to the skin. It is also resistant to slipping so you are safe to use it on uneven surfaces.
Comfort
This mat is incredibly comfortable. Reviewers agree that it is comfortable for any sleeping position, even side sleepers.
Durability
The Exped megamat can be used hundreds of times without worry. In the rare event that something did happen to your mattress pad, a repair kit and five-year warranty are included when you purchase. Some reviewers complain about how long it takes to deflate. This just proves that you won't need to worry about air leaking out while you're sleeping.
Additional features
The brand Exped is known on the market by the design of its valves. They have integrated into this air mattress for camping two valves which are flat. They are both one-way valves which means that one is responsible for the air to get inside and the other for deflating the mattress.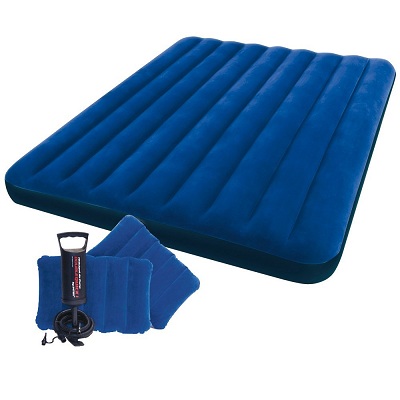 The Intex brand of air beds is the perfect fit if you are on a limited budget and you are looking for a mattress that will get the job done. This mattress is made from vinyl and may require a refill of air over time, as the material stretches. Although it does not have superior properties in comparison to the other products on our list, it comes with the lowest price on our list.
Read more
Support
This Intex mattress can comfortably support up to 600pounds. It's soft surface and official Queen size make using a fitted sheet simple. If you don't mind a bit of bounce, this camping air mattress will work well for you. You may be able to feel the movements of your partner, but you will otherwise feel very comfortable.
Comfort
The mattress itself is said to be quite comfortable, but some reviewers have referred to the pillows as "useless." While you may be able to feel the movements of your partner, the bed itself is not super bouncy.
Durability
To be honest, you get what you pay for. This mattress is about 1/5 the cost of other best air mattresses on our list. The reason for its low price lays in the durability of the product. If you are looking for a comfortable sleep for the weekend and know that you may not get many more uses out of it afterward, this may be the product for you. Although if you take good care of it, it will last you for years. If you want it to last, some reviews suggest using a pad underneath.
Additional Features
The top of the mattress is covered with a waterproof material which makes it ideal for a camping trip in wet conditions. It is light enough to be moved from one place to another. In fact, you would feel perfectly ok carrying it to your campsite for a couple of hours. Its case is small and compact and when inflated the mattress doesn't look too bulky. It is the ideal choice for a two-person tent.

9

. ALPS Mountaineering Rechargeable


The ALPS Mountaineering mattress is a perfect choice if you need a quick and easy, but comfortable bed. While this is on the heavier side (so take that into consideration when buying), the rechargeable pump battery is a great feature that might offset the carrying weight.
Read more
Support
As far as comfort goes, this is somewhere in the middle. It's a typical air mattress for camping so you're not looking at anything fancy. However, the design is comfortable and the rechargeable pump battery ensures that even in the middle of the woods, you'll never find yourself with a deflated mattress.
Comfort
This is a comfortable mattress when fully inflated. A few reviewers have griped about the mattress leaking air in the night and losing its comfortable plush feeling.
Durability
This is one of the few PVC air mattresses for camping on our list. There is some speculation of PVC being toxic, but nothing solid yet. However, PVC is the strongest plastic, therefore, making this a very durable mattress.
Additional Features
Pump, Pump, and Pump. If you often find yourself with a dead pump battery this is for you. You can be out in the middle of nowhere, yet still, be able to top off your air mattress with air before bed. The construction of the bed makes it a little bit heavier than others for carrying, but it's not outrageous and might be worth it for the added benefit of a working pump.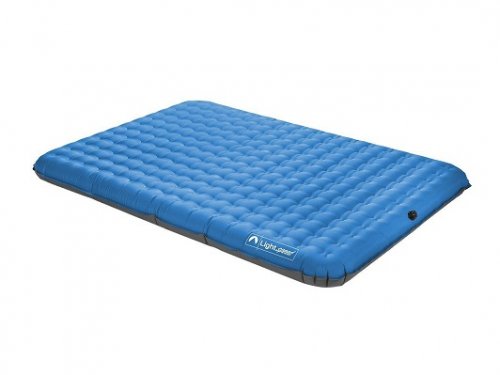 If you don't mind the low height, this PVC free camping mattress might be the ideal choice for you. It is a two-person mattress constructed from a high-quality TPU material. The leading feature of this mattress is the durability, which is incomparable to any other product on this list. And it comes at a price that won't break the bank.
Read more
Support
This is one of the rare models that has the quality of a high mattress with coil technology. However, its structure is a bit different. It has integrated connectors between the top and bottom layers which are responsible for keeping the mattress firm and maintaining the desired comfort level. The weight limit isn't listed but there haven't been any issues.
Comfort
The TPU material means that it has non-stretchy properties, which means that it will maintain its firmness during the night. And of course, now you can sleep calmly while your partner is fidgeting right next to you.
Durability
Polyester laminated with thermoplastic polyurethane makes this mattress incredibly durable. It is oil and grease resistant, strong, and can resist high abrasion.
Additional Features
It is lighter than most models on the market and it weighs only 6 pounds. This makes it perfect for camping since it is convenient for transport. The carrying case is small and compact and sometimes it might take you some time to fit it in. However, it will ease the transport if you need to carry it.

Subscribe to our Newsletter