Best Electric Air Pumps
In a Hurry? Editors choice: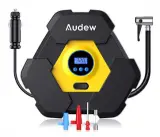 Test Winner: Audew Air Compressor Pump

There are so many reasons why your life will be more comfortable with a high-quality electric air pump at your disposal. From your car tires to your
inflatable mattresses
to even your sports balls, you probably have a ton of equipment that needs enough air to function properly.
So, when choosing the best electric air pumps, you just go with the most powerful ones, right? While power and speed are important, they are far from the only factors you need to consider. How about what you require the air pump for? After all, you need the right attachments to inflate certain pieces of equipment (for more info on car tire inflators,
click here
)
And, this is just scratching the surface. Today, you will learn all you need to know to ensure you invest in an electric air pump that is perfect for your needs.
Standout Picks
Criteria Used for Evaluation
Effectiveness
The most powerful unit is not always going to be the best for your needs. But, it could be.
One of the main reasons why electric air pumps are preferred over hand pumps like for example bike pumps is due to their performance and efficiency. After all, they will utilize motors to get the job done. But, as you know, not all models will operate with the same power and overall speed. However, at the same time, the best model for you may not necessarily be the one that pumps the most liters of air per minute.
If you need an electric pump in fast-paced environments or do not possess the patience to wait, then you may want to prioritize the pumps that have high flow rates. Closer to 500 liters per minute of pushed air will be what you are looking for. This type of power is not always going to be necessary.
Another factor to consider is the maximum pressure that units have to offer. Basically, for maximum efficiency, you will want an air pump that can handle the amount of PSI that your equipment needs. So, it is wise to do some research to find out the recommended air pressure for all your inflatables like inflatable SUPs and such.
Of course, you can also take some time to glance through user feedback to get an idea of how long a specific model will typically last. Be aware. However, some users will mistreat their pumps, which can make them die quicker.
Versatility
This is where everything can change as you need to buy a pump that can handle the equipment you have.
So, here is the deal; electric air pumps will all not be designed to add air pressure to the same type of equipment. Some units will be designed explicitly for inflatables, some for sports balls and others for car tires. But, if you have a ton of different equipment that you need to be inflated, you will want a more versatile unit.
This is where specific attachments and nozzles come into play. These accessories will dictate the type of equipment that you can inflate. Take, for example, inflatables as they will require specific nozzles. And, from inflatable kayaks to a different kind of inflatable, different nozzles will be required. This is why some sellers will include three different types with your purchase.
The same goes for sports balls as if you want to inflate them; you will need a special needle. For just a ball or two, you could get away with a hand pump, though. But, if you need to inflate sports balls all day long, you will want to look for models that come with small needles.
Oh, there is also something else that needs to be discussed. These types of pumps will either require AC or DC power or run off of a battery. For maximum versatility, look for units that can use both AC and DC power (as they will be able to be used almost anywhere).
Features
There is one really important feature that you need to look out for, quite frankly.
For the most part, electric air pumps are relatively simple devices. They are not complicated in their designs and are generally pretty easy to use (more on that later). Regarding this section, however, there is one significant feature that needs to be talked about.
Some models will be built with what is known as an automatic shutoff function. As you know, much like how you can overcharge a battery, you can overinflate equipment. And, doing so can be catastrophic as you can destroy your sports balls, inflatables, etc.
Well, an automatic shutoff function is going to combat that issue. This will allow you to preset the desired pressure (typically done via an LED control panel). Then, what happens is once the machine gets to that pressure, it will shut off. Hence, this will then prevent overinflating.
However, you still need to be aware of the correct PSI that your equipment requires. In theory, you could always have issues with over-inflation if you program the incorrect PSI level.
Ease of Use
Generally speaking, these are not too hard to use. Yet, you can look out for a few things too.
As noted, these types of air pumps are going to be pretty easy to use. After all, they are designed to do the labor for you. But, if you are a little nervous that you will not be able to figure something out, you can always access online tutorial videos and such.
Additionally, some models will come with instructions or user manuals, and these can help. If nothing else, the stuff of this nature can provide you with tips and pointers to keep in mind.
But, there is something else to consider, and this goes back to the units that will come with automatic shutoff functions. Models of this nature will often come equipped with LED or LCD digital interfaces. Now, these will typically not be anything too special and will be self-explanatory.
With that being said, the actual display itself is worth taking a closer look at. If you require an electric air pump for nighttime uses, you will probably want a digital display that is backlit and easy to see at night. Thankfully, there are some out there that will do just that.
Portability
Chances are, you will probably end up taking your electric pump with you on the go. Just keep that in mind.
You need to answer a crucial question. Do you think you will need to use an air pump when away from your home? In other words, would it be useful to you on your camping or road trips? Chances are it just might.
This is especially true for inflatables (such as air mattresses, kayaks, and paddle boards) as they typically are perfect for camping and hiking adventures. This means that it may be in your best interest to seek out portable models.
To do so, you first need to make sure you buy a compact unit. Do not think that small and compact pumps will lack optimal performance, either. No, they will be compact to save space, and this will be vital for travel-minded folks.
However, you also need to consider the power source. Again, these pumps will typically either use DC or AC power (or both). DC power is what you get from your car battery and AC power you get from homes and places of residence. If you do not have access to AC power, then look for units that come with 12-volt DC plugs for your car.
Our Top Picks for the Best Electric Air Pumps
1

. OutdoorMaster The Shark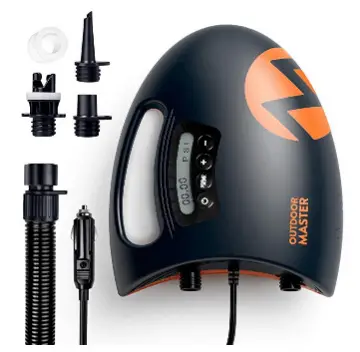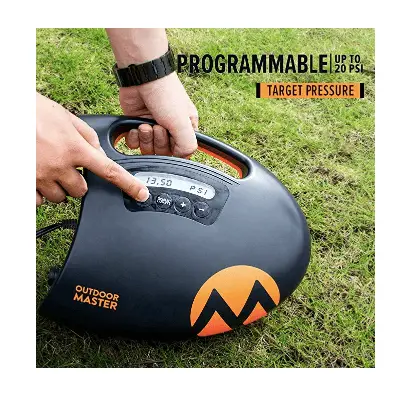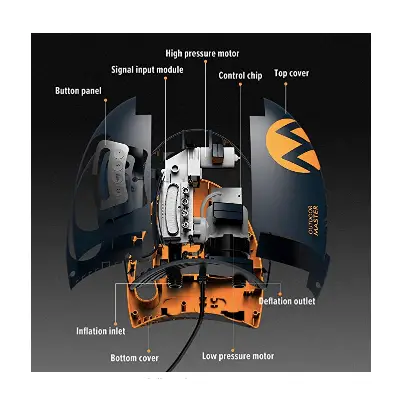 The unique design of The Shark, which is shaped like a round fin, comes packaged with three different nozzles and this allows it to be suitable for most high-pressure inflatables out there.
Read more
Performance
While The Shark has been known to overheat if operated in the sun, it works tremendously. It has a dual-stage motor for ultimate efficiency.
Versatility
This comes with a 12-volt DC connector and needs to be powered through your car. To account for different inflatables, though, you are provided with three different nozzles.
Design Features
In addition to the 12-amp fuse for improved safety, this is also designed with an automatic shutoff function. You can set the desired target pressure, and when the machine reaches it, it will stop inflating.
Ease of Use
Though the digital display is not fancy or anything, it gets the job done quite well. And, overall, you will get accustomed to using this pump very quickly.
Portability
Looking past the fact that this is a compact design, to begin with, there is also a built-in carrying handle. This makes this already compact pump even more comfortable to transport.
Overall
There is arguably not a better pump for inflatables. It is not necessarily blazing fast, but it is incredibly efficient, portable, and well-designed.

2

. Kiasaki Digital Tire Inflator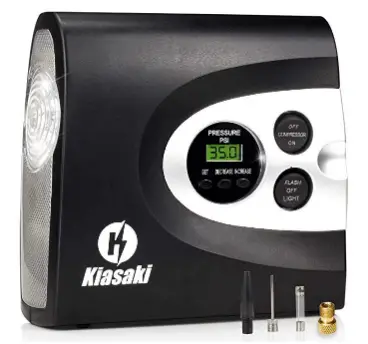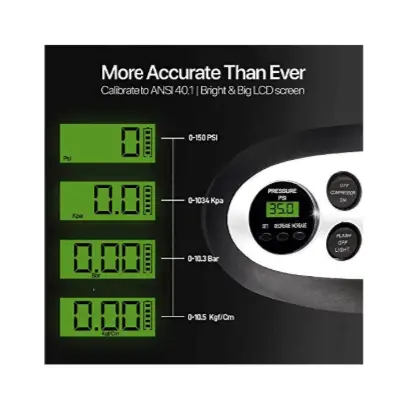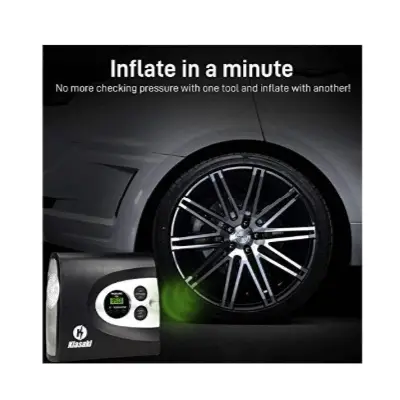 Due to the adaptors that are included, this is one of the most versatile machines on this list. It is also equipped with automatic shutoff technology to prevent overinflating.
Read more
Performance
For the record, this maxes out at 150 PSI. It is rated to inflate a car tire from 0 to 35 PSI in just four minutes. Based on this rating, the speed is pretty admirable.
Versatility
Alright, so let's say you wanted to use this for more than just your car tires. No worries as there are adaptors that come included that can inflate all types of sports equipment and inflatables.
Design Features
As noted, this unit will prevent overinflating. It does so by allowing you to set your desired pressure value. All you need to know is the proper inflation level for your equipment, and you will be all set.
Ease of Use
A few buyers have reported that this can be somewhat difficult to operate in the dark. The display does sport LED lights, however, just for the record.
Portability
Past its compact size, a bonus carrying case is also included with your purchase. Oh yeah, this also sports a 10-foot power cord. This gives you a little more leeway when you need to power it.
Overall
In terms of value, it may not get much better than this. How can you go wrong with an electric air pump that is pretty much capable of anything? The answer, you can't.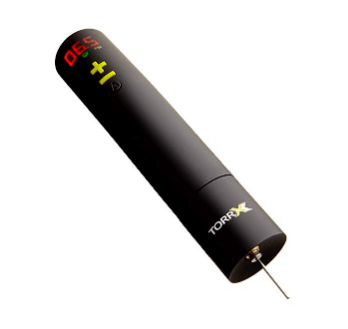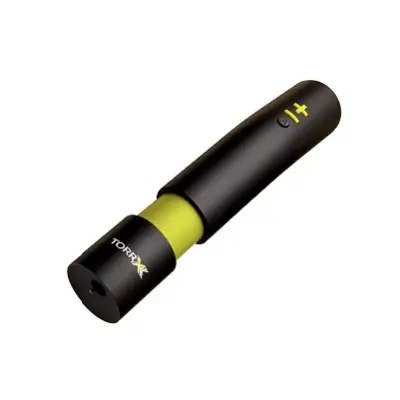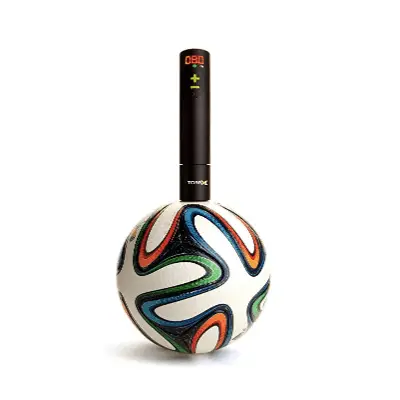 Now, this next pump is not exactly practical for a ton of different purposes. It is designed to efficiently and quickly inflate sports balls of virtually any kind. It is quite an ingenious design and utilizes a rechargeable lithium-ion battery.
Read more
Performance
As sports balls will not take as long to inflate as other equipment, most of you will be quite pleased with the performance of this pump. For the record, there are both auto and manual modes available.
Versatility
This just comes with one needle, and all it can tackle are sports balls. But, from volleyballs to footballs to basketballs, it can cover any sports ball you can imagine.
Design Features
While this is pretty simple in its design, it is equipped with a protective cap. This secures the needle (when it is not in use) to prevent it from accidentally breaking.
Ease of Use
Filling up sports balls is pretty easy (even with manual hand pumps). Amazingly, the process is made even easier with this device as you can see the pressure in real-time.
Portability
As noted, this runs off of a rechargeable lithium battery (and this rated to handle around 50 balls on one charge). Even though it is portable, it is still relatively large and will take up some space in your pack.
Overall
If you have no reason to inflate sports balls, then you will have no reason to buy this, quite frankly. It is somewhat of a one-trick pony, but it can do that one trick better than most.

4

. Etekcity Air Mattress Pump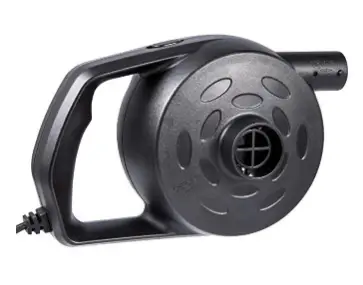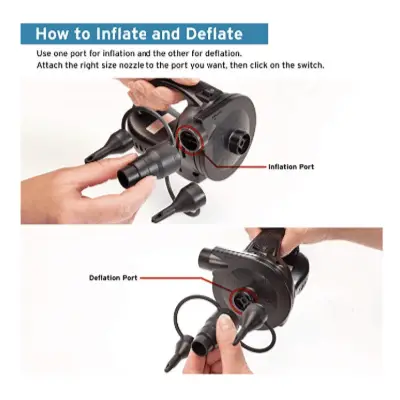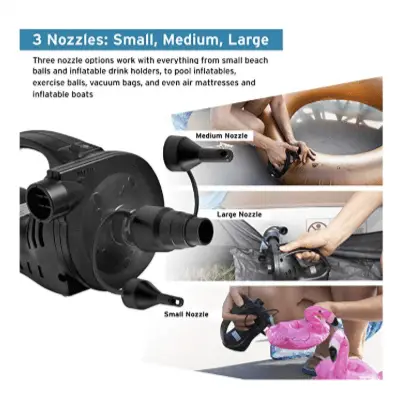 Let's just say that this air mattress pump is not exactly ready to withstand higher power loads. It will overheat if you overuse it, however, it does work extremely well in moderation.
Read more
Performance
To provide a better pumping experience, this was engineered with an advanced wheel design and also with high-quality metal impellers. All in the meanwhile, the motor is not strained.
Versatility
For your convenience, different types of nozzles come with your purchase. This comes in handy if you have different types of inflatables that you need to work with.
Design Features
The best feature of this design is the sound insulation board. This is going to significantly reduce the amount of noise this makes while in operation.
Ease of Use
While this is not that hard to use, you need to be careful to limit the amount of time you use it in one sitting. Per many users, it tends to overheat too quickly.
Portability
That same insulation material that was just alluded to does not add any extra weight or anything like that. Overall, this is as portable as it gets.
Overall
As you can see, there is a lot that this electric air pump does right. Its lone flaw is that it overheats quickly. Thankfully, this is something you can work around.

5

. Audew Air Compressor Pump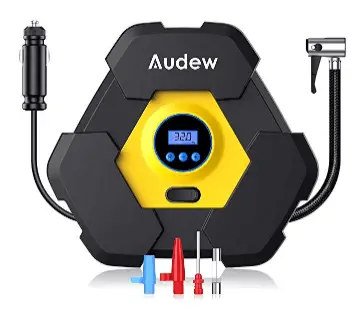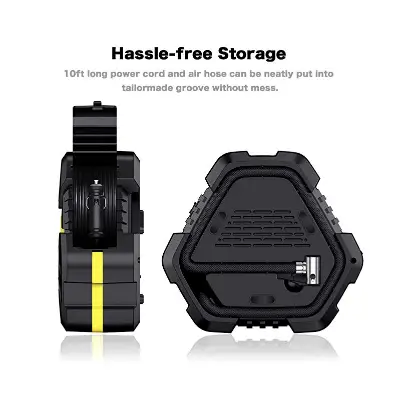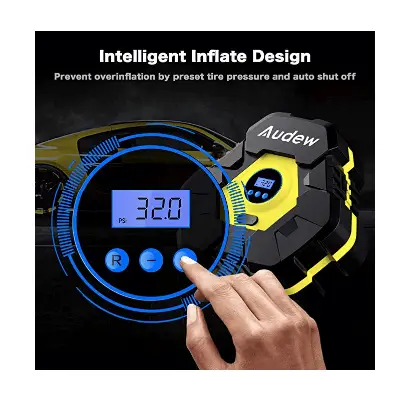 This is easily one of the most popular and beloved electric air pumps out there. It is incredibly versatile, quite powerful and allows for custom pressure levels to be met.
Read more
Performance
This delivers 35 liters per minute of air and it is rated to inflate flat tires in around two minutes. It is not going to set the world on fire, in regard to its speed, but it is still stellar.
Versatility
Included with your purchase are all sorts of different nozzle adaptors. All in all, this pump can be used to inflate everything from your car tires to your air mattresses.
Design Features
As with a few other electric air pumps, this is designed with an automatic shutoff feature. Set your desired PSI, and the machine will halt its inflation when it reaches it.
Ease of Use
The good news is the center digital interface allows you to view your desired PSI level easily. The bad news, though, is that the included instructions were not written with the novice in mind.
Portability
Though this does not store the best (due to the hose in the front), it is easy to carry around and quite compact overall. Also, it does come with a 10-foot long power cord.
Overall
Regarding its performance and overall quality, this electric pump is one of the best. It is not necessarily the most powerful unit on the planet, but it is one of the most practical.

6

. SeaMax Double Stage Air Pump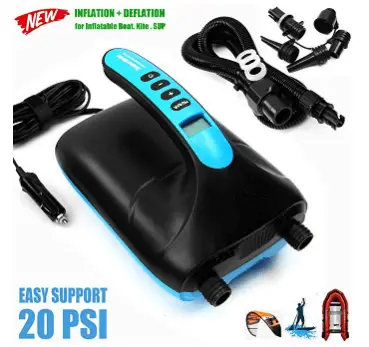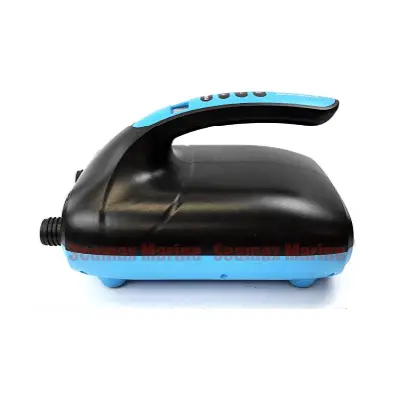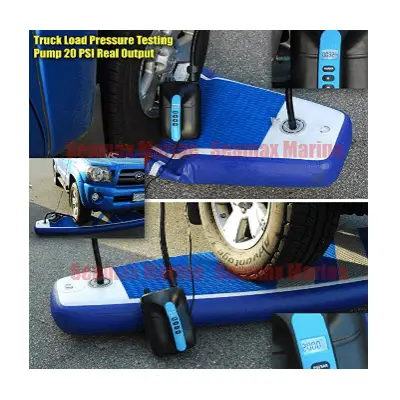 Are you looking for an air pump to inflate your inflatable boats or SUP paddleboards? If so, you may want to take a closer look at this option and the H3 adaptor it comes with.
Read more
Performance
For improved efficiency, this was built with an outtake chamber. However, overall, some reviewers have been disappointed at the speed at which this unit inflates equipment.
Versatility
Just so you know this simply comes with the one adaptor (which is an H3 adaptor). As such, this is designed specifically for paddleboards and inflatable boats.
Design Features
This is loaded with great features such as smart monitoring, auto-stop protection and also a temperature sensor. All these features make this one of the most efficient models on the market.
Ease of Use
The interface of this unit is pretty simple. It is complete with easy-to-use buttons and an LED screen. Also, a user manual is provided to you.
Portability
At only four pounds in weight and with an extremely compact core, it is not going to be difficult to account for this on your road trips.
Overall
Some of you will be flustered at the speed of this pump and that is fair. But, it is still a great solution for those of you looking for a SUP electric air pump.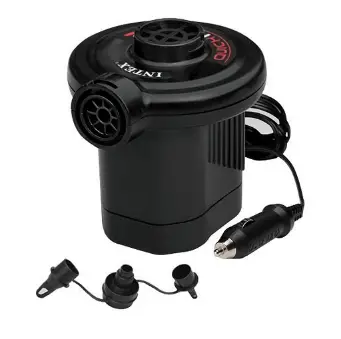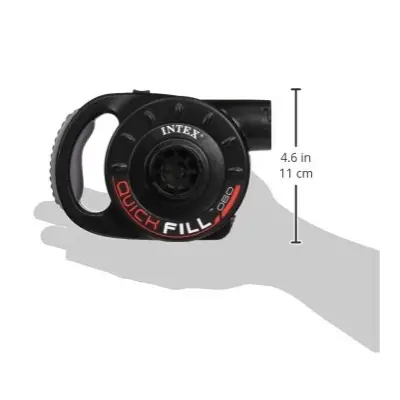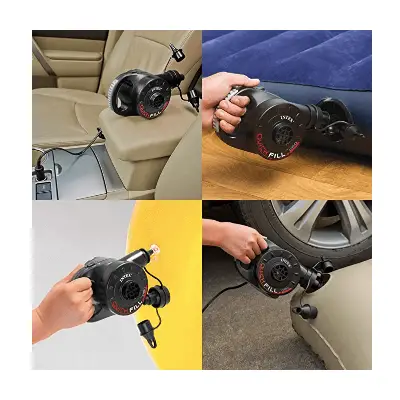 With its sleek and aerodynamic design, this pump is excellent for "on-the-go" purposes. It sports a 12-volt DC plug and can be powered straight from your vehicle.
Read more
Performance
For the price and size, it is hard to complain about the power of this pump too much. It does its job, and though it is slower than others, it does it well.
Versatility
Included with your purchase are three interconnecting nozzles. In addition to being able to inflate different pieces of equipment, the nozzles are all conveniently connected for easy retrieval.
Design Features
There is no LED interface to speak of, and you can't set pressure gauges or anything like that with this machine. It is as simple as it gets, quite frankly.
Ease of Use
The included DC plug is around 12 feet long, so you have some room to work with. And, overall, this is pretty darn easy for anyone to use.
Portability
As this is sleek enough to fit in the palm of your hand, you can imagine how compact it is. It is one of the more portable units on this list, let's say that.
Overall
Slow and steady wins the race. This may not be the best permanent solution for an electric air pump, but it works great when you only have access to your car.

8

. Kensun Air Compressor Pump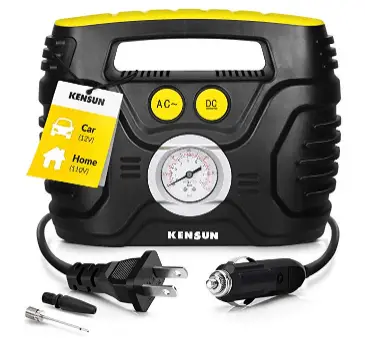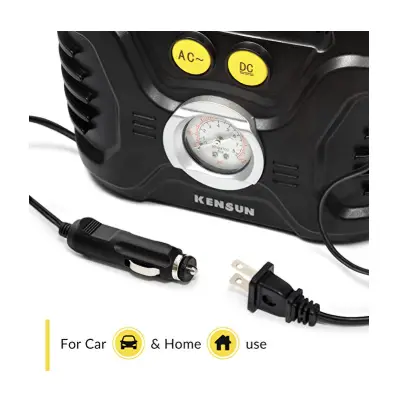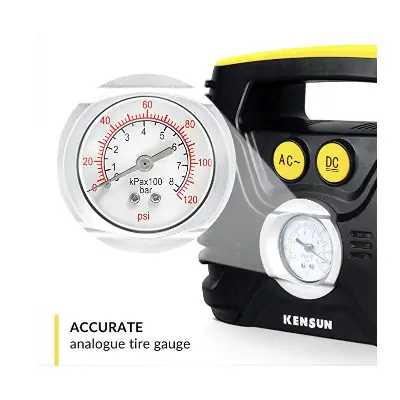 When the advertisement says that this unit is usable in any situation it is not lying. Thanks to the AC and DC dual-power and the multiple adaptors, there are so many ways to utilize this pump.
Read more
Performance
The dual metal motors allow this to inflate at the speed and efficiency at which it does. Also, it sports a maximum pressure of 100 PSI.
Versatility
You can easily switch between DC and AC power, which makes this suitable in a variety of different situations. Additionally, adaptors for both inflatables and sports balls are also included.
Design Features
Unfortunately, you can't program the desired pressure with this unit. You can view the PSI, though, and can hit the appropriate power button when you need to.
Ease of Use
There are a few nitpicks to take note of. Firstly, the pressure dial is somewhat challenging to read. And, secondly, the hose is a screw-on as opposed to being a quick-release.
Portability
In addition to the built-in handle, this also comes with a carrying bag. This makes traveling with this pump much, much more comfortable.
Overall
Though some handy features are missing, this is still one of the better options out there. Its inflating efficiency and dual-power modes make sure of that.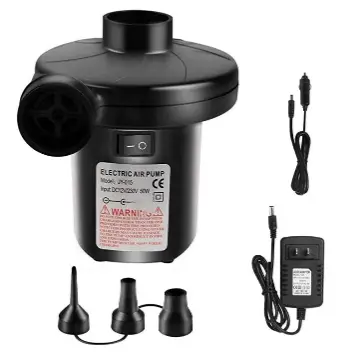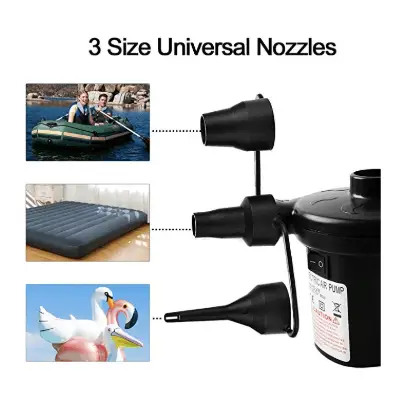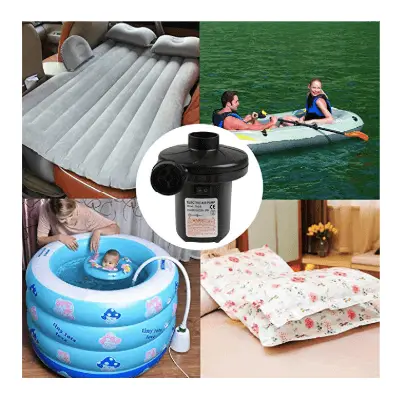 The best way to describe this next option is it is simple yet effective. Sometimes, that is all you really need to get the job done.
Read more
Performance
As compared to hand pumps, this pushes air at a much faster and more powerful rate. Still, some users felt this was too slow for their needs.
Versatility
This pump is designed for several different types of inflatables but not much else. With your purchase, you will receive three different types of nozzles.
Design Features
There is no interface to speak of, and this sports a power switch. That is where the extent of the features ends.
Ease of Use
If accessing power from the main outlet, you will not have a lot of leeways. This is due to the short nature of the power cord (though the DC plug is not that bad).
Portability
Just look at the photos, and you will realize how small and compact this truly is. For "on-the-go" use, this is going to be quite handy.
Overall
Again, this is not a powerhouse, but it was never designed to be that. Instead, it is a small and compact electric pump that inflates and deflates a variety of different inflatables.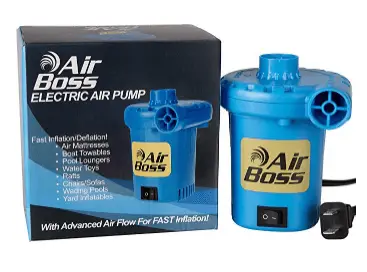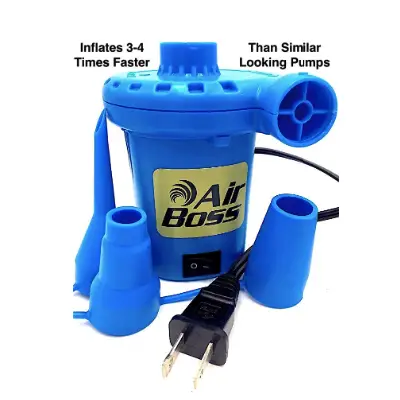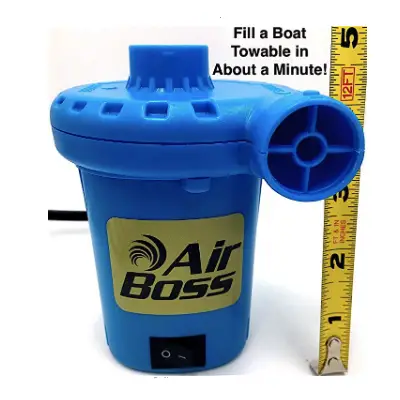 The Air Boss is rated to push 1000 liters a minute so you know it is ready to perform. Its advanced motor is one of its best features and sets the tone for an overall impressive design.
Read more
Performance
When this puppy is functioning, it is one of the fastest electric air pumps available. Then again, there have been reports of longevity issues.
Versatility
For the record, this is not intended for sports balls or anything of that nature. It is merely equipped to inflate air beds, air mattresses and stuff like that.
Design Features
You will have to use your judgment to decide when you believe your inflatable has enough air. No, you can't set desired pressure levels with this device.
Ease of Use
Yes, this is easy to use, but one user did make mention of the struggle they had with the included adaptor. They noted it did not fit their inflatables very securely.
Portability
An electrical plug is required, but that does not stop this from being a portable unit (as its size is very compact).
Overall
The good news is that even if this only lasts you a year, it is not costly. Plus, it is one of the fastest models available. And, this will be coveted by some of you.

Subscribe to our Newsletter