Best Inflatable Stand Up Paddle Boards
In a Hurry? Editors choice: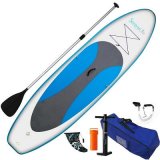 Test Winner: SereneLife

Summer
is upon us and there's nothing better than water sports on a hot day! Some people love water skiing, surfing, wakeboarding, or even just
floating
down the river.
Stand up paddle
boarding is sometimes pushed to the side because of the large size of the board itself. It is difficult to walk around with, and even more difficult to pack into a small space.
A great solution that is more portable and will fit in the trunk of your car is an inflatable paddle board! You will be amazed at the quality and durability that companies have been able to combine into these, priorly, giant boards!
Standout Picks
Criteria Used for Evaluation
Top 10 Picks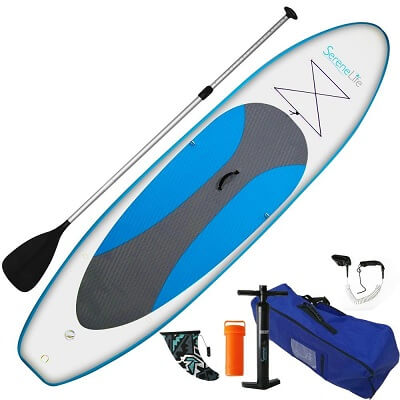 Hands down the winner of our Top 10 Best Inflatable Stand Up Paddle (SUP) Boards! With hundreds and hundreds of ratings with an average of 5 stars on Amazon, this is the Paddle Board to beat! Everything that you need to get out on the water and play today is included. It is extremely durable and it is reasonably priced! Look no further for your new SUP Board, it is here!
Read more
Size
10' L x 30" W x 6" Thick- no more flimsy 4" thick options, this one is designed to stand up to it all!
Durability
Constructed from double-layer PVC this board, when fully inflated, feels just as rigid as a hard-backed version!
It can hold weights up to 275 pounds, which is a decent amount, but not as much as we saw in others. However, this puppy is highly durable and stable, staying standing is no longer as hard as it used to be! This board is highly durable and can withstand a lot. Unfortunately, the fin can not- if you have problems it'll be with the fin.
Portability
The board and all the accessories can be stored right inside the same convenient bag. If you are thinking of destination paddle boarding, this one will accompany you wherever!
Accessories
That are included in the purchase are: coiled ankle cuff for ease of retrieval, paddle, manual, air pump, and storage bag- Everything that you need to get out and go!
Value
The price on this puppy can't be beaten, it isn't the cheapest option out there, but then again you are paying a little more for quality- it's worth it. Customer highly recommend this Inflatable Stand Up Paddle Board- making it apparent why it is leading the way as the #1 product on our list- get yours today to find out why!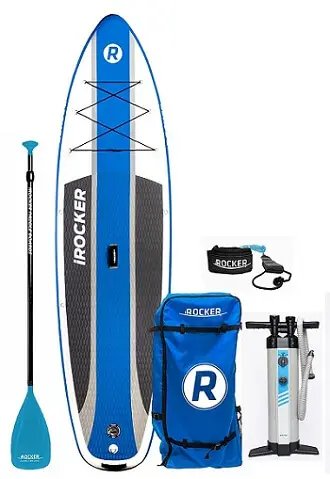 Sleek and stylish this board is sure to compliment you as you cruise across the water of ponds, rivers, or oceans- the destination is up to you- this Inflatable Stand Up Paddle Board will serve you no matter wherever you like to frequent! Coming in on our Top 3 List is iRocker Cruiser, a board that's great for beginners or returning athletes- order yours today!
Read more
Dimensions
10' 6" L x 33" W x 6" Thick Plenty of space to stabilize all your weight, this board can hold a considerable amount of weight!
Durability
This board is constructed from Quad-Layer PVC of the highest quality which allows for rigidity and protection.
This board, as we said above, can hold a considerable amount of weight, up to 350 pounds! Now you have no reason to not get out there and try this for yourself, it can hold most body types flawlessly! Get up and go, come on, you got this!
Portability
This kit comes with a bag which is very handy when storing and traveling with it- which are both easy to do. Take it with you wherever you decide to head on your next high-adrenaline vacation!
Accessories
Comes with a fiberglass paddle, which is as sturdy as aluminum, but half the weight. Paddling is already enough of an arm workout, give yourself a little break with a lighter and just as sturdy paddle! Also comes with hand pump so you can blow it up wherever you are. Of course it comes with an ankle-to-board leash for obvious reasons. And as we stated it also comes with a handy bag for the board, gear, and more!
Value
This board is one of the most expensive boards that grace this list. That being said, it comes with a 2-year warranty to ease your mind while you and your board traverse the unknown waters out there!

3

. Airhead Popsicle 730 ISUP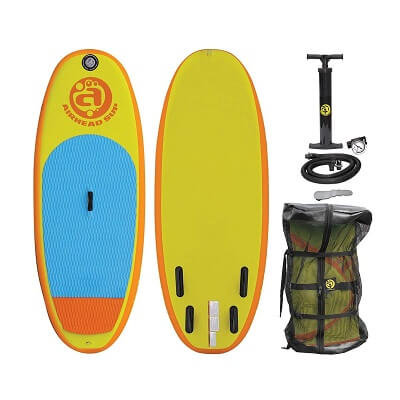 We've established everyone loves Stand Up Paddle Boarding- everyone- this board coming in on our Top 3 Inflatable Stand Up Paddle Boards List! This board is not only great to stand up on, but it can also be used to tow behind your boat for added enjoyment. The board is sturdy and rugged so it can stand up to you and your families demands!
Read more
Size
This one is designed for the smaller ones in your life- it makes a great gift! 7' L x 30" W x 6" Thick. It only weighs 19 pounds so the kids have no reason not to carry it themselves- parents deserve a break when they can get it!
Durability
This board is made from strong PVC. There is an EVA traction pad with a tail kicker- 4 fixed thruster fins so you won't be accidentally losing any of these!
Holds anywhere from 30-120 pounds, not meant for the biggest kids which is unfortunate, but if they fall in the appropriate size bracket than this board will hold up to everything that you dish out. It's lightweight but durable!
Portability
This board doesn't come with the most quality bag, but it is mesh so you won't have water build up molding your board if you didn't happen to dry it enough before packing it away.
Accessories
As stated above, includes a mesh carrying bag for transportation. A stainless Steel tow ring adds assurance that you will have dependability when towing your youngster around! Hand pump and pressure gauge come included as well, along with valve wrench, board strap, and a repair kit!
Value
Airhead has created a stylish popsicle themed board that is not only fashionable and fun but can bite as hard as it barks. This Inflatable Stand Up Paddle Board comes in mid-range on the price bracket, but for if you have active kiddos in your life- or you want them to be- this is the board to buy! Wrapping up our Top 3 Inflatable Stand Up Paddle Boards List is this Airhead winner!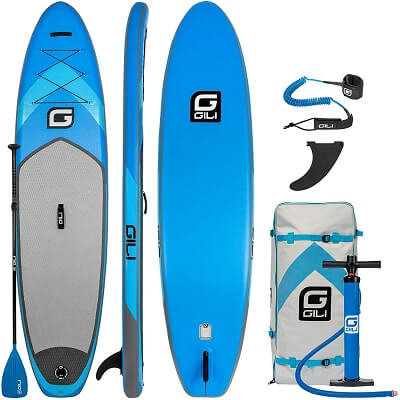 Gili has been flying under most people's radars for a while now, but this board deserves recognition. If you live in an apartment complex, or you can't travel with large sports equipment, this Inflatable Stand Up Paddle Board is the perfect match for you. Do you like to do yoga- do you like to be on the water- do you want to do yoga on the water?! This board will enable you to do just that- imagine it now, it is as tranquil as you are imagining. Buy Gili today to see for yourself!
Read more
Size
10' 6" L x 31" W x 6" Thick weighing in at 19 pounds, that is as weightless as the other competitors' youth version!
Durability
Constructed from cross stitched reinforced PVC, this is made from only the highest quality material to give you only the most exceptional product. This will blow in around 8 minutes so there is very little lag time before enjoyment can commence.
Great material; Great Stability; Great Durability. Customers got out there on this board and all reports seem to indicate that it is all paddles forward for Gili!
Portability
With the bag that is included in this purchase, it is highly transportable, able to go where you do. That's more loyal than even your dog can claim- but don't be mad at Fido, we know you would bring 'em if you could!
Accessories
Travel bag, hand pump, and paddle are all included with this purchase. 10' coiled leash completes this package, but there is no repair kit- unfortunately.
Value
You will be saving money from a hard-backed version of the same board, but not as much as some of the other brands on this list. However, when you buy this board you get a 60 Day risk-free Guarantee- if you don't like it, return it! If you do love it- which you will!- you will still have a 1 Year Warranty on it, that is more than enough reason to buy Gili!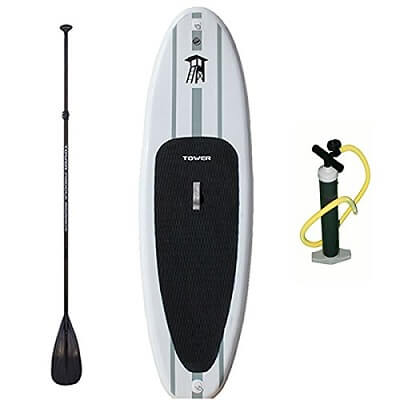 Tower offers a variety of quality of Inflatable Stand Up Paddle Boards, but we decided to go with the slightly shorter version of the board. Not everyone's the same, there all kinds of heights and body sizes out there- let's celebrate those by lifting up an against-the-'normal'-sized board. For those that don't want to handle as much as other boards, get a slightly smaller- but far less heavy- version!
Read more
Dimensions
9' 10" L x 32" W x 6" thick- this has lots of deck stability, so hit the water and test your limits- you can do more if you believe you can- you are limitless!
Durability
Designed with military grade PVC material with extremely durable drop stitching construction. Shop with peace of mind with this company because it has a 2-year manufacturers warranty- that's pretty incredible!
This Inflatable Stand Up Paddle Board is as durable as you are- and just like if you are left in the sun too long, you'll burst. Okay, maybe you won't burst in the sun (even if you do get a nice crispy burn)- but your board will. If you are in direct sunlight make sure not to inflate all the way as heat and the sun cause the air to expand which is known to burst the seams of this otherwise great board. Thousands of fibers hold this board together- with proper care this should last a long time!
Portability
Unfortunately this Inflatable Stand Up Paddle Board doesn't come with a bag, but it will fairly easily convert to fit into one of your fine bags- or it gives you an excuse to go online and fill up your Cart a little bit more.
Accessories
Not much is included in this purchase, just a pump and a paddle- everything you need really- still, other accessories are nice too.
Value
Overall this Inflatable Stand Up Paddle Board is a great buy. It does cost more than some of the competition, but with the warranty and quality accessories that are included that you get, how could you go wrong?!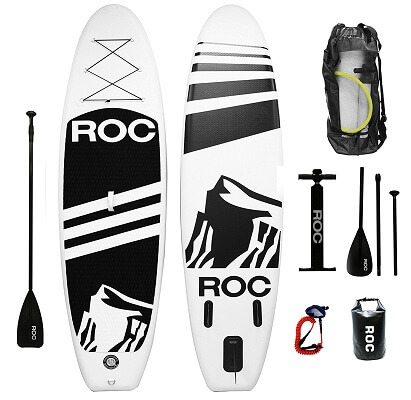 Roc, a beast of an Inflatable Stand Up Paddle Board, is also an Amazon Choice List winner. That means that customers love this product! It can hold up to 350 pounds, which is more than almost all the others. Whether you are big boned, slight of frame, fluffier, or bean rail thin, this board will get you out on the water!
Read more
Size
10' L x 33" W x 6" Thick- standard size in length, this board is a little wider on average than others, but it has also accomplished the 6-inch thickness so that boofs and dings to your board won't matter like they used to!
Durability
This is constructed from military grade material making it highly stable and durable. The only bit of advice, learned from some consumers like you, don't inflate it all the way and leave it in the sun- it will burst.
This beast can hold up to 350 pounds, that's really incredible! Buy as a great gift to a friend or family member that loves water, but doesn't think that equipment can stand up to their usage, prove them wrong and get them out there! This board is highly rigid and durable!
Portability
Comes with a waterproof bag- to protect your board from the elements helping it to last longer- and the bag floats so you can't accidentally lose it and never find it on the bottom of the river/ocean/lake. Stores up easily and transports just as well.
Accessories
Dual action hand pump makes for an easier and more fluid inflating experience; ankle-to-board leash; 3-piece removable paddle; and obviously the waterproof and floating backpack that is the carrying case for the board and accessories.
Value
This board is very reasonably priced, especially where it is more sturdy and can withstand higher weights than the competition. The board doesn't come with any manuals so it can be a little daunting- however, that is where the power of the internet comes in- just cause you don't know how to do something doesn't mean that 2,847,093 others have no clue, just means you need to reach out! If you have to reach out to customer service you are likely to be disappointed in their 'help,' but short of those two small flaws (that don't deal with the board at all directly) then this is a great product!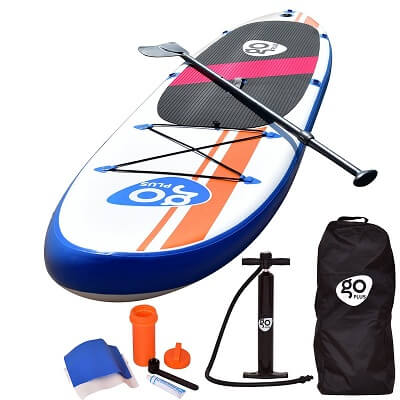 Go with Goplus- they have several variations of boards measuring in different lengths- their boards hold the most weight of all the other boards. That is sturdy! It's so sturdy that it is described as nearly indestructible by Goplus. If you want a board that can support you over the year, then add Goplus to your Cart, cause you won't be disappointed.
Read more
Size
10' L x 30" W x 6" Thick
Durability
High-quality PVC with drop stitch construction. This board is as rigid as you hope! And get this, it only weighs 26 pounds- which is more than some of the competition, but come on, 26 pounds is nothing- well below Carry On luggage weight restrictions. It is a little bulky, has a large backpack, but you might be able to fit it into a more manageable pack of your own.
Holds 450 pounds. Holds 450 pounds. One more time- Holds 450 pounds! That's a lot of weight when you remember that these are Inflatable Stand Up Paddle Board, not hard-backed versions, but inflatables! Due to the fact it can manage so much more weight than the competition, this board is nearly indestructible! Don't go intentionally boofing off of sharp looking rocks to test the limits of that claim- but get out there and relax knowing the board can handle the ride!
Portability
The included backpack is huge- it's like Donald Trump 'uge! That doesn't take away from the board, it actually only adds to it- but it isn't as easy to travel with as other brands. If storage and travel isn't a worry for you, then this board performs fantastically!
Accessories
Travel with other gear because this board comes with a 4 point mounted bungee net so anything extra you need can come with you and stays with you. Clip it in with a carabiner for added assurance. Also includes a (bulky) backpack, a hand pump and a PSI gauge, a repair kit, 1 fin, and a deluxe lightweight paddle.
Value
Customers only had fabulous things to say about Goplus. It could be the price; it could be the durability; it could be the amount of weight it holds; it might be- and very probably is- a combination of those reasons if not all of them! Go with Goplus!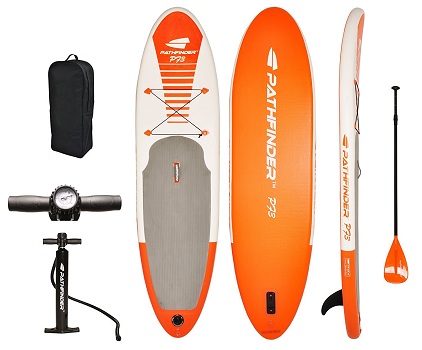 Find your way to the water- of your choice- with the Pathfinder! Hundreds of other consumers have already found their way to this board- a happy and joyous moment! Bright and fun colors add a little bit of flare to this board complementing your life full of flare! A little bit smaller than what is considered 'average' for the market, this board is the perfect size for average or below average height.
Read more
Size
9' 9" L x 30" W x 5" Thick- not only is it a little shorter lengthwise, a little narrower width wise, it is also a little less thick than some of the competitors. That means it carries less weight, but that also means it can hold less weight. It's a tradeoff here, depends on what you are looking for.
Durability
Constructed from multi-layered drop stitching and PVC.
The fin is a big issue with this board. That is the case with a lot of Inflatable Stand Up Paddle Boards, but should the fin come off of this one, it is far less stable than with it on. Some boards can lose the fin and be okay, this is not one of those boards, the fin very much matters. There are also some known problems with air leaking out around the valve. This may or may not be a problem with your purchase.
Portability
Consumers found that the bag that is included with the purchase is high quality and nice- great for storage over the winter or great to carry it with you on vacation!
Accessories
A bungee onboard cargo carrying has been built into the board so you can get out on the water, but you don't have to leave important things behind. Of course, this comes with a hand pump so you can get the job started and finished. Detachable fin, valve wrench, and as established- carrying bag- are all included. A paddle completes this order, but be careful, the paddle will fill with water and sink if you aren't careful when you drop it.
Value
Great, great price! One of the cheapest on the list. That doesn't mean that it is cheaply made though. This board has a few known flaws, but for the price and the customer satisfaction that goes with it, how can you go wrong?! This company does have poor customer service should a problem arise. Not all customer help can be good, and unfortunately, that's something this company still needs to learn.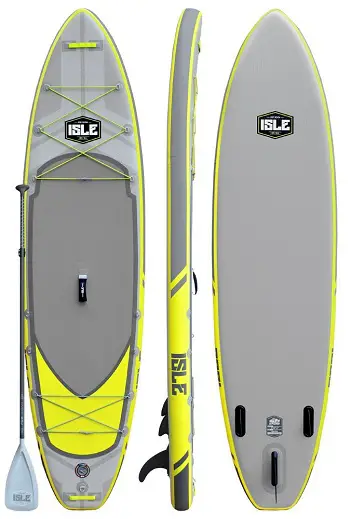 Soft and neutral colors style this customer favorite. Shop without worry knowing that Isle backs their Inflatable Stand Up Paddle Boards with a 30 Day risk-free Guarantee; a 60 Day Guarantee; and a 1 Year Manufacturers Warranty. Shop and buy with Isle risk-free!
Read more
Size
This board is 32" Wide x 132" Long and 6" Thick. It weighs 22-pounds.
Durability
Military grade PVC and Revolutionary iSUP technology make this a 30% lighter design- than competitors- with Airtech construction that makes this ultra-durable and highly stable.
Ultra Durable, the company backs their products so that you know you can count on them to be your go-to company when it comes to Paddle Boards or Inflatable Stand Up Paddle Boards.
Portability
This board doesn't roll up as tight or as small as other brands, you will have to roll this up and put it in your trunk to take it with you. It won't be easy to fly with, or travel in a minimalist fashion with- especially as the bag is rather large and bulky- but beach and river trips are no problem!
Accessories
Comes with a paddle- duh- but this one is carbon shaft with a nylon blade, something a little different than what the others offer. Convenient (if large) carrying case comes with it so that you can pack everything up into one spot. High-pressure pump, coiled leash, Isle sticker pack, and snap-on fin complete this package.
Value
Can be a bit bulky, while packed or inflated- you should know about that as it can tend to slow you down when trying to keep up with other water transportation vehicles. It is also much more expensive than other models and versions that were on this list- or even on the market today. We wouldn't recommend this board for beginners, but if you know what you are doing this is a great board for you!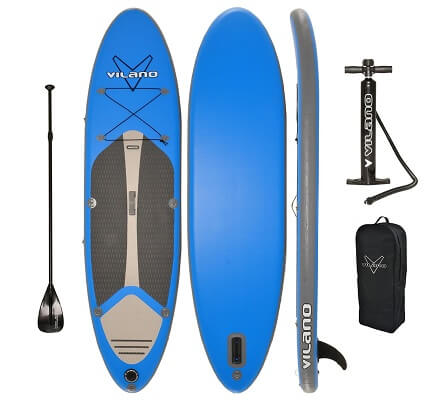 Vilano Navigator is style and durability- with practical carrying strap for when the board is inflated- wrapped up into one! This electric blue beauty is great for beginners, so if you are timid and anxious about learning, this board helps reduce the learning curve. It is replete with D rings so anything you want to strap on and carry with you is now that much easier!
Read more
Size
10' L x 31" W x 6" thick, although consumers have said that they measured the boards themselves and found that the sizing was off by a few inches, or near enough. It doesn't take away from the overall performance, but we want you to be informed about what our research indicated.
Durability
Made from high-quality PVC with Korean drop stitching weighing about 25 pounds uninflated.
This Inflatable Stand Up Paddle Board feels like hard version competition, but it will travel with you as you go. The board only holds 250 pounds, so it doesn't hold that much, but it will accommodate most. Also includes a 1 Year Manufacturers Warranty- that's customer satisfaction at its best!
Portability
This board comes with a larger backpack than most. Some are really tightly rolled and compatible, this one is not that way. It is bulky.
Accessories
D rings, plenty of D rings! Includes a pump integrated pressure gauge; a removable fin that may remove itself if you are careful; a carrying bag, bulky like we mentioned; a shoulder strap for convenient carrying purposes while the board is inflated to help distribute the weight as you walk with it; and a repair kit, which we think is awesome as not all of them include repair kits.
Value
Not a bad price, honestly not a bad price at all. Plus you get a 1 Year Manufacturers Warranty so you can depend on them to take care of you! Overall Vilano Navigator is a well-received board by consumers- but there were some flaws with the sturdiness and structural integrity of the paddle. That isn't that big of an issue, many people replace the factory paddle with their own favorite, but it is something you should know if you are about to drop money on a bigger purchase, you want it to be complete or as complete as it can be so you don't have to turn around and spend more money. This puppy may have come in at #10, but it is still a winner in our books. There are more Inflatable Stand Up Paddle Boards out there on the market than you would imagine.

Subscribe to our Newsletter