Best Sunscreens
In a
Hurry? Editors choice: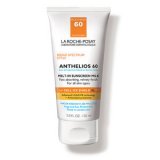 Test Winner: La Roche-Posay Anthelios 60

Everyone knows the pain and regret that comes the morning after a day in the sun without sunscreen. Redness, blisters, burns, cold/hot sensitivity, and peeling. Ohhhhh, if only you had reapplied…. or even just applied that first coat, right?! Sometimes, when you are out at the beach relaxing it can be all too easy to skip the sunscreen when you are focused on fishing, volleyball, surfing, or just relaxing. The problem with not wearing sunscreen while enjoying those
bright summer days
, aside from the ouch factor of sunburn, is that it also speeds up the aging process and increases the risk of skin cancer. So, why doesn't everyone just wear sunscreen all the time? Remember how inconvenient, sticky, and just plain annoying sunscreen seemed when you were a child? Well, if those memories are what is stopping you from lathering up in sun protection, not to worry.
Standout Picks
Criteria Used for Evaluation
Protection
It should go without saying that the number one thing that we looked at when determining the best sunscreens is how well it protects from the sun. Many dermatologists agree that anything under an SPF 10 is considered to be insufficient, and anything over SPF 50 is considered to be overkill.
There are two different types of rays that cause sun damage (UVA and UVB) and an effective sunscreen can block against both. Recently, it has been discovered that there is a third type of solar ray that can also be damaging to the skin. This third type of ray is called infrared rays (IRAs). Many of the higher end (or more expensive) sunscreens protect against IRAs, so if you are looking to find a sunscreen that protects against all three, be prepared to dish out a little extra money.
Materials
There are two different ways to fight against sun damage, and that is to utilize ingredients that are organic and chemical based, or mineral and physical based. Mineral-based sunscreens are designed to simply sit on top of the skin and create a literal barrier of protection. These types of sunscreens are more widely used because they can accommodate most skin types without causing irritation because they do not actually penetrate the skin.
Organic and chemical formulas tend to be more comfortable to wear because they actually penetrate into the skin. This formula may be ideal for those that are looking for a sunscreen to wear on a daily basis, but may not be ideal for those looking for maximum coverage or that might have sensitive skin.
Brand
When it comes to sunscreen, there are a few brands that have become household names (such as Coppertone and Hawaiian Tropic). Everyone is familiar with that pink bottle with the picture of the little girl in pigtails with the cute dog. Coppertone has dominated the market since the 1950s in the sunscreen market, and still delivers quality sunblock that is great for the entire family. There are other lesser-known brands, however, that shouldn't be discounted. These brands are bringing more to the table than just sun protection- they also provide additional vitamins and essential oils to help keep skin from losing too much moisture.
Value
Less money spent on sunblock means more money to be spent on ice cream and hot dogs. It was important to keep the price of these sunscreens low, but without sacrificing the quality of the product. Many sunblocks offer more than just protection from the sun. Some go so far as to claim that they can help repair existing damage from those days out in the sun without any sunblock. Some brands offer all-natural ingredients and also offer the addition of vitamins and essential oils to help keep skin healthy and hydrated. Many sunscreens offer their products in spray bottles that make it easier to ensure even distribution.
Subscribe to our Newsletter