Best Polarized Sunglasses
In a Hurry? Editors choice: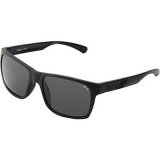 Test Winner: Zeal Optics Unisex Brewer Polarized Sunglasses

When it comes to fishing, biking, or
hiking outdoors
you want to make sure you are protecting your eyes on sunny days with a great pair of polarized sunglasses. They help filter out any glare from outdoor environments that can create problems with your vision. Polarized sunglasses help block harmful UV rays and protect your eyes from damage and long-term health risks.
Many of these sunglasses are waterproof and scratch-resistant, others enhance color and clarity while you are wearing them. Seeing better and looking great are two excellent benefits for outdoor enthusiasts. We have reviewed the top ten best polarized sunglasses on the market today and included details for each product, with pros and cons to help you have a better idea of which one suits you best.
Standout Picks
Criteria Used for Evaluation
UV Protection
Outdoor enthusiasts need to consider buying sunglasses with more protective coating features. Not only will the lenses last longer, but you'll also experience better vision and better outdoor performance with these types of lenses.
Different types of sunglass brands typically offer a different variety of coatings. Also, more expensive shades are going to buy you higher-quality lenses with more coating features that both protect the eyes and the lenses themselves from scratching or shattering. Typically, the higher the price of the sunglasses, the more protective coating features the sunglasses will offer you.
Types of lens coatings include anti-scratch coatings to protect the lenses from mishaps, hydrophobic coatings to keep off water and sweat, anti-fog coatings to help when it's humid, and mirrored or flash coating. Mirrored or flash coating is usually placed on the outside of the sunglass lens and operates as a reflective coating to reduce glare. Most polarized sunglasses come with this type of lens coating, and the one thing to keep in mind with mirrored or flash coatings is that they can make things look darker. So this is why you may find polarized sunglasses with slightly lighter tint shades to prevent color distortion.
Color
The color of the lenses on your glasses can make a big difference depending on what you're planning to use the shades for. Both colors and contrasts can be affected by lens tint, and exactly how your lenses are tinted can also determine how much sunlight is going to hit your eyes.
When picking what type of polarized shades you want to use on your outdoor adventures, you'll want to take a look at lens colors.
Darker lens colors are usually found in brown, green, and grey tints. These darker tints are probably the best lens tints for outdoor enthusiasts who know they'll be around a good deal of sunlight. Darker lenses can help to dramatically cut back on glare, meaning you won't strain your eyes so much on bright days. Color distortion is also something to examine with darker lenses since grey and green lenses don't tend to do this. However, some brown lens tints can create small distortions in color.
Polarized lenses need to be a bit lighter in tint to prevent color distortion when balancing out anti-glare features.
Materials
The materials used by the manufacturers to design the lenses are going to determine a lot for your sunglasses. Typically, better materials in the lenses are going to cost more, and also affect how well the lenses work to boost clarity, how long the lenses last, and how heavy the lenses will feel on your face.
Most sunglass lenses are made up of either glass, polycarbonate, polyurethane, or acrylic. Glass lenses are the best type of lenses for vision, performance, and strength. Scratch-resistant and capable of providing clearer vision, glass lenses can boost performance for outdoor enthusiasts. But, they do have some drawbacks. They are typically heavier than other lenses, cost more, and can still scratch when dropped, although the lenses won't shatter or chip up.
Polycarbonate lenses offer nice optical clarity and do well handling daily abuse. Their ability to withstand force is top-notch, considering how lightweight these types of lenses are. However, they are also costlier than other materials and don't resist scratches well.
Polyurethane lenses tend to also be expensive, but their ability to last long and resist abuse makes them a worthwhile consideration for the outdoor enthusiast. They are also quite lightweight, and the lenses are far more flexible than what other materials can provide.
Acrylic lenses are often sold as an affordable lens option but aren't made to withstand many impacts. These lenses are not typically made to last and are not as clear as the other options. Acrylic lenses aren't the best option for the avid outdoor enthusiast, since they offer little performance improvement, vision clarity, and are not made to be long-lasting. Acrylic lenses are usually used for those who just want a casual pair of sunglasses.
Fit
You'll want to examine how sunglasses are going to fit your face before you take them on any high-activity outdoor sporting trips.
You want to make sure that sunglasses feel balanced evenly between your nose and your ears. You don't want to feel any extra heaviness or inadequate balance on any of these pinpoints. The frames should fit tightly on both your ears and nose, but you shouldn't feel any pinching, rubbing, or other annoyances. Make sure that your eyelashes don't rub on the frame, either, or else you know you don't have a proper fit for your face. Depending on the type of material your frame is made out of, you may be able to adjust them or adjust the nosepiece on the frame.
If you are buying your polarized sunglasses online, and know what type of face you have, then look for that type of description in the blurbs advertising the sunglasses. For instance, if you know you have a larger face, then look for frames that are advertised for that type of face. Read our best polarized sunglasses reviews carefully, so you can make an informed decision.
Top 10 Picks
1

. Switch Lycan Interchangeable Lens Sunglasses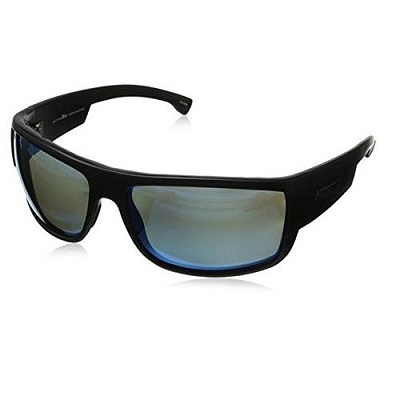 The Switch Lycan Polarized Interchangeable Lens Sunglasses offer an attractive style with a comfortable fit and excellent polarized lens. The lenses are large, offering better eye protection when you embark on outdoor adventures. You'll be safe from the glare, wind, and sun, no matter what activities you plan to do each day.
Read more
UV Protection
The lenses are polarized to block 100% of UV sunlight. This means that they eliminate glare, block 100% UV(ABC), and are shatterproof.
Color
Like many of the best polarized glasses, the Switch Lycan's color is Amber reflective Bronze.
Materials
Switch's Lycan Polarized Interchangeable Lens Sunglasses are made with a strong nylon frame, which resists drops and makes the frames quite durable, no matter what you might use them for. The lenses are made up of shatterproof polycarbonate, so you'll be safe from scratches as well as lens cracks.
Fit
Made with a magnetic interchange system, you can easily switch out your lenses without worrying about bending or breaking them. The shades also come with accessories, including a lens pod, spare lenses, and a microfiber cleaning pouch. The full-frame design not only makes them look great for everyday use, but also helps protect your eyes no matter what you engage in outdoors.

2

. Zeal Optics Unisex Brewer Polarized Sunglasses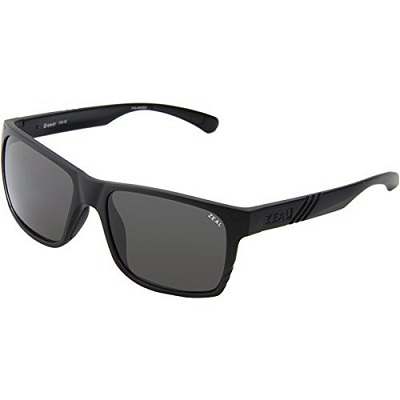 For outdoor enthusiasts, the Zeal Optics Unisex Brewer Polarized Sunglasses offer great design. The lenses are not only polarized but also made to offer high-definition clarity, creating better vision and reduced glare during outdoor activities. The frames are lightweight and sleek in appearance, allowing you to both look good and feel good. These are one of the best polarized sunglasses for women and men, as they are unisex.
Read more
UV Protection
The frames on the Zeal Optics Unisex Brewer Polarized Sunglasses are made of plastic and very lightweight. The lenses are polarized and also include a special SPF film that blocks out UV rays and boasts high definition clarity.
Color
These shades are pretty standard in appearance, and available in a variety of solid-colored options. However, they are still stylish and work well for people who don't want something too flashy.
Materials
These lightweight glasses are still durable, since the frames include Bio-Powered Z-Resin to improve their strength. The nose pads on the frames are made with Hypoallergenic ProFlexRubber, which are made to boost comfort and help the shades stay on more easily.
Fit
They fit just about any head size and have a modern look and feel.

3

. J+S Premium Military Style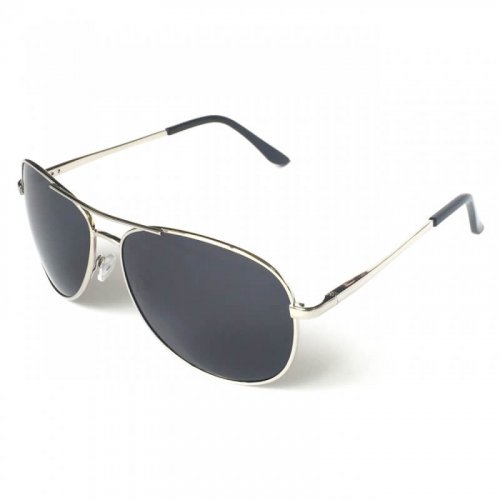 Fitted with a polarized multi-layered lens system which blocks and filters glare, these will block out horizontal reflections. This means comfortable vision and better visibility. Lenses are distortion-free for impressive clear vision, and these glasses are tough, with scratch-resistance on the lenses.
Of course, you have to love the classic aviator style, as well.
Read more
UV Protection
Protection from UV is 400V, meaning 99% of UVB and UVA rays are blocked. This is top protection from long-term damage by UV.
Color
These sunglasses come in several different colors and styles, but the black and silver aviators are a classic. You'll recognize the iconic style from many military leaders and action movie heroes.
Materials
The frame is a durable metallic alloy, and the frame arms are mounted on spring-hinged legs. The comfortably adjustable non-slip nose pads are made from silicone.
Fit
These are one of the best polarized sunglasses for men, bringing down the possibility of eye strain. The eyes are defended from harm by UV waves, and clarity and contrast are enhanced. These sunglasses have a great fit for face shape or size. If you want to use these sunglasses for fishing, you could also check out our guide about the best fishing sunglasses here.

4

. Ray-Ban Unisex New Wayfarer
Ray-Ban has updated their well-known Wayfarer Sunglasses to give them a more modern appearance and to bring your eyes more protection while you play outside. Made with lightweight material that's built to last, these sunglasses give you the stylish Ray-Ban appearance and keep your vision safe from glare and sunlight.
Read more
UV Protection
The lenses on the Ray-Ban New Wayfarer Polarized Sunglasses are both polarized to improve your vision and block out glare. They are also coated to help block out 100% of UV Rays.
Color
These polarized sunglasses come in several different frame colors, as well as lens colors. New gradient lenses and different matte colors that are available to make this style even nicer.
Materials
Ray-Ban updated their Wayfarer Polarized Sunglasses with some great materials so that the frames and lenses are both lightweight and long-lasting. The frames on these shades are made of acetate plastic, which is a type of plastic known for being lightweight and able to withstand abuse.
Fit
Slightly tighter than others on this list, the Wayfarer's should provide a comfortable fit for most wearers.

5

. Maui Jim Ho'okipa Polarized Sunglasses
The Maui Jim's Ho'okipa Polarized Sunglasses offer an innovative combination for the avid outdoorsman, bringing polarized UV protection to the eyes while helping to enhance color and vision. Not only will the world appear brighter when you wear these, but your eyes will be protected and you'll be better able to navigate the outdoors. These sunglasses are great for hiking.
Read more
UV Protection
Maui Jim's Ho'okipa Polarized Sunglasses come with Polarized Plus2 technology. This tech brings you some of the best glare protection and polarization on the market since it wipes out nearly all glare and prevents UV rays from reaching your eyes.
Color
The Polarized Plus2 technology in these lenses accomplishes all of this while also helping to boost color. You'll experience better depth perception overall.
Materials
These shades are also very rugged and made to withstand a wide variety of accidents and abuse. Maui Jim's sunglasses also come with a waterproof coating to help repel water and snow, while decreasing fingerprints and other smudges on the lenses.
Fit
Maui Jim's shades are comparable to Ray Ban's in both their design, and tight fit. The shades are made to look great on anybody, no matter what shape your head might be. They offer a catchy design that looks attractive no matter what you wear them with.

6

. Oakley's Half-Jacket 2.0
Oakley's Half-Jacket 2.0 Sunglasses are both stylish and effective. These Oakley sunglasses not only bring you Oakley's classic look and appearance but offer your eyes several options and excellent protection with effective polarization. Your vision will always be excellent with these shades.
Read more
UV Protection
The best polarized lenses are interchangeable in design, allowing for a more modal experience. Also, the optics come with Oakley's High Definition Optic design, which helps to bring up clarity as well as handling polarization.
Color
The wrap-around design of these shades not only looks classicly great but also helps to protect your eyes and increase clarity no matter where you look. They are sleek and semi-rimless, which makes it easier for you to see when you look down and also creates a unique, stylish appearance.
Materials
These are polished black frames made from stress-resistant O Matter materials. Undoubtedly, this is one of the best polarized sunglasses brands. Oakley's Half-Jacket 2.0 Sunglasses are made to be comfortable and lightweight while still being able to take quite a bit of abuse. The frames include Three-Point Fit technology that helps to hold the glasses on your face correctly throughout the day. Even better for outdoor enthusiasts, the frames are made with unobtanium components that grip tighter when you sweat.
Fit
Oakley's Half-Jacket 2.0 Sunglasses come with the traditional Oakley design and wrap-around your face. The fit is just tight enough to keep them well adjusted.