Best Polarized Sunglasses
In a
Hurry? Editors choice: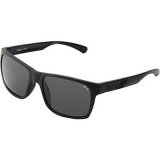 Test Winner: Zeal Optics Unisex Brewer Polarized Sunglasses

When it comes to fishing, biking, or
hiking outdoors
you want to make sure you are protecting your eyes on sunny days with a great pair of polarized sunglasses. They help filter out any glare from outdoor environments that can create problems with your vision. Polarized sunglasses help block harmful UV rays and protect your eyes from damage and long-term health risks.
Many of these sunglasses are waterproof and scratch-resistant, others enhance color and clarity while you are wearing them. Seeing better and looking great are two excellent benefits for outdoor enthusiasts. We have reviewed the top ten best polarized sunglasses on the market today and included details for each product, with pros and cons to help you have a better idea of which one suits you best.
Standout Picks
Criteria Used for Evaluation
UV Protection
Outdoor enthusiasts need to consider buying sunglasses with more protective coating features. Not only will the lenses last longer, but you'll also experience better vision and better outdoor performance with these types of lenses.
Different types of sunglass brands typically offer a different variety of coatings. Also, more expensive shades are going to buy you higher-quality lenses with more coating features that both protect the eyes and the lenses themselves from scratching or shattering. Typically, the higher the price of the sunglasses, the more protective coating features the sunglasses will offer you.
Types of lens coatings include anti-scratch coatings to protect the lenses from mishaps, hydrophobic coatings to keep off water and sweat, anti-fog coatings to help when it's humid, and mirrored or flash coating. Mirrored or flash coating is usually placed on the outside of the sunglass lens and operates as a reflective coating to reduce glare. Most polarized sunglasses come with this type of lens coating, and the one thing to keep in mind with mirrored or flash coatings is that they can make things look darker. So this is why you may find polarized sunglasses with slightly lighter tint shades to prevent color distortion.
Color
The color of the lenses on your glasses can make a big difference depending on what you're planning to use the shades for. Both colors and contrasts can be affected by lens tint, and exactly how your lenses are tinted can also determine how much sunlight is going to hit your eyes.
When picking what type of polarized shades you want to use on your outdoor adventures, you'll want to take a look at lens colors.
Darker lens colors are usually found in brown, green, and grey tints. These darker tints are probably the best lens tints for outdoor enthusiasts who know they'll be around a good deal of sunlight. Darker lenses can help to dramatically cut back on glare, meaning you won't strain your eyes so much on bright days. Color distortion is also something to examine with darker lenses since grey and green lenses don't tend to do this. However, some brown lens tints can create small distortions in color.
Polarized lenses need to be a bit lighter in tint to prevent color distortion when balancing out anti-glare features.
Materials
The materials used by the manufacturers to design the lenses are going to determine a lot for your sunglasses. Typically, better materials in the lenses are going to cost more, and also affect how well the lenses work to boost clarity, how long the lenses last, and how heavy the lenses will feel on your face.
Most sunglass lenses are made up of either glass, polycarbonate, polyurethane, or acrylic. Glass lenses are the best type of lenses for vision, performance, and strength. Scratch-resistant and capable of providing clearer vision, glass lenses can boost performance for outdoor enthusiasts. But, they do have some drawbacks. They are typically heavier than other lenses, cost more, and can still scratch when dropped, although the lenses won't shatter or chip up.
Polycarbonate lenses offer nice optical clarity and do well handling daily abuse. Their ability to withstand force is top-notch, considering how lightweight these types of lenses are. However, they are also costlier than other materials and don't resist scratches well.
Polyurethane lenses tend to also be expensive, but their ability to last long and resist abuse makes them a worthwhile consideration for the outdoor enthusiast. They are also quite lightweight, and the lenses are far more flexible than what other materials can provide.
Acrylic lenses are often sold as an affordable lens option but aren't made to withstand many impacts. These lenses are not typically made to last and are not as clear as the other options. Acrylic lenses aren't the best option for the avid outdoor enthusiast, since they offer little performance improvement, vision clarity, and are not made to be long-lasting. Acrylic lenses are usually used for those who just want a casual pair of sunglasses.
Fit
You'll want to examine how sunglasses are going to fit your face before you take them on any high-activity outdoor sporting trips.
You want to make sure that sunglasses feel balanced evenly between your nose and your ears. You don't want to feel any extra heaviness or inadequate balance on any of these pinpoints. The frames should fit tightly on both your ears and nose, but you shouldn't feel any pinching, rubbing, or other annoyances. Make sure that your eyelashes don't rub on the frame, either, or else you know you don't have a proper fit for your face. Depending on the type of material your frame is made out of, you may be able to adjust them or adjust the nosepiece on the frame.
If you are buying your polarized sunglasses online, and know what type of face you have, then look for that type of description in the blurbs advertising the sunglasses. For instance, if you know you have a larger face, then look for frames that are advertised for that type of face. Read our best polarized sunglasses reviews carefully, so you can make an informed decision.