11 Best Oakley Sunglasses Reviewed in 2021
In a
Hurry? Editors choice: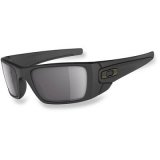 Test Winner: Oakley Fuel Cell

If you're looking for a pair of tough sunglasses that can offer more than just sun protection? Do you want a tough pair that have often been chosen by professionals in extreme fields like first responders, rescue, and even special operations? What about a pair that also stands out from the others? Sounds like you're looking for a solid pair of Oakleys!

Well built, tough, and quality sunglasses are just a few ways people who already swear them will describe the ones they wear. And they're cool. They just are. Since the early 1990s, These have even been a status accessory of special op guys in the U.S. military. They're not the cheapest sunglasses you could buy, but a lot of people claim they are worth the price. Check out the list we put together of the best Oakley Sunglasses and see what you think.
Standout Picks
Criteria Used for Evaluation
Style
One great thing about Oakley sunglasses is that you wind up with a wide selection of styles and colors to pick from. Oakley designs their various frame styles to fit different types of face shapes to ensure their sunglasses fit correctly on people who are active outdoors. Most pairs of Oakleys come in one of four style categories, covered below.
Lifestyle Styles. These sunglasses are made to be functional for daily wear and focus more on style than durability and performance. Lifestyle sunglasses are typically not the best choice for the active outdoor enthusiast.
Active Styles. Active style frames are designed to be used by people who are very active outside. Typically, these sunglasses come with frames that are metal or plastic.
Sports Styles. These styles were made to be used by active outdoor enthusiasts as well, and hold up well when you're engaging in a sport. With sports styles, you get the rubber grip with your nose piece to keep the sunglasses on your face no matter how active you are.
Shield Styles. These best selling sunglasses are made to be comfortable and can be worn by people using prescription classes. These types of frames usually come with a single, continuous lens rather than two separate ones.
When making your selection for what type of oakley sunglasses you want, you need to consider how active you're going to be when you are playing outside. If you purchase a pair of sunglasses that aren't made for active people and take them out on an outdoor trip, they're far more likely to fall off your face. If that happens, your sunglasses are at a much greater risk of getting lost or destroyed. So, it's important for you to consider the right type of style for your activity level.
Accessories
Oakley is well-known for making more than just sunglasses. Alongside their sunglasses, they also produce several types of accessories to help you add to the life of your sunglasses. For instance, Oakley has a variety of cases you can utilize to help protect your shades when you're not wearing them. They also offer a variety of cleaning kits that can help keep your lenses clean without scratching them.
Another benefit of purchasing Oakleys is that if your lenses wear out, Oakley offers a variety of lenses to choose from so you can simply replace your lenses without having to buy a new pair of Oakleys. Most of these pairs of glasses do not come with any accessories, but if you are interested in getting some accessories for your new pair of sunglasses, be sure to check out Oakley's main website.
UV Protection
With Oakleys, the characteristics of the sunglasses you purchase will determine what type of materials the shades were made out of. For lens features, Oakleys typically come with style options like polarized, photochromic, hydrophobia, and prescription.
Polarized lenses Provide a great option for the outdoor enthusiasts since they help cut back on glare from the sun. This factor can help improve your vision as you are active, boosting your performance.
Hydrophobia lenses are excellent for repelling water. So, if you tend to pursue a lot of water sports, these shades will probably be a great choice for you.
Photochromic lenses are also a nice feature to have. With these lenses, your shades will automatically adjust each time you face a different light condition.
How you select your lenses should depend on the types of outdoor activities you plan to partake in when you are wearing your Oakley shades. For instance, if you plan to engage in a lot of land activity like biking, hiking, or running, polarized sunglasses are a great choice. However, if you're going to be outside and near water often, like for fishing or boating activities, then hydrophobia lenses are probably your best option.
Durability
When purchasing Oakleys, beware of scams and fraud pairs of sunglasses. Make sure the pair you buy is authentic. Oakleys typically come in a soft pouch or hard case with the Oakley brand logo clearly placed on the sunglass holder. Also, Oakleys should always be sold with a certificate of authenticity so that they are verified as real Oakleys. To know whether or not you are purchasing a pair of authentic Oakleys, make sure you look closely at the documentation you get. True Oakley sunglasses never come with stickers on the lenses or frames.
You also want to make sure the cheap oakley sunglasses will hold up to all the activities you plan on using them for this summer season. You want them to be durable as they are a bit pricer sunglasses and do not want any damage to come to them. The best way to ensure you are looking at a durable pair of sunglasses is to check the customer reviews. The customer reviews will give you an inside look at how these sunglasses held up for other customers who decided to go with them.
11 Of The Best Oakley Sunglasses
Subscribe to our Newsletter