Best Fishing Sunglasses
In a
Hurry? Editors choice: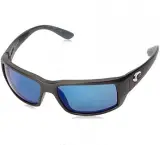 Test Winner: Costa Del Mar Fantail

If you have ever worn a pair of
fishing
glasses than you understand the power that they hold and the advantage they give any fishermen while casting from their boat or off the shore. Fishing glasses allow for a fisherman to see into the
water
and directly to the bottom, which makes it easier to see fish or any obstacles that may get in your way as you reel in your bait. Another advantage to wearing a pair of fishing shades is that you will protect your eyes as without them you will be exposing your eyes to the sun for quite a bit of time which could be damaging in the future. A good pair of fishing
sunglasses
, with high-specification technology and intuitive design, can become your most important piece of equipment on the water other than the reel and
rod.
Standout Picks
Criteria Used for Evaluation
UV Protection
Alongside the various protective elements, Polarization is at the forefront of most models' claims. It is widely considered an essential feature in fishing sunglasses, as it serves the eyes and their vision – arguably the angler's most valuable tackle.
Polarization in lenses works by redirecting light waves. Light reflecting off a smooth surface tends to reflect or bounce back at one angle, whereas light hitting a rough surface, like water, scatters. This is why we experience glare, it's light being thrown in our eyes from all angles. Polarization can reduce this by up to 98%. It's important that it's the lenses themselves which are polarized, as a film or coating won't polarize the light at all angles. They also work to allow vertical lightwaves in so you can still see, while blocking the horizontal glare waves.
All of this technology has the effect of helping you to see underwater more clearly when wearing polarized sunglasses, as your vision past the surface isn't blocked or compromised by reflected light.
Color
Colored lenses improve the clarity of your vision in different environments by blocking the predominant light rays, which can conflict with each other. Below is a short guide on the type of light and surroundings that different lens colors are useful for.
Copper for freshwater: good go-to color as tackles glare and enhances the contrasts between colors in most light conditions
Amber for low light: filters the yellow light of sunrise and sunset. This is not a danger-free time; water reflects 65% solar radiation just after dawn and just before sunset.
Blue for offshore: filters blue light for out on the water
Green for every day: good for outdoor use in most environments.
Gray for medium to bright light: useful for maintaining the contrast between colors offshore. In freshwater it will reduce the contrast between fish and other objects, hampering underwater vision.
Durability
With everything fishing throws at your eyes, the dangers can't be underestimated, and your sunglasses are your barrier between your eyes and these threats. The lenses and frames will need to stand up to water, wind, dust, salt, mud, leaves, fishing hooks and whatever else you keep on deck.
Lenses are usually made of either glass or polycarbonate (plastic). Our choices are pretty much divided between the two. Glass is more durable, but it is also heavy and can shatter if not treated. You'll also notice the jump in price. Polycarbonate is cheaper and can be damaged more easily, but is still impact-resistant and lighter. They've both got their advantages, and we'd recommend not worrying too much about which to go with as long as the glasses' other specifications and features work for you. Acrylic lenses are also available, but won't provide protection or clarity beyond being a barrier. We'd recommend ignoring acrylic, and sticking to glass or polycarbonate for fishing sunglasses.
Frames should be made from a strong plastic like nylon, while stainless steel hinges are also a bonus for durability. This aspect really will depend on how much you'll be using the glasses how you fish, and where you keep your frames.
Fit
The shape and style of the frames will primarily affect how they fit on your face. We recommend trying them on before you commit where possible, as although many frames are universal, there are ones that will work less well for you depending on their design. A good tip is to remember to measure the width between your temples, as many models are a tight fit. In general, fishing sunglasses' frames are wraparound to some degree, which works to keep them secure. Also look for features like nosepieces, rubber moldings, and ear hooks for an idea of what affects the fit. Consider too your level of activity and how much you remove your glasses as to whether you might need a strap, lanyard or flotation aid.