Best Fishing Sunglasses
In a Hurry? Editors choice: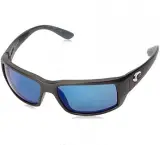 Test Winner: Costa Del Mar Fantail

If you have ever worn a pair of
fishing
glasses than you understand the power that they hold and the advantage they give any fishermen while casting from their boat or off the shore. Fishing glasses allow for a fisherman to see into the
water
and directly to the bottom, which makes it easier to see fish or any obstacles that may get in your way as you reel in your bait. Another advantage to wearing a pair of fishing shades is that you will protect your eyes as without them you will be exposing your eyes to the sun for quite a bit of time which could be damaging in the future. A good pair of fishing
sunglasses
, with high-specification technology and intuitive design, can become your most important piece of equipment on the water other than the reel and
rod.
Standout Picks
Criteria Used for Evaluation
UV Protection
Alongside the various protective elements, Polarization is at the forefront of most models' claims. It is widely considered an essential feature in fishing sunglasses, as it serves the eyes and their vision – arguably the angler's most valuable tackle.
Polarization in lenses works by redirecting light waves. Light reflecting off a smooth surface tends to reflect or bounce back at one angle, whereas light hitting a rough surface, like water, scatters. This is why we experience glare, it's light being thrown in our eyes from all angles. Polarization can reduce this by up to 98%. It's important that it's the lenses themselves which are polarized, as a film or coating won't polarize the light at all angles. They also work to allow vertical lightwaves in so you can still see, while blocking the horizontal glare waves.
All of this technology has the effect of helping you to see underwater more clearly when wearing polarized sunglasses, as your vision past the surface isn't blocked or compromised by reflected light.
Color
Colored lenses improve the clarity of your vision in different environments by blocking the predominant light rays, which can conflict with each other. Below is a short guide on the type of light and surroundings that different lens colors are useful for.
Copper for freshwater: good go-to color as tackles glare and enhances the contrasts between colors in most light conditions
Amber for low light: filters the yellow light of sunrise and sunset. This is not a danger-free time; water reflects 65% solar radiation just after dawn and just before sunset.
Blue for offshore: filters blue light for out on the water
Green for every day: good for outdoor use in most environments.
Gray for medium to bright light: useful for maintaining the contrast between colors offshore. In freshwater it will reduce the contrast between fish and other objects, hampering underwater vision.
Durability
With everything fishing throws at your eyes, the dangers can't be underestimated, and your sunglasses are your barrier between your eyes and these threats. The lenses and frames will need to stand up to water, wind, dust, salt, mud, leaves, fishing hooks and whatever else you keep on deck.
Lenses are usually made of either glass or polycarbonate (plastic). Our choices are pretty much divided between the two. Glass is more durable, but it is also heavy and can shatter if not treated. You'll also notice the jump in price. Polycarbonate is cheaper and can be damaged more easily, but is still impact-resistant and lighter. They've both got their advantages, and we'd recommend not worrying too much about which to go with as long as the glasses' other specifications and features work for you. Acrylic lenses are also available, but won't provide protection or clarity beyond being a barrier. We'd recommend ignoring acrylic, and sticking to glass or polycarbonate for fishing sunglasses.
Frames should be made from a strong plastic like nylon, while stainless steel hinges are also a bonus for durability. This aspect really will depend on how much you'll be using the glasses how you fish, and where you keep your frames.
Fit
The shape and style of the frames will primarily affect how they fit on your face. We recommend trying them on before you commit where possible, as although many frames are universal, there are ones that will work less well for you depending on their design. A good tip is to remember to measure the width between your temples, as many models are a tight fit. In general, fishing sunglasses' frames are wraparound to some degree, which works to keep them secure. Also look for features like nosepieces, rubber moldings, and ear hooks for an idea of what affects the fit. Consider too your level of activity and how much you remove your glasses as to whether you might need a strap, lanyard or flotation aid.
Top 10 Picks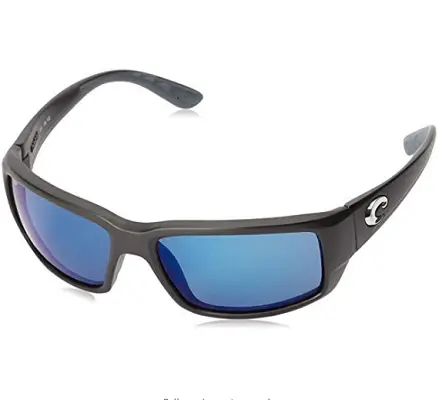 Far and away the most popular fishing sunglasses out there, and from one of the biggest names, the Costa Fantails are loved by all and top of everybody's list. It's easy to see why with their combination of technology, functionality and style for the perfect catch.
Read more
Polarization and Protection
Polarized to prevent glare and improve vision, with 100% UV protection and 12% VLT.
Lens Material
Costa's signature 580G lenses are the favorites here, but most of their lenses can be customized along with the frames to include the combination of material and color that suits you. The 580 refers to the nanometers (nm) of light blocked, which at this number in the spectrum is yellow, meaning that reds and greens will be enhanced for increased definition and contrast. The 'G' is for glass, but they're also available in 580P, polycarbonate lenses if glass is too heavy. The 'lightwave glass' is 20% thinner and 22% lighter than average, yet with the same clarity.
Lens Color
Among the clearest lenses available, they're available in seven colors, dependent on your preferences and the type of fishing you do. Costa recommends blue mirror for offshore, and green for in-shore.
Treatments and Coating
The lenses are mirrored and layered for scratch protection.
Frames and Fit
Comprising extra-durable TR-90 nylon, made including material from recovered fishing nets. The stainless steel hinges resist corrosion and are tight, feeling almost like springs. They're a smaller fit than other Costas. They've also updated the rubber co-molding (which aids the fit) around the frames as it previously peeled off after one to two years of wear.
Style
The frames are available in various colors, including black, 'camo pink', 'xtra camo' and tortoiseshell.
Summary
It really feels as though the Fantails tick all the boxes: precision design, durability, protection and style. With the range of lens colors and materials available, they're the go-to for all environments. We love that they've included a sustainable element by using recycled fishing nets, and included a lifetime limited warranty. They're expensive but worth it.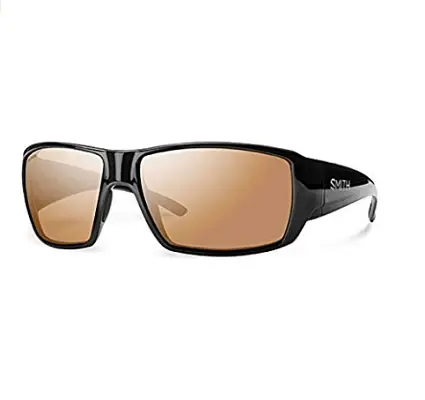 Another big name in sunglasses and fishing gear. Smith is always working on its collections, and the Guide's Choice has been reimagined and updated with the latest technology in response to customer needs. These, especially with the tortoiseshell frames, are a really classic-looking pair of glasses.
Read more
Polarization and Protection
These lenses are non-polarized, but there are polarized options available. We've chosen to showcase a particular type of lens here, but Smith will have an option to suit you if you would like polarization.
Lens Material
Smith's Techlite Glass Polarchromic lenses. Unless you already know what that means, keep reading! The glass is twelve times more scratch-resistant than plastic and 20% lighter, weight often being a concern with glass. Polarchromic means self-adjusting lenses, so they'll lighten and darken in response to your environment. They're also available in polycarbonate and ChromaPop.
Lens Color
The lenses come in several colors, we recommend copper or bronze for a range of uses, and for depths of 10 feet or less. These lenses are particularly good for inshore fishing.
Treatments and Coating
There is an anti-reflective coating, and the lenses are also hydro-oleophobic for repelling water and oil.
Frames and Fit
Made from a plastic composite with stainless steel hinges. They're a medium to large fit, with Megol (a thermoplastic compound) nose and temple pads for snugness and comfort. They wrap around nicely and have broad temple pieces for extra protection and reducing light intrusion through the sides.
Style
Available in black, matte black, or Havana tortoiseshell - our personal favorite as they're so distinctive.
Summary
A classic-looking and quality option, with some great technology to back them up. Again, the price is justified by what's on offer. They're made to suit fly angling, but will work with pretty much all fishing styles. Like many of the big brands, Smith will have a customization option to suit you.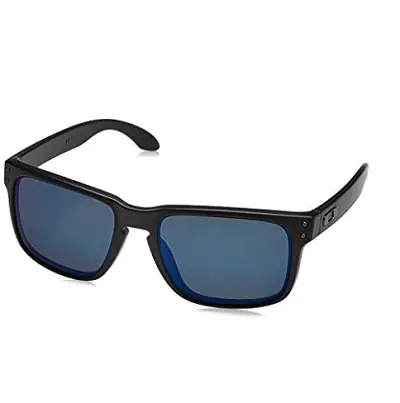 Oakley are a cool brand, well-known for all types of eyewear and sporting clothes, and the Holbrooks are actually part of a collection designed by snowboarder Shaun White. Due to their distinctive rectangular shape, overall they look more like a classic sunglasses shape. They're a great all-purpose set with high-specification credentials.
Read more
Polarization and Protection
Polarized iridium (metal) and 100% UVA, UVB and UVC protection. They filter out blue light up to 400 nm.
Lens Material
The lenses are plutonite (Oakley's high-grade) polycarbonate plastic, along with the protective iridium. They're able to take a prescription and have six base layers under the Coating for durability. Despite being wraparound, the lenses have also been optimized to prevent image distortion.
Lens Color
The iridium lenses are available in 'ice' (blue) or 'ruby' (red/orange).
Treatments and Coating
UV protection.
Frames and Fit
The frames are durable and give good coverage in a larger fit, employing Oakley's three-point fit system. We found that a strap is needed for fishing and activities as there are no ear hooks on the arms. They fit tightly on the nose but make sure you get the right ones for you as there is no adjustment.
Style
The rectangular frames give a traditional look, similar to Ray-Ban Wayfarers but with wider arms. Not a huge range of frame colors, with most lenses only available in glossy black.
Summary
Perfect if you want quality, USA designed and made sunglasses you can wear off the water as well as on. Design is forefront but with no concession made to technology. You'll need to consider some additions for full active use, but this shouldn't put you off if you want a brand you can trust with all the protection you need.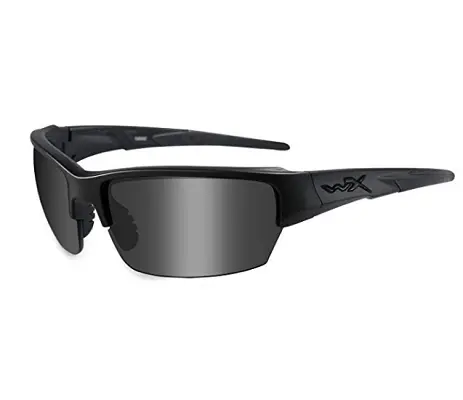 One of a few styles we've chosen in a half-frame, the advantage of which with the SAINTs is that the lenses can be removed and replaced with others depending on your activity. Wiley are a 30 year-old brand, being the only eyewear premium brand with ANSI Z87.1-2010 & EN.166 safety and optical standards.
Read more
Polarization and Protection
The smoke gray lenses we've chosen are not polarized, but they do reduce glare and provide full UV protection and 15% VLT.
Lens Material
Shatterproof selenite (mineral) polycarbonate; they're actually military specification and can endure high-speed impact. There's no color distortion.
Lens Color
Comes with a set of three interchangeable lenses in gray, light rust and clear - protection from debris and hooks is just as important as UV protection and shade.
Treatments and Coating
Anti-scratch coating.
Frames and Fit
The half-frame allows for quick lens swapping and keeps the weight down. The earpieces are straight for ease of taking on and off, which is useful on the one hand, but also creates concerns about security of fit, however, a cord is included.
Style
Available in gloss black only, the half-frames and straight earpieces give an undeniably sporty look. Comes as a full package, including case, cloth, nosepiece and cord.
Summary
The SAINTs' strongest quality is the interchangeable lenses, which will be invaluable to those who don't want to buy three pairs of glasses, or don't want the price tag that comes with polarchromic ones. For the sporty fisherman.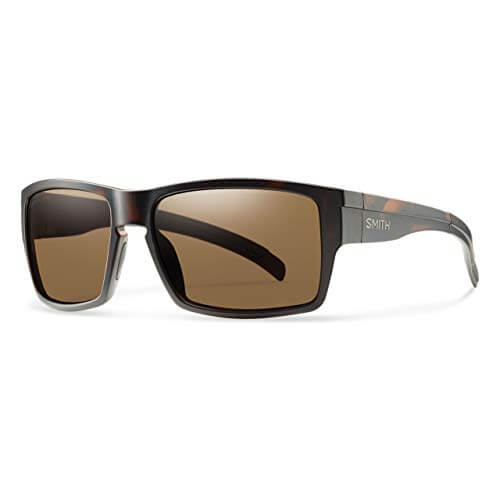 There's a reason why we have the most picks from Smith of any in our list. They make high quality, classic sunglasses, and most importantly, they're consistently popular. The Outlier are another versatile pair which could pass as casual wear as well as technical equipment.
Read more
Polarization and Protection
Polarized.
Lens Material
Smith's Techlite Polarchromic Glass lenses automatically change in different levels of light. They're also strengthened for durability and are scratch-resistant.
Treatments and Coating
Hydro-oleophobic to resist oil and water.
Frames and Fit
The frame are made using Evolve, which is made from renewable, non-genetically modified castor plants. It's also 53% bio-based, so has a big plus in the eco-friendly stakes. The Smith Outlier also utilize hydrophilic Megol nose and temple pads and stainless steel hinges. The pads absorb moisture to enhance the fit. Overall, they cover a large portion of the eye area, at 1.7 by 2.4 inches. The ear hooks also have a nice curve for a secure fit.
Style
A classic style for sport or general use. We like the light tortoiseshell.
Summary
A sturdy, stylish pair of sunglasses with some superior technology to back them up. Go for these for a brand you can trust and shades you can wear in any setting.

6

. Flying Fisherman Maverick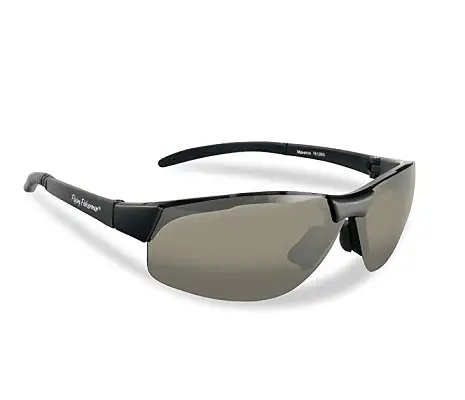 Our low budget option for sunglasses which still hit the bases. Flying Fisherman sell themselves on being an affordable route to fishing, and they're an impressive achievement for the price.
Read more
Polarization and Protection
Polarized, with 100% UVA and UVB protection.
Lens Material
Triacetate (a cellulose acetate) lenses, which Flying Fisherman bills as impact and scratch-resistant, but we found incidents of scratching. AcuTint technology filters glare and provides clarity without distorting color.
Lens Color
Three lens colors - amber, smoke (gray) and yellow-amber. For the price you could purchase all three for a third of the price of some of our picks.
Treatments and Coating
None, most features are built-in.
Frames and Fit
Light half-frames with curved, rather than wrap around arms. These may not fit perfectly at first but are flexible. The non-slip rubber nose piece is also comfortable.
Style
Black only.
Summary
Overall, the Mavericks pack an impressive range of features for a very low price. They may have all that some fishermen need, but otherwise a great spare or backup pair.

7

. Costa Del Mar Tuna Alley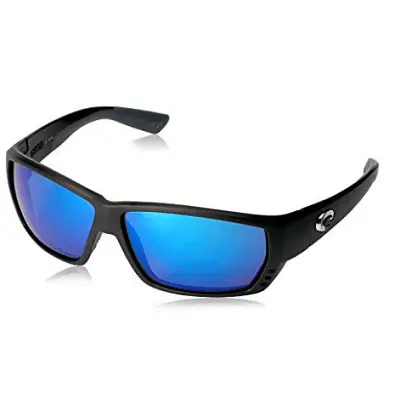 Another choice from this popular, high-quality brand. They're a slightly sleeker, sportier look than the Fantails, with all the high-specification features you'd expect.
Read more
Polarization and Protection
100% polarized and and UV protected and 10% VLT.
Lens Material
Costa's 580P polycarbonate iridium, but also available with 580G glass.
Lens Color
Available in six colors, including three mirrored.
Treatments and Coating
Costa uses C-WALL molecular bond coating, providing hydro-oleophobic and scratch-resistant properties.
Frames and Fit
TR-90 nylon, made using recycled fishing nets, with rubber moldings. One great feature of these glasses is the patented ventilation system, which lets air flow through the lenses for cooling, and stops them from being pulled off.
Style
Smaller lenses and integrated hinges for a more aerodynamic look. The eye coverage might be a bit narrow for some.
Summary
Another fantastic design from Costa that of course looks the part. Worth the high price point for these Florida, USA-made shades, with all usual features as well as a couple of special ones.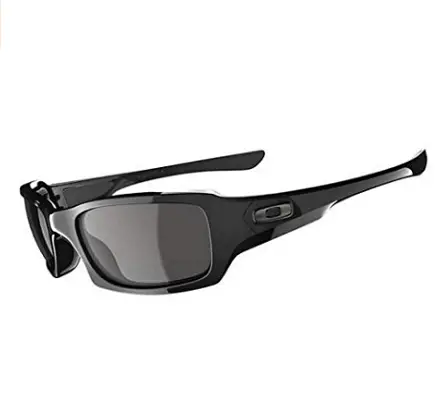 This Oakley design has a narrower, sporty look for fans of a high-tech look. They're mid-range in terms of price, which is a bonus from such a trusted and well-known brand. See what you can get for your money with the Fives Squared.
Read more
Polarization and Protection
Polarized to remove 99% of glare, and 100% of UVA, UVB and UVC light. Harmful blue rays are also blocked up to 400 nm and they've got 16% VLT.
Lens Material
Polycarbonate, and available with Oakley's HDO - High Definition Optics - technology for minimal distortion and clarity. Another feature lens combination is Oakley's PRIZM, which boosts vision of desirable colors whilst filtering others.
Lens Color
Available in dark gray and bronze, the most versatile colors for all-condition use.
Treatments and Coating
UV coating.
Frames and Fit
Specially tapered for optimal fit during activity, they use Oakley's three-point fit system and O-Matter, injection molded nylon. The rubber moldings are made with a patented, so-called 'Unobtainium' rubber. Probably on of our best picks in terms of fit.
Style
The Fives Squared are certainly a distinctive look, narrow and sleek, yet functional. Available with black or transparent brown frames.
Summary
Designed to fit perfectly, we'd say go for the Fives Squared if a secure fit is your priority. We're also impressed by the price for shades from this top brand.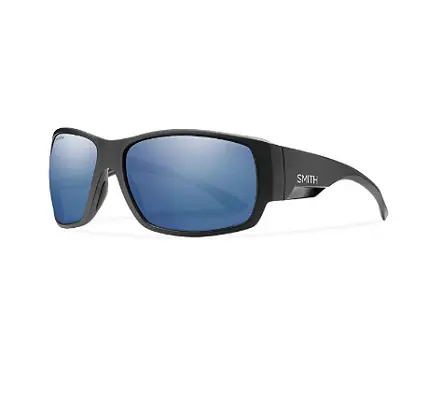 Our final pick from Smith confirming the brand's expertise and in the field. Many consumers applaud them for their commitment to being a quality brand that focuses on innovation rather than a conglomerate relying on famous names and promotion. A great all-rounder.
Read more
Polarization and Protection
Rather than block single colors, Smith's ChromaPop polarizing technology filters out specific wavelengths of light, providing even more clarity. It helps the eye to distinguish between blue and green and red and green light by identifying light at 450 nm as well as 580 nm. The lenses also have 14% VLT.
Lens Material
Polycarbonate trivex lenses. Despite being plastic rather than glass, trivex is widely recognized as one of the best materials in the industry. There's also no distortion, even though the lenses are specially tapered to direct the light.
Lens Color
The Docksides are available with green, brown, bronze or blue lenses.
Treatments and Coating
Hydro-oleophobic for water and oil.
Frames and Fit
The frames are thick and curved for maximum coverage and fit, with integrated fixings for a smooth finish. They score points for grip and temple coverage without too wide of an appearance.
Style
A classic frame style with a sporting twist. Frames come in black, matte black, 'Havana' (patterned, transparent brown) and 'Howler Matte Tortoise' (tortoiseshell). Would look great out on the water or for daily use.

10

. Strike King Okeechobee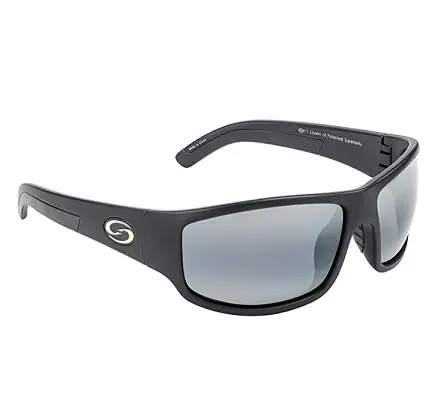 Our final choice comes from nearly 35 year-old brand, Strike King. Founded and run by hardcore fishing enthusiasts, they're as proud of their team's catches as they are their products. All of their products are named after lakes, which is a nice touch. Read on to see what another very affordable pair of glasses can offer.
Read more
Polarization and Protection
100% polarization, UVA and UVB protection.
Lens Material
Polycarbonate, with Strike King's proprietary S11 eleven layer mirrored lens technology to achieve the polarization and protection credentials.
Lens Color
Available in a wide variety of one and two-tone matte and mirrored colors.
Treatments and Coating
Hydrophobic and anti-reflective coating.
Frames and Fit
The frames are made of plastic, nothing too fancy, which makes sense for the price. They do feel rugged, but might not survive as much wear and tear as more expensive models. The nosepiece is relatively thick so do make sure they're right for you as they might not work with everyone's nose shape.
Style
The Okeechobees offer a large lens whilst maintaining a sleek line. They come in a very wide range of color choices, all the classics plus a few more distinctive ones like 'Mossy Oak Camo' and 'White-Black'.
Summary
A great cheaper option, covering the key features of polarization and anti-glare.