Best Fishing Rods For Kids
In a
Hurry? Editors choice: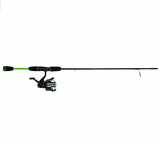 Test Winner: Shakespeare Ugly Stix GX2

Do you remember when your father handed you your first ever
fishing rod
? If you are anything like the average child, to be honest, you probably were disappointed that it was not an action figure or a Barbie doll. But, chances are, you quickly fell in love with the craft and now, it may be time to offer the same experience for your little one/ones. Early on, children should learn the
basics of fishing
so that in the future, they can take this experience to the next level. But, everyone has to start somewhere and the following kids fishing rods allow your children a great way to become witness to the glorious world of fishing.
Standout Picks
Criteria Used for Evaluation
Ease of Use
It is one thing for a professional fisherman to get ahold of a brand-new fishing rod and an entirely different animal when a kid picks one up. To no one's surprise, it is going to be much easier for the professional to understand the mechanics and engineering behind the fishing rod and its system. So, in order to facilitate this for younger audiences, the fishing rods need to be dumbed down. This is not an insult to children and instead is a reminder that everyone starts somewhere and beginner steps are always necessary. For fishing rods for kids, this ultimately means that a fishing rod will be all-but gutted of any moving components to keep the size of the rod and the reel small.
But, as all kids' versions will apply this general concept, you also want to ensure that the best fishing rod for kids you are looking into does not have a habit of tangling. Even the most esteemed fishermen in the world will get their fishing lines tangled from time to time, but the less chance of it happening the better. Basically, they are kids and the experience should be kept as user-friendly as possible.
Durability
When you are in the market for a product that you will primarily use, it is a little easier to judge the durability. Even though a product will only be as durable as the materials utilized and the construction method, you are ultimately the one left to handle the item you invest in. However, this is complicated with a kid's item as they are the ones in control. Because of this, the important of the durability is amplified. After all, children could care less about the build quality of a product as they just want to have fun. The last thing you want to do is fill your child with an insurmountable amount of hype and anticipation to go fishing only to see the rod break on their first use.
Two quite common methods of construction for fishing rods are fiberglass and graphite. While each offers specific performance advantages, you do not need to worry too much about those as it is for your small child. But, both offer an ideal amount of durability but are not necessarily indestructible, either.
Accessories
Providing your child with one of the best fishing rods on the market is your number one goal here. But, they will need more than that to fish with success. On top of this, accessories such as fishing line, a reel, floats, lures, and any other items in a fishing box will need to be obtained. Well, why not just invest in a total package that provides everything you are looking for? Guess what, some sellers do just that.
Investing in a rod that already has a pre-spooled line and all the lures and hooks a child could want will make things easier for yourself. Plus, fish can be picky creatures and some will not bite unless you through in bait that they are interested in. Remember, the experience is one thing but providing your child with the thrill of reeling in an actual fish is another.