Best Fishing Bags Reviewed and Tested
In a Hurry? Editors choice: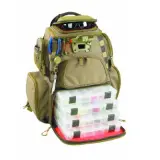 Test Winner: CLC Wild River WT3604

Anytime you go out on a
fishing
trip, there are a variety of items you need to take with you, even more than you may realize. When people think about fishing, they mostly just think about having a
pole
and some bait, and go out to the water and catch some fish. Seems, pretty reasonable, right? However, you need to have other certain items with you in anticipation of catching fish. This includes having some extra line, more bait, you
knife
, lures and other items which will help ensure you are ready for any situation. Within this buying guide, we are going to cover what goes into a fishing
bag
, and the factors you need to consider in order to create your own.
Standout Picks
Criteria Used for Evaluation
Materials
The type of material your bag is made out of is not likely to be the ultimate determining factor in selecting your bag, although it can hold some significant sway. There are some bags which are made out of a very dense fabric, which will help ensure that everything within the bag is sealed and tight and will not be affected by any weather elements. Other bags will have more breathable material, which will ensure the contents inside do not ever get too hot or too cold, but are more vulnerable to harsher weather conditions. In addition to all of this, there are some benefits to certain types of material, which allow you to add extra hooks and loops to the outside of the bag, so you can have more items easily accessible on the outside of the bag at any time. Some bags will also come with some extra netting or hooks or loops or other type of material to allow you to do this without puncturing the bag.
Capacity
Another important aspect to finding the right bag for your needs is to know how big of a main pocket area you need. There are some bags which have one big pocket and a few small pockets. This might sound good in theory, but if you have a lot of medium sized items you want to put in your bag, then having a bag with a few normal size pockets will be better for you than one massive pocket. The larger the pocket is, the more you can put into it, but the harder it will be to organize. The whole idea of having a fishing bag is to carry the items you need, and for you to find them with ease when you need them. If you have a bag with a big pocket without any dividers or any sense of organization, then you defeat the whole purpose of having a bag. Make sure you have a bag with not only the right number of pockets, but the right size and the right way for you to organize them.
Features
In the case of a fishing bag, this will refer mainly to pockets and fasteners. If you are on the shore a lot and don't have any concern that any water will enter them, and then going with a Velcro or even a button enclosure is perfectly acceptable. However, if you are on a boat more often than not and have a lot of water which can spray up into the boat, then you will want to make sure that the pockets are fully secured. The best way to make this happen is by having pockets which are closed using a zipper.
Some bags will have a single zipper on any pocket, and some will have two zippers per pocket. The main difference here is how often you might access only half of the pocket, or what you might be used to when it comes to a zipper configuration. Some bags may have pockets which are intended to be open, and not have any kind of a zipper or any other closing mechanism on them. Once again, you just need to know what your typical environment is when you fish, and what will be acceptable for your needs.
Size
One of the first things you have to think about with any fishing bag is the size you need. There are a large variety of sizes to choose from, so you need to ensure you have the right size to fit what your needs are. If you are only going out for a couple of hours, you do not need a bag which is the size of your cooler. Likewise, if you are going out for a couple of days, you will need a bag which is bigger than the size of your credit cards.
To determine the right size of your bag, you have to think thru the trips you take, and how much stuff you need while you are out. Having a bag which straps around your waist is a very efficient way to carry the items you need on a trip, while also ensuring your bag is safe, secure and won't get lost. However, a waist bag can only carry so much stuff.
There are some waist bags which can convert from a waist bag to a shoulder bag, which will give you the versatility of carrying the bag however you need to in order for it to be comfortable. When you are out fishing, you need to think thru how you are when you fish. There is a big difference between sitting on the shore and fishing versus being out in a fishing boat. When you are on the shore, and you don't have to worry about carrying a bag with you or don't need access to it very quickly, then you can have a bigger bag that can carry everything you need on any fishing trip. However, if you need to be more nimble when you are on your fishing trip, and have the need to have items close to you all times, then you need to pick a smaller bag which can be on your person so you can access it quickly and easily.
Top 10 Picks
1

. Ready 2 Fish Soft Sided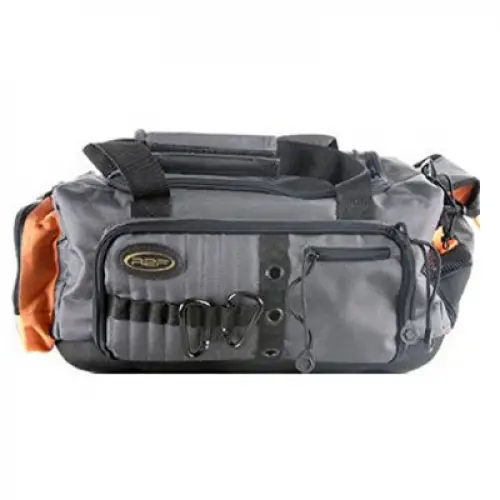 This fishing bag is comprised of soft sided material, allowing you expand the bag as needed and allows your pockets to breathe so they do not become too hot within.
Read more
In addition to the multiple types of pockets on the fishing bag, you will also see an area which has carabiner loops for you to put clips, so you can hang items from the bag, as well as riveted holes which will allow you to hang other items into the bag. You can carry this bag with the provided hand handle, or you can use the provided shoulder strap for easy carrying.

2

. Monkey Paks Small Tactical Assault Military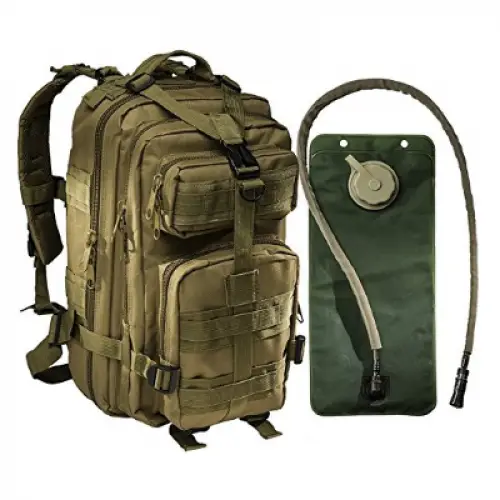 Although this bag can be classified as a Tactical Backpack, there are a lot of features which are very useful as a fishing bag.
Read more
One of the most interesting features is that it comes with a 2.5 liter pouch, which you can easily drink out of during the day. Almost every pocket, no matter how big or small, has a zipper enclosure so you can be confident your items will be kept warm and dry during any weather event. The material is comprised of 600D fabric, which is very durable and strong, and will not rip or tear easily.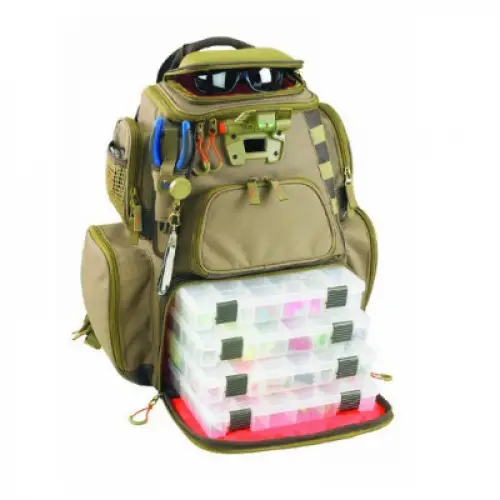 CLC has this fishing bag for your consideration, which has eight different compartments, all of which have a zipper enclosure.
Read more
The backpack itself has a LED light within it, which will allow you to easily fish even when it is dark outside. The big pocket along the bottom of the bag will allow you to store four different trays, which come with the bag. This bag comes with a cover which will help protect it from the rain, so your items within the bag will always stay clean and dry. This fishing bag comes with shoulder straps, which are both adjustable and are well padded.



This fishing bag is comprised of a canvas material, 420D PVC, which will allow you to feel confident in knowing you have a strong and durable fishing bag.
Read more
This bag has numerous compartments, all of which are zipper enclosed, with some that have one zipper and others which have two. There are extra mesh materials and hooks which will allow you to loop other things into the bag for extra convenient storage. This bag is carried by using a cross body system, meaning you can easily distribute the weight across your entire body so no area will feel weighed down by the bag.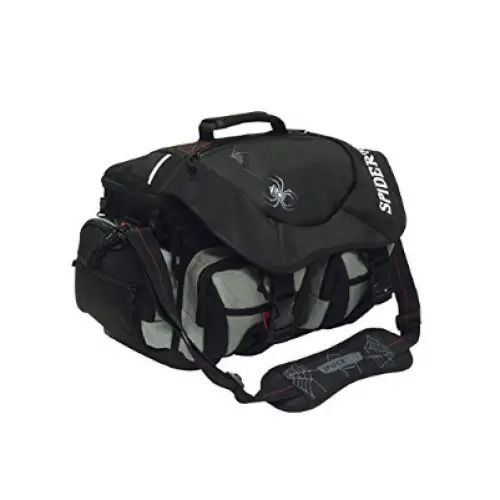 This fishing bag from Spiderwire is made from a polyester material, meaning it will be breathable during the warm summer days.
Read more
The bag comes with a large main compartment area, along with two front and two side pockets. All pockets have a zipper enclosure system on them, allowing you to ensure the contents within the pockets stay nice and dry. Has an option along the side of the bag to carry extra line dispensers, so you can be sure to not run out of fishing line during any trip. The top flap has a quick release button, so it is easy to open and close.

6

. Fiblink Single Shoulder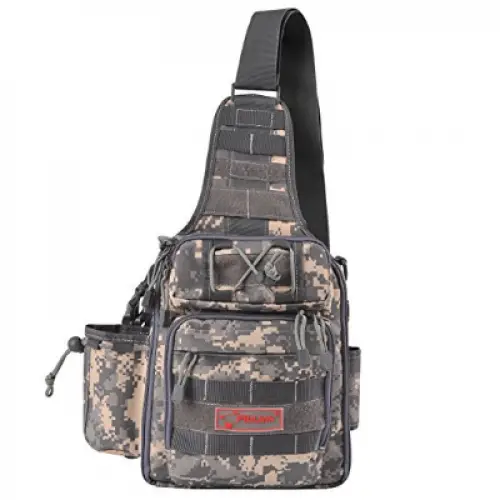 Fiblink offers this fishing bag which comes in three different colors and designs, allowing you to find one which will meet your needs.
Read more
This fishing bag has three main compartments which have the capability of being zipped up, along with extra loops and hooks along the sides to allow you to hang more items from the outside of the bag for easy reachability. The bag is designed to go over one shoulder, but not as a cross body. There is a pocket along the side for you to easily store a water bottle.

7

. Piscifun Single Shoulder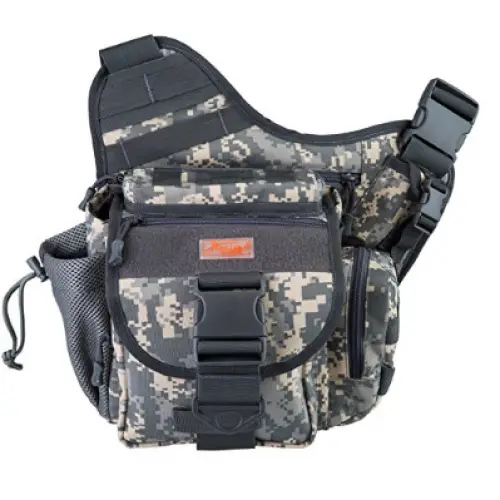 Available in four different colors and design, this fishing bag from Piscifun is made from a dense nylon material (1000D).
Read more
Even though this has a very compact design, there are ten different pockets and compartments, allowing you to store items in the most efficient and effective method possible. The shoulder strap is adjustable, allowing you to adjust how loose or tight the strap can be. Some of the compartments are enclosed using a zipper, whereas others are with a quick buckle or a drawstring.

8

. Blisswill Multifunction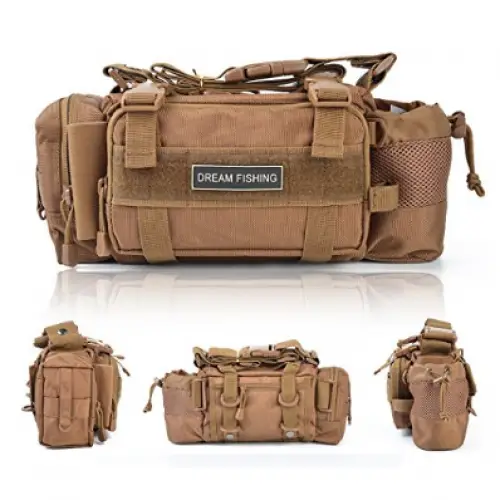 This fishing bag from Blisswill is made from a very strong 2000D nylon material, meaning it will stay durable during most conditions.
Read more
This bag can be carried across your waist, or along your shoulder, depending upon how want to carry it. This fishing bag has numerous pockets and compartments, which can be closed using a zipper, drawstring or a quick buckle system. The carrying strap is fully adjustable, so you can make it as tight or as loose as you desire.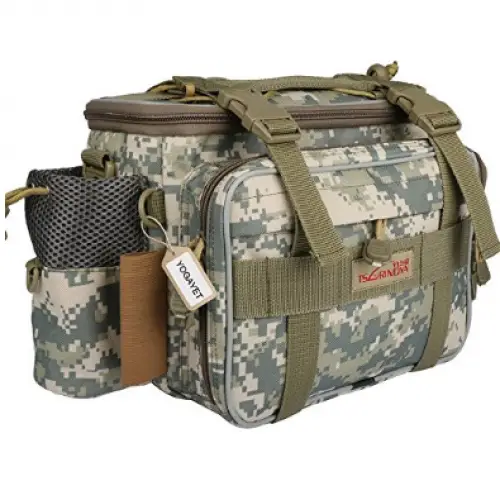 Available in six different colors and designs, this fishing bag from Yogayet is large enough to carry all the supplies you need, yet not too cumbersome or bulky to be uncomfortable.
Read more
The main compartments of the bag have a zipper enclosure system, and the carrying system for the bag has a quick buckle system for easy storage. The outside material is made up of a water-resistant material, which is a Nylon 600D fabric.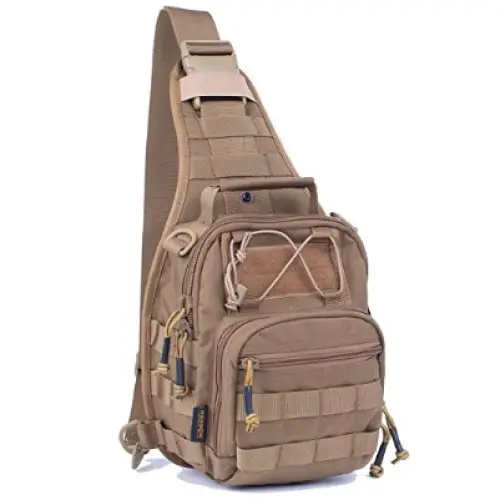 This single shoulder sling fishing bag from Reebow is available in three different colors and designs.
Read more
You can sling this bag across your back, chest or shoulders, allowing you to find a comfortable way to carry the bag throughout the day. This bag has three different compartments, each of which has a zipper enclosure. In addition to this, there are numerous hooks and loops for you to strap other materials onto, which makes it easy to store things along the outside of the bag.