Best Electric Knives
In a Hurry? Editors choice: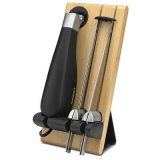 Test Winner: Cuisinart CEK-40

With every passing day, it seems that the modern world continues to amaze. In specific, in regard to technology. Do you remember the days where you would physically have to cut
meats
, bread, and other similar items? Well, with an electric
knife
, the device is going to perform most of the work for you. While the technology as a whole is certainly not foolproof, this can save your
arms
from rigorous cutting. They especially come in handy when you are preparing for a major feast such as Thanksgiving or Christmas dinner, but they can also be useful for everyday meals. At the end of the day, why not make things easier on yourself, right?
Standout Picks
Criteria Used for Evaluation
Style
At their core, electric knives are devices that are used to cut through foods. What this means is at their core, they need to be equipped with superior blades to ensure superior performance. While we will continue to dive into the performance in a little while, let's take this time to talk about the design of the blade or blades. As you have seen throughout this list, one of the more popular blade types is serrated stainless steel. Serrated knives are ideal for cutting foods with softer interiors and harder exteriors. As for the stainless steel, this is a very popular and efficient material. Part of the reason why is stainless steel blades are extremely tough and resistant to chipping, staining and rusting.
Power Source
A lot of what was just documented is in regard to the overall performance. But, in addition to the design of the blades, there are also some other key factors that go a long way to determining the performance level of an electric knife. For starters, let's discuss the motor. Clearly, you can always assess the wattage level and for the most part, you will see most models range around 100 to 130 watts. But, an enormous amount of wattage is not necessarily a benefit as remember, this should also be energy efficient, as well. However, it is still desirable that the motor be able to handle the tasks that you need it to. So, ensure it will.
Also, you will notice that some units will be cordless while others corded. The biggest advantage of the former is that there is no hassle when it comes to dealing with the cord. Then again, with corded models, you never need to worry about battery life. It really is a matter of personal preference. But, if you are going to go with corded, be sure you assess the length of the cord (as this can vary from model to model).
Use
One of the biggest advantages of electric knives, as opposed to regular knives, is that you can exert less effort to get the job done. But, you still need to handle the device and that means that you need to assess this aspect of their design. Of course, this is referring to the overall handling of the device. There are two points of emphasis here and the first one is the actual handle. What you really want to be looking for is comfortability and the best way to look for this is to look for the word ergonomics. With a handle that is ergonomically designed, it will naturally contour to the shape of your hand and fit comfortably.
But, there is something else. Most models will be designed with an activation trigger that needs to be pushed in to operate. With some models, the amount of pressure that is required is a bit ridiculous and can cause discomfort. Ideally, look for a system that engineers the trigger in an optimal way to prevent awkwardness.
Safety Hazards
Whenever you are dealing with a device such as a knife, safety will always be a top priority and a concern. But, before we talk about the safety features that you should look for, note that all the safety features in the world will not cover up for mishandling. So, be sure that you take proper caution when operating a device such as this. Also, never allow your children access to it. With that out of the way, let's talk about safety. If you do happen to have children in your home (or just want to be as safe as you can possibly be), there is one vital design feature that you should look for.
This is referring to a safety lock and basically, this will be a simple toggle that will allow you to lock the power button. So, even with the unit plugged into the wall (or with the battery connected), it can't start unless the toggle is switched back. This will prevent the unit from accidentally starting. Of course, even though it can be a nuisance at times, most units will only work with the trigger pushed down so even without the safety lock, the blades will stop oscillating once the trigger is released.
Top Ten Electric Knives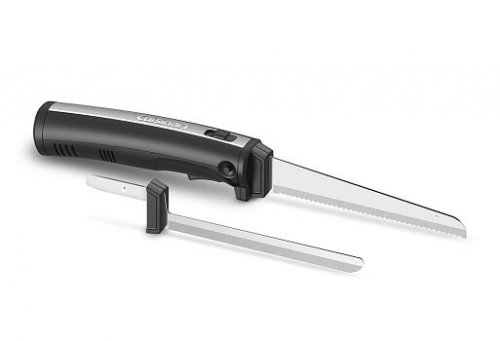 Without a doubt, the biggest selling point of the CEK-50 is the fact that it is cordless. While the runtime is not the greatest, all things considered, never having the hassle of a power cord is beyond convenient.
Read more
Blade Design
There are two blades at work here. The first is a serrated blade and this will cut perfectly through breads and meats. The other is a straight-edge blade and this is ideal for fruits and vegetables.
Performance
In terms of power, the CEK-50 actually is a bit lackluster. However, as a cordless model, it will run for 20 minutes per charge and only takes 30 minutes to recharge. Plus, two batteries are included.
Comfort and Control
Not all models will be easy to handle, but the CEK-50 certainly is. This is thanks to its ergonomic design, which makes it easy to control in either hand, and easy, one-touch on/off operation.
Safety Features
To prevent any accidents, Cuisinart went ahead and added a safety lock feature into their CEK-50 model.
Ease of Cleaning
Both of the blades that are provided to you are dishwasher-safe. Even without a dishwasher, however, they can easily be cleaned with soap and water.
Overall
The CEK-50's claim to fame is undoubtedly the fact that it is cordless. Even though the power could be seen as lackluster, some will take the convenience over it.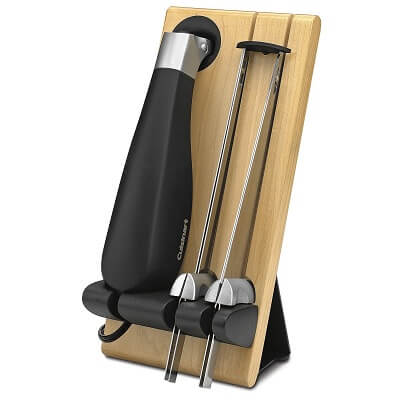 One look on Amazon will have you understanding the hype of the CEK-40. Even with the critical acclaim, though, does it really live up to the hype? Let's find out right now.
Read more
Blade Design
There are two fully sized blades and they will evenly slice through several meats. Plus, they are both made of sharp stainless steel and are promises to stay sharp for a long, long time.
Performance
In conjunction with the stainless steel blades, the powerful motor is able to make short work of nearly every slicing task that you will have.
Comfort and Control
For the simplest of operation, this is equipped with an on/off pressure activated trigger. Also, the ergonomic handle makes it easier to find an ideal grip. But, for those with small hands, this can take some getting used to.
Safety Features
For safety purposes, there is an integrated one-touch button that will lock the power switch. When the knife is not in use, it is highly advisable to keep the power button locked.
Ease of Cleaning
As many users have commented on, this is very easy to clean. To gain access to the blades, all you need to do is hit the release button and remove them.
Overall
Can you start to see why so many consumers have raved about the quality of the CEK-40? In fact, possibly the only issue that you will encounter is that holding down the button can be tiresome.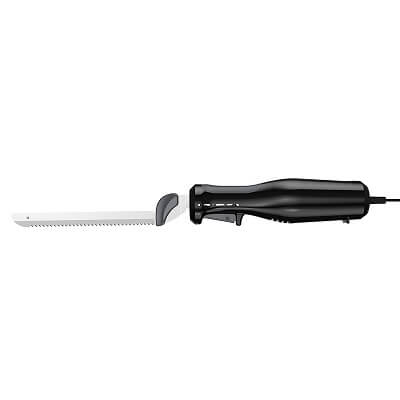 This is another model from Black+Decker but this time, we are focusing on their EK500B model. While this is not going to outperform too many of the other models on this list, the ergonomic design sure is nice.
Read more
Blade Design
Black+Decker claims that the serrated stainless steel blades that this comes with will never need to be sharpened.
Performance
In spite of the terrific blades, the overall performance of this model is okay. The motor is adequate enough to tackle small to medium tasks but may fail to deliver for taller orders.
Comfort and Control
Thanks to the ergonomic design of the handle, your wrist fatigue will be minimized while you are running the EK500B.
Safety Features
As with their other model on this list, Black+Decker implemented a safety lock button here which prevents the knife from turning even while the unit is plugged in.
Ease of Cleaning
As Black+Decker points out, the cleanup here is an absolute breeze. Once the blades have been released, you can place them on the top rack of your dishwasher.
Overall
Nobody is going to deny that there are flaws present here. But, if you can look beyond those flaws, you will notice a high-quality electric knife that will be suitable for many needs.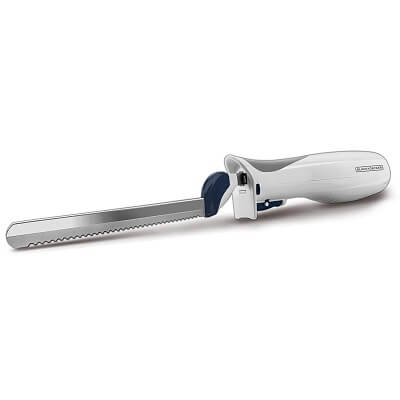 Now, you want to talk about a popular electric knife? How about this next one from Black+Decker? One of the few components that would have made it even better, though, is an included case.
Read more
Blade Design
The offset serrated blades measure 7.5 inches long. However, there is an additional 1.5-inch tang before the plastic to bring the total measurement to nine inches. Also, they are made of stainless steel.
Performance
Once you get ahold of this knife, you will be amazed at how well it performs. Even through larger meats, the EK 700 performs very well.
Comfort and Control
Even though this can actually be a little heavy in your hands, the comfort grip handle is engineered to increase the overall comfort and control that you are provided.
Safety Features
Thanks to the integration of the safety lock button, you can take comfort in knowing that this will not turn on even while it is plugged in.
Ease of Cleaning
To unlock the blades, all you need to do is press the release button and then you can simply remove them. From there, they are dishwasher-safe and can be cleaned in that manner.
Overall
The EK 700 has one of the best combinations of performance and handling on the market. That alone speaks wonders and makes it, if nothing else, worth a serious look.




Rapala introduces another fan favorite on this list. While there are a plethora of reasons for this, one of the primary ones is that of the unreal performance. To say this is heavy-duty would be an understatement.
Read more
Blade Design
A 7.5-inch reciprocating-style blade is included and it is highly suitable for filleting. But, as some users have pointed out, it does separate rather easily and can be a bit of a nuisance.
Performance
As Rapala points out, as compared to standard electric fillet knives, this sports around three times the power and twice the blade speed. Of course, during operation, there is a lot of vibration.
Comfort and Control
Due to the larger nature of this handle, it can take some time to get accustomed to. But, its comfortable and relaxed grip makes that much, much easier.
Safety Features
Due to the vibration and enhanced speed, you will want to take great caution when using this device. In a technical sense, it may not be the safest model on this list.
Ease of Cleaning
The blade that is included is dishwasher-safe, which is a huge bonus for those who have the access to a dishwasher.
Overall
For filleting fish, it may not get much better than this. Some issues are present but at the end of the day, that is to be expected in this imperfect world.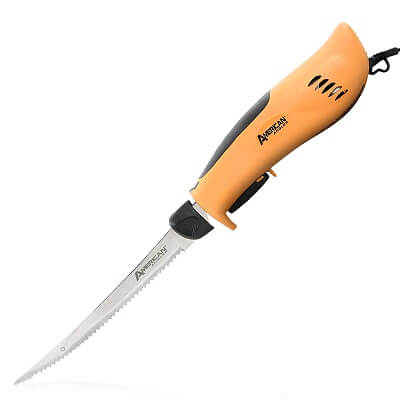 If what you desire is power, then you need to closely evaluate this next model. With its superior drivetrain components and high powered motor, this is ready for the big leagues. Of course, this comes at the expense of the handling a little.
Read more
Blade Design
What is really nice is this system is compatible with all variations of American Angler Replacement knives. The included blades offer greater precision and maneuverability.
Performance
American Angler advertises their Pro model to deliver two times the torque of other heavy-duty knives. In addition to this, the superior drivetrain components ensure a longer lifespan.
Comfort and Control
Despite the ergonomic design, this is where users can have issues. Due to the larger motor, handling this can be more cumbersome than other models. Also, the operating trigger can be hard to squeeze.
Safety Features
First off, this requires an operating trigger to be pushed to operate. Secondly, this slides back to release the blades to ensure you will not accidentally release them.
Ease of Cleaning
Cleaning all of the blades that this company releases is not too much of an issue. Plus, they will release from the housing for easier cleaning.
Overall
All things considered, it is hard to argue with the results here. While this may require a bit more effort from you, the increased power and performance will be worth it for the right tasks.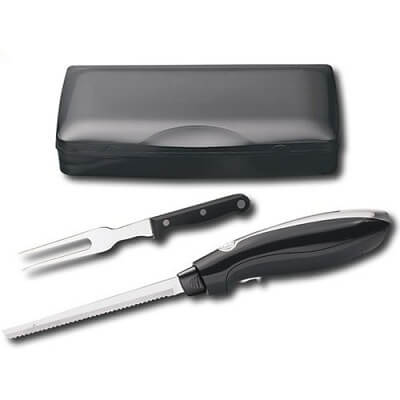 Back to back entries from Hamilton Beach here and this should give you an idea of their consistency. Of course, due to the placement, it also proves that the company is far from perfect.
Read more
Blade Design
The two stainless steel reciprocating blades have a cutting edge of seven inches (14 inches in total).
Performance
Hamilton Beach claims this is the best model on the market. Unfortunately, there have been a number of users who have experienced some performance issues. It is still not bad, overall, though.
Comfort and Control
Once again, the design of the trigger can create issues when handling this. A pressure trigger may have been more efficient (instead of pulling the trigger toward your hand) but at least the handle is ergonomically designed.
Safety Features
Ironically, it can actually be a little difficult to keep the blades oscillating. Looking at the glass half full, this can at least make the operation a bit safer.
Ease of Cleaning
Very few consumers had anything bad to say about the cleanup process and overall, it seems to be a hassle-free process.
Overall
Those looking for perfection are sure to be disappointed here. Then again, if you can accept the issues present, you can invest in a highly competent electric knife that is sure to come in use for you.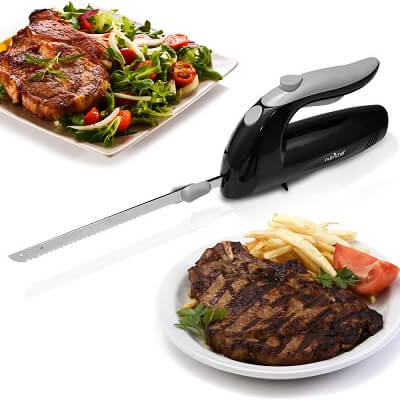 Even though the blades on this next model are a bit short, as users have reported, they are scary sharp. No doubt, these blades will get through most of the foods that you need it to.
Read more
Blade Design
On one hand, several buyers have made reference to the extra sharp blades that are provided here. Yet, at 6.5 inches in length, they may not be a suitable length for some tasks.
Performance
As is advertised, this really is an ideal device to handle your cooking needs. In specific, it can make a great companion for preparing Thanksgiving and Christmas dinners.
Comfort and Control
Achieving an optimal grip is certainly not the issue here. But, nobody is really too optimistic about the design of the power button. It really can be a nuisance due to the amount of pressure that is required to press it down.
Safety Features
As this is a system that works while the operation button is held down, it will not run when the button is not pressed. So, if dropped, the blades will stop oscillating for safety purposes.
Ease of Cleaning
On top of the fact that the blades can be easily removed for a simpler cleanup, the housing is also stain-resistant.
Overall
Perhaps the blades could have been longer or perhaps the power button could have been engineered better. These are legitimate gripes but hey, the extra sharp blades and overall performance do make up for it.

9

. Hamilton Beach Carve 'n Set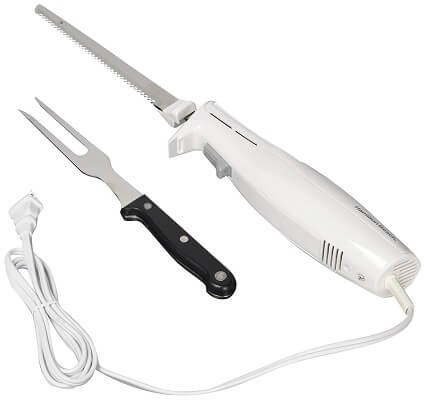 Hamilton Beach is another brand that most of you have probably heard of. They have created a cult following over the years due to their consistency in manufacturing kitchen appliances and devices (such as this).
Read more
Blade Design
In addition to the 7.5-inch stainless steel serrated blades, you are also provided a 12-inch fork of stainless steel. As for the blades, they also will never need to be sharpened.
Performance
With the combination of the oscillating double blade and the natural power of the motor, this is able to easily cut meats such as turkeys, hams, and roast beef.
Comfort and Control
In spite of the ergonomic handle, this is the biggest issue with the Carve N' Set. Several buyers have claimed that the combination of the handle and trigger is awkward to handle and can cause cramping.
Safety Features
For this knife to work, constant pressure must be applied to the trigger. One good aspect of this is when you release the trigger, the blades will stop rotating for enhanced safety.
Ease of Cleaning
Even though the fork is dishwasher-safe, it is actually advised to simply wash the blades in hot and soapy water. Of course, this is not exactly a highly demanding task, anyway.
Overall
If not for the issues with the handling, this model could have easily landed much higher on this list. As it rests, though, it is an entry that some of you will not be fond of due to the handling.

10

. Mister Twister MT-1208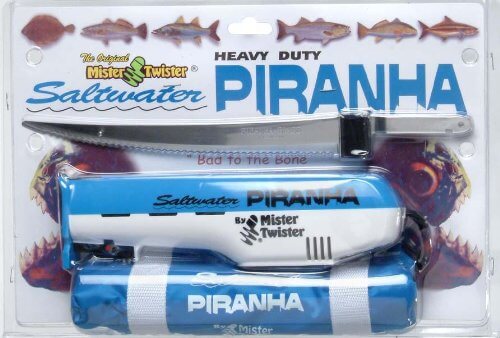 The MT-1208 is actually an update on the original Mister Twister Electric Fisherman. Thanks to the increased torque and superior engineering of the handle, this is definitely worth it.
Read more
Blade Design
Let's just say that the blade is not the reason this only clocks in at number 10. Instead, the nine-inch heavy-duty stainless steel blade features hundreds of serrations to cut through several fish.
Performance
Now, this is every bit as rugged as the classic Mister Twister Electric Fisherman. Yet, it also has been engineered to handle tougher scales and its 25 percent enhanced torque and 15 percent enhanced speed helps.
Comfort and Control
The handle on this design is far from a downfall. But, as one user noted, hand fatigue can be an issue when cutting fish for longer times.
Safety Features
Like with any device such as this, you need to be careful when you are operating it. There are no real notable safety features to speak of, but this is far from a safety hazard.
Ease of Cleaning
Due to the fact that this blade can be removed, it can easily be cleaned as any other blade would be.
Overall
Mister Twister makes no bones about it, this is an ideal model for fishermen. In specific, it is ready to handle several saltwater fish species. Of course, it is not as if it does not have other uses, as well.

Subscribe to our Newsletter