Best Electric Knives
last updated:
Feb 07, 2020
With every passing day, it seems that the modern world continues to amaze. In specific, in regard to technology. Do you remember the days where you would physically have to cut meats, bread, and other similar items? Well, with an electric knife, the device is going to perform most of the work for you. While the technology as a whole is certainly not foolproof, this can save your arms from rigorous cutting. They especially come in handy when you are preparing for a major feast such as Thanksgiving or Christmas dinner, but they can also be useful for everyday meals. At the end of the day, why not make things easier on yourself, right?
This is the best product on our list that is currently in stock: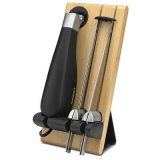 Cuisinart CEK-40
Why is it better?
Integrates a safety button
Comes with two full-size blades
Also includes a solid wood butcher block for storage
In a
Hurry? Editors choice: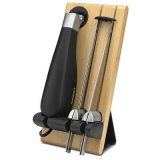 Test Winner: Cuisinart CEK-40

15
Researched Sources
1.2k
Reviews Considered
11
Hours Researching
15
Products Evaluated
Style
Power Source
Use
Safety Hazards
By Default
Criteria Used for Evaluation


Style
At their core, electric knives are devices that are used to cut through foods. What this means is at their core, they need to be equipped with superior blades to ensure superior performance. While we will continue to dive into the performance in a little while, let's take this time to talk about the design of the blade or blades. As you have seen throughout this list, one of the more popular blade types is serrated stainless steel. Serrated knives are ideal for cutting foods with softer interiors and harder exteriors. As for the stainless steel, this is a very popular and efficient material. Part of the reason why is stainless steel blades are extremely tough and resistant to chipping, staining and rusting.


Power Source
A lot of what was just documented is in regard to the overall performance. But, in addition to the design of the blades, there are also some other key factors that go a long way to determining the performance level of an electric knife. For starters, let's discuss the motor. Clearly, you can always assess the wattage level and for the most part, you will see most models range around 100 to 130 watts. But, an enormous amount of wattage is not necessarily a benefit as remember, this should also be energy efficient, as well. However, it is still desirable that the motor be able to handle the tasks that you need it to. So, ensure it will.
Also, you will notice that some units will be cordless while others corded. The biggest advantage of the former is that there is no hassle when it comes to dealing with the cord. Then again, with corded models, you never need to worry about battery life. It really is a matter of personal preference. But, if you are going to go with corded, be sure you assess the length of the cord (as this can vary from model to model).


Use
One of the biggest advantages of electric knives, as opposed to regular knives, is that you can exert less effort to get the job done. But, you still need to handle the device and that means that you need to assess this aspect of their design. Of course, this is referring to the overall handling of the device. There are two points of emphasis here and the first one is the actual handle. What you really want to be looking for is comfortability and the best way to look for this is to look for the word ergonomics. With a handle that is ergonomically designed, it will naturally contour to the shape of your hand and fit comfortably.
But, there is something else. Most models will be designed with an activation trigger that needs to be pushed in to operate. With some models, the amount of pressure that is required is a bit ridiculous and can cause discomfort. Ideally, look for a system that engineers the trigger in an optimal way to prevent awkwardness.


Safety Hazards
Whenever you are dealing with a device such as a knife, safety will always be a top priority and a concern. But, before we talk about the safety features that you should look for, note that all the safety features in the world will not cover up for mishandling. So, be sure that you take proper caution when operating a device such as this. Also, never allow your children access to it. With that out of the way, let's talk about safety. If you do happen to have children in your home (or just want to be as safe as you can possibly be), there is one vital design feature that you should look for.
This is referring to a safety lock and basically, this will be a simple toggle that will allow you to lock the power button. So, even with the unit plugged into the wall (or with the battery connected), it can't start unless the toggle is switched back. This will prevent the unit from accidentally starting. Of course, even though it can be a nuisance at times, most units will only work with the trigger pushed down so even without the safety lock, the blades will stop oscillating once the trigger is released.
Expert Interviews & Opinions
Most Important Criteria
(According to our experts opinion)
Experts Opinion
Editors Opinion
Users Opinion
By Default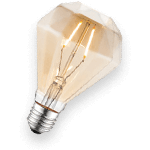 Cutting through bone
With an electric knife, it is possible to cut through bone, but to be safe and to not risk damage to your knife try and stick to just cutting through poultry bones. You can cut through red meat bones if they are on the thinner side, but if you do not want to risk it and damage your knife; it's best to stick to poultry.
Frequently Asked Questions
q:

Will the Handle Get Warm?

a:

While this was not alluded to in the handling section, it is a good time to assess this question as it is a very good one. Many of you will be using this device for longer periods of time. If you do plan on doing this, you need to be aware that the handle is probably going to get warm. One can't speak for all models in the world but do not be surprised if this happens. This is especially true if you are working the knife through the tough and thick meat. After all, the harder the machine has to work, the faster the motor will heat up.

What you really should learn to do, when you feel this heat, is allow the unit to cool down for a bit. The last thing you want to do is overwork the motor as then you will end up needing a new unit altogether.
q:

Why Use Them in the First Place?

a:

This entire hubbub about this technology is great and all, but why should you care? In other words, what are the primary reasons why you would want to spend extra money on one of these devices? For starters, how about the speed that these can provide? When you are cutting with regular kitchen knives, no matter how sharp the blade is, it is going to take longer than if you had a machine in your hand, bottom line. In addition to this, these devices are much more precise. When you are cutting any type of food, it is ideal if the cuts are uniform. With a machine, it is much easier to achieve these uniform cuts.

Also, it requires less exertion from the user. While using one, you are not going to need to apply the same pressure and physical motion as you would without it.
q:

Should You Just Get Replacement Blades?

a:

This question, for the record, is referring to what happens when the current blades of your system begin to wear down. Thankfully, though, serrated blades, in general, are razor sharp and are probably going to last the extent of the unit. But, if you do notice that the blade's performance is a shell of what it used to be, you can do one of two things. Some people believe that sharpening electric knife blades is impossible and while it may be easier to simply just buy replacement blades, it can be done.

The answer to this question is truly up to you. If you do not feel like going through the hassle of sharpening your old blades, buy replacement models.
q:

How Do You Sharpen the Blades?

a:

Okay, so what happens if you actually feel like sharpening your blades? Well, this can be done so do not mind the common kitchen myths out there. But, it is also worth noting, as just mentioned, that the blades in these types of units will last longer than conventional blades thanks to the serrated edge. As such, you may never even need to sharpen them. But, if they are becoming dull here is what you need to do.

To start, make sure that you have a sharpening rod and that you have removed the blade from the system. With the blade, hold it by its flat base ensuring that the tip is pointed away from you. With the rod in your other hand, rest it on the first serration of the blade and begin to slide it up and down. Keep the rod in the same serration and then repeat this action for the remaining serrations.
q:

Can They Cut Through Bone?

a:

This question actually gets asked quite often. Not all meats you want to cut will be boneless and sometimes, perhaps you want to cut into the bone. Well, can you with this machine? The short answer here is no but there are some exceptions. For tougher meats with thicker bones, it is advised to not attempt to cut through them as you are just going to dull the blades. But, if you freeze the meat beforehand, you may be able to get away with it. Also, the other exception is chicken as chicken bones are generally pretty moist and easy to cut through.
q:

Do You Need a Case or Stand?

a:

During your journey, you will probably notice that some manufacturers will offer either a stand or case with their model (or perhaps even both). The question then becomes, do you need either one of these devices? Well, they certainly do not hurt, let's say that.

With a high-quality stand, it provides you with an ideal way to store the knife instead of just throwing it in a random drawer. As for a case, this can be nice if you plan to travel with the device. In this case, you can ensure no parts get damaged.
q:

Are The Blades Dishwasher Safe?

a:

The million dollar question amongst users is often if the blades on these knives are dishwasher-safe. Well, as most of them are made of stainless steel, they should be as this material is resistant to corroding in damp environments but you should always check to see what the manufacturer recommends. If they give you the all clear, then you should be good to go. Also, most electric knives will be designed with an easy release button that will free the blades so you can remove them.