Best Paracord Bracelets
In a Hurry? Editors choice: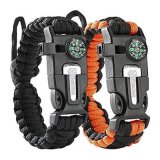 Test Winner: Atomic Bear

When you are all alone in the
wilderness
and you have to use your wits and instincts to
survive
, a paracord bracelet is quickly going to become your best friend. To be honest, they are a welcome sight for anyone who is paranoid when they enter into the outside world. Or, for anyone who likes to be prepared for the worst. It's easy to be distracted by the nice colors and styles that paracords are offered in, so we have created this list of the top 10 to help you decide which features are most important to you, and find your best fit.
Standout Picks
Criteria Used for Evaluation
Features
Some of you may still be scratching your heads and wondering how on earth you can survive with a few feet of parachute cord by your side. To be honest, some of the tasks you can accomplish with the mere assistance of paracord seem unfathomable. Yet, this material is extraordinary and it can help you accomplish a lot. For example, when in need, you can use the inner strands of the paracord to make yourself some fishing lines or to hold some branches together for shelter. But, the cord is only as effective as the brains that are handling it. In other words, your imagination is key in most and all survival situations.
But, the beauty in these types of bracelets is they sometimes offer more than just the paracord. Some will come equipped with other useful features. For instance, you may see some models come with fire starters, whistles, compasses, or even mini-saws. All of which can play a serious role in ensuring your survival. One last thing; not all bracelets will come with the same amount of paracord and it can range from as low as seven feet to as high as 16 feet (so keep that in mind).
Durability
While the type of paracord used in a bracelet can differ from brand to brand, it is important to understand the durability and strength properties of parachute cord, to begin with. Yes, for the record, paracord is also known as parachute cord and it actually gets its name from this as it was originally designed for the suspension of lines in parachutes. Now, typically, paracord is made of nylon and has a legendary strength-to-weight ratio. What separates it from standard nylon cord, though, is its flexibility.
But, there are different types of paracord available and perhaps the best is military-spec. What this consists of is a nylon outer layer on top of an inner layer that is made up of around seven strands of three yarns each. As opposed to commercial paracord, which will be addressed later, this could be seen as more reliable for an emergency situation. Of course, you also need to consider the breaking strength. The most common type is Type 3 and it has a breaking strength of 550 pounds (hence the label of 550 paracord).
Style
At the end of the day, these products are designed to be worn on your wrist. Because of this, the appeal and visual design of the bracelet are at least going to play a somewhat prominent role. Sure, it is not as important as the reliability and durability, but there is nothing wrong with wanting to add a bit of style, as well. Yes, style is not going to save you in dire straits and when nobody can see you, could be seen as irrelevant. All of this can be true but the bottom line is this, designers oftentimes design their bracelets in a multitude of color combinations and there is a reason for that.
If someone has to physically wear a garment or any other type of accessory, it is only natural for them to prefer a style that is suitable for them. Now, this is not at all suggesting that you should still choose a model that is cheaply made just because it looks good. No, instead, it is just reminding you that you are human.
Fit
Now, it is time to get back down to business. When you first begin to look into paracord bracelets you may automatically assume that all of them will be adjustable. Unfortunately, this is not always the case and for some models, they will only fit specific wrist sizes. Typically, if a bracelet is not adjustable, the manufacturer will provide consumers with multiple sizing options. For the most part, this is usually limited to standard sizes such as small, medium, and large.
But, everything changes when you have the power of adjusting. Even if the bracelet does not fit your wrist correctly, you can quickly adjust it to tailor it to the size of your wrist. Either way, you look at it, the fit you want is primarily up to you. For reference, it should probably be snug enough to not slip up and down your arm and loose enough to not restrict your blood flow.
Top Ten Paracord Bracelets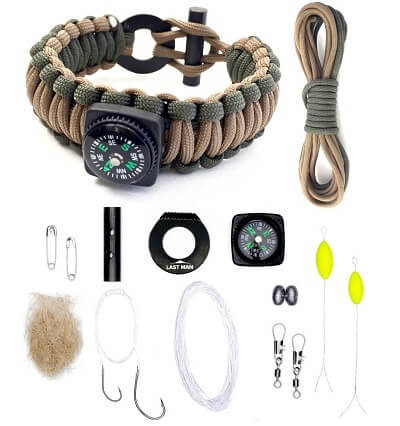 This kit, which can be used as a bracelet, includes just about everything you could hope for. With 16 pieces in all, this will prepare you to battle nearly any and all obstacles in your way.
Read more
Survival Features
The survival kit is contained inside of the bracelet and among the 16 tools is a leader line, safety pins, line swivels, fishing line, a compass, and a fire starter rod (and others).
Strength and Durability
All of the contents that come with this kit are contained inside of the bracelet that is made of cobra woven paracord.
Style and Aesthetics
What is interesting to note is that there are color options available both with and without a compass. No matter, though, the variety present is a nice bonus.
Adjustability
As a positive, this will fit true to your size. The large will fit wrists anywhere between seven to 8.5 inches and the small anywhere from six to 7.5 inches.
Convenience
One of the lone disadvantages to this model is that you can't physically see what is wrapped inside. As such, it is difficult to gauge what the condition is of the tools.
Overall
As a second option, it is tough to argue with the results here. With the sheer amount of tools that you are provided, the bang for your buck potential is astronomically high.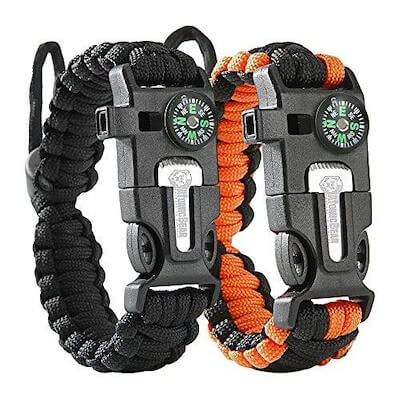 This bracelet from Atomic Bear is a great bracelet if you are looking to spend some time in the wilderness. It is stylish and comes with an array of features. If you are looking for a bracelet to give you an extra edge in the wilderness and comes at an affordable price tag, this may be the bracelet for you.
Read more
Features
This paracord bracelet comes with a compass, fire starter, whistle, knife, and 12 ft of paracord. That is five tools in this single bracelet.
Durability
The paracord is durable and strong. If you need to use it, you will be able to rely on it without a second thought.
Style
The style of this paracord is similar to your standard bracelet. It comes in a two pack, to let you have a backup or give one to a loved one.
Fit
This paracord bracelet has a one size fits all style. This is good, but some people like the ability to adjust their bracelet.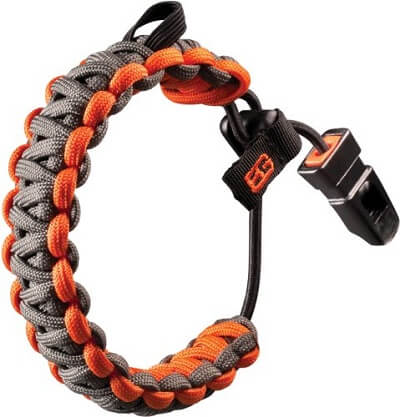 This is another survival wristband that happens to be adjustable for your convenience. In addition to this, it provides you with a plethora of features to survive a multitude of scenarios.
Read more
Survival Features
Integrated into this bracelet is paracord which can be used for a plethora of uses and an emergency whistle that can alert nearby people of potential danger.
Strength and Durability
The 12 feet of paracord that this comes with is made up of nylon. As one buyer pointed out, though, the weave is very loose and the quality is not up to par with others.
Style and Aesthetics
Did you ever wear a rope bracelet as a child? Well, this resembles that strongly but this time, it serves more of a purpose past aesthetics. Then again, the orange and gray makeup is very stylish.
Adjustability
One of the clear advantages of this brand is you can utilize the cinch system to adjust it with the use of one hand.
Convenience
The same exact system you use to adjust this wristband can also come into play when you want to remove it from your wrist (which makes it much easier to do so).
Overall
Despite some potential quality control issues, this is one of the most stylish and convenient brands out there. It should serve you well when you are in need of some emergency equipment.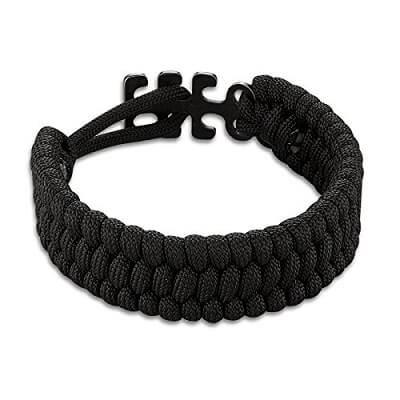 Without a shadow of a doubt, the most intriguing aspect of this model is its quick release design. Even though it does not possess as much paracord as other models, it can be unwrapped in no-time.
Read more
Survival Features
Due to how easily this can be unraveled, you can use the paracord in a moment's notice for a plethora of uses. For example, it could be used to attach logs and tie down packs.
Strength and Durability
This is constructed of 550-paracord and what is even better is it was designed by Jason Scarvalas, a renowned designer with over seventeen years of outdoor tool design.
Style and Aesthetics
Even though this is a rather generic and bland style, it does come in three different colors (tan, black, and fuchsia) and still looks polished overall.
Adjustability
Coming in multiple sizes, there should be a right fit for all wrists. In addition to this, the easy to use pull tabs will come in handy when you need them most.
Convenience
Truthfully, the real value in this model is the speed at which the cord can be unraveled. But, do know this; it does not sport as much cord as other leading brands out there.
Overall
Anyone will be thanking themselves for having this tool on their wrists in dire situations. Then again, even in non-emergency scenarios, it is still a useful tool no matter what.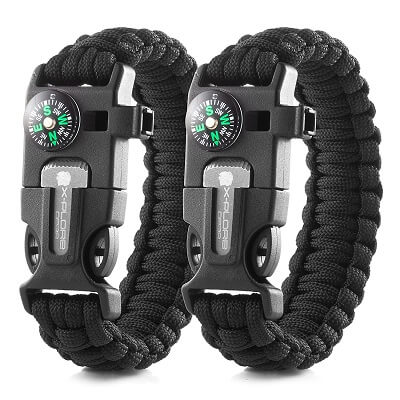 If you can live with the fact that the compass on this next model is only really good for aesthetics, you can live with a fantastic wristband, in every other sense.
Read more
Survival Features
All sorts of goodies are provided with this wristband as you receive a flint fire starter, a whistle, and a compass. Then again, the latter has been heavily panned by some buyers.
Strength and Durability
Overall, the construction of this model seems to be above-average. Plus, as it is paracord, it can get wet and still retain its usefulness.
Style and Aesthetics
X-Plore Gear certainly did not skimp out when it came to the color combinations of their bracelet. With the sheer amount available, everyone should be able to find one that suits their style.
Adjustability
Even your children can get in on the fun as there are sizes for regular, medium and kids. Of course, you would also be responsible for teaching them how to use it.
Convenience
In addition to the fact that this can be clipped onto any backpack, it also comes in a pack of two. So, even if you happen to accidentally lose one, you always have a backup.
Overall
Again, if you are banking on the compass being breathtaking and flawless then you will most likely end up being disappointed. But, for the most part, everything else is spot-on.

6

. Linshanbang Adjustable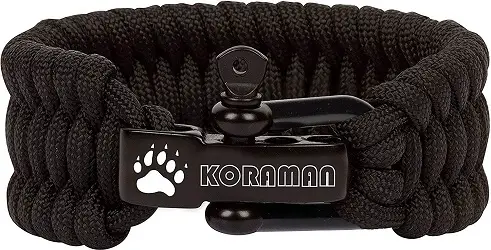 This is an excellent example of a product that is plagued by what could have been its best feature (the adjustability). Yet, it still made an appearance on this list which should say a lot.
Read more
Survival Features
With this wristband by your side, you will be able to hang and make fishing lines, tie materials down during a storm, and even rig a makeshift splint.
Strength and Durability
Each strand is made up of three yarns and there are seven inner strands in total. Also, the material is that of military-grade parachute cord.
Style and Aesthetics
With a total of five different color options available, everyone from men to women to boys to girls should be able to find a style that is suitable for them.
Adjustability
Thanks to the integration of the black metal shackle, this bracelet can be adjusted to three different sizes. Yet, this adjustment system has received harsh feedback from various buyers.
Convenience
Here is the main issue with the design. In order to attach it to your wrist, you must tamper with the integrated screw with the use of only one hand. As expected, several consumers have expressed their issues with it.
Overall
There is no getting around it, the adjustment system and fitting system really hurt this model. However, its high-strength paracord is its saving grace and that really elevates it.

7

. Friendly Swede Fish Tail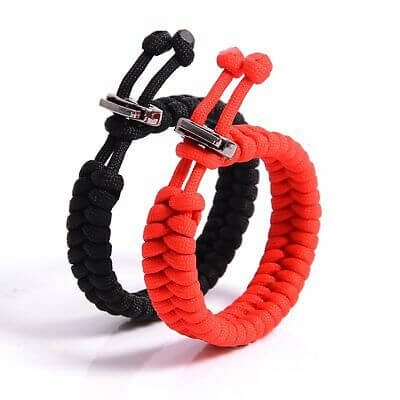 This paracord bracelet from Freidnly Swede not only gives you two paracord bracelets but also are quite stylish. They come in two stylish camo colors and are affordable to make sure that anyone can be prepared on their next trip into the wild.
Read more
Features
This has everything you could ever want including a pair of camo paracord. It also comes with a lifetime warranty to ensure you will have this bracelet for years to come.
Durability
Considering this is your lifeline, it is only right that this paracord has incredible durability. Plus, the lifetime warranty means the company backs the strength of their product.
Style
This bracelet is basic but is quite stylish.
Fit
Multiple sizes are available and they will accommodate user wrists from 7.5 inches to 9.5 inches.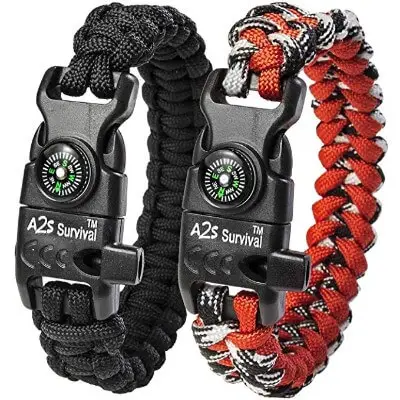 Nobody is going to question whether or not this tool will be useful in an emergency situation. While the compass itself could use some improvement, this bracelet will be helpful and you will be slightly less lost than you would be without it. Also, this set comes with two bracelets, making this a great deal!
Read more
Survival Features
With the inclusion of a compass for navigation, a metal striker for starting fires (or an emergency knife), a whistle, and the cord itself, you can find many uses for this bad boy in the wilderness.
Strength and Durability
A2S protection utilizes military-grade 550 nylon paracord for their bracelets. The result is water and mildew resistance on top of a 550-pound breaking strength. We have not seen any complaints about the cord itself and it seems to be built to last until you're in that emergency situation where you will need to unravel it.
Style and Aesthetics
While there is nothing outlandish or overly-colorful with this brand, its style is appealing and rather conservative (which could be a huge plus). It is important to pay attention when ordering. There is a lot of options, as each order comes with two bracelets, and there are also children's sizes mixed in with the adult sizes.
Adjustability
This bracelet is available in four fixed sizes and one adjustable for adults and children. The adjustable bracelet fits wrists of 8 to 9.5-inches.
Convenience
What is inconvenient about a paracord bracelet? Perhaps it is cliché but the most convenient aspect of this paracord bracelet is how useful it will be when you need it the most. Or some might argue that the whistle is even more convenient than the cord itself.
Overall
At the end of the day, the compass on this bracelet could get you a bit turned around but we believe the good outweighs the bad here. Its wide range of uses, such as a fire starter and whistle, will be greatly appreciated.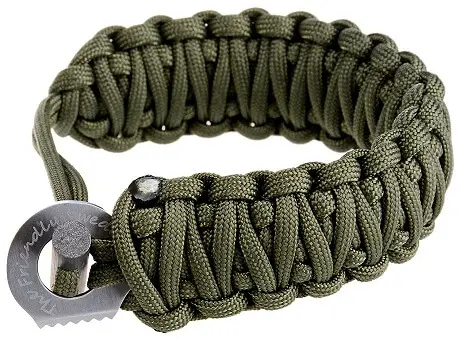 What is important to note is not all paracord bracelets will be adjustable and some will come in distinct sizes. However, this next entry will fit a wide range of wrists thanks to its adjustable nature.
Read more
Survival Features
Past the paracord itself, this also comes equipped with a fire starter, scraper, and a sharp knife. But, take caution in using the latter for obvious reasons.
Strength and Durability
For enhanced durability, The Friendly Swede decided to make their paracord out of polyester. Plus, this enhances the performance when it gets wet.
Style and Aesthetics
Even though it is only available in either army green or black, they are both stylish in their own ways. In fact, it is ideal for men, women, and kids.
Adjustability
As just mentioned, this is designed to be fully adjustable. All in all, it will adequately fit wrist sizes from 6.7 inches to 8.7 inches.
Convenience
Be careful with this bracelet as the serrated side of the blade can be exposed to your skin. If not cautious, this can quickly cut through flesh.
Overall
There is a lot going for The Friendly Swede's paracord bracelet that much is for sure. After all, it is made of polyester, has several features, and can be adjusted.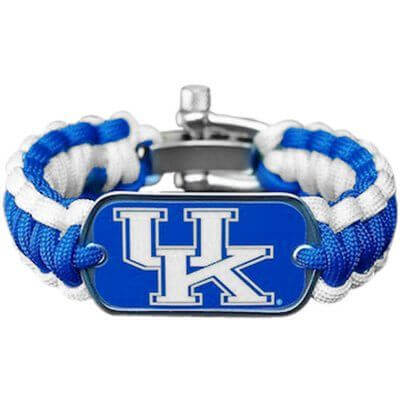 When a bracelet is dubbed the Wounded Warrior, you know it is designed with survivalists in mind. Thanks to the 16 feet of 550 military-spec paracord it is safe to say that is a fair assumption.
Read more
Survival Features
The main feature of this bracelet is without a doubt the paracord. All in all, there are 16 feet available and this gives you an excellent amount to work with.
Strength and Durability
As previously mentioned, the paracord itself is made of a 550 military-spec variety.
Style and Aesthetics
As the product description so eloquently points out, this bracelet looks incredible. The Wounded Warrior was designed with a black appeal and the result could not have been better.
Adjustability
To fit a wide range of wrist sizes, this has been engineered in three different sizes. You have small (for seven inches), medium (for 7.5 inches) and large (for eight inches).
Convenience
Even if you had no interest in wearing this bracelet, you could always utilize the plastic side release buckle and attach it to another object.
Overall
Despite the high praise that some buyers have given the Wounded Warrior, there have been users who have felt completely opposite. Still, the good does outweigh the bad.

Subscribe to our Newsletter