Best Paracord Bracelets
In a
Hurry? Editors choice: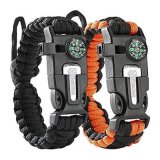 Test Winner: Atomic Bear

When you are all alone in the
wilderness
and you have to use your wits and instincts to
survive
, a paracord bracelet is quickly going to become your best friend. To be honest, they are a welcome sight for anyone who is paranoid when they enter into the outside world. Or, for anyone who likes to be prepared for the worst. It's easy to be distracted by the nice colors and styles that paracords are offered in, so we have created this list of the top 10 to help you decide which features are most important to you, and find your best fit.
Standout Picks
Criteria Used for Evaluation
Features
Some of you may still be scratching your heads and wondering how on earth you can survive with a few feet of parachute cord by your side. To be honest, some of the tasks you can accomplish with the mere assistance of paracord seem unfathomable. Yet, this material is extraordinary and it can help you accomplish a lot. For example, when in need, you can use the inner strands of the paracord to make yourself some fishing lines or to hold some branches together for shelter. But, the cord is only as effective as the brains that are handling it. In other words, your imagination is key in most and all survival situations.
But, the beauty in these types of bracelets is they sometimes offer more than just the paracord. Some will come equipped with other useful features. For instance, you may see some models come with fire starters, whistles, compasses, or even mini-saws. All of which can play a serious role in ensuring your survival. One last thing; not all bracelets will come with the same amount of paracord and it can range from as low as seven feet to as high as 16 feet (so keep that in mind).
Durability
While the type of paracord used in a bracelet can differ from brand to brand, it is important to understand the durability and strength properties of parachute cord, to begin with. Yes, for the record, paracord is also known as parachute cord and it actually gets its name from this as it was originally designed for the suspension of lines in parachutes. Now, typically, paracord is made of nylon and has a legendary strength-to-weight ratio. What separates it from standard nylon cord, though, is its flexibility.
But, there are different types of paracord available and perhaps the best is military-spec. What this consists of is a nylon outer layer on top of an inner layer that is made up of around seven strands of three yarns each. As opposed to commercial paracord, which will be addressed later, this could be seen as more reliable for an emergency situation. Of course, you also need to consider the breaking strength. The most common type is Type 3 and it has a breaking strength of 550 pounds (hence the label of 550 paracord).
Style
At the end of the day, these products are designed to be worn on your wrist. Because of this, the appeal and visual design of the bracelet are at least going to play a somewhat prominent role. Sure, it is not as important as the reliability and durability, but there is nothing wrong with wanting to add a bit of style, as well. Yes, style is not going to save you in dire straits and when nobody can see you, could be seen as irrelevant. All of this can be true but the bottom line is this, designers oftentimes design their bracelets in a multitude of color combinations and there is a reason for that.
If someone has to physically wear a garment or any other type of accessory, it is only natural for them to prefer a style that is suitable for them. Now, this is not at all suggesting that you should still choose a model that is cheaply made just because it looks good. No, instead, it is just reminding you that you are human.
Fit
Now, it is time to get back down to business. When you first begin to look into paracord bracelets you may automatically assume that all of them will be adjustable. Unfortunately, this is not always the case and for some models, they will only fit specific wrist sizes. Typically, if a bracelet is not adjustable, the manufacturer will provide consumers with multiple sizing options. For the most part, this is usually limited to standard sizes such as small, medium, and large.
But, everything changes when you have the power of adjusting. Even if the bracelet does not fit your wrist correctly, you can quickly adjust it to tailor it to the size of your wrist. Either way, you look at it, the fit you want is primarily up to you. For reference, it should probably be snug enough to not slip up and down your arm and loose enough to not restrict your blood flow.
Top Ten Paracord Bracelets
Subscribe to our Newsletter