Best Storage Trunk
In a
Hurry? Editors choice: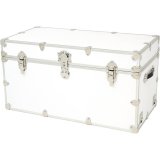 Test Winner: Rhino Armor

When you stop and think about it, there are many reasons why you need a
storage
trunk. Perhaps you are beginning your life as a college
student
and need a means of organization and storage. Or, maybe you have too many small items and miscellaneous devices lying around your
home
and are looking to organize them. It could be any other reason, as well, and the moral of the story is storage trunks are handy and nifty pieces of equipment. But, even if you may not think so initially, there is a lot that goes into buying one. Thankfully, you have helpers in this world that can assist with this overall process.
Standout Picks
Criteria Used for Evaluation
Capacity
When you are looking to invest in any sort of unit that is designed to store items and equipment, one of the first areas you need to look into is the physical space you require. From buyer to buyer, this is going to vary quite a bit. Also, some manufacturers will sell their model with two or even three differently-sized trunks. But, it really all comes down to how much space you need. Now, deciding the size you need can prove to be a tricky endeavor, to be honest. Most of the time, manufacturers will provide you with the internal dimensions of their chest/chests. Be careful not to mistake the entire size for the internal size, though (as the internal size will be smaller).
But, you may also see a liter rating that a specific model will hold. This refers to the capacity of a physical space and to be honest, logically, makes the most sense. Yet, you may only be provided with the internal dimensions. Keep in mind the width, length and height as all of them will determine the size of the items you can fit inside and how many items you can fit inside.
Durability
Now, let's talk about the physical construction, shall we? Without question and this applies to nearly every product in the world, the build quality is essential. When it comes to storage trunks, you will typically see them be crafted primarily out of either wood or metal. Other popular materials such as wicker and hard plastic could also be used but we digress. In regard to wood, two of the main types you will see are plywood and MDF (medium-density fiberboard). Between the two of them, MDF wood tends to be a little cheaper. Part of the reason why is plywood is harder than MDF and can handle more weight before sagging. In addition, the stability of plywood is enhanced due to the cross graining of the wood. But, make no mistake; MDF wood is fantastic in its own right.
The same applies to most types of metal such as steel and iron. But, in this instance (unless there is no iron whatsoever), you do need to worry about rust. Past the main materials, also focus on the trim. Ideally, look for nickel-plated trim and heavy-duty protection on the outside to protect the chest from damage.
Portability
There is a high likelihood that many of you will be looking to transport your new storage chest around. In fact, one of the most popular demographics for this type of product is college students. This type of a trunk allows a college student to store some of their essentials inside that they will need for their new dorm room or apartment. In this case, it is optimal if the chest is portable. There are three factors to assess in this area.
Firstly, you need to look at the weight of the base unit. Clearly, the weight will be increased once you load the chest fully. But, if the base unit already weighs upward of 50 pounds without any items, imagine the weight when full. Secondly, there need to be sturdy and comfortable integrated handles. Optimally, look for a handle on each side as it will be much easier if you find a helper to assist you when carrying it. Lastly, and this is optional, some models will have built-in wheels which can help drastically for heavier loads.
Features
The last major design feature, if you will, that you need to assess is the lid. Or, should we say the hardware that comprises the lid? Really, all this section is focusing on is the safety of the lid. To ensure maximum safety when anyone is opening a storage chest, it should be designed with durable hardware (such as the hinges). In addition to this, the lifting mechanism should also lock into place so you do not have to hold the lid open while you look inside.
The last thing you want to have happened is for the lid to abruptly shut and have someone's fingers be smashed. But, along the same line, the hinges need to last because, without the hinges, the lid will not be able to shut securely. Basically, glance through consumer feedback and if you notice several buyers criticize the integrity of the lid and the hardware that could draw red flags for you.
Subscribe to our Newsletter