Best Storage Trunk
In a Hurry? Editors choice: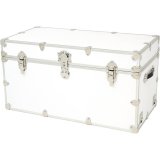 Test Winner: Rhino Armor

When you stop and think about it, there are many reasons why you need a
storage
trunk. Perhaps you are beginning your life as a college
student
and need a means of organization and storage. Or, maybe you have too many small items and miscellaneous devices lying around your
home
and are looking to organize them. It could be any other reason, as well, and the moral of the story is storage trunks are handy and nifty pieces of equipment. But, even if you may not think so initially, there is a lot that goes into buying one. Thankfully, you have helpers in this world that can assist with this overall process.
Standout Picks
Criteria Used for Evaluation
Capacity
When you are looking to invest in any sort of unit that is designed to store items and equipment, one of the first areas you need to look into is the physical space you require. From buyer to buyer, this is going to vary quite a bit. Also, some manufacturers will sell their model with two or even three differently-sized trunks. But, it really all comes down to how much space you need. Now, deciding the size you need can prove to be a tricky endeavor, to be honest. Most of the time, manufacturers will provide you with the internal dimensions of their chest/chests. Be careful not to mistake the entire size for the internal size, though (as the internal size will be smaller).
But, you may also see a liter rating that a specific model will hold. This refers to the capacity of a physical space and to be honest, logically, makes the most sense. Yet, you may only be provided with the internal dimensions. Keep in mind the width, length and height as all of them will determine the size of the items you can fit inside and how many items you can fit inside.
Durability
Now, let's talk about the physical construction, shall we? Without question and this applies to nearly every product in the world, the build quality is essential. When it comes to storage trunks, you will typically see them be crafted primarily out of either wood or metal. Other popular materials such as wicker and hard plastic could also be used but we digress. In regard to wood, two of the main types you will see are plywood and MDF (medium-density fiberboard). Between the two of them, MDF wood tends to be a little cheaper. Part of the reason why is plywood is harder than MDF and can handle more weight before sagging. In addition, the stability of plywood is enhanced due to the cross graining of the wood. But, make no mistake; MDF wood is fantastic in its own right.
The same applies to most types of metal such as steel and iron. But, in this instance (unless there is no iron whatsoever), you do need to worry about rust. Past the main materials, also focus on the trim. Ideally, look for nickel-plated trim and heavy-duty protection on the outside to protect the chest from damage.
Portability
There is a high likelihood that many of you will be looking to transport your new storage chest around. In fact, one of the most popular demographics for this type of product is college students. This type of a trunk allows a college student to store some of their essentials inside that they will need for their new dorm room or apartment. In this case, it is optimal if the chest is portable. There are three factors to assess in this area.
Firstly, you need to look at the weight of the base unit. Clearly, the weight will be increased once you load the chest fully. But, if the base unit already weighs upward of 50 pounds without any items, imagine the weight when full. Secondly, there need to be sturdy and comfortable integrated handles. Optimally, look for a handle on each side as it will be much easier if you find a helper to assist you when carrying it. Lastly, and this is optional, some models will have built-in wheels which can help drastically for heavier loads.
Features
The last major design feature, if you will, that you need to assess is the lid. Or, should we say the hardware that comprises the lid? Really, all this section is focusing on is the safety of the lid. To ensure maximum safety when anyone is opening a storage chest, it should be designed with durable hardware (such as the hinges). In addition to this, the lifting mechanism should also lock into place so you do not have to hold the lid open while you look inside.
The last thing you want to have happened is for the lid to abruptly shut and have someone's fingers be smashed. But, along the same line, the hinges need to last because, without the hinges, the lid will not be able to shut securely. Basically, glance through consumer feedback and if you notice several buyers criticize the integrity of the lid and the hardware that could draw red flags for you.
Top 10 Picks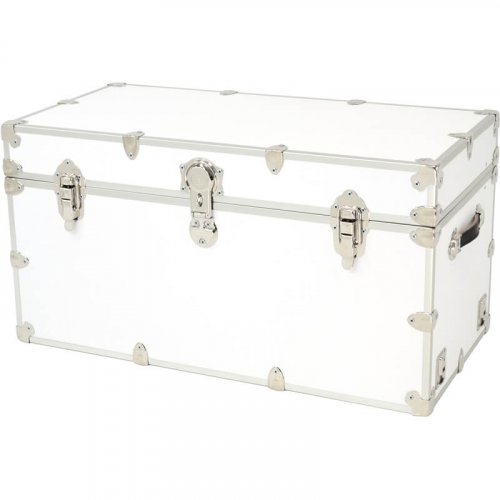 The Rhino Armor is a beast and that is putting it lightly. About the only real issue with this design is its weight but given its amazing construction, that can be forgiven.
Read more
Internal Capacity
It is noted that the internal dimensions of this chest are 29 inches by 16 inches by 12 inches (length by width by height).
Workmanship
Wow, is this impressive. First off, 3/8-inch Baltic Birch plywood has been used and secondly, the entire unit is hand-crafted using trunkmaking skills and aviation rivet technology.
Ease of Transport
Though this is a heavy unit, it does come equipped with two genuine leather handles. Also, there are two removable wheels that can make transport easier.
Visual Design
Laminated over the plywood is a Cordura nylon exterior. In addition to this, there are multiple styles available and quite honestly, they all look riveting.
Lid and Opening
All the hardware that is used is nickel-plated steel for durability purposes. Also, the tight fitting steel tongue and groove lid both ensure a tight seal to keep out moisture and critters.
Overall
Consider this a juggernaut ladies and gentlemen. Sometimes, you just need to sit back and marvel at a design. Well, this is one of those times.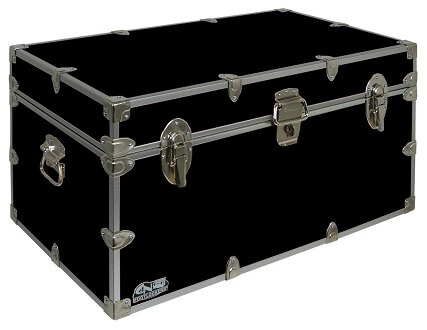 While appeal certainly should not be the most important concern, the fact that this comes in 20 stylish colors means everyone should find a design for them. Of course, the spacious storage and durable construction also pay dividends.
Read more
Internal Capacity
All in all, this has 4.7 cubic feet of space (which works out to 32 inches by 18 inches by 16.5 inches). Also, a Glide & Go Tray is optional which adds storage organization.
Workmanship
In addition to the durable plywood construction, which makes up the beef of the unit, is a baked-enamel-coated steel outer cladding and also nickel-plated trim.
Ease of Transport
By itself, the integrated wide handles make transporting this beast much easier. But, there are also optional removable wheels that you can invest in.
Visual Design
This is a marvel. Outside of the fact that the nickel plating looks gorgeous when mixed with the finish, there are also 20 different styles (which is amazing).
Lid and Opening
Even though the trim is nickel-plated, the hinges are not the best. As one buyer notes, they needed to replace them to achieve the desired safety they were looking for.
Overall
If looks could kill, then this would cause you to be pushing up daisies. It really is that gorgeous but you know what, its overall build may be even more impressive.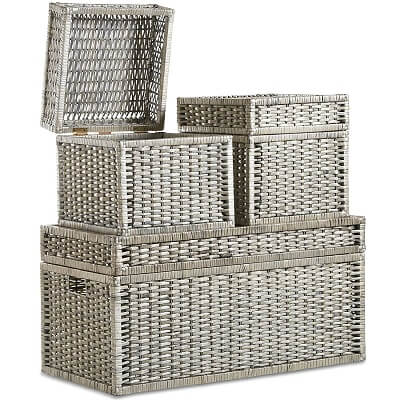 Without a shadow of a doubt; woven wicker is not going to be for everyone. This set of three is made 100 percent of natural wicker and if you do not like wicker, you will not like these, simple.
Read more
Internal Capacity
In total, you get three chests. The largest measures 33 inches by 16.5 inches by 16.5 inches and the other two (which are the same size) measure 14 inches even.
Workmanship
As mentioned, this is nothing but good old-fashioned wicker. The general consensus amongst the buyers who reviewed this product is that the wicker is sturdy.
Ease of Transport
When not in use, the medium chests will actually fit on top of the larger one. But, when transporting them, the integrated handles on the side will assist.
Visual Design
It is worth noting that the manufacturer specifically notes that due to the naturally sourced materials, the actual color shades can vary from their photos. Keep that in mind.
Lid and Opening
Due to the integration of the lifting mechanism, the hinged lid is both easy to lift and safe to operate.
Overall
It can't be overstated enough that the most important element of this design is the wicker. Outside of the slight variations in shade, this set of three trunks is simply superb.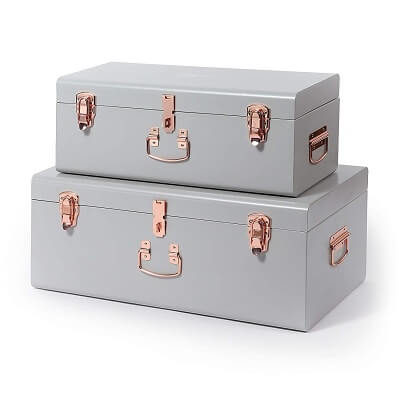 As the name of this next design suggests, it offers a vintage and appealing steel construction. Plus, you get a set of two with a larger trunk and also a smaller unit.
Read more
Internal Capacity
Indeed, you receive two storage units with your purchase. The first measures 20.4 inches by 10.2 inches by 7.8 inches and the second measures 23.6 inches by 14.1 inches by 9.4 inches.
Workmanship
Beautify decided to design their model out of steel and few will question that decision. But, what is also nice is they were able to keep the weight down as much as possible.
Ease of Transport
The handles on each side (of both chests) are gold-plated and provide you with a convenient way to transport them when needed.
Visual Design
Beautify was aiming to go for a vintage style with their design and they succeeded, as they say, with flying colors. Plus, there are other finishes available.
Lid and Opening
Though one buyer made reference to the hinges being cheap, it appears that, overall, the lid does fit snug.
Overall
You can make an argument that this design is really intended for women. The rose gold buckles and handles along with the light finish may only appeal to that demographic.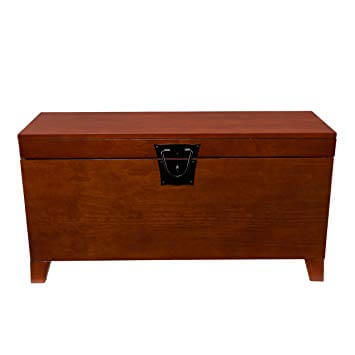 Once you are able to get this assembled, you can enjoy one of the better models on this list. Yet, that was mentioned for a reason. Several buyers have heavily criticized the assembly process so be wary of that.
Read more
Internal Capacity
This measures 38.75 inches by 21.25 inches by 18.75 inches. But, as it doubles as a cocktail table, it can also support up to 180 pounds.
Workmanship
What a combination of materials here. Southern Enterprises designed their unit with MDF wood, pine, pine veneer and metal. As they note about MDF, it has several advantages that come into play.
Ease of Transport
The black metal handles do allow two people to transport this beast and that may be needed. Because, at 61 pounds, it is far from light.
Visual Design
While the Espresso finish is magnificent in its own right, you can also get this in a Mission Oak. No matter, this timeless appeal looks great in any room in the house.
Lid and Opening
To prevent the lid from slamming, this is engineered with safety hinges. In addition to this, the lid is spring loaded and will stay open.
Overall
Everything seems perfect, right? Well, on the outside, it sure does look that way. But, so many buyers have had issues with the assembly process that it is a legitimate concern and flaw.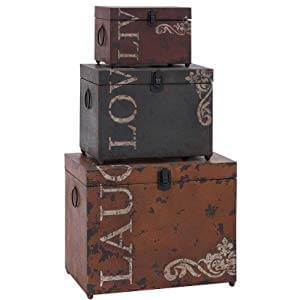 Perhaps you are looking for a model or one that comes in a set of three that is not necessarily overflowing with space. That is what you get here and the rustic appeal is the icing on the cake.
Read more
Internal Capacity
Again, you are getting a set of three here. However, each of them could be considered on the smaller side. These really are ideal for smaller items and such.
Workmanship
While the iron that is used in these is not the thickest, it does its job nicely. Now, as this is textured iron, you need to be extra cautious about rusting.
Ease of Transport
On each of the chests, there are integrated handles (they are attached rings). Thanks to the lightweight nature of all of them, though, transport is not too challenging.
Visual Design
Each of the lids has a different embedded phrase ("laugh", "live" and "love"). In addition to this, the natural rustic appeal of the iron and chipped-paint finish is great. But, as others note, the online photos are a bit off with the actual color of the chests.
Lid and Opening
The iron hinges, which is what you are likely to find on a lot of metal tool boxes, allow for easy access and closure of all these trunks.
Overall
For those looking for a massive chest with a large internal capacity, this is not for you. But, for smaller items and organization, these rustic chests can do wonders.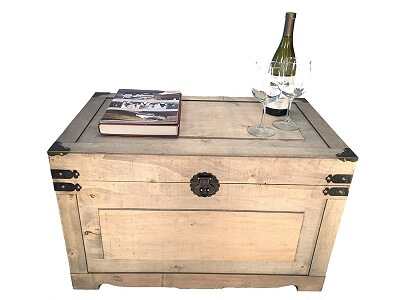 It really goes without saying that this next chest is a marvelous creation. Not only in function but also in style as the cedar wood construction is appealing to the eyes.
Read more
Internal Capacity
For the record, there is a smaller size available. As for the larger of the two sizes, it measures 29 inches by 20 inches by 19 inches and can hold around 40 pounds of equipment.
Workmanship
Though this is cedar wood, there have been a few consumers explain that the overall build is a bit flimsy.
Ease of Transport
Ironically, the somewhat flimsy nature of this design aids its way in making transport easier. Additionally, there are integrated handles on the side.
Visual Design
Cedar wood by itself looks marvelous but the antique hardware adds to the overall appeal. Oh yeah, and there are even a few other color options to glance through.
Lid and Opening
To raise the lid, you must first raise the clasp. This could be seen as a nice safety feature if you happen to have kids running around.
Overall
For what it is worth, this storage trunk is well-designed. If the designer had to do it over, though, they would probably have made it stronger.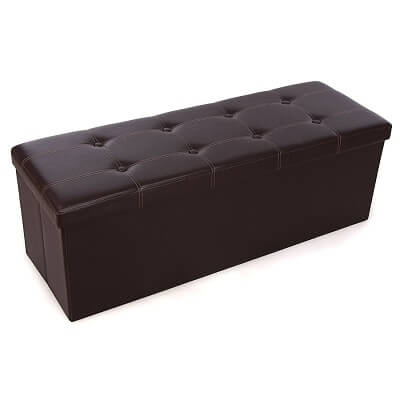 With some storage trunks, they are designed to serve more than one purpose. That is exactly the case here as this model is an ottoman bench that is hollow to account for storage.
Read more
Internal Capacity
At 43 inches by 15 inches by 15 inches, this is going to hold 120 liters of equipment. However, the center divider does more harm than good at times as it limits your storage.
Workmanship
The main material used to construct this bench is MDF wood. On top of this is the faux leather surface and this is waterproof. All in all, it can support up to 660 pounds.
Ease of Transport
When fully loaded, this is not something you will want to transport. Yet, it can actually collapse with nothing inside and can be folded flat.
Visual Design
No matter if it is genuine or synthetic, it is hard to beat the appeal of leather. To suit other people's tastes, though, there are also a few color options available.
Lid and Opening
Due to the fact that the lid is a tight squeeze, you certainly can't overstuff this. It is also not as if the lid bolted down or anything like that.
Overall
It is incredibly hard to resist a piece like this. In addition to possessing a hollow interior to hold storage items, it also doubles as a comfortable leather ottoman. What more could you ask for?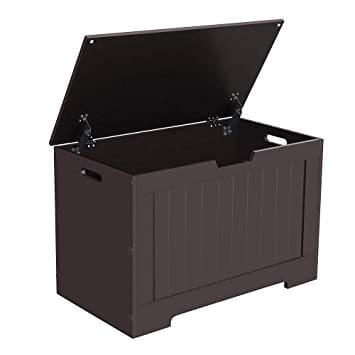 From the same manufacturer who brought you that last ottoman bench also brings this to the table. It has some of the same quality-control issues but overall, it is more than suitable.
Read more
Internal Capacity
Note that the physical dimensions of this bench are 29.9 inches by 15.8 inches by 18.9 inches. Yet, the actual internal dimensions are 28.13 inches by 14.25 inches by 16.63 inches.
Workmanship
The entirety of the frame is crafted of MDF boards. All in all, this stellar construction can hold up to 397 pounds and can work as a bench or a stool.
Ease of Transport
Now, this does not really have integrated handles. Instead, it simply has cut-outs on each side that act as handles. Overall, it suffices.
Visual Design
Though this is offered in a white finish, the money is with the espresso finish. Of course, either way, the minimalist design will fit perfectly into any décor.
Lid and Opening
This model is specially designed in this sense. To avoid abrupt closures and to enhance the overall safety, the safety hinges are specially designed to open and close slowly.
Overall
Though this has a ton of versatility, consider this is a perfect gift for your child. It can act as a toy box but it also gives them a place to rest. What could be better?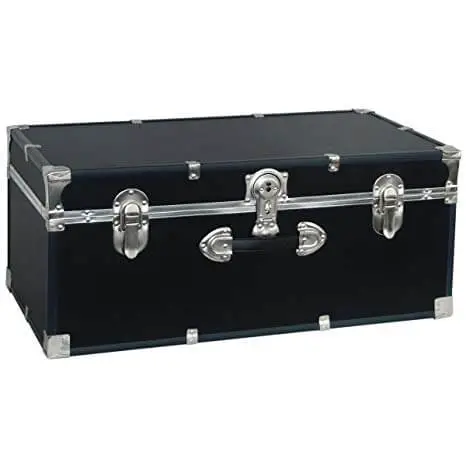 Even though this is still one of the ten best storage trunks in the world, the design can still come off as a bit frustrating. This is because a few simple fixes would have made this even better.
Read more
Internal Capacity
Overall, this is a decently-sized trunk. Internally, it measures 29.25 inches by 15 inches by 8.75 inches.
Workmanship
For long-lasting performance, this has been engineered with wood. In addition to this, it has been covered with heavy-gauge vinyl and high-impact styrene binding.
Ease of Transport
Here is where Seward dropped the ball a bit. First off, the recessed wheels are great for transport but they are not covered on the inside. So, all items inside the chest will be exposed to the wheel. Also, there is only a handle on the front and none on the sides.
Visual Design
Each one of the color options, and there is a solid amount available, blends extremely well with the trim.
Lid and Opening
For added security, the nickel closure features a key locking hasp with a loop. Additionally, this is engineered with a push-button key lock.
Overall
Despite what could be considered a couple of design flaws, this unit as a whole is fantastic. Just be wary about the wheels as you would hate for them to damage any of your belongings.

Subscribe to our Newsletter