Gifts for Students
In a
Hurry? Editors choice: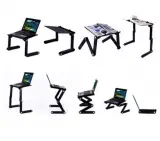 Test Winner: Desk York Portable Laptop Stand

While it can still be difficult to comprehend what to get somebody even when you know them well, sometimes focusing on their occupation can help. In the case of a student, that would certainly count as an occupation, and you can purchase novelty gifts or other excellent products that would make the student in your life proud of what he or she is doing.

Even when you do know the person well and focus on occupations, it requires hours of research to figure out a good gift idea at times. And we know it can be difficult to set aside that kind of time since most people are very busy with their own lives nowadays. So, to help save you some of your precious time, we've set up a list of twenty-five products that could make great gifts for just about any student.
Standout Picks
Criteria Used for Evaluation
Materials
On our product list, we described the materials that make up each product to give you an overview of what you are purchasing. Analyzing materials becomes important because you need to know exactly what you're getting, especially if you are gifting the product. Since you are giving the product as a present, you want to make sure you purchase something that will last and work well for your friend. So, even if you are unsure about materials, check them out and do a bit of research to make sure what you are offering will work well for your friend.
Features
We also analyzed the features that each product on our list offers, and let you know if there were bonus items that came along with the product if you decided to purchase it. Features become an important factor to analyze because you want to make sure you purchase a gift that provides your friend with everything he or she will need to use that gift and get started. If the product is missing something, that means you might need to make an additional purchase, so you'll need to balance that out before you make your decision.
Value
We took a look at the value of all of our products on our list as well, which becomes an important issue when you are purchasing a gift. Whenever people buy something, they always want to get the most out of what they pay for. So, we've described why products were a great value, and if they came with warranties or satisfaction guarantees as well.
Subscribe to our Newsletter