Best Home Safes
In a Hurry? Editors choice: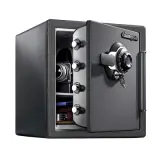 Test Winner: SentrySafe Fire/Water Safe

No one can really prepare for unexpected cases like burglary or
fire
. Homeowners may dodge the negative thought all they want, but we can never predict such circumstances. To safeguard your precious
belongings
, having a home safe can be a great advantage and give you the peace of mind you need. Having this feeling of security will also allow you to have the freedom to leave your home without worrying that your precious items will be gone when you return. Now many of us understand the important role a home safe can play in our
home
, but we may not know the first thing to look for when looking to invest in one. That is why we have done the research for you and listed the top ten home safes on the market, and explained why these safes are the best over the rest.
Standout Picks
Criteria Used for Evaluation
Size
It is important to know the safe's specifications. You cannot just bank on how it looks because you might eventually find yourself wasting money on buying a model that does not fit your needs. Where will you store the home lockbox? If you want it mounted on a wall or on the floor or if you will place it under a table, you have to consider its weight and dimensions. What kind of items do you intend to keep on the security storage? Make sure that the interior dimensions and space will be enough. If you want one that you can move around the house, you have to choose one that is portable.
Overall this is going to be one of the first things you will have to decipher to determine what size safe or lock box you will be looking for. Once you know what you will be storing and where in your home is an appropriate space for this safe than you can narrow down your search to the safes that will be a perfect size for your needs.
Use
Safes have various features and each model is equipped differently. As mentioned earlier, you should know your needs so you would know what features to look for when choosing safe storage inside your home. Consider the built-in shelves and straps, carrying handle, power source, and batteries as well as a security system and double locks. Usability is a big factor to consider. This also means you should look for a safe that is easy to operate but secured at the same time.
Overall when looking to invest in a home safe you want something that will do the job and keep your valuables secure during any event. Overall you want a safe that is made to last through any disaster, so keep your eye on the material of the safe, the strength of that material, and overall how well the safe will be at keeping your valuables safe.
Durability
Safes are not created with the same material so the level of durability varies. Although most security storages are made of steel, the thickness and composition may differ. Also, there are home security safes that are built using fireproof and waterproof materials. Depending on your needs and how secure you want your belongings to be, you should look at whether the security storage has these features. Also, when we say durability this includes features like fire resistance. Fire rating commonly determines the maximum amount of time and up to what certain degree of temperature the home security safe is allowed to be exposed without combustion of your valuables inside. The most recommended rating is one with a minimum of at least 60 minutes. The insides of the safe are also important. There are safes with foams inside that will protect your items from shock or prevent it from being scratched or dented.
You surely would not want to spend money on a home lockbox that can be easily damaged or opened by unauthorized individuals. Make sure to invest in a home safe that is made from heavy-duty steel or any material that can withstand possible theft, fire or flood. There are certified brands to look for that ensure quality and protection against flooding and fire.
Bottom Line
One of the most important criteria for choosing the best home security safe is customer feedback. If you intend to purchase a unit online, reviews may easily be found in Amazon and other product review websites. Home security safes are rated according to their features and the comments are highly reliable since most of them are consumers who already bought and used the home security safe. These feedbacks will help you decide whether a certain model of security storage best fits your needs and it will also give you an opportunity to compare it to other brands and units. Choosing the best lockbox that fits your needs can be overwhelming with all the information that will hound you when you start doing your research. There are different brands, models and features that you can choose from but picking the one that best suits you is very much doable as long as you are stir clear on what you need and want.
Top Ten Home Safes
1

. SentrySafe Fire/Water Safe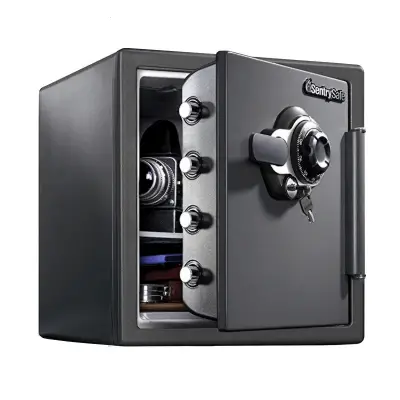 This fire and water lockbox has a huge space perfect for safekeeping and protecting valuable items. Interior measurement is 13.8 inches H x 12.6 inches W x 11.9 in. D while exterior dimensions are 17.8 inches H x 16.3 inches W x 19.3 inches D. It has 4 live locking bolts and is equipped with a pry-resistant hinge bar.
Read more
Material
This shelf style item comes with a solid steel exterior and is top class materials that enable it to withstand fire and water.
Usability/Versatility
This well-commended home security storage boasts a lot of features which will surely be beneficial to its users. It has four 1-inch live steel bolts which are guaranteed to be bigger compared to other security storage models. It is also equipped with a hinge bar that is pry-resistant making it well-protected from forced entry. This safe has a dual combination lock system, a bolt-down kit, an adjustable shelf, key rack, tray, and pockets.
Durability
It is UL certified to resist fire to one full hour under 1700 degrees Fahrenheit and also a third-party verified for water resistance that can withstand 24 hours in any flood condition. It is also equipped with a foam gasket that serves as an added protection to your valuables. With its fire resistant features this can secure documents, devices and important files from the fire.
Customer Feedback
It is rated 3.8 stars overall whereas 51% of the user reviews gave it 5 stars. This security storage is well commended for its quality and security features.

2

. AmazonBasics Fire Resistant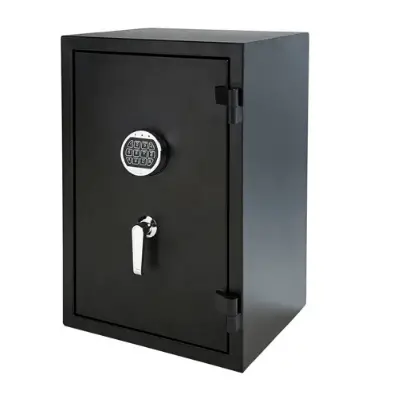 This security box weighs 90 lbs and has an external dimension of 16.9" x 13.8" x 26.0" (L x W x H) and interior size of 15.2" x 9.6" x 24.4" (L x W x H). True to its name, it is fireproof and is great in securing personal belongings that you want to protect against thieves and other factors of unwanted loss such as important documents, flash drives, jewelry, gadgets, cash, and passports.
Read more
Material
This well-commended home security box by AmazonBasics is made from 14-gauge heavy-duty steel with 5 large 0.75-inch bolts for superior security. This gives enough space for different items to be stored inside securely.
Usability/Versatility
This safe is equipped with an electronic keypad that provides convenient access and comes with an emergency back-up key. It also has a shelf that is adjustable for the user's customized storage needs. This is best used for homes and offices. Because of its size, it is not that portable and it is best as stationary security storage.
Durability
Known for quality items, AmazonBasics made sure that this fire-resistant home security box adheres to UL 72 standards for safety test to ensure its fire resistance feature. This product can withstand 1200 degrees Fahrenheit for a maximum of 20 minutes as tested by Intertek. You will not have to worry about your even during fire accidents as they will be securely intact in this box.
Customer Feedback
This item has been rated 4 stars overall with 56% of users who provided reviews gave it 5 stars. This product is well commended for its quality and value for money.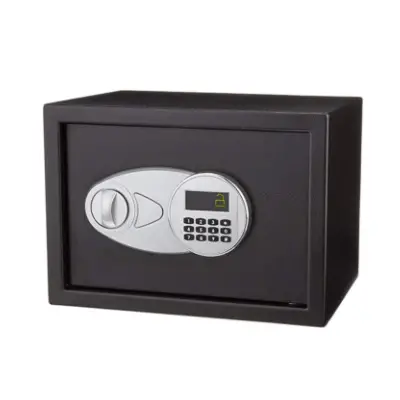 The AmazonBasics' lockbox is 0.5-cubic-foot in size with exterior measurement of 13.8 by 9.8 by 9.8 inches (L x W x H) and interior space measures of 13.5 x 8.75 x 9.5 inches (L x W x H). It is well equipped with an electronic lock with 2 emergency override keys, 2 live-door bolts, adjustable and removable interior self, and pry-resistant concealed hinges.
Read more
Material
This stylish compact safe box is made of durable steel and has carpeted floor to ensure that whatever you store inside will not be damaged or scratched especially fragile items like jewelry. The inside shelf can be easily adjusted or removed as preferred.
Usability/Versatility
This security box has reprogrammable digital access that is running on four AA batteries. It also includes four bolts so it would be safe to be mounted on the floor, shelf, wall or any sturdy object. Its electronic locks are very easy to operate and may be set using custom pins.
Durability
This model of the home lockbox is highly commended for its durability. Because it is made of robust steel, it is expected to last for a long time.
Customer Feedback
Rated 4.0 stars overall, this product was given 5 stars by 60% of all customers who left product reviews. Most of them commended this item for its affordability and durability. It has also a good best seller rank with a number 1 rank for hotel safes, cabinet safes, and wall safes.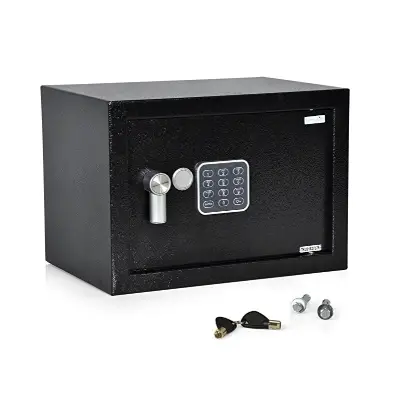 This lockbox weighs 10.32 lbs which make it easy to move around. It is battery operated and has a total dimension of (L x W x H): 12.2'' x 7.8'' x 7.8''. It comes with pre-drilled holes for floor or wall installation. It also includes bolts and batteries for the digital panel. This amazing product is equipped with a touchscreen digital control pad that ensures great security.
Read more
Material
It is made from an engineered steel alloy that has a thickness of 3mm on the door and 2mm on the body. It boasts corrosion and stain-resistant powder coat finish as an added protection to the safe.
Usability/Versatility
This security box has a security system that is easy to operate and comes with two keys for back-up. It includes pre-punched holes to make it more convenient to install. Its touchscreen digital control has a biometrics feature which makes it more secured against unauthorized individuals. This is very secure with an additional touchpad for number combination.
Durability
Built with fireproof material, this lockbox is sure to withstand heat and fire. This is sure to secure your important items, especially during fire situations. This can be used both for your home and office.
Customer Feedback
It has been rated 3.7 stars overall with 57% of satisfied customers giving it 5 stars. It is praised mostly for its corrosion and stain resistant features.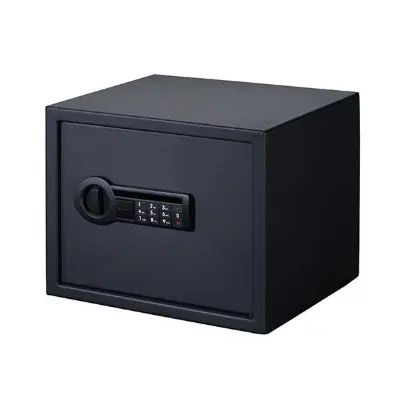 This may look simple but its features will not disappoint you. Product dimension is 16 x 14 x 13 inches. It has concealed hinges with a pry-resistant 9-gauge steel door and 12-gauge steel sides.
Read more
Material
Although this home security box is not fire and water resistant, it is guaranteed to be well-built. It looks basic and simple but is considered slick and stylish by some consumers.
Usability/Versatility
This brand has simple features and is great for simple storage needs. It has 8 pre-punched holes which makes it perfect for users who would like to mount it on the wall and has a rotating lock handle. The keypad meant for the lock is easy to operate and in case of power loss, an emergency key is provided. It is made of solid steel and cannot be easily opened because of its pry resistant features.
Durability
This home security box has no fireproof and water resistance features but most users commend it for being a great product that remains true to its purpose of basic protection for personal belongings.
Customer Feedback
It received 3.7 stars overall with 56% of the user reviews giving it 5 stars. Satisfied customers are mostly happy with their convenience and style.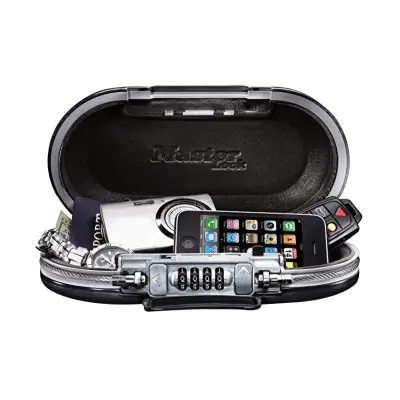 This Master Lock safe is compact and portable. It does not have to occupy a large space. It has external dimensions of 2-1/4 inches H x 9-17/32 inches W x 4-59/64 D and interior dimensions of 1-1/4 inches H x 8-1/8 in. W x 3-1/2 in. D. It is oval-shaped and comes in gunmetal grey color which makes it great in storing small personal items like cash, keys, wallets, credit cards, and passport.
Read more
Material
This compact shell-like safe is made of heavy-duty plastic. However, do not expect it to resist any forceful use of sharp objects because it is not that robust but it's good enough for light and personal use.
Usability/Versatility
This portable storage has a four-digit combination lock which you can easily set. It also has a 21 inches long tethering cable that may also be used as a handle. The devices inside the safe may also be used because wire ports are available. You can charge it or listen to music while your phone or gadget is inside the safe.
Durability
This product has water resistant quality and shock absorbing features because it is built and foam lines on its interior. It is made of gunmetal which a corrosion-resistant metal.
Customer Feedback
This safety storage from Master Lock has been rated 4 stars overall with 58% of users who provided reviews gave it 5 stars. Customers raved about its portability which makes it perfect especially for travelers and also for its design.

7

. SentrySafe Fire Resistant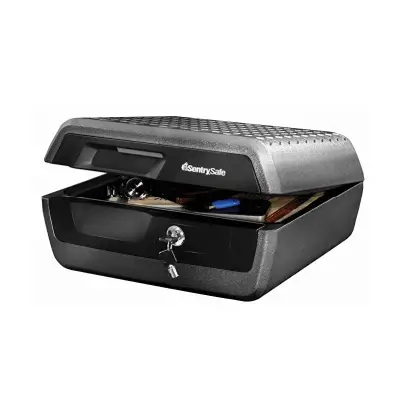 It has external dimensions of 7.6 in H X 16.5 in W X 14.8 in D and interior space of 5.4 in H X 12.6 in W X 9.2 in D with built-in straps for additional storage of small items like passports, CDs, and other documents.
Read more
Material
This amazing product is made from captured fire insulation material which makes it fire resistant. The steel used is also guaranteed to be tough and durable. It can withstand high temperatures so rest assured that your items are safe even during fire accidents.
Usability/Versatility
This storage chest comes with two tubular key locks to avoid unauthorized access and prevent it from opening in case of fire. As a spacious safety box, it can hold documents with 8.27 × 11.69 in. size.
Durability
This has waterproof and fire resistant features as this lockbox are ETL and UL verified. It can withstand fire for 1/2 hour at 1550 degrees Fahrenheit.
Customer Feedback
This is admired for the brand's built and durable. This product is rated 3.8 stars overall with 46% of the users of Amazon giving it 5 stars.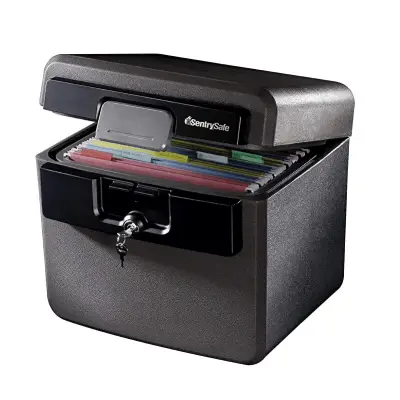 This is a UL classified product for fire endurance (30 minutes at 1550ºF) which makes it perfect for important and confidential personal and business documents. It is also ETL verified which means it can protect other file storage items like memory sticks, CDs and other forms of electronic storages from water. This can be placed underwater without affecting its contents. Exterior dimensions are 14.3 in H x 15.5 in W x 13.5 in D while its interior is about 11.5 in H x 12 in W x 8.1 in D.
Read more
Material make
It is made from materials with captured fire insulation and weighs 39 lbs. It can also be replaced once burnt.
Usability/Versatility
This reliable safe has a key lock that will ensure your documents' privacy and safety. It can also accommodate hanging files maximum of 40 standard letter sized folders (8.5 in. x 11 in.). Straps are available for passport and other small documents and files storage.
Durability
This brand is ETL verified for water submersion maximum of 72 hours so it can surely withstand a flood. In addition, this safe has a product replacement advantage in case of fire. Since it is UL classified it can withstand high temperature and secure its contents in case of fire. UL or also known as Underwriters Laboratories is a highly accepted brand in identifying a degree of fire protection provided by storage devices.
Customer Feedback
This is rated 3.5 stars overall with 51% of product reviews on Amazon giving it 5 stars. Satisfied customers praise it so much for its waterproof and fire resistance features.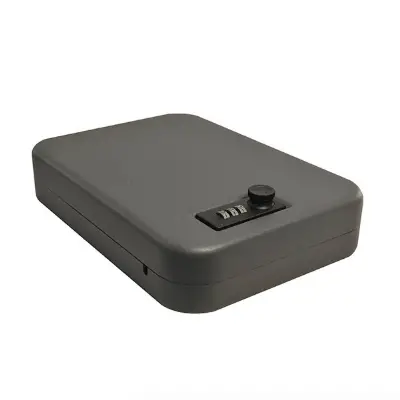 This product weighs 3.5 lbs and has a total dimension of 10" x 7" x 2". It provides good protection for small items like jewelry, cash, handguns, tablets and medications, flash drives, CDs, and passports. It is lightweight and portable. This home security box is well suggested for travelers because of its features.
Read more
Material make
This product is made from 16-gauge heavy duty steel which makes it very sturdy and secured.
Usability/Versatility
This security box comes with a security cable weighing 1500 lbs. It is CADOJ certified and TSA airline guidelines for firearm approved, which make it good security storage for handguns. It is also pried safe so it cannot be easily opened.
Durability
It has four protective foams which guarantee protection from scratches or dents of your valuables inside the safe. It is made of heavy-duty steel casing.
Customer Feedback
This brand is rated 3.9 stars overall and 55% of the satisfied consumers gave it a 5-star rating. It is best praised for its durability and portability.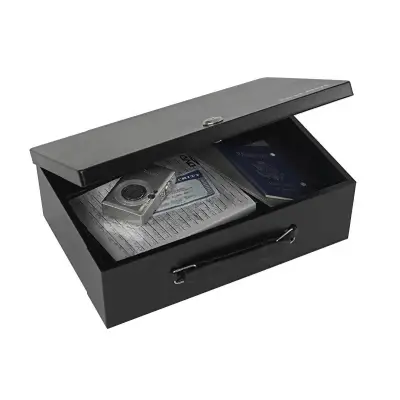 This steel security box has insulated double steel walls which protects it from a fire. It has exterior dimensions of 4 in. x 12.69 in. x 8.5 in. and interior dimensions of 3.38 in. x 11.81 in. x 7.5 in.
Read more
Material
This portable security box is made from sturdy steel with a powder coat finish. It also has a carrying handle which allows its user to easily bring it anywhere they want.
Usability/Versatility
As a multi-purpose security box, First Alert' storage box may be used for storing valuables such as pieces of jewelry, cash, passports, keys and flash drives. It comes with 2 keys, a floor mat, and a carrying handle. It makes use of two keys for added security.
Durability
Because it has insulated double steel walls, you need not to worry about your valuables being caught in a fire. It is also made from a good material which makes it robust.
Customer Feedback
This security storage box has been rated 4.4 stars overall with 59% of users who provided reviews gave it 5 stars. Customers commended this product for its portability which makes it so easy to carry around, and its affordability.

Subscribe to our Newsletter