Best Home Security Camera Systems
In a Hurry? Editors choice: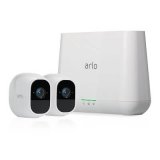 Test Winner: Netgear Arlo Pro 2

Below we have listed the top ten best home security cameras in the market today including detailed criteria for each product to help you decide which one suits your family or home best. There are many different features for each security camera so keep in mind to read all of the details each has. Of course, no matter if it is designed for indoors or outdoors, there are various mounting options available. Some models can merely be placed on a table or stand while others can be
mounted on a wall
or ceiling. You may prefer one method over the other, so pay attention to that and really find
the best security
cameras for you and your home. Whether you are looking for an indoor or outdoor unit, there are several available that will blow your socks off and keep you safe while giving you peace of mind.
Standout Picks
Criteria Used for Evaluation
Use
At the heart of every computing device, which is technically what a camera is, there hold the specifications that make them tick. To the average person, these arbitrary ramblings usually glance over and they might as well be written in Mandarin. But, when you are in the market for a home security camera, there are two very important specifications that stand above the rest. The first of which is the video quality. Back in the day, these types of cameras really could not deliver a vibrant and clear picture. Instead, the videos were choppier with a much lower pixel count.
Nowadays, it is not uncommon to see models 1080p (which is 1920 x 1080 and classified as Full HD). But, remember this as well; the higher the quality a camera produces the more it will require from your internet bandwidth. The second primary specification is the viewing angle and it is just as important. If a model can view 270 degrees around it, it is more likely to catch something passing by. On the contrary, a narrower model is going to be restricted with what it can cover.
Connectivity
With most of the top-end models in the world, an internet connection will be required to maximize the functionality. As such, the cameras themselves will be engineered with wireless connectivity. But, there is more to it than just assessing this fact. Some models will either have a poor reception or constantly go in and out and be unreliable. Remember, a better signal between the camera and the receiver will result in smoother videos. Then again, your internet connection also plays a role.
Speaking of this, you can really be your own worst enemy in regard to the wireless connectivity. Be sure to try and limit the number of obstructions from the receiver to the camera. Also, avoid placing the receiver near other wireless signals as this can cause disturbances. One other note and this is in regard to storage, you can look for models that allow for cloud storage. This allows you to view your uploaded content anywhere you so wish and works wirelessly, technically.
Features
What would a modern device be without smart features? At this point in the world of technology, that would be a rare device. Anyway, it is not uncommon for modern security cameras to be accessible through your smart devices (such as Android or iOS devices). From these devices, there will typically be a dedicated app that you can download to use in conjunction with the camera. While each app will work a little differently, they typically allow you to view your activity logs, operate night vision mode, access the two-way audio feature, and also set motion and sound alerts.
The other main smart feature that some models are beginning to implement is functionality with artificial intelligence programs. Given the popularity of voice commands, with software such as Alexa and Google Assistant, this is not a bad move. Granted you have access to one of these popular devices, you can function the camera with the use of voice commands. It is quite amazing how technology continues to find a way to link itself, is it not?
Weather Resistance
There is a really important question that you need to ask yourself and answer. Do you want the security camera to be monitoring indoors or outdoors? The reason this is important is not all models will be designed to handle the extremes of the outdoor world. With models that are designed outdoors, they will typically be weatherproof. Speaking of which, if you want to look even deeper into this, pay attention to the IP rating. No, this is not referring to the internet protocol but rather to ingress protection. You may see a rating of IP65, for example. The first digit indicates its protection against intrusion (solids) and the second against water (liquids). The larger the number, the more protected the system is.
Top Ten Home Security Cameras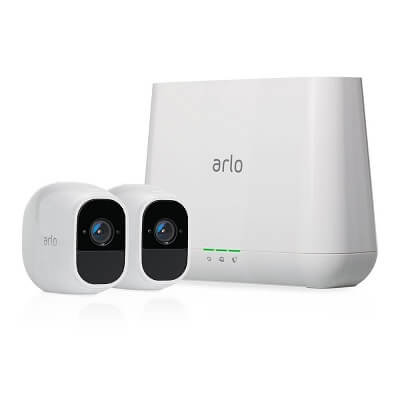 Even the best devices in the world are flawed in some way so the key to success is that the positives outweigh the negatives by a large margin. Well, that is the Arlo Pro 2 in a nutshell.
Read more
Technical Specifications
As with most top-end units, this sports 1080p video which is full high-definition. On top of this, the Arlo Pro 2 has a wide viewing angle of 130 degrees.
Wireless Connectivity
What is nice is this unit is 100 percent wireless with no power cords or wires to speak of. However, as one buyer alluded to, several consumers have reported issues with the wireless connectivity in the past.
Smart Features
Besides Arlo Smart which adds a powerful amount of intelligence to the Arlo Pro 2, this also works in conjunction with several top-end artificial intelligence programs such as Alexa.
Mounting Options
When mounted, which is quite simple and can be done with a metal ball mount, you never have to worry about weather damage as this unit is weather-resistant.
Additional Features
During the night hours, the night vision mode will automatically be triggered and it allows you to view any potential burglars. All in all, it can illuminate up to 25 feet away.
Overall
All the tremendous functionality aside, perhaps the most convenient aspect of this unit is that you can select the number of cameras you want. The more you get, the more security placement you have.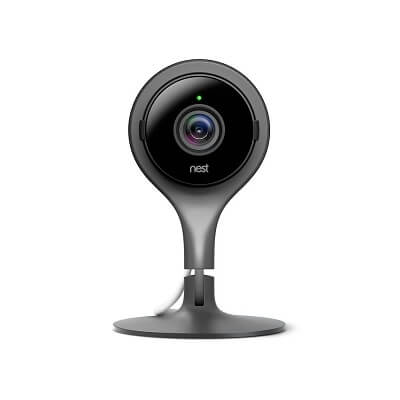 What is ironic about the top model on this list is it can very easily be mediocre. The reason for this is without the monthly subscription, you miss out on a lot of the key features.
Read more
Technical Specifications
To allow you to see every detail with absolute clarity, this security camera is equipped with a high-quality glass lens, 8x digital zoom, and full 1080p high-definition video.
Wireless Connectivity
All DSL users out there, you may not have a fast enough internet connection for this device. Nest recommends at least two megabits of upload speed.
Smart Features
Straight through the Nest app, you will receive notifications whenever the camera detects movement. Also, if you have an Alexa device, this can work with it.
Mounting Options
In addition to the compact size, the indoor stand of this model will work in all kinds of homes. Plus, you can use the removable wall plate to mount it to a wall.
Additional Features
First off, this does come with cloud storage so you can access your video history from anywhere. Also, with its built-in speaker and microphone, the camera can receive audio.
Overall
When asked what is your favorite feature of the Nest Camera, you could have a plethora of different answers. That alone speaks volumes of the greatness personified here.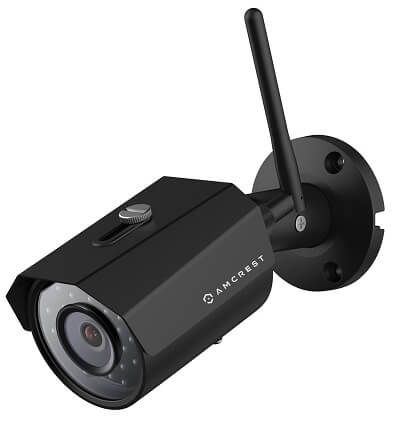 The outdoor security camera system needs to be heavy-duty and Amcrest more than understands that. Their model is engineered with heavy-duty metal and is waterproof to IP67 standards.
Read more
Technical Specifications
At three megapixels and 20 frames per second, this can record 2K footage. The frames increase to 30 per second when recording in 1080p, though.
Wireless Connectivity
This security camera system is built with a powerful 2.4-gigahertz detachable antenna that can surpass ranges of five gigahertz. Overall, the setup is also very simple.
Smart Features
If you so wanted to, you could receive alerts straight from your connected smartphone from this camera.
Mounting Options
Unfortunately, the installation process can be a major hassle as you can't remove the camera from the base. But, when you do get it mounted, you will never need to worry about damage as the heavy-duty metal constriction is waterproof.
Additional Features
The night vision mode can sense movement up to 98 feet away. Plus, for peace of mind, this has both HTTPS and WPA2 encryption for maximum security.
Overall
When you do finally get this bad boy installed, you can enjoy one of the best-designed security cameras on the market. The advanced security is simply icing on the proverbial cake.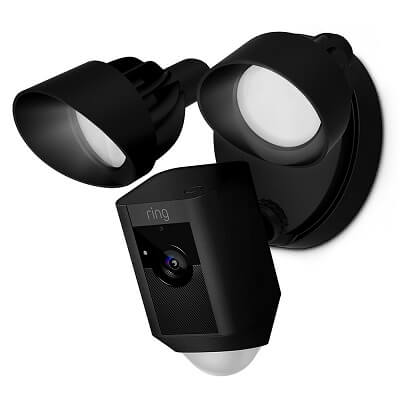 The beauty of this next security camera lies within its technical specifications as it sports 1080p high-definition video and a massive 270-degree field-of-view.
Read more
Technical Specifications
As was just mentioned, the specifications are a true highlight of this security camera system. It can't be overstated enough how impressive the 270-degree viewing angle is.
Wireless Connectivity
With the Floodlight Cam, you can take the power right from your smartphone or tablet. With either an iOS or Android device, you can hear and speak to anyone near the camera.
Smart Features
The primary smart feature that can be utilized in this model is with Alexa. Now, an external device that features Alexa is required, though.
Mounting Options
Even though the included mounting hardware is heavy-duty, one buyer noted how it was nearly impossible to mount it vertically because you can't position the camera and the lights optimally.
Additional Features
There are two-kelvin floodlights that come equipped with this camera and on top of that, the camera sports a built-in microphone and speakers. Oh yeah, and you can customize the motion zones to focus on areas you want.
Overall
Thanks to the addition of the two floodlights, this truly is one of the most complete units on this entire list. At its core, it will alert you to potential threats to your home.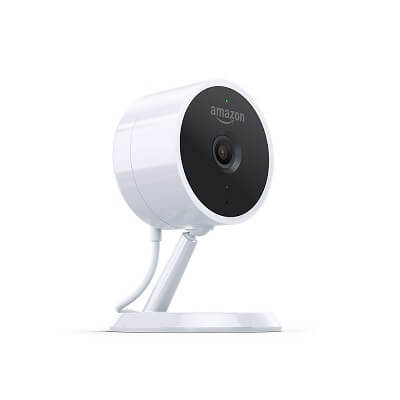 You know if you see a technology device designed by Amazon that one of two things are most likely present. One, it is overflowing with advanced features and two, it sports Alexa. Check both off of the Cloud Cam's checklist.
Read more
Technical Specifications
Amazon does not steer off the so-called written path of most models as their camera can record 1080p Full HD. At its peak, also, it can record 30 frames per second.
Wireless Connectivity
The Cloud Cam is equipped with a single-antenna with diversity. This will support both private and public Wi-Fi networks so your current network will be accounted for.
Smart Features
Outside of being compatible with Alexa, the Cloud Cam also has a dedicated mobile application that allows you to watch motion clips and check-in on the current activity.
Mounting Options
While you could merely place this on a flat surface if you wanted to mount it on a wall you could. Additionally, it can be rotated 180 degrees if you want it ceiling-mounted.
Additional Features
With the two-way audio, you can communicate with other people through the camera. Also, with the use of the app, you can actually turn off the night vision LEDs.
Overall
Some features, such as text and email alerts, were questionably omitted from this design which is a bit surprising for Amazon. Still, there Cloud Cam more than delivers the goods.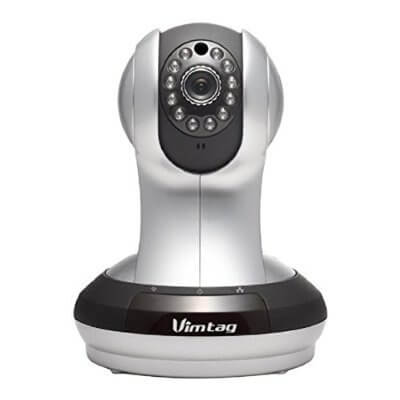 If you constructed a checklist of all the key features you look for in a home security camera system, the VT-361 would fulfill a lot of those points. But, a few drawbacks to weigh it down a bit.
Read more
Technical Specifications
In terms of the specifications, the VT-361 is a bit of a downgrade (but not much). The HD quality is 720p instead of 1080p but the camera does record 25 frames per second.
Wireless Connectivity
One important note is that internet access is required for VT-361. But, with its integrated three dBi antenna, the wireless connection provided will be reliable.
Smart Features
Via your smartphone or tablet, you can view live video streaming. Even if you wanted to use your personal computer, there is an app for that, as well.
Mounting Options
Due to the large RJ-45 coupler, according to the experience of one buyer, installing this device outdoors can be a tricky endeavor.
Additional Features
With the integrated night vision mode, you will be able to see intruders in the dark up to 10 meters away. Plus, the built-in microphone and speaker ensure you can hear what is going on.
Overall
Consistency is one of the keys to success and this is what makes the VT-361 one of the best models in the world. Sure, it is limited in some respects but hey, beggars can't be choosers.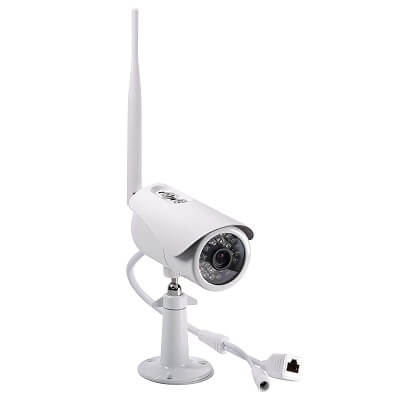 There are a few areas where this network camera falls short but all things considered, its weatherproof design is ideal for outdoor use and its 30-foot night vision is fantastic.
Read more
Technical Specifications
With the latest chipset integrated into this system, the video quality (1080p) is of no issue here. Yet, the 90-degree viewing angle is a bit limited, so be wary of that.
Wireless Connectivity
Even though this does come equipped with an Ethernet port, it does have the ability to use Wi-Fi technology. But, the main unit needs to be powered via the attached cable.
Smart Features
For those using an Android or an iOS device, the dedicated apps for this camera are free to use.
Mounting Options
When it is claimed that this is weatherproof, it is not an exaggeration. With a weatherproof rating of IP66, you never have to worry about rain deterring the recording.
Additional Features
This is yet another motion-activated security camera system and on top of this, the infrared night vision will extend up to eight meters for optimal nighttime viewing.
Overall
This is a compelling, yet limited system. It misses some important features with its software and is a bit narrow. But, at the same time, the quality and build are there.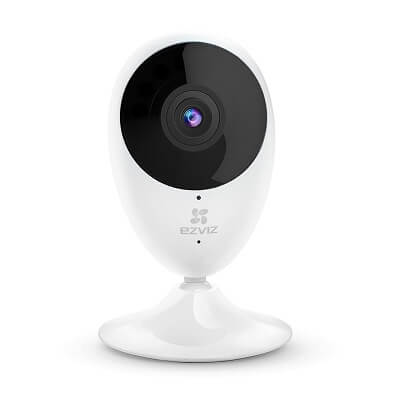 After you glance at the design features and specifications of the Mini O, you may be wondering why it is so low on this list. Well, its flawed wireless connectivity is the primary reason why.
Read more
Technical Specifications
As Ezviz is fully aware, it is all in the details. Well, their Mini O lives up to that end of the bargain with Full HD capabilities and a wide 135-degree viewing angle.
Wireless Connectivity
Here is where things get a little dicey for the Mini O. As a notable amount of consumers have reported, the wireless connectivity can be both unreliable and slow acting.
Smart Features
With the use of Alexa, you can fully control this security camera system. In addition to this, other smart home devices such as IFTTT can also gain control of the Mini O.
Mounting Options
Although wireless connectivity can have issues, the mounting should be straight-forward. Both a magnetic base and included mounts make the process easy and you can do so on virtually any surface.
Additional Features
As soon as this system detects motion, it will record automatically. In the instance where you miss something, this camera will detail it for you.
Overall
Clearly, a more reliable connection would have propelled this to another level. But, this is a legitimate concern but know this, everything else is spectacular.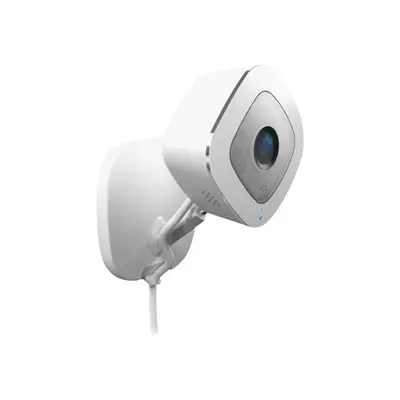 The Arlo Q is packed with impressive features and top-end specifications. While the lag on the video feed can be frustrating at times, the Arlo Q remains one of the best models out there.
Read more
Technical Specifications
Much like the Arlo Pro 2, the Arlo Q sports a camera with a viewing angle of 130 degrees and a resolution of 1080p.
Wireless Connectivity
Even though this requires the use of a power source, it does sport wireless technology. Granted you are within 300 feet of the camera, you should be good to go.
Smart Features
If you have an artificial intelligence device, such as Alexa or Google Assistant, this should be compatible with it. With this, you can view your live video feed with a simple voice command.
Mounting Options
The Arlo Q is a fully weatherproof camera and is intended for outdoor use. In addition, it attaches magnetically to appropriate surfaces or via a wall-mount.
Additional Features
Thanks to the two-way audio system, you can talk into this system and hear audio from it. Furthermore, the night vision mode allows for uncompromised vision in the darkness.
Overall
With two models in the top five, it is quite clear that the Arlo model of security camera systems are top-notch. The Q model is right up there with the best, quite honestly.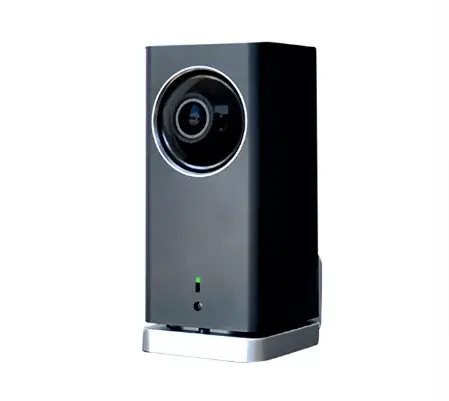 The iCamera is more than just your basic security camera system as it is equipped with several smart features. One of which is its ability to detect smoke and carbon monoxide sirens.
Read more
Technical Specifications
All the specs are there, such as 1080 Full HD, four-megapixel resolution, and 8x digital zoom, to make this one of the best top-end cameras on the market.
Wireless Connectivity
The iCamera supports 2.4 and five-gigahertz Wi-Fi connectivity. Overall, this is about what you would expect from a system of this caliber.
Smart Features
By using the IFTTT channel, you can connect this bad boy to hundreds of connected devices. In addition, you can also utilize voice control with the Alexa skill.
Mounting Options
Included with your investment is a wall mount if you did not want to merely leave this on some sort of stand.
Additional Features
Even though the two-way audio is present, it is a bit flawed. The reason for this is you have to manually push talk-to-talk and listen-to-listen. But, there is also a night vision mode.
Overall
This is fully equipped as a motion-sensor security camera system and while the good certainly outmatches the slight flaws, be knowledgeable of the slight issues here.

Subscribe to our Newsletter