Best Home Security Camera Systems
In a
Hurry? Editors choice: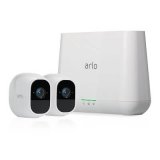 Test Winner: Netgear Arlo Pro 2

Below we have listed the top ten best home security cameras in the market today including detailed criteria for each product to help you decide which one suits your family or home best. There are many different features for each security camera so keep in mind to read all of the details each has. Of course, no matter if it is designed for indoors or outdoors, there are various mounting options available. Some models can merely be placed on a table or stand while others can be
mounted on a wall
or ceiling. You may prefer one method over the other, so pay attention to that and really find
the best security
cameras for you and your home. Whether you are looking for an indoor or outdoor unit, there are several available that will blow your socks off and keep you safe while giving you peace of mind.
Standout Picks
Criteria Used for Evaluation
Use
At the heart of every computing device, which is technically what a camera is, there hold the specifications that make them tick. To the average person, these arbitrary ramblings usually glance over and they might as well be written in Mandarin. But, when you are in the market for a home security camera, there are two very important specifications that stand above the rest. The first of which is the video quality. Back in the day, these types of cameras really could not deliver a vibrant and clear picture. Instead, the videos were choppier with a much lower pixel count.
Nowadays, it is not uncommon to see models 1080p (which is 1920 x 1080 and classified as Full HD). But, remember this as well; the higher the quality a camera produces the more it will require from your internet bandwidth. The second primary specification is the viewing angle and it is just as important. If a model can view 270 degrees around it, it is more likely to catch something passing by. On the contrary, a narrower model is going to be restricted with what it can cover.
Connectivity
With most of the top-end models in the world, an internet connection will be required to maximize the functionality. As such, the cameras themselves will be engineered with wireless connectivity. But, there is more to it than just assessing this fact. Some models will either have a poor reception or constantly go in and out and be unreliable. Remember, a better signal between the camera and the receiver will result in smoother videos. Then again, your internet connection also plays a role.
Speaking of this, you can really be your own worst enemy in regard to the wireless connectivity. Be sure to try and limit the number of obstructions from the receiver to the camera. Also, avoid placing the receiver near other wireless signals as this can cause disturbances. One other note and this is in regard to storage, you can look for models that allow for cloud storage. This allows you to view your uploaded content anywhere you so wish and works wirelessly, technically.
Features
What would a modern device be without smart features? At this point in the world of technology, that would be a rare device. Anyway, it is not uncommon for modern security cameras to be accessible through your smart devices (such as Android or iOS devices). From these devices, there will typically be a dedicated app that you can download to use in conjunction with the camera. While each app will work a little differently, they typically allow you to view your activity logs, operate night vision mode, access the two-way audio feature, and also set motion and sound alerts.
The other main smart feature that some models are beginning to implement is functionality with artificial intelligence programs. Given the popularity of voice commands, with software such as Alexa and Google Assistant, this is not a bad move. Granted you have access to one of these popular devices, you can function the camera with the use of voice commands. It is quite amazing how technology continues to find a way to link itself, is it not?
Weather Resistance
There is a really important question that you need to ask yourself and answer. Do you want the security camera to be monitoring indoors or outdoors? The reason this is important is not all models will be designed to handle the extremes of the outdoor world. With models that are designed outdoors, they will typically be weatherproof. Speaking of which, if you want to look even deeper into this, pay attention to the IP rating. No, this is not referring to the internet protocol but rather to ingress protection. You may see a rating of IP65, for example. The first digit indicates its protection against intrusion (solids) and the second against water (liquids). The larger the number, the more protected the system is.
Top Ten Home Security Cameras
Subscribe to our Newsletter