Best Wireless Chargers
last updated:
Feb 25, 2019
Don't you hate it when you go to charge your phone, plug it in, and nothing happens?  Another charger bites the dust!  Or how about when you go to plug it in and realize the charging port has sand or pocket lint clogging it and you can't get it cleaned out enough to charge?  How about frayed wires sticking out where the cable meets the port that plugs into your phone?  We have all been there.  So frustrating.  What if I told you that you don't have to live like that anymore... that there is a better way?!  Two words:  Wireless. Charging.  Imagine, just setting your phone on a surface that charges it through contact.  No hassling with frail cords, no wires sticking out, no worrying about your phone's charging port.  You just set your phone on your wireless charger, and it charges it up.  In addition to convenience, there's no need to worry about power surges ruining your plugged in phones anymore when you use a wireless charger.
In a Hurry? The test winner after 13 hrs of research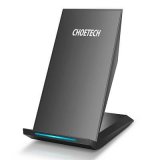 Choetech
Why is it better?
Has built-in two coils that enable you to charge the phone vertically or horizontally
Designed with premium components and safety measures
At night, the LED indicator light will be disabled
In a
Hurry? Editors choice: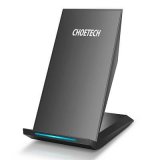 Test Winner: Choetech

15
Researched Sources
1.4k
Reviews Considered
13
Hours Researching
15
Products Evaluated
Use
Protection
Versatility
Features
By Default
Top Ten Wireless Chargers
Criteria Used for Evaluation


Use
Clearly, the entire reason why wireless chargers are designed is to provide battery juice for your favorite devices. Besides eliminating the hassle of needing to utilize a cord every time you charge your smartphone, this is the main design purpose. But, as you probably already guessed, each charger is not going to charge with the same capability and speed. Among other factors, speed is without a doubt the one that consumers tend to focus on the most. The common question that always needs to be answered for any type of charging system is does it support the fast charge?
Here is the reality though, that door has to open both ways. Not only does the charger need to support the technology but your smartphone has to, as well. Smartphones such as the Samsung Galaxy S6 and S6 Edge do possess this feature as they support both fast charging and Qualcomm Quick Charge 2.0. Hence, why you see many manufacturers claim their wireless charger supports fast charging for these devices. But, their device must also support Quick Charge 2.0 or adaptive fast charging.


Protection
This just in, top-end smartphones are expensive. Wait, you already know that, don't you? A smartphone is essentially your baby and as such, you want to protect it from everything. Thankfully, when manufacturers are designing their wireless chargers they understand this very well. Various protection technologies will be implemented to ensure the safest charge possible.
For starters, this can include something as simple as the station preventing your battery from over-charging by stopping the battery from charging any further once it is fully regenerated. Also, how about temperature control? The last occurrence you want is for your battery to overheat and subsequently become inoperable. In addition, take into consideration technology such as surge protection in the case of a power outage or power surge, overvoltage protection to ensure your battery receives an optimal charge and even short-circuit protection. Of course, for charging pads, this can be as simple as designing the surface to be both stable and protectant against scratches.


Versatility
For the most part, if you own a relatively new smartphone you should not have much trouble finding a wireless charger that is compatible. Now, even though it is not the only wireless technology in the world, the most popular chargers are run using Qi technology. All you really need to understand about it is this is the global standard for wireless charging and it is the technology that makes it possible. So, again, just like with fast charging, the door needs to open both ways.
If you have a Qi-enabled smartphone and you are investing in a wireless charger that uses Qi technology, it will be compatible. In the modern world of smartphones, this will account for several iPhone and Galaxy models. But, there is another factor you need to address and that is the speed at which your smartphone is supposed to charge. For example, the new line of iPhones (X, 8 and 8 Plus) are designed to charge at 7.5 watts. If you buy a charger that has a maximum charging speed of five watts, you may not be getting the charge you are looking for.


Features
LED lighting tends to be a staple for wireless chargers. At first, you would not think this would be a very important design factor to consider. Truth be told, it provides a certain level of convenience and does not really have an impact on the performance. But, here is why it could be vital for some of you. Assuming the charger actually possesses LED lighting, they will typically work in different ways. Some will notify you, whether by a blue or green light when your smartphone has started charging. This is important as you need to place your phone a certain way for the charge to register. Others may also start blinking if they detect an issue, such as an unknown object or incorrect placement.
But, what truly matters is if the LED lighting will indicate when the charge is complete. Believe it or not, not all chargers will provide this for you. If not, you are left constantly checking to see if the battery is full. Of course, the manner in which it notifies you can also be important. Some people will want to charge their phones while they are sleeping and will not want an annoying LED light on all night. As such, a light that turns off as opposed to changing to a different color can be a better option.
Expert Interviews & Opinions
Most Important Criteria
(According to our experts opinion)
Experts Opinion
Editors Opinion
Users Opinion
By Default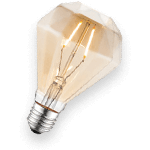 Invest in the future
As time goes on, wireless chargers should continue to adapt and become more advanced. The technology could use a lot of improvements but for now, it remains a convenient and user-friendly means of charging. Plus, with more and more manufacturers integrating Qi technology into their devices, you will be left out in the water without one.
Other Factors to Consider


Style
You will generally find two types of wireless chargers; either a pad or a stand. To be honest, it is a matter of preference to which one you prefer but one of the advantages of a stand is you can still see the interface of the phone easily. Of course, a pad may blend into your work environment or home décor better. Speaking of which, the appeal can also be a slight consideration. If you do not want a charger that takes up a lot of room and prefers one that will match the current décor of your environment, prioritize it. After all, it is all about what you want.
Frequently Asked Questions
q:

If Your Phone Feels Warm After Charging, Should You Be Concerned?

a:

This seems to be a common worry amongst the people who begin to wirelessly charge their smartphones. The issue of the smartphone becoming warm during or after the charging becomes complete. These same people who worry about this need to ask themselves if their smartphone is warm after they charge it via a wired connection. Guess what, this is a normal occurrence when it comes to charging devices. Just like when you use a video game console or computer for an extended time, the motor will begin to heat up.

Do not fret people, this is ordinary. Now, if you notice that your smartphone is scorching hot to the point where it is impossible to touch, then you could have a problem on your hands. To figure out if it is the charger or your battery, test it with a wired connection. If it remains scorching hot, it is simply your battery.
q:

Why Can Wireless Charging Be So Beneficial?

a:

Clearly, when one thinks about wireless charging (or anything that is wireless for that matter) they assume that the main benefit is the lack of wires. Of course, this mindset is certainly not incorrect and this may be the main reason for it. However, there are several other reasons why wireless charging can be beneficial for you. For one, they are incredibly easy to use as all you need to know is plug it in and place your smartphone in the correct position. Also, granted you have other devices that have Qi technology, it can be used to charge a multitude of your devices. As such, you do not need to keep unplugging and plugging in different charging cables.

Lastly, many devices in the modern world are beginning or already have, adopted Qi technology. The technology is booming and if you own a wireless charger with Qi functionality, you are set for the future.
q:

Does Qi Charging Work with Cases?

a:

This issue has vaguely been mentioned throughout this guide but it is definitely worth a deeper look. As modern smartphones are adapting to a bezel-less design and implementing new and advanced technology, they are becoming more expensive and sometimes more fragile. In turn, this leads you to feel the need to invest in a smartphone case for protection. Question is, can you use a Qi charger with a case? Yes, you can but it depends on a few factors. One is the thickness of the case. Most manufacturers will inform you of the compatible width of your case. For example, within 3mm, 4mm, 5mm, etc.

However, it also depends on what your case is made from. If it is crafted with metal then chances are, it will compromise the charging capabilities of the charger. As Qi wireless charging utilizes an advanced system of magnetic coils, placing metal on the base may have a negative effect on the transmitter.
q:

Does Wireless Charging Have Drawbacks?

a:

Would it not be nice if wireless charging was foolproof? Well, it could be and in this case, ignorance would indeed be bliss. Problem is, you must be naïve if you believe that it is a perfect technology. With all the convenience that it provides, there are serious issues with the technology that will hopefully be fixed in the near future. The main issues both hinge on the issue of how finicky it can be to find the correct placement. Firstly, they are inefficient because of this. With wired charging, your phone can be moved and the charge will still exist. However, around 20 percent (on average) of the power will be wasted with a wireless charge.

Also, because you can't move your smartphone while it is charging, it becomes nearly impossible at times to operate it. On the other hand, you can easily function your smartphone with a wire as it is much less finicky.
q:

So, Because It Is So Finicky, Would It Not Be Better with a Cord?

a:

This is a legitimate point to bring up for those of you who are questioning whether you truly want to invest your hard-earned money in a wireless charger. The charge may be less efficient but the truth of the matter is this, charging with a cord can still prove to be annoying. Literally, once you find the right spot which is really not too difficult, it is as easy as setting it down and waiting for it to charge. Yes, this sounds like a contradiction to the last question but it is just reiterating the fact that the convenience may out way the charging efficiency (it is a matter of personal preference).
q:

Why Do Some Chargers Not Come with an Adapter and If So, Do You Still Charge It This Way?

a:

For some wireless chargers that you invest in, it actually will not come with an AC adapter. Even though this is wireless charging, the base still needs to be plugged into a power outlet. Technically, this is still wired but this is the most reliable way to do so. Either way, some manufacturers will not include one and they probably believe that you already have one. Indeed, your current AC adapter should work just fine. However, you do need a QC 2.0 adapter if you want to utilize the fast charge capability.