Best Wireless Chargers
In a
Hurry? Editors choice: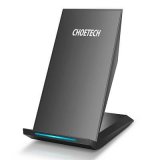 Test Winner: Choetech

Don't you hate it when you go to charge your phone, plug it in, and nothing happens?  Another
charger
bites the dust!  Or how about when you go to plug it in and realize the charging port has sand or pocket lint clogging it and you can't get it cleaned out enough to charge?  How about frayed wires sticking out where the cable meets the port that plugs into your phone?  We have all been there.  So frustrating.  What if I told you that you don't have to live like that anymore... that there is a better way?!  Two words:  Wireless. Charging.  Imagine, just
setting
your phone on a
surface
that charges it through contact.  No hassling with frail cords, no wires sticking out, no worrying about your phone's charging port.  You just set your phone on your wireless charger, and it charges it up.  In addition to convenience, there's no need to worry about power surges ruining your plugged in phones anymore when you use a wireless charger.
Standout Picks
Criteria Used for Evaluation
Use
Clearly, the entire reason why wireless chargers are designed is to provide battery juice for your favorite devices. Besides eliminating the hassle of needing to utilize a cord every time you charge your smartphone, this is the main design purpose. But, as you probably already guessed, each charger is not going to charge with the same capability and speed. Among other factors, speed is without a doubt the one that consumers tend to focus on the most. The common question that always needs to be answered for any type of charging system is does it support the fast charge?
Here is the reality though, that door has to open both ways. Not only does the charger need to support the technology but your smartphone has to, as well. Smartphones such as the Samsung Galaxy S6 and S6 Edge do possess this feature as they support both fast charging and Qualcomm Quick Charge 2.0. Hence, why you see many manufacturers claim their wireless charger supports fast charging for these devices. But, their device must also support Quick Charge 2.0 or adaptive fast charging.
Protection
This just in, top-end smartphones are expensive. Wait, you already know that, don't you? A smartphone is essentially your baby and as such, you want to protect it from everything. Thankfully, when manufacturers are designing their wireless chargers they understand this very well. Various protection technologies will be implemented to ensure the safest charge possible.
For starters, this can include something as simple as the station preventing your battery from over-charging by stopping the battery from charging any further once it is fully regenerated. Also, how about temperature control? The last occurrence you want is for your battery to overheat and subsequently become inoperable. In addition, take into consideration technology such as surge protection in the case of a power outage or power surge, overvoltage protection to ensure your battery receives an optimal charge and even short-circuit protection. Of course, for charging pads, this can be as simple as designing the surface to be both stable and protectant against scratches.
Versatility
For the most part, if you own a relatively new smartphone you should not have much trouble finding a wireless charger that is compatible. Now, even though it is not the only wireless technology in the world, the most popular chargers are run using Qi technology. All you really need to understand about it is this is the global standard for wireless charging and it is the technology that makes it possible. So, again, just like with fast charging, the door needs to open both ways.
If you have a Qi-enabled smartphone and you are investing in a wireless charger that uses Qi technology, it will be compatible. In the modern world of smartphones, this will account for several iPhone and Galaxy models. But, there is another factor you need to address and that is the speed at which your smartphone is supposed to charge. For example, the new line of iPhones (X, 8 and 8 Plus) are designed to charge at 7.5 watts. If you buy a charger that has a maximum charging speed of five watts, you may not be getting the charge you are looking for.
Features
LED lighting tends to be a staple for wireless chargers. At first, you would not think this would be a very important design factor to consider. Truth be told, it provides a certain level of convenience and does not really have an impact on the performance. But, here is why it could be vital for some of you. Assuming the charger actually possesses LED lighting, they will typically work in different ways. Some will notify you, whether by a blue or green light when your smartphone has started charging. This is important as you need to place your phone a certain way for the charge to register. Others may also start blinking if they detect an issue, such as an unknown object or incorrect placement.
But, what truly matters is if the LED lighting will indicate when the charge is complete. Believe it or not, not all chargers will provide this for you. If not, you are left constantly checking to see if the battery is full. Of course, the manner in which it notifies you can also be important. Some people will want to charge their phones while they are sleeping and will not want an annoying LED light on all night. As such, a light that turns off as opposed to changing to a different color can be a better option.
Top Ten Wireless Chargers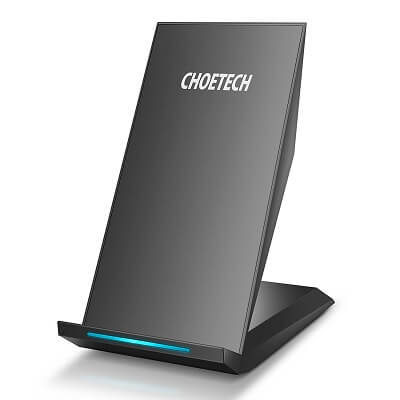 It may not seem so important at first, but this wireless charger holds a huge advantage over the competition. When you charge your smartphone at night, built-in sensors will detect the ambient light and if it is too dark, the LED lighting will be disabled ensuring you a better sleep.
Read more
Charging Capabilities
If you own a Galaxy Note 8, S7 Edge, S7, Note 5, or S6 Edge+ then you are in luck as these models are compatible with this charger for fast charge. Others will charge at normal speeds.
Protection Technology
Premium components have been utilized in this device, placing a huge emphasis on safety. Features such as temperature protection and the prevention of over-charging have been integrated.
Compatibility
Choetech developed their charger to work in coordination with devices that sport Qi technology. Such models of smartphones include the iPhone X, 8, and 8 Plus. Also, popular Galaxy smartphones are compatible.
Indicator Lighting
As compared to all other wireless chargers in the world, this model has one of the most ingenious LED designs. Instead of illuminating when the charging has completed, the light becomes extinguished which can be beneficial at night.
Size and Aesthetics
Due to the built-in 2-coil design, you can either charge your smartphone vertically or horizontally. Overall, this has a minimalistic design that will match virtually any environment.
Overall
The amazing combination of the protection technology and convenient LED lighting make this a worthwhile competitor to the rest of the pack. With fast charging available for certain smartphones and Qi compatibility to boot, this is as good as it gets.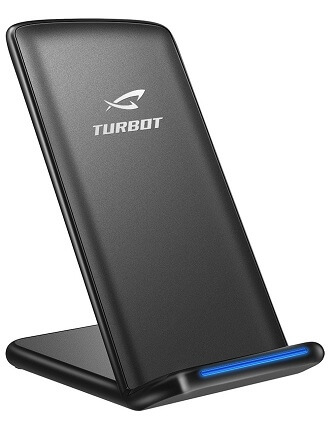 Notwithstanding the fact that several users feel this charger is rather slow in terms of charging speed, it features a 3-coil design which enables is to be charged in either a vertical or horizontal position. Thus, making it operational while charging if you needed it to be.
Read more
Charging Capabilities
ElleSye notes that their charger is not capable of fast charge. As such, this provides standard charging speeds and nothing further. However, the three-coil system does provide a much larger sensing area for your device.
Protection Technology
As you do not want your smartphone to over-charge, when the battery has been fully regenerated, this charger will stop the charging to protect your phone.
Compatibility
It should not be much of a surprise at this point and once again, devices that are Qi-enabled will be compatible such as various smartphones from Samsung, Apple Google, and Nokia.
Indicator Lighting
When the charging begins, you will be alerted of it when the LED indicator light turns green. While this is limited in some respects, it is at least nice to know if your device is actually charging.
Size and Aesthetics
Unlike wireless charging pads, this stands your smartphone straight up. But, you can either charge it in a vertical or horizontal position. Either way, the design will not feel out of place on a desk or other working environments.
Overall
If you are looking for a charger to charge your smartphones with blazing speed, then look elsewhere. Wireless charging is not the fastest form of charging, to begin with, but this model can be slower than others.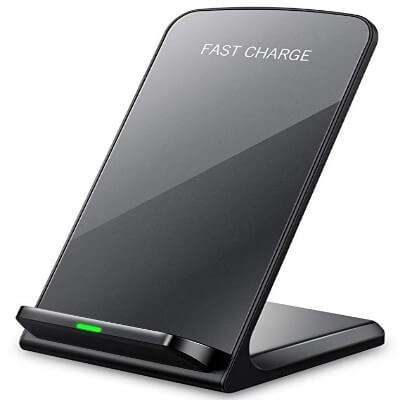 Seneo is an Amazon based brand whose products are produced in China. They have been in business for three years and continue to put out quality electronics at an affordable price. This charger works seamlessly with any Qi-enabled smartphone.
Read more
Charging Capabilities
This charger features two coils for a better charging experience. With this feature, you can set your phone vertically or horizontally, making it easier for you to continue to use face recognition, send texts, or watch movies while your phone is charging.
Protection Technology
To ensure that your smartphone will not be damaged while sitting on the surface, this charger has been coated with a rubberized, non-slip surface that protects against scratches. There is also a built-in temperature control chip and fan to keep your phone from overheating.
Compatibility
While this is compatible with all Qi-enabled smartphones, it is most notable for being specifically optimized to provide 10-watts to android phones and 5-watts to newer iPhones.
Indicator Lighting
There are three different light settings with this charger. The blue light is standby, flashing blue light is a warning that something abnormal is going on while charging (such us an incompatible device), and the green light shines when your phone is successfully charging and when it is fully charged. One complaint that users have had about this charger is the intensity of the LED lights. Some say that they are too bright to keep this charger next to your bed.
Size and Aesthetics
This charger has a very sleek design. It has a very thin design and is lightweight, only weighing four ounces. It is about the size of an iPad mini and is available in black or white. Despite its size and weight, users admire its strong feel and durability.
Overall
This is an overall great wireless charger. While it is more adaptable/charges faster with androids, it still works well enough with an iPhone. One other minor thing to note is that because of the two metal coils inside magnets will interrupt the charging capabilities.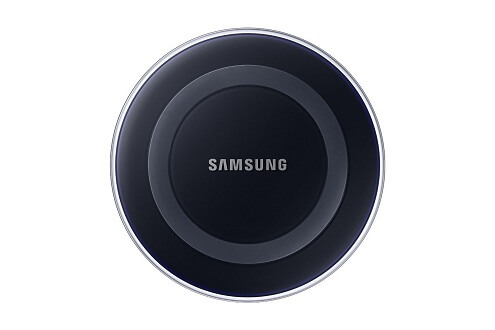 Sometimes, all a consumer needs is the reassurance that a manufacturer they trust is developing their product. Samsung is that manufacturer and you know with their amazing track record, it is almost impossible not to put your faith in them.
Read more
Charging Capabilities
While this does possess fast charging capabilities, it is only with a select few models of smartphones such as the Galaxy Note5 and Galaxy S6 Edge+. All other Qi-enabled devices will support standard charging.
Protection Technology
Samsung warns that their charger needs to be powered via their adapter. They include the correct 2A adapter and if you use any other, they claim the voltage could be different, and it could cause damage to the charging pad.
Compatibility
Granted your smartphone is Qi-enabled, then this charging pad will provide juice for it. This includes the iPhone X, iPhone 8, Galaxy S8, Galaxy Note 8 and others.
Indicator Lighting
In the case where you have incorrectly placed your smartphone on the charging station, the LED lights will remain off. When they turn blue, you have correctly placed it. Also, only for the Galaxy S6/edge, the LED lights will turn green when charging has completed.
Size and Aesthetics
Looking from above, this could easily pass as a coaster. In terms of the aesthetics, you can opt for either a white or black sapphire version and both have a glossy plastic finish.
Overall
If you have a Galaxy S6 Edge+, then this charger is a match made in Heaven. Of course, it is not too shabby for other smartphones either. However, given that Samsung designed it, it is only fair for them to offer specific advantages for their line-up of phones.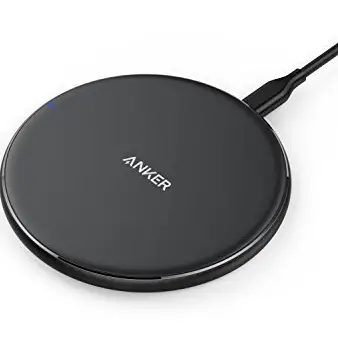 The Anker PowerPort seems to be a fan-favorite when talking about wireless chargers. While more feedback from the LED lighting would have been ideal, it is hard to argue with the quality here.
Read more
Charging Capabilities
As compared to most 5-watt wireless chargers in the world, Anker claims there's will charge 10 percent faster due to their advanced chipset. Despite this, various users have reported that the charging times can be a bit slow.
Protection Technology
Being certified by FCC, CE, and RoHS, you can bet your bottom dollar safety was one of Anker's top priorities when designing their charger. This is proven with overvoltage protection, foreign object detection and temperature control.
Compatibility
A various number of devices are compatible with this charger and that includes the new series of iPhones, several versions of the Nexus and LG, and also several Galaxy smartphones.
Indicator Lighting
Overall, the LED lighting is a welcome sight as you will know when your device is charging and when something is wrong. Problem is, it does not indicate you when it has finished charging which is a bit unfortunate.
Size and Aesthetics
Really, Anker's wireless pad resembles most other products of its kind. Due to the round design and black exterior, it will never feel out of place no matter where it is located.
Overall
It really is not difficult to see why so many people rave about Anker's wireless charger. A more consistent charge and further advancements in the LED lighting, however, would have made it appeal more to hardcore perfectionists.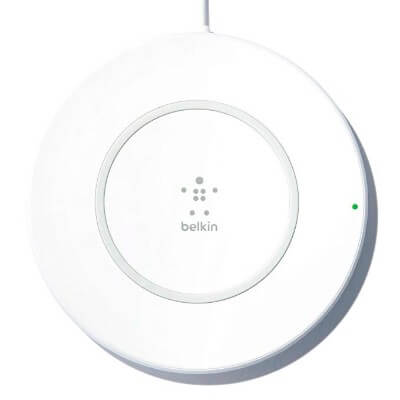 When you envision what a charging pad should look like, this version is probably what is depicted in your mind. It is the "cliché" charging pad, so to speak, with Qi technology, proper LED lighting, and foreign object detection for safe operation.
Read more
Charging Capabilities
This charges 5-watt smartphones and 7.5-watt iPhones. It does so by using Qi-certified transmitting coils. Even if you wanted to leave your case on your smartphone, granted it is no larger than 3mm, while charging you could.
Protection Technology
Belkin utilizes foreign object detection in their charger to provide safe operation. So, if the charger detects an object that is not compatible on its surface, it will quit charging.
Compatibility
Smartphones with Qi technology and those that are up to five watts are compatible with this specific charging station. This would include various smartphones from Samsung and Apple.
Indicator Lighting
When you have properly aligned your smartphone on the surface of this pad, the LED will illuminate indicating a proper placement.
Size and Aesthetics
Past the fact that the compact design takes up little to no room anywhere you place it, it is actually quite eloquent thanks to its black or white makeup that will blend in virtually anywhere.
Overall
Stellar is the best word to describe the design of the Boost Up Charging Pad. Other models may be more capable, in terms of charging technology, but few are as consistent in every area.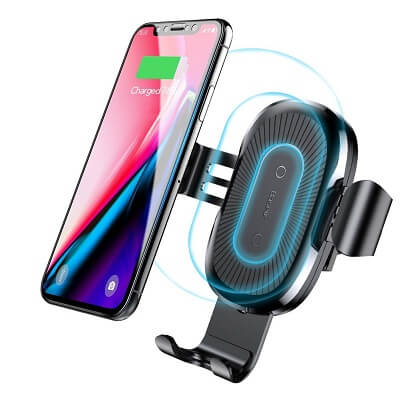 Unlike the other wireless chargers, Baseus did not design their version to be operable in most situations. This may sound like a disadvantage but before you assume that, they designed it to work as a car charger. Yeah, pretty ingenious.
Read more
Charging Capabilities
Both quick charge and standard charge are supported, but only certain smartphones (various models from Samsung) support the former. No matter, the built-in intelligent chips adapts to the current of the device and produces an optimal charge.
Protection Technology
Ultimate safety is all but guaranteed here and it is exemplified by the built-in under voltage and over voltage technology, surge protection, short-circuit prevention, and temperature control.
Compatibility
If your current phone does not possess Qi functionality, you will simply need an additional Qi wireless receiver and then you can utilize this charger. Yes, this means Qi-enabled devices are supported.
Indicator Lighting
The entire design of this charger is different than the competition. You are able to view the charging status on your smartphone while driving and as such, LED lighting is not really necessary.
Size and Aesthetics
Again, this is designed for your car and nothing more. You actually install the device into your air vent and this actually assists in cooling down your phone. Aesthetics should not be a concern as no one is going to see it publicly.
Overall
Just because you may not use this charger as frequently as others, does not insinuate it is an incompetent device. After all, how many times has your phone died while you have been driving?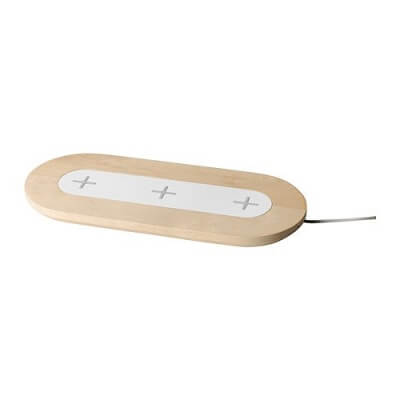 Who wants a wireless charger that can only charge one device at a time? How about a version that has the capability of charging three smartphones simultaneously? Yeah, Ikea makes that dream a reality with their triple pad charger.
Read more
Charging Capabilities
While this does not support fast charge technology, it can charge up to three smartphones at the same time. If you wanted to, with the integrated USB port, you could also charge a fourth one (but wired).
Protection Technology
Temperature control technology has been implemented to prevent over-heating. In addition to this, you can monitor the power level to ensure maximum safety and precaution.
Compatibility
Much like the previous chargers on this list, this is compatible with most Qi-certified devices. Ikea notes that this is ideal for devices made by Nokia, Google, Samsung, and Motorola.
Indicator Lighting
Ikea designed this charger to be different than the rest of the pack, clearly. With it, you can monitor the power but as far as lighting, it is a wood design and is lacking a bit as it pertains to this section.
Size and Aesthetics
The solid birch design, with ABS plastic, synthetic rubber, and polycarbonate plastic, provides an appealing décor. But, it may be too large to be considered a portable device.
Overall
Despite limitations in certain areas, the wooden construction and multiple charging capabilities of this charger make it worth the price alone. It is definitely different but in a very useful way.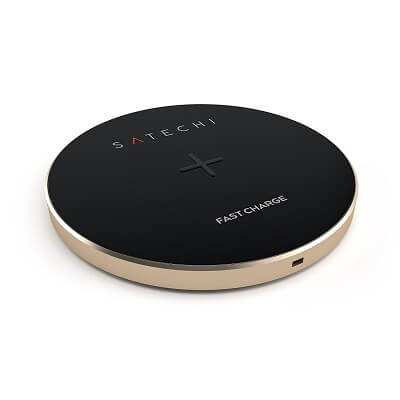 Featuring a premium aluminum construction and ultra-slim profile, in terms of aesthetics, this is one of the best models out there. Of course, performance is more important but do not worry, this charger holds up in this area fairly well.
Read more
Charging Capabilities
Once again, this does support fast charging in some respects. As Satechi notes, your device will indicate if it has this capability and if so, be sure to use the QC 2.0 adapter to power the base.
Protection Technology
Due to the ultra-slim profile of this charger, less heat is generated when your phone is charging. This leads to more efficient charging and less of a chance of overheating.
Compatibility
As most of the best wireless chargers in the world, this version is compatible with devices that sport Qi technology. Even if they do not, you can always invest in a Qi adapter.
Indicator Lighting
What is convenient about this model is when your phone has finished charging, the indicator light will change from blue to green. However, this light is extremely noticeable (too much at night) in low-light environments.
Size and Aesthetics
If you were judging on pure visual appeal, this may take the cake. Its aluminum construction and design choices of gold, silver, space gray, and rose gold make for a stunning profile.
Overall
It is hard to imagine a better way to finish off the list than by documenting this fine device. For a 10th place product, it is highly-impressive and definitely worth the money you throw at it.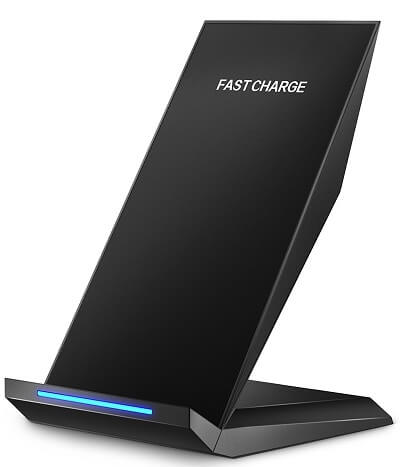 This is yet another wireless charger that has the capability of charging smartphones in either a vertical or horizontal position. Plus, with several Samsung Galaxy models, it also features fast charge for enhanced speed.
Read more
Charging Capabilities
Fast charging is an option for the Galaxy Note 8, Note 5, and other Galaxy models. However, in order to take advantage of this, you must invest in the QC 2.0 adapter which is not included.
Protection Technology
If there happens to be an object on the surface while your phone is charging that is either not compatible, made of metal, or is magnetic, foreign object detection kicks in and stops the base from charging.
Compatibility
Even though only select models are available for fast charging, other Qi-enabled devices will still function. However, only at standard speeds.
Indicator Lighting
At all times, you will know when your smartphone is actually charging. First off, a blue LED light will illuminate when the base has power and when your phone is charging, it will turn green.
Size and Aesthetics
Coming in both black and silver, you have a bit of variety if you are picky when it comes to the color. Plus, you can charge your phone both vertically and horizontally.
Overall
For whatever reason, neither the normal wall adapter or QC 2.0 adapter are included with your investment. As such, as great as this charger is, it could lead you to question the decision making of Pasonomi.

Subscribe to our Newsletter