Power Banks And Portable Chargers
In a
Hurry? Editors choice: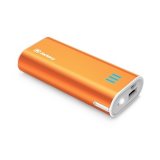 Test Winner: Jackery Bar Pocket Sized

I think we have all been in a situation where we are out and about and run into a situation where we needed our smartphone or another electronic device but when we go to use it, that dreaded low battery icon shoes itself. Then not only can we complete the task we needed to do, but now we have to wait until we get home or to a
power
source to recharge our device. Well, we are here to tell you that the above situation is a situation of the past, now that there are portable power banks & chargers. These nifty devices are small enough to be carried around with you and can
charge
your devices if they happen to have a low
battery
. Which means you can continue to use them where ever you are without issue.
Standout Picks
Criteria Used for Evaluation
Use
This has to be one of the top criteria to keep in mind when looking to use a power bank. Capacity here refers to the number of times the power bank will charge the phone for you. A full charge is known as a cycle. If you are working in or traveling to a remote location where there is limited access to charging points, then obviously you will need a portable charger with a higher "mAh" (more on this in the FAQs section). In other words, you will need a power bank which will give you many recharges when fully charged as opposed to just 1 or 2.
At this point, you may be forgiven for asking why should you just not blindly go for the one with the highest capacity as more is obviously better, right?! Well, yes and no. Being able to recharge more often is obviously a plus, but it comes with a trade-off or two. Usually, the power banks with the highest charging capacities tend to be the most expensive. Therefore, if you seek a portable charger that has above average charging capacity, be prepared to shell out a few extra dollars. High capacity power banks also tend to be bigger in size and heavier than their counterparts with lower capacity and that should also be factored in. This becomes particularly important if you plan to carry it around with you all the time.
In this case, obviously, the power bank that takes the least amount of time to get fully charged is most preferable. Whether you are using it on an airplane on a holiday or using it just before work in the comfort of your house, the faster your power bank recharges the better it is for you.
Size
Regardless of your plan to use your power bank, it would be in your best interests to get one that it is not too big. Compactness is key when it comes to power banks as it is possible or even likely that you will be carrying it around with you a lot. A few extra inches may not seem like much in isolation, but at the end of a long and tiring backpacking trip, it all adds up; trust me!
Another issue with a power bank that is bigger than average is that it makes it difficult to stash it away in your pockets. Tight and uncomfortable pockets do not make for pleasant experiences, whether you are on a hike or at a party. If it is too big for your pockets you will probably have to put it away in a bag. This will take up precious space in your travel or work bag that could have been used for something else. In a nutshell, the smaller and more compact it is, the better.
Weight
This goes hand in hand with size. Your ideal power bank should be as light as possible. While a few extra ounces may not seem like much, just like with size it all adds up at the end of a tiring day or a long hike or something similar. As with virtually everything in life, there is a trade-off though. The heavier ones are usually more sturdy and durable. This makes them less vulnerable to damage if they are dropped. Of course, if you drop any power bank enough times it will break or get damaged in some way, but the key takeaway here is that the heavier ones are more damage resistant. Therefore, if you are someone who tends to drop things a lot or rough handle your possessions, then it might be safer and wiser to invest in a power bank that is more durable and stronger.
Overall when looking for a power bank for your electronics, first figure out where you will be using it mainly. Will it be the office, on the bus, on your next hiking trip, etc. Once you know where you will be using it, then you can determine the size and weight of the power bank you will need.
Durability
All good power banks are thoroughly examined for defects before they are introduced into the market. However, due to the very nature of power banks, there is the odd defective piece from time to time. Not only that, sometimes the defect takes a while to develop and is only apparent from considerable usage. This is where a warranty comes in.
When you buy a power bank, look for at least a 1-year warranty, preferably an 18 month or a 2-year warranty. Inherent flaws and defects in the power bank may take a while to develop. It would be a shame if you were deprived of your right to exchange only because of lack of warranty/expiration of warranty despite it being no fault of your own. One crucial point here is that the warranty is usually limited to manufacturing or production defects. Therefore, if the charging cable is too small and you use it to transfer more electricity than it can handle resulting in it malfunctioning, then it would not qualify for a free repair or replacement even if it happens to be under the period of warranty.
Some power banks also come with a 30-day money back guarantee or something similar wherein you can return the power bank within the stipulated period if it does not meet your expectations; obviously this is subject to a few terms and conditions. Good customer service is always welcome and essential to being able to claim your warranty. Make sure that the company whose power bank you plan to buy has good and professional customer service.
Top Ten Portable Chargers & Power Banks
Subscribe to our Newsletter