Best Solar Powered Watches
In a Hurry? Editors choice: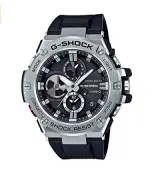 Test Winner: Casio G-Shock

When you come to the realization that you
need a new watch
, it can be overwhelming to decide which style you want, to say the least. It seems like there is a near-infinite amount of options out there and this guide is aiming to discuss one of those. One of the true luxuries of owning a solar-powered watch is you will never need to worry about the battery life as it draws its energy from the sunlight. Unless you are never wearing it
outdoors in the sunlight
or live in areas with constant rainfall, you should not have to worry about it. There are a plethora of options out there and deciding which model you want can be tricky. Check out our top ten picks below to get you started.
Standout Picks
Criteria Used for Evaluation
Top Ten Solar Powered Watches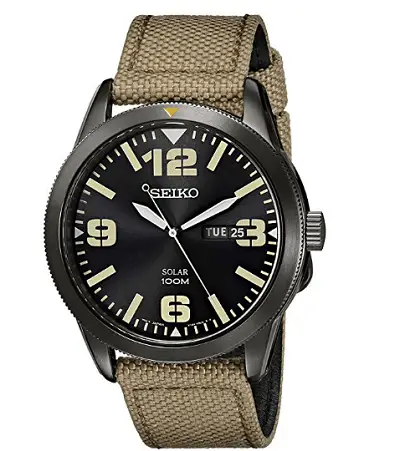 Now, this next offering from Seiko may not be the most impressive model on this list based on functionality. However, what it is utterly stunning and a beautiful piece of art.
Read more
Interface Design
This is not overflowing with features and instead, features a simple and more casual interface. That said, for the price range, a unidirectional bezel should have been integrated.
Size and Band
The included nylon band is far from low-quality but even still, you may want to swap it out for another band. However, the case measures 43 millimeters and is far from bulky.
Battery Life
One user did note that a strong amount of sunlight is needed to keep this bad boy charged up. Now, when fully charged, this does have a 10-month power reserve.
Water Protection
Seiko rates that their model is water-resistant to 100 meters. As mentioned before, this means it is suitable for light swimming only and not scuba diving.
Visual Appeal
Seiko is known for designing some stunners but wow, this may take the cake. The nylon band blends masterfully with the black dial and the somewhat washed out yellow markings.
Overall
If simplicity is what you are after then you are going to adore this design. It sports such an impressive look and build that you can forgive some of the shortcomings.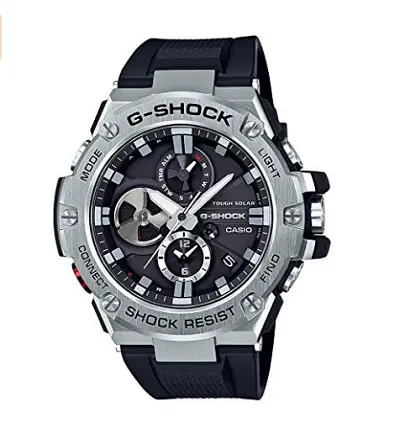 Be prepared to see Casio quite a few times on this list. They are one of the top-end brands out there and their G-Shock combines smart functionality and a rugged core with its analog quartz design.
Read more
Interface Design
This full analog design actually features a super illuminator LED light for easy nighttime viewing. Also, it sports a double-layered bezel and quartz movement.
Size and Band
With a case diameter of 53.8 millimeters, this is one of the larger cases on this list. Also, the band is made of polyurethane which is a bit different than leather or metal.
Battery Life
What is specifically nice about this solar-powered watch is that there is a battery indicator that is mounted at the 9 o'clock position. Quite ingenious, to be honest.
Water Protection
On top of being extremely rugged and shock-resistant, the G-Shock is also water-resistant to 200 meters. This means it is suitable for marine activity but not diving.
Visual Appeal
Casio is able to combine everything that is amazing about their G-Shock and also make it a pleasure to wear. With its timeless metallic finish and stunning interface, it is gorgeous.
Overall
Really, what is there not to like about the G-Shock? It is extremely rugged, utterly beautiful to look at, suitable for marine activity and incredibly accurate.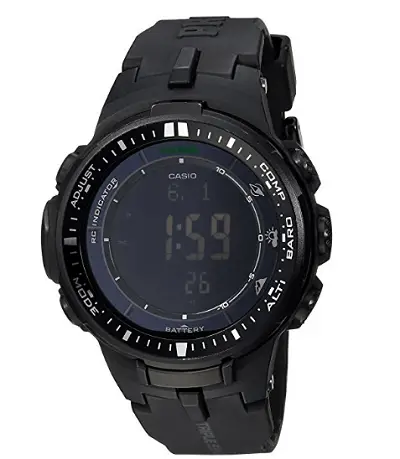 Casio is back on this list and this time, they present a digital model. In addition to this, the Pro Trek is also equipped with a digital compass, altimeter, and barometer. Talk about a total package.
Read more
Interface Design
In addition to all the other features that were just alluded to, this digital model also sports sunrise and sunset data, world time, five daily alarms, a 1/10-second stopwatch, and a countdown timer.
Size and Band
Casio designed their Pro Trek with a resin band and also a 46-millimeter stainless steel case. Overall, it only weighs 6.4 ounces which is nice.
Battery Life
Casio approximates that their Pro Trek would last around seven months on a full charge without further exposure to sunlight. In addition, there is a battery level indicator.
Water Protection
With a water-resistance rating of 330 feet, this is probably okay for casual swimming but certainly not for scuba diving.
Visual Appeal
The best word to describe this energy watch's appeal is stellar. It is not the flashiest model out there and the digital interface is not quite as sophisticated-looking as its analog counterpart.
Overall
For a digital mode, the Pro Trek is very impressive. In spite of this, though, Casio still could have improved on their design (such as making it easier to read).

4

. Citizen Eco-Drive Promaster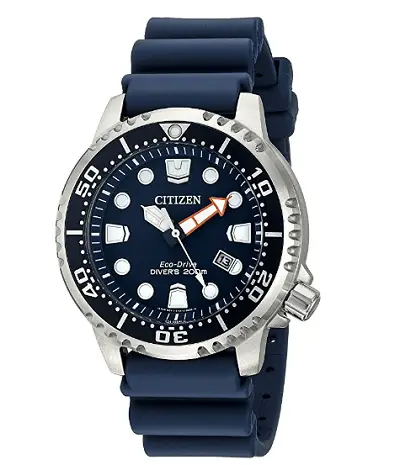 The Eco-Drive Promaster from Citizen is one of the best solar models out there for swimmers. Due to its impressive water-resistance rating of 666 feet, it can handle snorkeling and swimming.
Read more
Interface Design
The luminous hands and markers, in addition to the anti-reflective mineral crystal screen, make viewing easier. Also, the Promaster sports a unidirectional bezel and Japanese-quartz movement.
Size and Band
Though this is marketed as having a 48-millimeter case, many buyers claim it is actually smaller than that. As for the band, it is molded polyurethane and sports a buckle system.
Battery Life
Even after seven months of daily wear, one buyer noted that the battery life was still rolling along perfectly. It seems Citizen nailed the solar technology here.
Water Protection
As was mentioned, this has a remarkable water-resistance rating of 666 feet (which is the highest on this list). Indeed, it is rated to handle swimming, showering, and snorkeling.
Visual Appeal
The watch face and the band combination may actually not be appealing to some. Still, the stainless steel case feels very polished and the blue strap is far from appalling.
Overall
The Eco-Drive Promaster is for the pros that are for sure. That is, it is ideal for anyone who is interested in keeping their wrist piece on while performing water activities.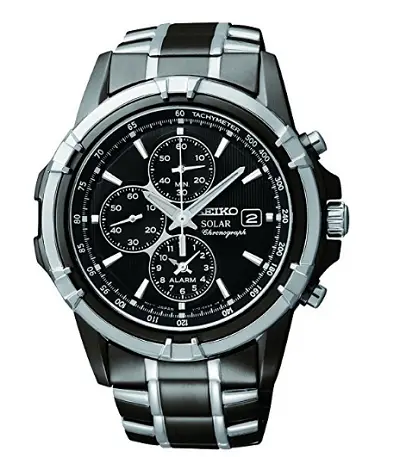 From a pure functionality standpoint, this next model of solar watch is one of the best in the world. Yet, as some buyers have pointed out, a little more definition of the dial would have helped.
Read more
Interface Design
While this two-tone model does have LumiBrite hands and markers, it can still be difficult to read. As for the specs, it runs via Japanese-quartz movement and has a 60-minute chronograph.
Size and Band
Though this packs a little extra weight, the combination of the 42.5-millimeter stainless steel case and the stainless steel band is ideal for durability sakes.
Battery Life
You can expect that on a full charge, this will last for up to six months if not exposed to any sunlight.
Water Protection
Yet again, and this is quickly becoming the standard, this is rated with a 100-meter water-resistance rating. If you have been paying attention, you know what this indicates.
Visual Appeal
The darker tones of this model are visually stunning. It is not your typical stainless steel appeal as, again, it is much darker throughout.
Overall
Probably the one feature that would have made this model even better is enhanced detail. As it rests, though, it is a fantastic option that can still be a little difficult to see at times.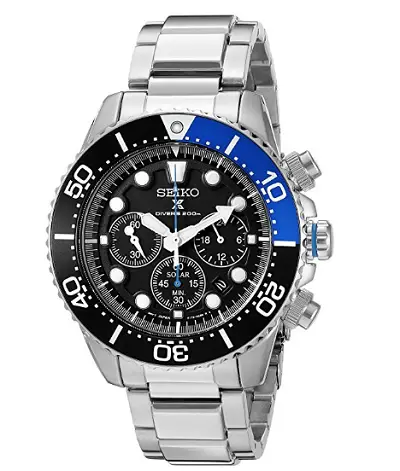 Another leading manufacturer when it comes to this technology is Seiko. Their name is plastered all over the world of watches and their Prospex, which sports a unidirectional bezel, is one of their best.
Read more
Interface Design
The Prospex is powered via a Japanese-quartz movement system and has a chronograph with sub-dials for hours minutes and seconds. Also, the bezel is unidirectional.
Size and Band
The 43-millimeter stainless steel case is not too bulky or cumbersome, which is a plus. Also, for longevity purposes, the band has been made of stainless steel.
Battery Life
While this can be charged at any time while in contact with sunlight, one user did note that their model ran out of power more frequently than they felt it should have.
Water Protection
In addition to the unidirectional bezel and screw-down crown, this also sports a water-resistance rating of 200 meters. It is ready to handle serious surface water sports.
Visual Appeal
At the end of the day, you can never go wrong with stainless steel. However, the black and blue dial meshes with this perfectly to create an appeal that most everyone will adore.
Overall
Wow, how impressive is the Prospex? It is designed by Seiko so it is not that shocking to be witnessed to its greatness but still, you can't help but marvel at it.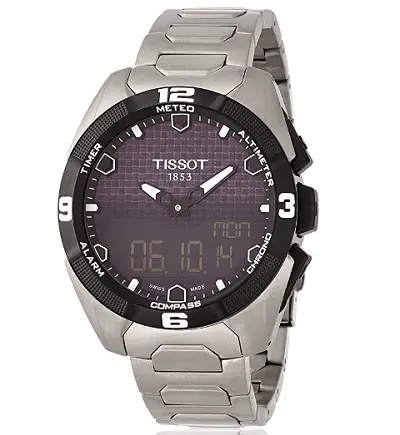 If you are willing to spend a little extra money and a truly sensational watch, then consider this outing from Tissot. Their T-Touch Expert has an appropriate moniker as it truly is expertly designed.
Read more
Interface Design
Thanks to the new and advanced movement system of the T-Touch Expert, you can rest assured that accuracy is not an issue. Also, the hand markers are bold and very easy to see.
Size and Band
As for the total weight, even with the toughness of the titanium at play, it is surprisingly low. Do note, though, that the silicone band must be cut to be sized properly (but it is comfortable).
Battery Life
There have been virtually no complaints in regard to the battery life of this solar watch model. Plus, there is a battery indicator so you will know if the battery ever needs to be charged.
Water Protection
Despite the hefty price of this model, it is actually only water-resistant to 330 feet. This means you may want to keep it out of the water (although shallow swimming should still be fine).
Visual Appeal
While the checkerboard layout will look excellent at any angle, this may not be at the top of some people's list of most appealing watches in the world.
Overall
Does everything that has been documented justify the steep, steep price of this design? Well, that is a tough question but know this, it has the design and quality to match just about any other model.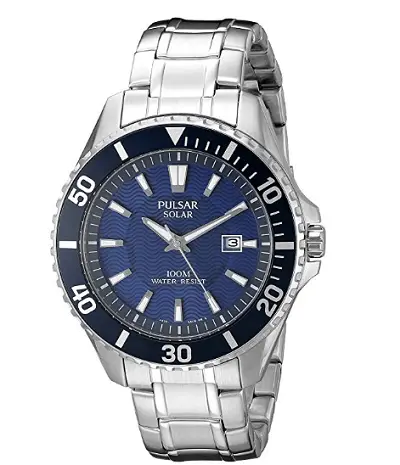 Even though there are a few missing features here, such as the lack of a screw-down crown or unidirectional bezel, this is still another excellent model. Just live with the fact that it is not ideal for diving and you should be good.
Read more
Interface Design
For whatever reason, maybe to allow users an easier way to keep track of time, the bezel has markings but is stationary. Additionally, there are luminous hands and markers as well as the Japanese-quartz movement.
Size and Band
Some consumers have admitted that the stainless steel band feels a little cheap. Also, this is quite a thick watch and sports a case diameter of 44 millimeters.
Battery Life
Once this solar bad boy is fully charged, it has a four-month power reserve. It is also powered via all types of light energy.
Water Protection
Interestingly enough, one buyer noted that it is claimed in the manual that this has a screw-down crown when in fact, it does not. All in all, it has a water-resistance rating of 330 feet.
Visual Appeal
The sleek and sophisticated appeal of this model makes it suitable for both professional and casual looks. It really is a stunning timepiece.
Overall
For being one of the cheaper entries on this list, this offering from Pulsar is quite compelling. On top of being quite the looker, it is also water-resistant.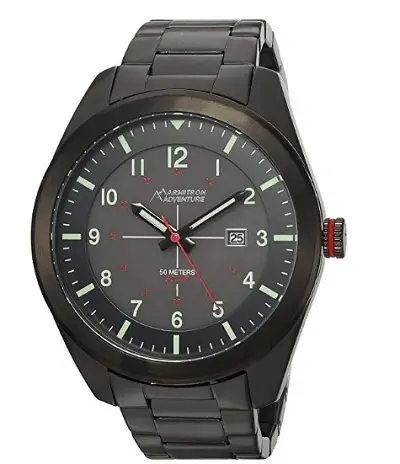 This is a tremendous option for those of you who are not necessarily looking for the flashiest or most technically advanced solar-powered watch out there. If you enjoy casual and simple, this is for you.
Read more
Interface Design
Again, this is another basic interface that is run via quartz movement. That being said, some of the internal markings could have been a bit larger to help those with poor eyesight.
Size and Band
The black adjustable link bracelet and 46-millimeter case combine to make up one of the lightest solar powered watches on this entire list.
Battery Life
Even though some users have felt that the solar charge on this unit is not the best, it does have a four-month power reserve.
Water Protection
The Adventure actually only has a water-resistance rating of 50 meters. This means it is probably only suitable for short periods of recreational swimming.
Visual Appeal
Overall, the design and appeal here are very subtle. You may not draw any attention but for some consumers, that is exactly the intent.
Overall
There is certainly nothing wrong with simplicity in some cases. But, it does not have additional bells and whistles such as a chronograph or a compass.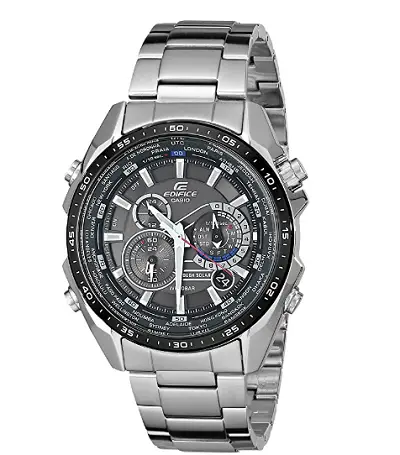 Right from the get-go, it is important to note that the Edifice may be too cluttered and complicated for some users. If you can get accustomed to the vast functionality, you should be good, though.
Read more
Interface Design
This is the complete opposite of the last model in it is as complex as it gets. It is engineered with 29 time zones, city code display, a full auto-calendar, a 1/100-second chronograph, and an analog display.
Size and Band
While the stainless steel band is not the issue in and of itself, the pins that are attached to it have been known to fall out. As for the case, for all its detail, it only measures 45.8 millimeters.
Battery Life
Without any further exposure to sunlight, you can expect this model to run for five months when on a full charge.
Water Protection
The 100-meter water-resistance rating that this design sport is one that is very common. Again, remember, avoid deep swimming and diving with this type of water protection.
Visual Appeal
If you do not like stainless steel, move on from this model. It really is as simple as that as the material is plastered everywhere here but meshes with the black-toned dial very well.
Overall
The complicated nature on display here could be enough to scare some of you off. That is fair as this is more for those of you who desire all the small gizmos and gadgets.

Subscribe to our Newsletter