Best Outdoor Watches
In a
Hurry? Editors choice: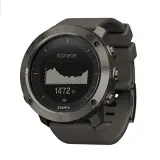 Test Winner: Suunto Traverse

No matter where you are or what adventure you find yourself experiencing, outdoor watches are one of the best tools you can have with you. Outdoor watches are much more than a timepiece, they are a whole new tool for the twenty-first-century adventurer.
Besides featuring high tech features such as GPS,
activity tracking
, and being a smart device, an outdoor watch can help you get out of the wilderness before sunset and keep an eye on your heart rate. Another feature we love is the ability to share your location with friends and family. These best outdoor watches will give you the extra edge when on your next adventure.
Standout Picks
Criteria Used for Evaluation
Durability
Top outdoor watches, to begin with, should be designed with durability in mind, but when you factor in the unknown nature of the outside world, it enhances the importance. When it comes down to it, for use outdoors, you should look at two factors. One is the actual quality of the watch itself (and even the band). Two is the water-resistance rating (if it is water-resistant). For starters, let's address the artistry.
First off, the watch should be crafted from durable alloys, for example, titanium and stainless steel. Take stainless steel, for instance, as it is a naturally hard alloy that can handle rough handling. If you accidentally smack your watch on something or drop it while trying to get it on, it should be able to withstand it.
Then, there should also be a scratch-resistant casing designed over the watch to protect it. Now, for the water-resistance rating. As opposed to waterproofness, water-resistance does not cover complete submerging. However, if the watch is rated for up to 100 or 200 meters (or beyond), then it is suitable for it. Still, most manufacturers will advise against diving with this type of watch.
Battery Life
The adventure watches that were presented to you on this list varied a little. Some are equipped with GPS functionality, activity tracking, and work as a smartwatch. When it comes to these types of outdoor watches, you will need to focus on battery life. Considering that you are going to utilize these outdoor watches, you want to ensure they will last as long as you need them. However, it is not that simple with smartwatches (especially if they have GPS technology).
Anyone who knows anything about GPS should understand that it takes a ton of power to use and will bog down your battery significantly. Thus, you typically will see differing battery life ratings. Such as 20 hours in GPS mode and three weeks otherwise. How you use your best outdoor watches will determine the battery life of one charge. So, the more you use the GPS inside the watch, the quicker the battery will deplete. In other words, use it sparingly.
Features
This is where personal preference starts to come into play. Among the watches on this list, this is the section where they will differ the most from one another. The only thing you need to ensure is what you truly want your watch to be capable of. If you simply want to know the time and maybe have a few extra features, you can opt against versions that are loaded with technology. Some of the main design implementations that you want to consider are a GPS, compass, barometer, altimeter, activity tracking and Bluetooth.
GPS and activity tracking do go hand-in-hand with a watch and if it sports GPS technology, it should allow for sports and activity tracking. But, technology such as a barometer (which assists in forecasting the weather and determining the altitude), an altimeter (which allows you to determine the altitude attained) and a compass can provide you with necessary information when you are wandering in the wilderness. Then, there is Bluetooth. With this, your watch morphs into a smartwatch and then has the capability of syncing with your smartphone. This can then allow you to receive call and text notifications straight from your phone and also access to additional applications.
Watch Face
No matter if it is a smartphone, laptop, tablet, gaming console, or a watch, you will spend most of the time staring at the screen and navigating through the interface.
With watches, it can be a bit tricky because, due to their design, their screens will not be as broad and immense as smartphones or tablets. As such, the actual interface is not going to be able to show all the features present, and you want to ensure it is easy to navigate through. Of course, this is more referencing smartwatches and touchscreen watches.
But, you can also pay attention to the screen and display as a whole? What is the resolution of the screen? Does it have a backlight for dark environments? Also, can it easily be seen from a distance (from your eyes to your wrist)? Do you want to squint your eyes every time you look down at your wrist because the fonts and resolution are unbearably low and small?
Subscribe to our Newsletter