Best Dive Compass
In a Hurry? Editors choice: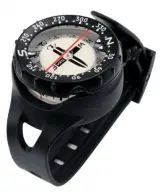 Test Winner: Tusa SCA-160

It is incredibly easy to lose track of which direction you are going in the water, is it not? If you enjoy any type of diving, it is almost mandatory for you to invest in some
type of navigation
. While people who only dive once or twice a year may find this type of purchase to be meaningless, those who do so more frequently will not.
Today, we want to focus on a specific type of navigation tool for divers: a dive compass. On the surface, dive compass is really a very simple tool for you to utilize underwater. Certain brands will separate themselves from the rest of the pack with superior visibility, accuracy, and other such features. What you really need to learn is how to find such options and how to choose the dive compass that suits you best. Well, that should shortly be accomplished.
Standout Picks
Criteria Used for Evaluation
OUR TOP PICKS FOR THE BEST DIVE COMPASS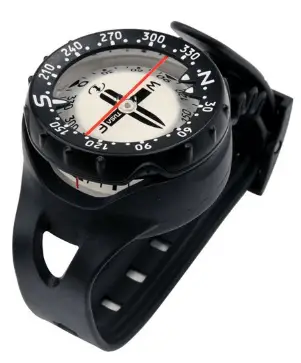 There really is a lot to love about the SCA-160 as this dive compass is equipped with Lumi-Nova storage dials for superior visibility and top and side scan reading for improved convenience.
Read more
Accuracy
First off, the SCA-160 is equipped with both side and top scan reading for improved accuracy. Additionally, it is liquid filled and reacts quickly to the direction on which you are moving.
Visibility
What sets this model apart is its Lumi-Nova storage dials. This is a groundbreaking innovation from Tusa and it allows the entire face of this compass to glow brightly.
Features
This is designed with a ratcheted rotating bezel. This same bezel is equipped with indicator marks for every 10 degrees and also headings in 30-degree increments.
Build Quality
The SCA-160 is built fairly well and the gauge comes in a rubber wrist boot that is impact-resistant. Also, this is backed by a 12-month limited warranty.
Style
Think of this as a wristwatch as it is designed to be wrapped around your wrist, quite obviously. This allows you to get a glance at the compass very easily.
Overall
The design of the SCA-160 speaks for itself but there is also not a ton of consumer feedback to go off of, which is a bit unfortunate. Still, it really is as good as it gets.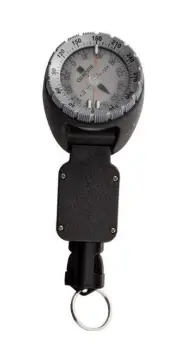 The SK8 could be considered the "high-end" option on this list in regard to its quality and its price. It is a special dive compass in its design, let's just say that.
Read more
Accuracy
Even though some users have noted that the SK8 can lock up from time to time, it is designed with an upgraded magnet and elite tilt potential of up to 30 degrees.
Visibility
For the most part, the visibility is good here thanks to the easy-to-read numerals. However, in low-light diving conditions, this will not glow the brightest.
Features
In addition to the fact that the bezel of this model is equipped with twin heading indicators, it also has indicator marks for every five degrees.
Build Quality
Overall, this seems to be built quite well so there should not be much need for concern in regard to the build quality and longevity.
Style
This is a retractor model and it can be clipped in a few different ways. For the record, this does come with a quick release snap clip that sports a stainless steel ring.
Overall
Suunto is a top-name brand so it is no surprise to see a model of their rank so high on a list of this nature. Their SK8 does live up to the hype, generally speaking.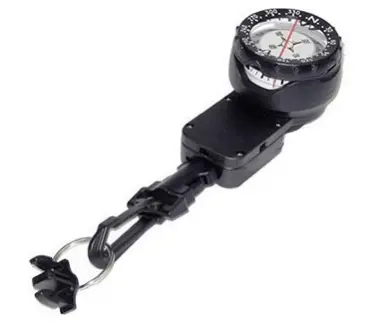 What is really nice about this next option is the fact that a retractor is built in. Additionally, the retractor cable is made with high-strength nylon for durability.
Read more
Accuracy
This is built to perform with its liquid filled design and full-tilt action. Even if it is not horizontal, it will still be able to accurately read your current direction.
Visibility
Alright, so the screen of this dive compass is on the smaller side. With that said, the numbers are really easy to read, regardless, even for older folks.
Features
To provide you with a clear sense of direction, this is designed with twin heading indicators on the ratcheting bezel.
Build Quality
A solid build is featured here and it provides you with peace of mind knowing that this will not break down easily.
Style
Being equipped with a retractor cable, this can be mounted to your gear. As for the cable itself, it is made with high-strength nylon for enhanced durability. There are also two mounting connectors included, for the record.
Overall
Several of you will take issue with the smaller screen but hey, this really is just a small imperfection when looking at the grand scheme of things. As for everything else, it is impressive.

4

. Scubapro FS-2 Wrist Mount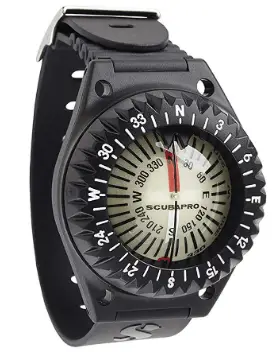 In addition to the fact that the FS-2 is designed to be worn around your wrist, it is also optimized for use in both the Southern and Northern hemispheres, which is a nice touch.
Read more
Accuracy
Outside of being able to be used in both the Northern and Southern hemispheres, this is designed with a floating magnet for enhanced operating freedom. However, one buyer criticized this design as the card stuck for them.
Visibility
In spite of the fact that the FS-2 dive compass is designed with highly luminous dials, a few buyers have noted that it can be hard to view. It seems contradictory but users have had this issue.
Features
For easier and more accurate navigation while you are swimming around, the FS-2 comes with a side view window. It is actually amazing how much this can make a difference.
Build Quality
What is nice about this model is the fact that it is built with a durable and scratch-resistant polycarbonate case. Let's just say that it is not going to get damaged very easily.
Style
This is the wrist mount compass of the FS-2. However, if this is not up your alley then you need to be aware that there is also a retractor model that is available for purchase.
Overall
Admittedly, this has received mixed feedback from the consumer base. It just seems that a few buyers have had negative experiences with it. Not everyone has had such experiences, however.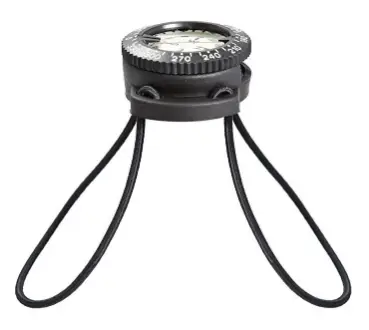 For the record, this is a dive compass that is calibrated specifically for use in the Northern Hemisphere. It also comes equipped with a large bungee cord that allows you to mount it on your gear.
Read more
Accuracy
As noted, this is calibrated to work in the Northern Hemisphere. Additionally, it is liquid filled and this allows it to offer quick and responsive performance.
Visibility
To account for low-light conditions, the Highland has been equipped with luminescent componentry. This makes it much easier to see the face in all situations, quite honestly.
Features
As with most models, the Highland comes with a ratcheted bezel that sports twin heading indicators. Also, it features increments at every 10 degrees.
Build Quality
It is worth noting that there was one reviewer who had a bad experience with this dive compass. For them, this only lasted a couple of dives before taking a dump.
Style
The thick bungee cord that comes with this allows the Highland to either be mounted with two separate loops or one continuous one (it is up to you).
Overall
Yes, there was one buyer who had a poor experience with this compass. However, most everyone else has had nothing but positive remarks toward this well-designed model.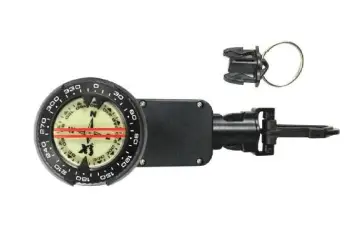 With a model dubbed the "SuperTilt" it better be able to perform at high tilt angles. Well, it is safe to say that this dive compass can do exactly that.
Read more
Accuracy
When this is extended, it seems to be really accurate. A specific reviewer did mention, though, that this can be inaccurate at times. Oh yeah, it also has a great tilt range, as mentioned.
Visibility
This should be easily seen in low-light conditions as well as in ideal conditions. You can also read this from the side with pretty good efficiency.
Features
As alluded to, the most important feature here is the fact that this can easily be seen from the side with the side reading window.
Build Quality
There have not been too many complaints in regard to the build quality of this compass and that can only be seen as a positive.
Style
This is yet another retractable dive compass and it actually comes with different clip options that you can mess around with.
Overall
In spite of the fact that this can be inaccurate at times, it is a highly recommended option for everything it brings to the table. It also is dubbed the SuperTilt Compass, so there is that.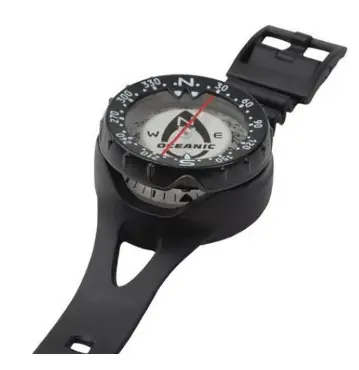 At the end of the day, even though this does feel a little cheap, it is a dive compass that can perform and one that can be seen easily while you are underwater.
Read more
Accuracy
First off, this is a model that is designed for use in the Northern Hemisphere. Now, what helps it perform admirably is the proprietary design which ensures quick responses.
Visibility
It is noted that the luminescent floating card that this is designed with will glow around seven times faster and longer than other materials out there (which is just tremendous).
Features
In addition to being able to read this from both the side and top, it features a large ratcheting bezel (which is about what you would expect).
Build Quality
Overall, this is cheaply made and there is no reason to sugarcoat it. Now, it is okay because it is not as if this needs to be used in a rugged fashion (just be careful with it).
Style
It is worth noting that the strap that this comes with is quite large. Now, as this is included, it does mean that this model is designed to be worn around your wrist.
Overall
Would you consider buying a dive compass that prioritizes performance and visibility over build quality? That question pretty much will determine how compelled you are to buy this option.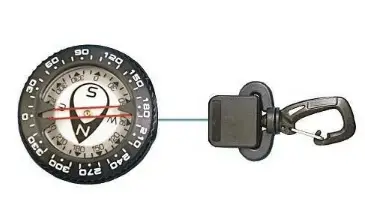 This model's biggest claim to fame is the fact that it is designed with a glow in the dark face. It is solid in other areas, too, but this is its main feature.
Read more
Accuracy
This does pretty well in the accuracy department but there was one buyer who did feel otherwise. They noted how they had little to no success getting this to read directions properly.
Visibility
Indeed, this sports a glow in the dark face. However, even with this integration, previous users have had issues viewing the face at certain angles underwater.
Features
In addition to the side window, much like many other dive compasses, this is equipped with an adjustable bezel for your convenience.
Build Quality
What is really nice, talking about the retractor, is it is strong. It is only made of plastic but, overall, you can tell that it is not going to break apart very easily.
Style
As hinted at, this is a retractor model. The cable runs around a meter long and the snap clip can be attached to either your BC or belt.
Overall
A lot of you should really like what this brings to the table. It does not reinvent the wheel or anything but it is a solid design as a dive compass.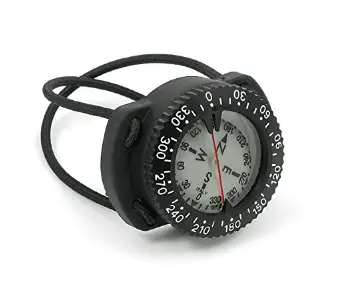 Yes, this is a bit of a cheaper option but it is also a dive compass that can perform with smooth operation. Additionally, it can be seen without the use of prescription glasses (for most people).
Read more
Accuracy
The combination of the powerful magnets and the compass needle card allow this unit to produce smooth movement. This persists even when the device is at somewhat of an angle.
Visibility
Yep, as alluded to, this is not going to be difficult for you to view and accurately read. The gauge face is luminescent, so that helps quite a bit.
Features
One of the few legitimate issues with this design is the weak resistance of the bearing dial. Due to this, it is much too easy to accidentally turn and this can throw everything off.
Build Quality
At this price point, the quality is warranted, quite frankly. Look, it is not like a child designed this but it is also not the most rugged device you will ever see.
Style
Included with your purchase is a shock cord. Basically, this is the bungee cord and, in addition to this, this comes equipped with the bungee mount itself.
Overall
As you can see, this dive compass is not perfect. However, it was able to secure a spot on this list thanks to its practicality, above-average performance, and mounting system.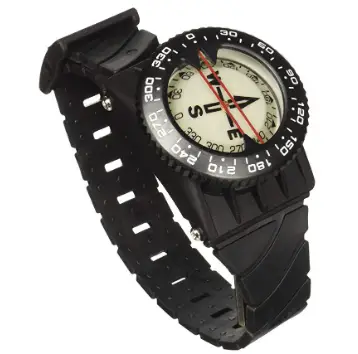 If you are a casual diver (in that you only enjoy going a few times a year) you may not be interested in a premium option. For people such as this, this dive compass is pretty much perfect.
Read more
Accuracy
In addition to being quick in its response, this wrist compass is actually calibrated for use in the Southern Hemisphere. But, it does not perform very well at angles.
Visibility
To ensure easier reading accuracy, this has been engineered with a double red lubber line. The bezel and face are also fairly easy to read and view while underwater.
Features
With a bezel that rotates 360 degrees, increments of five degrees, and a side read window, it is safe to say that this device succeeds in this area.
Build Quality
Get ready for a whole lot of plastic as that is what this is mostly made with. It may not last very long, as a result, but it is a cheaper model, anyway.
Style
Coming with a wrist strap, this is optimized to fit right around your wrist. This eliminates any issues you may have with mounting this sucker to your gear.
Overall
Admittedly, professional divers (or anyone who enjoys the activity more often than others) will probably scoff at this device. For what it is, however, it gets the job done at an affordable price.

Subscribe to our Newsletter