Best Blue Light Blocking Glasses
In a Hurry? Editors choice:
Test Winner: PROSPEK

What is so ironic about blue light is you may not even know what it is referring to but you are probably exposing your eyes to it several hours a day. This type of light is emitted from computer screens and
digital devices
. Have you ever noticed that when you stare at a technology screen for an entire day, your eyes feel like they are straining and you develop headaches? This is not a coincidence as it is the power of blue light. But, not all of this is going to be bad for your eyes so you do need to remember that. Anyway, a great way to combat this issue is to
invest in a pair of glasses
that are designed to block this type of harmful light. We made this guide to the best blue light blocking glasses, for you.
Standout Picks
Criteria Used for Evaluation
Effectiveness
Understand that certain models will be able to block more blue light than others.
In order for you to understand how to look for the best blue light blocking glasses, you need to be able to wrap your head around what blue light actually is. It was alluded to at the beginning but just to clarify, among the wavelengths of light in the entire visible spectrum, this list is one of the shortest. What happens is due to this, the energy output of the light is greater and this makes you more susceptible to eyestrain, headaches, and general eye fatigue. So, the gimmick behind these blue light blocking glasses, essentially, is that they are going to block this type of light and shield it from your eyes.
However, not all models on the market will perform with the same effectiveness. Some sellers will list the percentage of this light that their model can block and while there are different ranges, you may want to look for models that can block at least 90 percent of the light. Of course, the shade of the lenses will also come into effect. You see, darker lenses will be able to block more blue light while your yellow-tinted models will block a little less.
Overall Fit
Though most models will be one-size-fits-all, they still may not all fit you correctly.
For the most part, most models on the market are going to be designed and optimized for most users. In other words, most sellers will not provide you with different size options and their models will merely be one-size-fits-all. These are also typically designed for both men and women but what you need to realize is not all of them are going to fit you in the manner you prefer. And, depending on how frequently you stare at computer screens and such, you may need to wear the pair you buy several hours a day. So, it is advised that you do your research beforehand and, specifically, glance through user feedback to see what previous users have had to say about the sizing and fitting.
Now, what happens if you already need to wear prescription glasses or contacts? Well, you will want to look for special models that are designed with a "fit-over" style. As you may have guessed, these glasses are optimized to fit right over your prescription lenses. Oh, and also, in general, look for models that will rest comfortably on your face.
Materials
Do not forget about the frame as it needs to be designed with quality in mind, as well.
For this section, let's place all the attention on the frame. Virtually every other section has something to do with the lenses but you need to give the frame some love, also. Now, what exactly do you need to look for? The size and comfort were already alluded to so, really, all you need to do here is spend your time assessing the material of the frame. Ideally, you should opt for one that is strong, lightweight, and flexible. Of course, it also does not need to be bulletproof or anything like that. At the same time, you do not want the frame to snap into two pieces with just basic handling of it.
Really, want you may want to avoid are frames that are made out of cheap plastic. Not all plastic is going to be cheap, as you will soon find out, but there are lesser-quality plastics out there. Instead, look for models that sport TR90 frames. Ironically, this type of frame is plastic too but it is a durable, flexible, and lightweight thermoplastic. It will be able to be bent under pressure without snapping; making it more resilient to damage.
Features
There are actually quite a few features to keep in mind here.
Though these are fairly simple devices in concept, there are actually quite a few features to keep in mind. For starters, and this was documented briefly earlier, the shade of the lenses will make a difference. For the most part, you want to save darker lenses for nighttime uses and lighter lenses for daytime use when you will be starting at a computer screen. Of course, color distortion can also be an issue. With yellow or amber-tinted models, specifically, the colors that are present on the screen are going to be dramatically different (which could affect movies and gaming). Looking past this, let's talk about magnification for a second.
As you will see, there are options on the market that will come in varying magnifications. Essentially, all the best blue light blocking glasses can match the prescription strength of your glasses (much in the same line as reading glasses do). Oh, and you also may want to look for lenses that have been coated with some sort of coating to alleviate the issue of glare. With some models on the market, the glare will be so bad that it will prevent you from clearly seeing what is on your screen.
Color
No, this section is not that important but hey, the color of the frame could be for you.
The reality of the situation is some people wear glasses as fashion statements but that is certainly not the point of these kinds. With that being said, some of you may be interested in getting the best of both worlds and there is really nothing wrong with this manner of thinking. However, some of you will be disappointed to find out that very few options on the market will come with a wide range of frame styles and colors. That is not to say that this is going to be true for every single model in the world but most sellers will provide you with very basic frame colors (most notably black or even tortoiseshell).
OUR TOP PICKS FOR THE BEST BLUE LIGHT BLOCKING GLASSES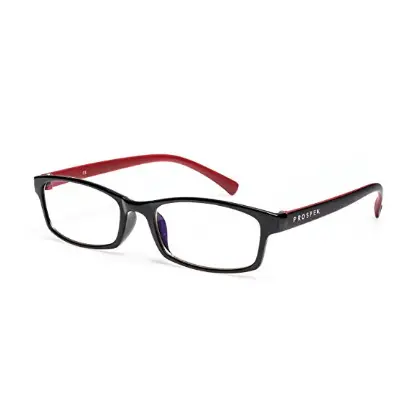 From top to bottom, you will be hard-pressed to find a model that is better than this one. It hits the mark in every major area and for any type of product that can only be seen as a massive positive.
Read more
Effectiveness
Arguably the best aspect of these glasses is the fact that they only block 50 percent of blue light. The reason for this is the other 50 percent is harmless and is allowed to pass through the lenses.
Sizing and Fitting
In addition to the fact that these are extremely light in nature, they are also designed with spring hinged arms which enhance the fit overall.
Materials
The TR90 frame is quite durable and well-made but one thing to note about the lenses is they can smudge easily. And, when this happens, the included cloth does not help that much.
Features
First off, the lenses come with a multi-layer coating and this helps to alleviate the issue of glare. Also, there are multiple magnification levels that you can choose from.
Color Options
Even though the best variety is not available here, you really can't go wrong with either color option (you can either choose red and black or gray).
Overall
Even the best of the best comes with some minor issues but they are just that; minor. From an overall standpoint, though, this is an excellent combination of superb performance and quality.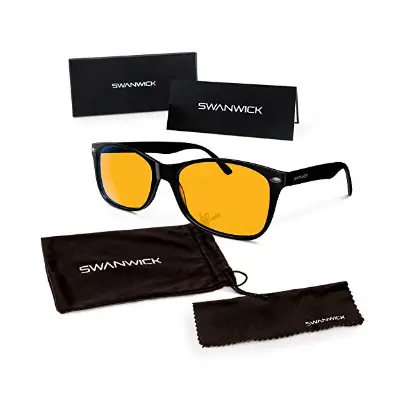 There is a reason why this option is one of the most expensive ones on the market and that is due to the quality. The old adage "you get what you pay for" applies just about superbly here.
Read more
Effectiveness
The general consensus is that these perform exactly what is claimed in that they reduce your eye strain and assist with your sleep disruption.
Sizing and Fitting
What is nice is there are a few different sizes that you can select between. Now, with that being said, a few previous buyers have noted how these felt small on their face.
Materials
The acetate frame is one of the better features of this option as it is strong, lightweight and flexible. It is one of the best-designed frames on the market, quite frankly.
Features
One thing to note about the lenses is they are tinted and they will cause certain colors to look different. However, each lens is designed with an anti-reflective and anti-glare coating which is nice.
Color Options
The frame comes in two different colors. You have the classic black option but if you want something a bit different, you can also opt for the tortoiseshell version.
Overall
There is a lot to appreciate about this option including the integrated frame and the coating of the lenses. But, the tint may be enough to lead you to other options and that is fair.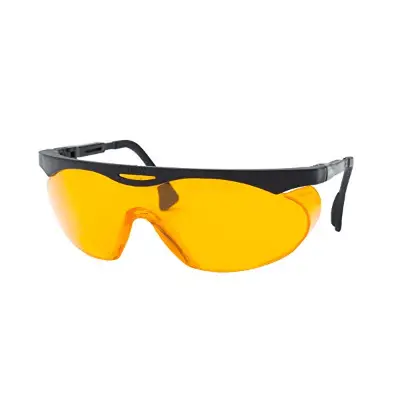 When it comes down to it, it is the little things of these glasses that make them so compelling. Sure, they block an ideal amount of blue light but the little things are done right also.
Read more
Effectiveness
The SCT lens integrated is going to help to reduce your eye strain by blocking 98 percent of all blue light from your tablets, computers, laptops and other devices.
Sizing and Fitting
Even though these are a little on the bulky side, the Duoflex temples are adjustable which allows for a custom and comfortable fit. Additionally, the temple tips are cushioned to prevent them from digging into the side of your head.
Materials
Most buyers have agreed that the build quality of the frame is solid. One user even noted that they dropped it on the ground and it was sturdy enough to withstand it.
Features
What is nice is these are designed with a three-position lens system that allows for multi-angle viewing. However, the lens is yellow tinted and will change the color of your screens.
Color Options
There is just the option for the black frame but at the end of the day, can you really go wrong with black?
Overall
For such a cheap pair of blue light blocking glasses, it is quite amazing how well these are designed. It almost feels like you are stealing but that just goes to show the value of this option.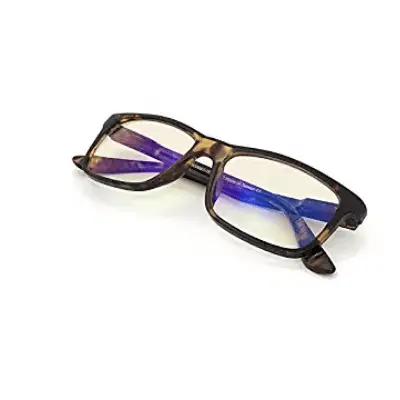 For many people, what is going to set this next option apart is the fact that harmful blue light is blocked but not at the expense of viewing normal colors.
Read more
Effectiveness
These are going to block up to 90 percent of the most harmful blue light that there is and this is going to vastly reduce your eye fatigue for longer viewing sessions on computers and such.
Sizing and Fitting
In addition to the fact that the classic rectangular frame is suitable for both men and women, there is spring loaded temples built-in that allows for an enhanced fit.
Materials
Back to the frame, it is designed of high-quality plastic. Now, as for the lenses, they are not exactly fragile but they can't be cleaned very easily if they get smudges on them.
Features
Okay, so glare can be an issue with these but the non-tinted lenses result in a lower distortion of color. This tradeoff is going to be suitable for some of you for sure.
Color Options
Not only are there a few different color options that you can choose from but there are also quite a few different styles available as well, which is pretty cool.
Overall
You really take the bad with the good here, quite frankly. Now, the good vastly outweighs the bad and at the end of the day that is all you can really ask for, right?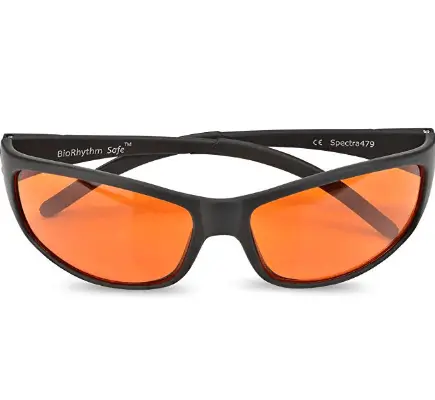 Above all else, these glasses can perform with the best of them. Sure, other areas could use little improvements but the performance overshadows everything, quite frankly.
Read more
Effectiveness
These are FDA approved, for the record. As for the technical specifications, they can block 100 percent of light from the 280-490nm range and 99.82 percent of light in the critical 450-510nm range.
Sizing and Fitting
What is nice is these provide a wraparound fit but the problem comes with the nose pads. Because they are built into the frame, they can't be adjusted.
Materials
Even though you do need to be careful with the frame (as it is not exactly indestructible), it is made out of thermoplastic and remains lightweight and flexible.
Features
Yes, these are orange-tinted lenses but they are actually designed to allow as much non-blue light through as possible. This means that the color distortion is going to be kept to a minimum.
Color Options
The black frame is the available color and if it has been said before it can be said again; can you really go wrong with black?
Overall
Yep, you really buy these if you want the most outstanding performance possible. The overall comfort could be improved so that could weigh on your mind a bit, however.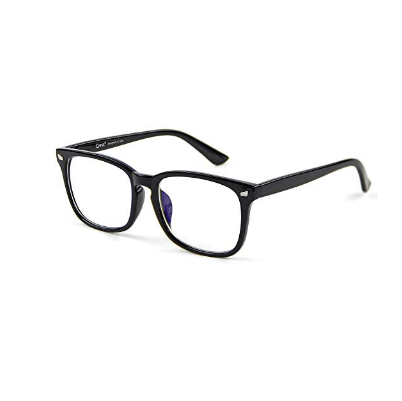 Thanks to the transparent lenses and the overall performance of them, this option is going to be compelling for just about anyone. It just would have been nice if the fit was a little better.
Read more
Effectiveness
Due to the fact that each of the lenses utilizes special U.S. substrate processing technology, these can protect your eyes from UV400 and ultraviolet radiation.
Sizing and Fitting
These may end up pinching the bridge of your nose for longer sessions and the frame is fairly large.
Materials
The lenses themselves are well-designed and shock-resistant and waterproof. As for the frame, it is not exactly extremely durable but it is also not as fragile as others on the market.
Features
As mentioned, the lenses are transparent and that means that there will be no color distortion when you are viewing all sorts of technology screens.
Color Options
There are actually quite a bit of different colors for the frame. Some of them are "childish" but the variety you are provided is really good so that is a plus.
Overall
Hundreds of previous buyers have simply raved about these glasses and their ability to block blue light. They are not unbearably uncomfortable but you will probably need to get used to them.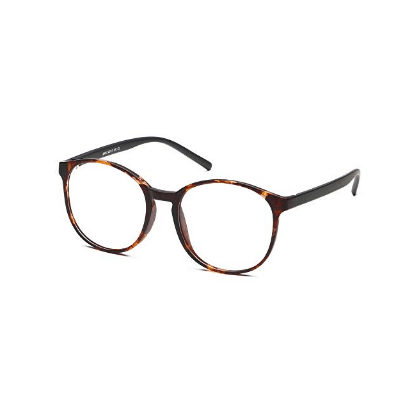 Perhaps you are looking for an option that offers magnification? If so, then you will be satisfied with the sheer amount of magnification options that are presented to you with this model.
Read more
Effectiveness
Not only will these filter out 100 percent of hazardous ultraviolet rays but they will also cut 39 percent of blue light in the 400-450nm range.
Sizing and Fitting
The general consensus is that the frame of this option is very large. It can still work if you have a smaller head but you may not like how large they look on you.
Materials
Granted you treat these with care, you should be fine. With that said, the plastic frame does feel cheap and is certainly not going to hold up to much abuse.
Features
In addition to the fact that there are several different magnification options available, the lenses are designed with a coating to prevent scratches and smudges (or at least minimize them).
Color Options
For those to who it concerns, there are a few color options available for the frame.
Overall
Some of you may be apprehensive about buying this option due to the fragile nature of the frame and the larger size of it. But, at the end of the day, it is designed well.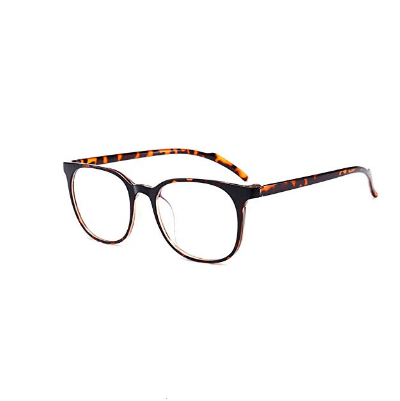 Chances are, you probably would not even tell what type of glasses these were by just looking at them (as they are very casual). This alone is something that may appeal to you.
Read more
Effectiveness
These are rated to cut up to 90 percent of the blue light that you can see which is going to relieve your eye fatigue and also alleviate the issue of your eyes becoming dry.
Sizing and Fitting
It is claimed that these are designed for bigger faces and that claim is spot-on. Now, these are designed for both men and women but they are pretty large (so keep that in mind).
Materials
The frame is made out of plastic and the lenses are made out of polycarbonate. While not the most stunning build, this option is still solid in this regard.
Features
The fact that there is slight tinting with the lenses is the least of the issues as the glare can be quite the pest of an issue here. Some sort of anti-reflective coating for the lenses would have been nice.
Color Options
A decent variety of color options are available for the frame but if you are a fan of a classic appeal, you can always stick with the black option.
Overall
These can look goofy on users with smaller faces but they can still perform, regardless. You also need to deal with the issue of glare, which can be a bit annoying at times.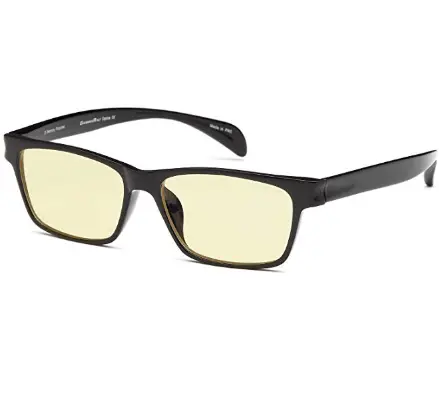 One specific reviewer may have said it best when they described this next option as cheap and functional. Not cheap in the sense of poor quality but cheap in the sense of the price, for the record.
Read more
Effectiveness
What these are going to do is reduce your eye strain by providing UV400 protection and, for the most part, they perform exactly what they are advertised to do.
Sizing and Fitting
If you have a larger cranium, you may find that these are too tight to be comfortable. Just keep this in mind as these are one-size-fits-all glasses.
Materials
In spite of the cheaper price, the frame that is built-in here is quite impressive. It is a TR90 nylon frame that is both durable and flexible.
Features
By counteracting the blue light, the displayed light is going to be different than it actually is. The color distortion that these lenses produce can be a bit of a nuisance, admittedly.
Color Options
Again, with the frame being offered in a black coating, you really can't go wrong here.
Overall
Sure, these may not be incredibly comfortable for hours on end (specifically if you have a larger head) but they perform what they are designed to do and that is the main thing.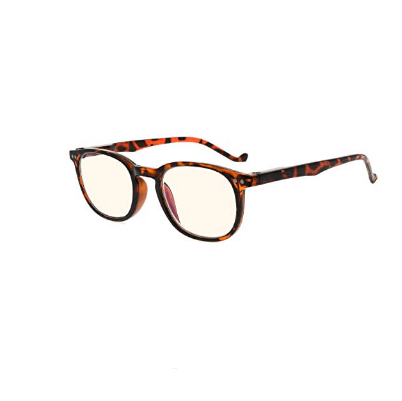 If you are looking to get your feet wet with this sort of technology then this could be a great option for you. And, if they end up breaking, you can then upgrade to a more premium choice.
Read more
Effectiveness
These are going to filter 100 percent of the most damaging low-level blue light and also nearly 100 percent of the high-energy visible light that is emitted from the screens of your technology devices.
Sizing and Fitting
One nice aspect of this frame is the fact that it is not sized for a child or a really small adult. It is actually sized quite well, as a matter of fact.
Materials
This is the area where this option suffers a bit. Firstly, the frame is made of cheap plastic and, secondly, the lenses are pretty difficult to get clean.
Features
The good news is the color distortion is kept to a minimum but the same can't be said for the glare and reflection. Some users have been overwhelmed by the amount of reflection that persists here.
Color Options
If you enjoy variety then you will appreciate the sheer number of colors that are available.
Overall
With a model such as this, you take the bad with the good. But, again, if you are curious how much this technology can help you, this option can be a great start.

Subscribe to our Newsletter