Best Meditation Cushion
In a Hurry? Editors choice: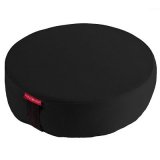 Test Winner: Peace Yoga Zafu

Human beings are born to move. Our physical structure is proof of this fact. This is why we often feel a lot of discomfort whenever we are told to just sit or stand still. Why? Because we are made to move and that being still will prove to be such a challenge to our physical and mental being. However, as more and more experts reveal about the benefits of meditation which is an activity that mostly entail a lot of sitting or being still in a certain position, many people now wanted to engage in such activity.
Alas, everything is easier said than done. Staying in the same position for several minutes or even just a few hours will not only bring about discomfort. It can also make one very antsy. But, you can greatly reduce the discomfort and any other difficulties you encounter while meditating when you choose the right tools.
First of all, you have to invest in a good meditation cushion that will make it easier for you to hold a certain posture for an extended period without finding the entire experience such an ordeal. Before buying any meditation pillow or mat, check out the following buying guide first.
Standout Picks
Criteria Used for Evaluation
Size
The height of the cushion you are using can directly impact your comfort level. Make sure it raises you high enough from the ground where you are seated without causing you any discomfort. It should also match your size as you sit on it for meditation practice.
Model
The shape of the cushion is also another major factor especially when you need to perform different types of yoga and meditation poses. You have to choose the shape that you think would most likely bring you lots of comfort even when you have to perform advanced poses, or even when you are staying in the same position for a longer period. For instance, those who would frequently engage in a half or full lotus position would find a round-pleated cushion most comfortable to use as this allows them to rest their legs and remain at ease for a prolonged period.
Pillows used for meditation may also come in rectangular, oval, heart, round and crescent shape. You can choose one depending on your style preference and the level of comfort that it will provide.
Materials
The fabric being used for manufacturing the cover is also another important factor to consider when choosing the type of pillow to use for meditation. Make sure the fabric being used does not trigger any allergies that may ruin your ability to concentrate all throughout your meditation session. Some people find those tags on the outer cover too distracting and at times may cause itching. Therefore, it is best to choose one that does not have any protruding tags. The fabric must also be soft to avoid irritating your skin. Remember that the cover is the very first material that will have direct contact on your skin so if it causes any discomfort you run the risk of not being able to meditate well.
Brand
No products in this buying guide had a rating of less than four stars. This goes to say that most of them earned more than four star rating by customers who already purchased and have tried using them.
Checking out the product rating is very important as this will also help you know whether the product works as advertised. You can also read customer's feedback to learn more about the product, its quality, whether it arrived on time etc.
Insulation
The stuffing or filling is a huge factor when we talk about cushions that spell out comfort. When evaluating the above mentioned products, the filling or stuffing is also taken into consideration. There are three most commonly used materials for pillow filling.
Comfort
Buckwheat hulls have rightly earned a good reputation among modern practitioners of meditation and yoga. Sitting on a cushion with this kind of stuffing would feel like you're sitting comfortably on a sandy beach. Its shape shifts quickly as you sit on it so that it conforms to your body's shape.
These buckwheat hulls are obtained from buckwheat grain's outer shell. These outer shells are too hard for any human or animal to eat, thus making them an ideal stuffing for a meditation pillow. If you want sit on a softer cushion that doesn't get too flat that makes you feel like you're already sitting on the floor. It also doesn't feel too hard as if you're using a rock for pillow.
Features
Kapok filling is firmer compared with buckwheat hulls. It also helps you hold your body's shape in a more steady position. Another advantage of kapok is that it is hypoallergenic and is resistant from mildew or molds. These kapok fibers were obtained from a Kapok tree seed pod that is usually found in many rainforests in many parts of the world. Kapok has a silky and resilient quality. Kapok has been used for centuries as a cushion filling. After several months of use, these kapok fibers would congress thus the need to add more filling into your pillow. Kapok filling is preferred mostly by meditators who usually meditate for extended periods and also for meditators who find a taller support more comfortable.
Durability
Although wool has less likelihood to compress and is more lightweight compared to other kinds of filling but it does not provide enough firmness that most yogis and meditators need. One advantage it has over any other types of filling is the fact that it serves as good insulator or energy, according to many Yogis.
Color
Although some people argue that the color doesn't matter at all. However, what many don't realize is that the color of the pillow or cushion that you are using while meditating can also have a subtle impact on your mood and ability to make the entire session more productive. For example, a red cushion is associated with improved energy levels while the yellow one could help improve your mood and clear those cobwebs from your mind.
A blue pillow provides a soothing and calming effect that could bring about a more peaceful and calmer mood. Some meditators prefer to use black-colored pillow saying that it helps them achieve a deeper sense of focus while also bring their concentration to higher levels.
Those who want their meditation session to promote their body's ability to heal must prefer orange-colored pillows. Green cushions not only promotes a calming effect but it also greatly helps restore one's inner balance. Violet also helps reinstate an individual's balance.
Value
There are plenty of meditation cushions that you can buy for only $20 or less. But, it is not always a good idea to compromise comfort with price. Buying a cheap pillow that does not assure you of the level of comfort that you need when meditating is a total waste of money. On the other hand, you should also remember that an expensive cushion also does not automatically equate to high quality.
It is better to shop for something that is reasonably priced without compromising the quality of each of your meditation session. Look for one that is made from materials that will last longer. When checking the price, you must also evaluate its comfort level and durability because two things are very important if you want to be using exactly the same pillow for months or at least a year for your meditation regimen.
Don't just look at the price. You also need to check, does it wear out far too quickly than it should? Does it quickly lose its stiffness? Does it offer proper support? If so, then a hefty price tag may only hurt your wallet but not your back and butt.
Bottom Line
Meditation is an ancient method used today to help relieve stress and anxiety. The practice helps a person become more aware of his existence and the things that matters most in his life. It has become one of the most natural and effective means to achieve calmness and inner peace.
We cannot deny the fact that meditation does offer a wide range of benefits especially to people who regularly practice it. But, these benefits cannot be earned or experienced if a person is not using the right tools that will him make the most of each of his meditation session.
All the cushions reviewed in this article were found to provide support for the spine, which is the most essential thing for meditators to ensure they are not hurting their back all throughout the session. Otherwise, their meditation regimen will be deemed counterproductive.
Using the right meditation cushion would mean you will be spared not just from those pins and needles sensation but also from that antsy feeling you may have when staying in the same position for a prolonged period. Therefore, when looking to buy a cushion for your meditation regimen, keep in mind the above-mentioned criteria for choosing the cushion that suits your needs and unique preferences.
With the right cushion, entering nirvana becomes much more of a reality than just a goal. In other words, if you are not using any of these above-mentioned cushions then you could be missing out big time on your meditation sessions!
Top 10 Picks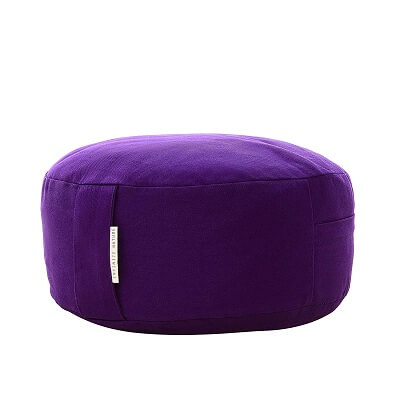 If you are looking for yoga cushion and meditation pillow at the same time, try this amazing product.
Read more
Weight, Shape and Dimensions
Round-shaped, weighs 5 pounds, 5.25″ high x 13″ diameter
Materials
This product contains organic buckwheat and organic cotton.
Color
Purple and black
Maintenance
Its cover is hundred percent machine washable. It has a separate inner layer to keep buckwheat sealed so you can just take this out when you want to wash the cover.
Other Features
Its adjustability allows your hips to feel more relaxed while also helping your spine to be aligned to reduce the likelihood of having muscle strain.
The cover is soft but everything is made durability as everything is double-stitched. It also has two layers of fabric.
This meditation cushion comes with a cotton storage bag. The zipper is sewn under a fabric flap that's tailored with much care to ensure it does not gouge holes in your mat or rug nor leave scratches on the floor. Its carry handle is soft and it does not have any scratchy tags.
Users won't have to worry about it being too high or too low because its height is designed to be easily adjustable. To do this, you just have to unzip its cover as well as its inner layer so you can remove its buckwheat hulls content. Users who weigh so much heavier like 200 pounds, with a height of at least 6" could easily remove some amount of buckwheat and store it in a Ziploc baggie. If they still think they need to remove more than they can definitely can. This is because the product comes with so much extra buckwheat hulls inside so you easily adjust its firmness according to your comfort level.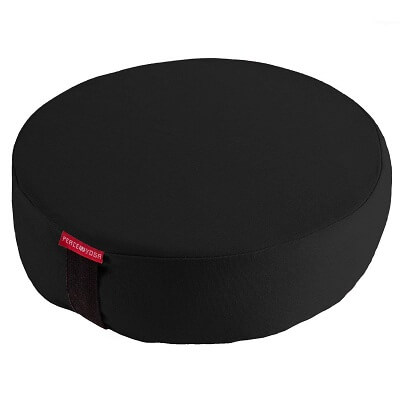 This meditation cushion may also serve as your yoga block when trying to perform certain meditation and yoga stretches and poses. Its geometric design makes the pillow look attractive and calming at the same time.
Read more
Weight, Shape and Dimensions
Round-shaped, 13″ diameter x 4.5″ high
Materials
It has natural buckwheat hulls as filling while its cover is made from cotton.
Color
This product comes in six different colors namely- purple, light olive green, blue, gray, black and burgundy.
Maintenance
Avoid soaking or washing your wet buckwheat hulls to prevent mildew or mold growth. While washing the covers, expose the buckwheat hulls to direct sunlight.
You can unzip its outer and inner layer so you can take out its filling and machine wash the covers. Make sure to turn the cover inside out and set the machine on gentle cycle. Wash it using cold water only. Hang it to dry and avoid putting it in the dryer otherwise the cover will shrink. The covers can also be spot cleaned using a damp towel.
Other Features
Its buckwheat hulls filling contributes to its pliability and firmness which also translates to comfort.
Since you can easily remove some of its filling when making adjustments to its height, it is also very easy to adjust it according to your desired level of comfort. This product provides much ease when trying to get up from a hard floor. It also reduces stress on your joints. This item also works best in providing support in your spine while you're on a meditation pose. Using this product will greatly lower your likelihood of having numb limbs when you need to spend long hours in meditation pose.
It's easy grab-and-go handle makes hand carrying one less thing to be worried about.
Its crescent shape will make it easier for a person to tuck his feet closer to his body without a lot of stress no matter what meditation or yoga pose he performs.
Its unique design allows meditation practitioners and yogis to fold their feet nearer to the body.
This meditation cushion may also serve as your yoga block when trying to perform certain meditation and yoga stretches and poses. Its geometric design makes the pillow look attractive and calming at the same time.
It is so easy to clean. Dog and cat hair does not stick to its outer cover. Many users find its design, height, support and overall construction superior. The product is manufactured by a company that offers outstanding customer service. It has a limited one-year warranty and offers a money back guarantee for 90 days.
The level of comfort it brings makes proper positioning so much possible. It helps harness your inner power to allow your body's energy to move freely in all parts of the body thereby giving you that relaxing and renewed feeling after meditating.
Maintaining the right positioning helps relax your mind. It also allows your body energy to flow smoothly. Let this product keep you fixed in a comfortable state so your body, soul and mind can truly relax.
This provides enough firmness to give users an assurance that they can just sit for several minutes or an hour without the need to suffer from a butt or back pain afterwards.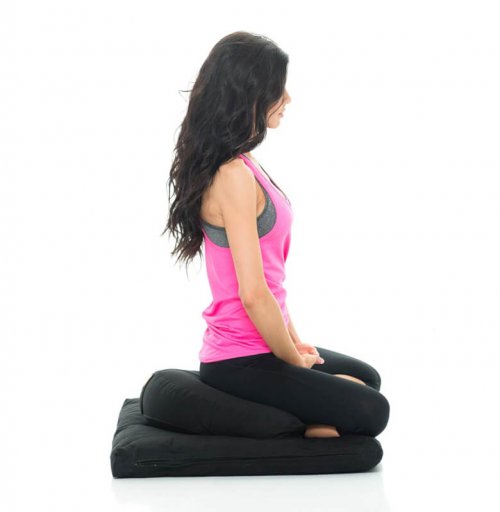 Its half-moon shape encourages better posture especially when doing meditation for a longer period. It allows your hips to be raised above your feet level to allow proper blood flow.
Read more
Weight, Shape and Dimensions
This weighs approximately 16 pounds, Zafu Cushion Dimensions are 22"x16"x4", Mat dimensions are 31"x27"x4". The mat has a width of 33x33 which translates to more space and added comfort to protect users from pain or stress in their joints, tailbone and spine.
Materials
It has buckwheat and natural cotton for its filling and the cover is also made from all-natural cotton.
Color
This item comes in seven different colors namely - red, black, white, blue, gray, purple and orange.
Maintenance
This product can be hand or machine washed.
Other Features
Its buckwheat filling easily conforms to the pressure of your body even when sitting on it for a prolonged period.
Its cover is produced from sustainable agriculture farmers, its cotton is hand-spun and the cover is colored when the use of environment friendly dyes and hand-stitched.
You'd love this product soon after you opened its box. It gives out that nice lemongrass and lavender scent. Its crescent shape encourages proper foot placement so you won't have to experience those cramps, pins and needles after sitting on a meditative position for a prolonged period.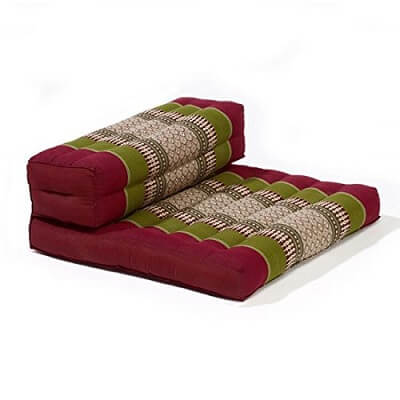 This product will make staying and changing positions such a breeze. You can also fold back the rectangular-shaped pillow if you want a flat surface to sit or lie on. Its rectangular pillow provides support and comfort to your lower back. Your ankles and knees will also less likely to hurt even during prolonged meditation position.
Read more
Weight, Shape and Dimensions
This is rectangular-shaped, weighs 4.8 pounds, and 20x24x4 inches in dimension.
Materials
Its filling is made from one hundred percent kapok and organic cotton fabric.
Color
Brown, Blue, Multi Red, Black, Green,
Other Features:
This meditation cushion can be used both for outdoor and indoor use. It has a firm cushion which provides great support. The materials used are also deemed hypoallergenic. It also comes with a folding bolster that is built-in and are easily adjustable.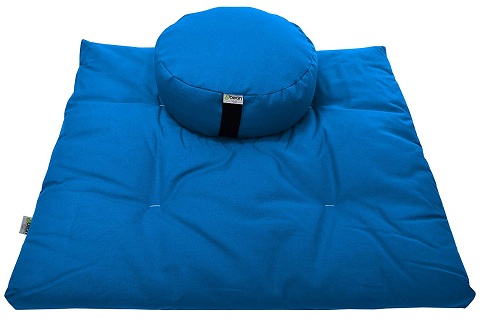 The product is well-constructed and may seem a bit overstuffed so that users can add more or remove some of it whenever they feel the need to.
Read more
Weight, Shape and Dimensions
14" Round or 18" XLarge Oval shape, mat is either 3 inches or 4.5 inches thick
Materials
The stuffing consists of organic buckwheat hulls and the cover is made from organic cotton.
Color
It comes in more than 40 colors.
Maintenance
The fillings of this round pillow can be removed for easy cleaning. You only have to unzip its cover so you can remove or refill its content. You can machine wash its cover.
Other Features
The good thing about it being overstuffed is that when its filling wears out later, you will still have extra amount of buckwheat for refilling. This product is also hand-made in Chicago, USA.
This item provides a seating height that is enough to support an individual's spine and hip alignment when in meditation position. It also feels comfortable to the ankles, knees, lower back and hips.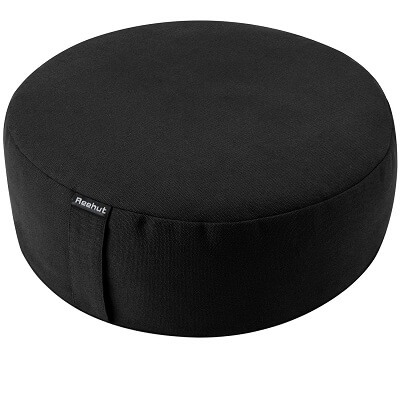 This item is suitable for all meditation posture types. It helps keep you in a comfortable proper posture.
Read more
Weight, Shape and Dimensions
Round-shaped, Weighs 4 pounds, 18" x 13" x 6"
The cushion comes in three sizes 16"diameter × 4.5"tall,13"diameter × 4.5"tall, 12"diameter × 4.5"tall
Materials
The cover is made from organic cotton and the stuffing consists of buckwheat.
Color
This pillow is available in five colors - black, dark grey, green and purple.
Maintenance
This meditation cushion is machine-washable.
Other Features
The organic buckwheat hulls stuffing are sealed inside a pouch so you can easily insert or remove them, when you need to wash its cover. It provides great support for the spine while reducing stress on your joints.
You can use the product not only for meditation or yoga sessions. But, you can also use it for morning stretching or advanced yoga poses. It has good quality zipper.

7

. Brentwood Home Crystal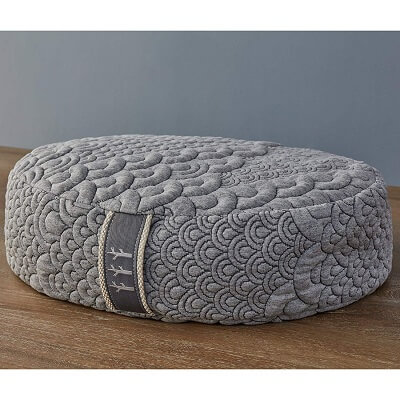 Its attractive design can definitely compliment any home decor. The comfort it brings can be attributed to the fact that the product is designed by Angela Kukhahn, who is a certified Yoga instructor from the USA.
Read more
Weight, Shape and Dimensions
Weighs 6.77 Lbs. Round-shaped
Materials
This product has natural buckwheat hulls filling. It has soft-stretch-knitted cover. This pillow is manufactured without heavy metals, flame retardants, phthalates or formaldehyde. Its cover is made from bamboo-derived rayon.
Color
Light grey
Maintenance
The outer cover can be removed for easy washing. However, avoid putting the cover into a dryer.
Other Features
Its height allows the delicate curves of your spine to fall into place to prevent aches and pains even when meditating for extended periods.
Its buckwheat hulls stuffing produces a firm base that still works to adjust to your level of comfort. It also has a durable carrying handle for added comfort when transporting. The inner liner is made from organic cotton that's GOTS certified. This product is suitable for meditators and yogis regardless of their skill level.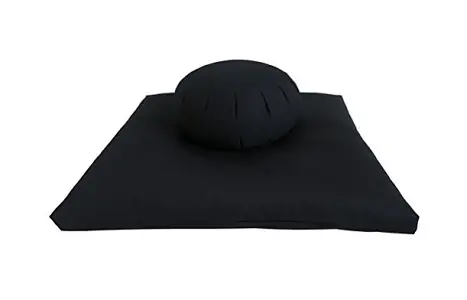 The product is large enough even for a person who is 6 inches tall. He will have plenty of space for his long legs so he won't have to worry about feeling uncomfortable while meditating.
Read more
Weight, Shape and Dimensions
Zafu is round-shaped, weighs 7 pounds and 14-inch in diameter, height is 7 inches
Its zabuton is 30" in length; width is 28" to fit people as tall as 5'10".
Materials
The cover is made of cotton twill fabric. The zafu stuffing consists of buckwheat hulls. Its zabuton is stuffed with kapok.
Color
This item comes in more than ten different colors.
Maintenance
You can remove its cover for easier washing.
Other Features
You can take out some of its stuffing to adjust the size of its pillow according to what is most comfortable for you. It has a carrying handle so you can easily grab it when you need to.
The amount of filling as well as its height allows one to feel more stable and grounded at the same time.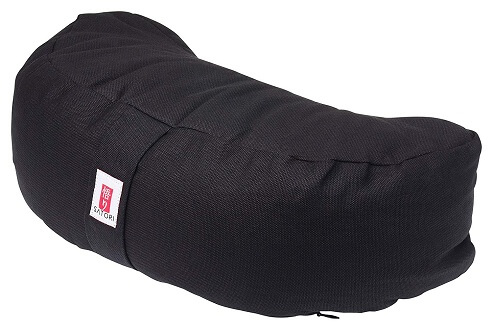 This cushion proves to be very beneficial especially for people still learning the full and half lotus positions. You won't have to worry about experiencing discomfort when performing advanced meditation and yoga poses because this product will help you do it with much ease.
Read more
Weight, Shape and Dimensions
Crescent-shaped, 14" x 7" x 4", weighs 2 pounds
Materials
The cover is made using pure cotton, filling consists of buckwheat.
Color
This product comes in four different colors such as navy blue, green, black and red.
Maintenance
Its outer cover has a durable zipper for easier removal and washing. Its inner cover also has a zipper so you can easily adjust the amount of filling base on what's comfortable for you.
The best thing about buckwheat filling is that it never gets flat and sad looking like cotton filling does. This way, you can be assured of comfort even after using the product for a longer period of time. Plus, it also does not hold heat.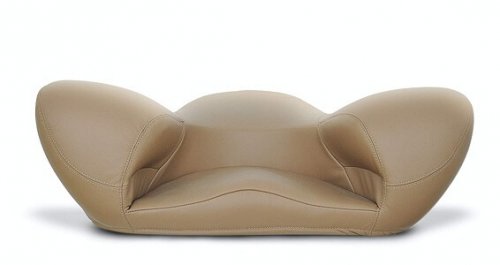 This product is ergonomically designed to help make it easier for you to achieve a perfect posture without compromising your comfort.
Read more
Dimensions
Weighs 2 pounds, dimensions are 32 x 27 x 12 inches
Materials
This product is available in leather, vegan leather and fabric. This item is manufactured with internal metallic skeleton and neoprene foam.
Color
This product is available in more than five different colors.
Maintenance
The leather and vegan leather versions are not difficult to clean. You only have to wipe it clean and voila! You've got clean cushioned seat for meditation.
Other Features:
Its seat provides outstanding support for your ischium, lower back, feet, knees and instep. The overall design reduces stress and hip tension. Its ergonomics enables your body to raise your hips and make a comfortable angle forward so that your body will be able to sit up straight. With this cushion, your legs can be folded underneath without feeling the pressure from your body's weight.
Unlike any other cushions, this one does not get warm or hot in the butt even after using it for hours. Its cushions have the capability to retract immediately to its default form.

Subscribe to our Newsletter