The Best Yoga Pants
In a Hurry? Editors choice: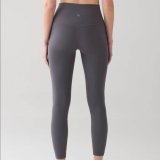 Test Winner: Lululemon Align Pant

Technically,
yoga
can be done wearing almost anything, as long as you can move freely. Heck, you can do a full Bikram session in the nude if you wish. Yoga began thousands of years ago in India, and it is part of an entire holistic health system there. However, it seems that since it has made its way across land and ocean to North America, this meditative activity has truly taken off in quantum leaps. Along with its vast popularity in the western world, it also has inspired numerous clothing lines that make yoga specific pants for you to look great in and move with complete ease throughout your practice. When you begin looking for a pair of yoga pants, you will most certainly be astonished by the incredible and colorful selection on the market. We have listed the best yoga pants on the market today below.
Standout Picks
Criteria Used for Evaluation
Materials
Like any other bit of gear, the material they are made of suggests their quality. It is the same way with yoga pants. When it comes to yoga pants' materials, the choice is limited and most brands are using the same types of materials but in different percentages. For this reason, besides looking for the material type, you should also see the percentage it is present inside.
Cotton
Cotton is a natural material that is usually avoided in sports apparel production. The reason for this is because it is a highly absorbing material. Even though it feels very soft and nice to the skin, it is soaking the sweat from the surface of your skin and the elimination part is happening extremely slow. However, as mentioned before, there are some cases where you can use this type of material and feel comfortable.
Synthetic materials
Synthetic materials are mostly being used in the production process of these particular products. However, there are many synthetic choices as well and each and every one of them are creating their own features and comfort level. The ones that are most commonly used are spandex, often used in small percentages, polyester as the main material and nylon as the main material combined with the spandex. Lycra is another type which is being used. However, that is also spandex from slightly lower quality. There is also a Supplex material which is basically nylon material with better breathability properties.
What is common for all synthetic materials is that they have excellent moisture wicking properties, and they are retaining their shape even after years of usage. However, they are not as pleasant to the skin as the naturals materials and if they are not anti-odor treated, they could create an unpleasant smell when combined with sweat.
Fit
The length of your pants is very important and it is the first feature you need to start with when looking for the best pair for you. For your yoga practice, you can choose wearing shorts, especially for the summer periods when the heat is taking over. However, for those of you who are not comfortable with the shorts length, capris are a great length as well. They are covering your thighs and this is something that will make you more comfortable if you are a shy person. However, when the temperatures drop, they are not at all useful.
The full-length yoga pants or the leggings will allow you to wear them when it is colder outside and you will also be able to go on walks with them and even go around town with them. This is why we believe they are the perfect choice for yoga and we highly recommend them.
Features
When you're getting ready to pick out your pants for your yoga classes, you need to remember that you want to focus on pants that are very specific to your sport. You don't want to buy pants that are not meant for yoga, because that won't offer a lot of help or assistance when you start exercising, and in fact, can ever throw you off.
Remember, with yoga you'll need to consider the types of movements you plan to do, so you know you'll need your pants to be flexible. Also, you want to make sure you get a pair of pants that offers plenty of breathability for extra comfort. If you sweat a lot when you do yoga and don't want to leave behind embarrassing sweat marks in embarrassing places, then you'll want to consider the breathability factor. Thinking about breathability is probably even more important if you are considering hot yoga, because there is a good chance you will sweat a lot, and you want to make sure your pants not only stay dry so it is easier for you to work out as well as more comfortable, you won't have to worry about odd little sweat marks.
Our Top Picks for the Best Yoga Pants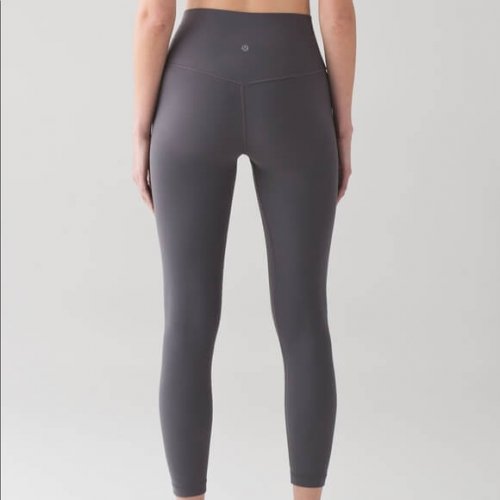 Many of you out there may wonder why Lululemon attire is so expensive. And while there is most definitely a lot of profit received by this company, they do make fantastic yoga wear that is extremely durable. Often, a single pair of Lululemon pants will outlast a few sets of less expensive (less quality) pants, so the splurge may very well be worth it for you. These Lululemon Align yoga pants are no exception when it comes to a durable pair of pants. They are full length and lightweight with maximum comfort and minimize distractions.
Read more
Materials
These pants are made from Nulu 81% Nylon, 19% Lycra elastane and it is very soft and stretchy. However, even with the stretch, they still remain nicely in place during your yoga session. Nulu is a fabric created by Lululemon, and it is breathable, flexible, and extremely sweat wicking. They ensure that your body will not hold sweat against your skin, but rather, the moisture is moved outwards. LYCRA fibers move with you and stay in great shape while you are stretching or in a yoga class.
Fit
These pants are very comfortable, but you will want to make sure you get the right size. If you get a pair that are slightly too small, the stretch in them is not enough to feel totally at ease. Lululemon's sizing ranges in numbers. These pants come in 2-12 pant sizes and have longer inseam than the original.
Features
These pants feature a hidden pocket in the waistband that is perfect for stashing keys or a bit of cash. The Luon material of these pants is breathable and sweat-wicking. When you buy a pair of Lululemon pants, the great thing is that you know you have a pair of pants that will literally last years. However, if for any reason, you find that your pants do not stand up to the test of time, this company is very open to fixing, mending, or possibly working on an exchange with you. Every case is different, but the customer service tends to be awesome. This pair of pants has a high rise that covers your core and the smooth under top does not dig into you or slide into your skin so you can keep comfortable while wearing them.

2

. Baleaf High Waist Yoga Pants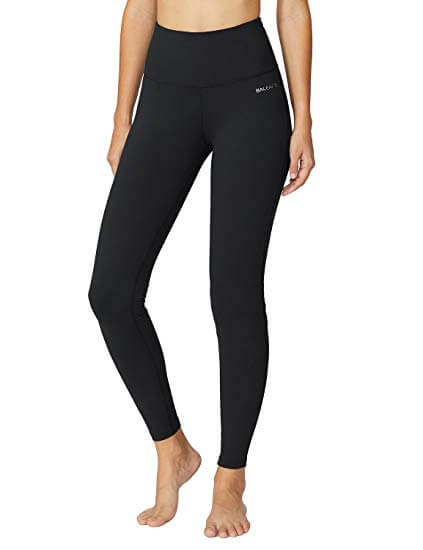 If you're looking for a high-quality pair of yoga pants that gives you everything you need and performs well all-around, then you'll love the Baleaf High Waist Yoga Pants. These yoga pants come designed with flexibility for yoga, but also offer a lot of breathability and comfort. They aren't extremely stylish and have a traditional appearance, but they aren't see through and they do well with durability. They are a great pair of pants for doing traditional yoga.
Read more
Materials
Baleaf High Waist Yoga Pants are comprised of a couple of different materials. The combination is Solid: 87% Nylon/13% Spandex, Charcoal: 50% Cotton/36% Polyester/14% Spandex, Space Dye:90% Polyester/10% Spandex. So, you get the flexibility you need alongside a lot of comforts. The fit on these pants is designed to be comfortable, but these pants also do compress to help prevent fatigue and soreness. While compression is good when you are working out, these won't be the type of pants you want to wear when you relax, because they do fit small. This pair of yoga pants are made from moister-chicking, breathable and stretchy fabric that provides you with complete coverage.
Fit
These pants offer a lot of flexibility, and you won't ever feel like your movements are restricted when you wear these pants. You'll be able to bend, stretch, and move around easily, never feeling like you can't do a move because of your pants. Also, the fabric is made just for these stretches, which is a nice bonus. The waistband works well with your movement, and the fabric in the pants doesn't really get stiff or bulky as you are trying to move.
Features
When considering the properties built into these yoga pants, we have to examine their breathability. Those of you who do yoga often know it can make you build up a sweat, and if you know you perspire a lot when you work out, then you'll want pants that are designed for breathability. Some other great features that these pants come with include a gusseted crotch for greater freedom of movement and a flatlock seams reduce chafing and helps increase your comfort.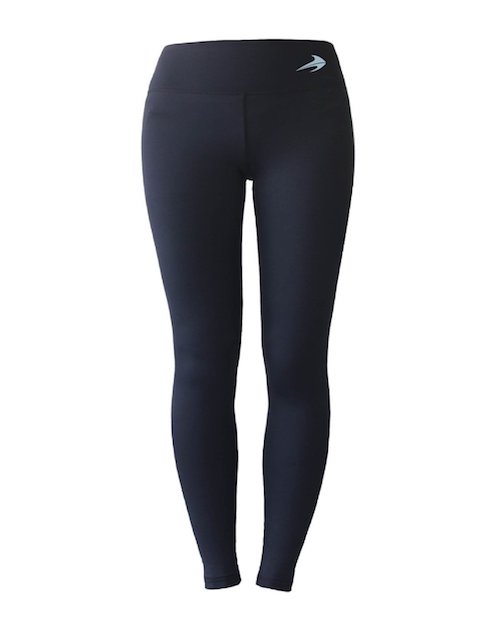 These CompressionZ leggings are perfect for your next yoga practice. They are supporting your lower body and they are providing the user with a sense of stability. These are ideal for those of you who don't like wearing compression shorts. Although they have the same purpose, they are the obvious choice for yoga enthusiasts who are self-aware and like wearing longer clothing.
Read more
Materials
The material they are made of is 73% polyester which provides them with their moisture wicking properties and 27% spandex which is responsible for their compression properties. This particular percentage blend combination is providing its properties and comfort. The thickness of the material, however, is thick enough so that you exercise in them and feel comfortable while doing so. They are also thin enough and tight enough so that you can wear them under your pants.
Fit
As far as compression goes, it all depends on your construction. Even though some compression pants are specific to the waist, knee or hip, these pair has an even compression. This means that they are equally compressing your whole lower body. However, if you happen to have a small tummy, keep in mind that they will be extra compressive to that part. If you don't like this feature, you might want to look through our other suggestions.
Features
These pants are suitable for yoga beginners as well as professionals who have intensive physical activities. They will also improve your performance and they play a small role in preventing injuries. They do so by improving the blood circulation in your lower body. Thanks to their compression properties, if you had a hard and exhausting session, your muscle soreness will be reduced, as well as the feeling of stiffness afterward. This makes them suitable for during the training as well as afterward.

4

. Alo Goddess Ribbed Legging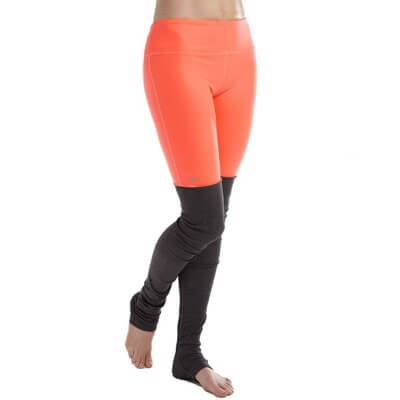 Alo Goddess's Ribbed Leggings are designed to have a striking appearance and bring back the old memories of legwarmers in a much more fashionable way. You also get compression built into these pants from the upper fabric on them, which helps to compress both your rear and your thighs. You'll like the compression because not only does it provide a lift, but it helps boost blood circulation while preventing muscle soreness and fatigue. Also, the way these pants are designed, the lower parts of the legs feature a lot of flexibility so that you won't have to worry about your freedom of movement getting restricted.
Read more
Materials
These Alo Goddess Ribbed Leggings are comprised out of a combination of materials, which include 87% nylon and 13% spandex, which is on the top of the pants. At the bottom of the pants, you get 90% nylon and 10% spandex. Also, the material in these pants isn't as breathable as we'd like them to be. The real problem with breathability is in the upper fabric area, where you do get compression and lift, so that area of the pants is thicker and doesn't breathe well.
Fit
One other thing we don't like about the design of these pants again has to do with the upper area of the pants. That part of the pants feels a bit stiff and doesn't offer the range of movement you'd typically want to see with your yoga pants. It can make it difficult to bend over because the waistband area does tend to bunch up based on the way it is designed.
Features
Even after all this talk about the upper area in these pants, when you put them on, they are very comfortable. In fact, they are so comfortable, it's difficult to want to remove them. The upper area of these pants does help with support and doesn't totally cut off your air flow. Also, the lower leg area has a lot of flexibility and breathability. Some people might not like the way the heel area of these pants fits since it means you have to pull the bottom area of the pants up, and not everybody wants to deal with extra fabric when doing yoga.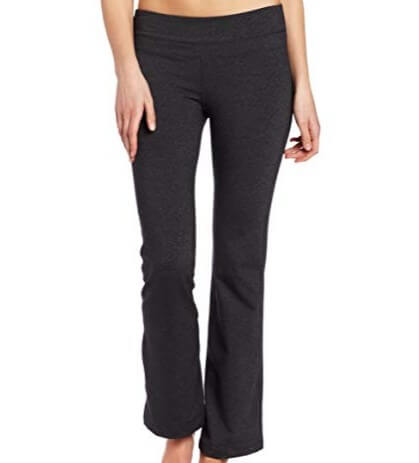 Prana's Audrey Pants are a traditional favorite for many yoga lovers and work great for your yoga work out. They've been a popular choice on the market for some time, and that's because they have a good design. Prana's Audrey Pants feature a lightweight fabric that is made to give a lot of breathabilities. So, you won't need to worry about sweating too much or experiencing too much perspiration when you work out. The previous design of these pants used to compress better, however, and that's one design change feature that's a bit disappointing. They are good for daily errands as well as yoga. However, we do miss their compressibility and comfort in their old design.
Read more
Materials
Prana's Audrey pants are comprised out of what they call "Chakara" fabric. Chakara fabric is comprised of 88% nylon and 12% Lycra spandex. That means these pants are designed well for both breathability and flexibility and offer a design that won't restrict your movement as you move. Also, these pants offer a lot of extra support in their design, like a gusseted crotch. While these pants are now much more breathable, since the Chakara fabric helps with that due to its lightweight design, the fabric also helps to push the moisture out and away from your skin.
Fit
These pants come in a variety of solid colors and sizes and also feature short, regular, and tall inseams depending on how tall you are. These pants used to feel far more comfortable in their previous design than they do now, which is a bit of a disappointment. We do like the light material and breathability since both of those features are great items to have when you are doing hot yoga, but the big reason why these pants don't offer the comfort they used to before is because the new design lacks compression, where the previous version of these pants had that.
Features
These pants bring you a lot of freedom of movement for your yoga workouts and have a great design for flexibility. They are lightweight and have a nice waistband built into them. The waistband doesn't feature much material, and it also won't bunch up on you as you are moving. You won't have to worry about these pants interfering with your forward bends. What we do miss is the compression that these pants used to offer in the waist area, and now the new design no longer does that.

6

. Degree by Reflex Power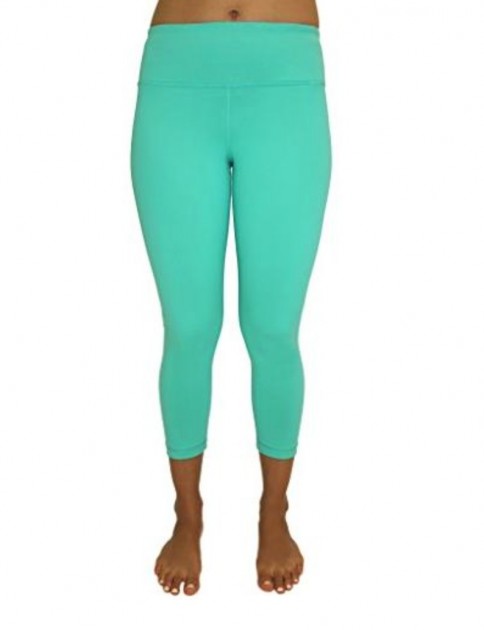 Reflex Power's 90 Degree pants are made to have a simple design and are offered at an affordable price. So, if you are shopping on a budget, these are great pants to consider. You'll wind up with a decent pair of yoga pants that can still fit your needs even if you are short on cash since these pants are still very breathable and flexible.
Read more
Materials
These pants are comprised out of 87% nylon and 13% spandex. So, you get a lot of flexibility, comfort, and breathability in their design. The pants also have an internal key pocket. The waist on these pants is designed to be large, and the crotch is gusseted. One nice thing about these pants is that they come in a wide variety of sizes and colors, so you should be able to find both the right color and the right fit for you.
Fit
These pants have an average fit, but there could be bit more comfort designed into these pants. The lack of compression affects the way these pants fit, and if there was some form of compression in these pants, they'd be a lot better. Also, the pants typically fit loose and that can be annoying if you feel your pants hitting your ankles on the bottom. One nice thing about the design of these pants is that there aren't many seams so the material won't rub or chafe.
Features
These 90 Degree leggings give you a lot of flexibility so you won't have to worry about these pants restricting you as you are working out. They stretch and move with you. One thing we don't like is that the waistband comes up a bit high, and that might be a problem for bending forward. But there is a plus side to this since that material can help hold your tummy area a bit since these pants lack compression. Regardless, there is a lot of flexibility so you'll get a wide range of movement when you wear these pants.

7

. Comfy Slimming Dry Fit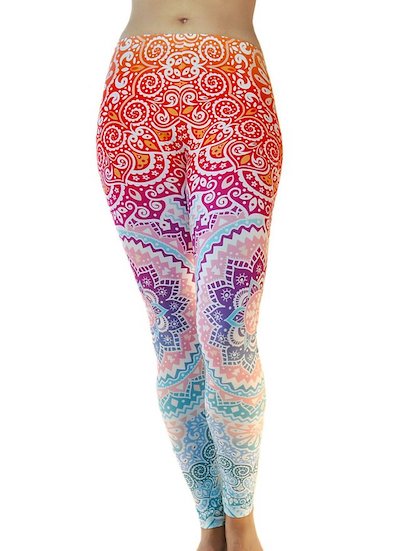 This pair of pants from the Comfy Yoga brand are made specifically for yoga enthusiasts. Even though most yoga pants are also used for other sports, or simply walks in the park, it would be a waste not to use these pants for yoga. They come in different prints and all the color variants available are yoga inspired.
Read more
Materials
As mentioned before, these pants are mostly made for yoga practice. They are designed to keep up with the heat from every pose. The material blend used for the production of these leggings is a combination of polyester and spandex which is used by most yoga producing brands since it is the most suitable synthetic blend combination for such purposes. Their material is quick to dry which means that you won't feel sweaty while wearing them.
Fit
The main downside to these pants is that they come in only one universal size. This means that they fit small to medium sized women best. However, if you decide to purchase them, make sure you check the waist dimensions which will let you know if they fit you or not. It is important to mention that if you are a larger size and still manage to fit in them, there is a great chance they will slip down every time you bend down which can be a bit irritating. The good news, however, is that if you are not satisfied with the size or how they fit you, the company offers a full refund.
Features
The material has moisture wicking properties that keep your lower body dry and comfortable. The moisture wicking system is important when you are practicing yoga because it is making you more comfortable in a certain pose and position and it is letting you focus on you instead of the environment.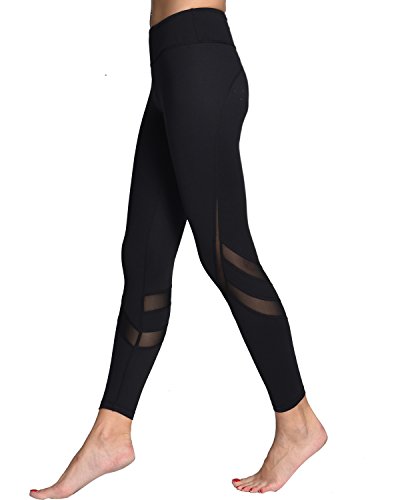 These Chikool yoga pants are our top choice for the spring-summer yoga collection. They have an excellent design which is matching the features they have to offer. They even have a cooling patch area in order to make you even more comfortable in the summer.
Read more
Materials
The combination of materials which are being used in the production process is not unique but it is the most effective blend for yoga or gym clothing. With 87% nylon in its composition, they are quite tight and slipping is not an option. In fact, not even one user has had slipping complaints and the nylon compression properties are responsible for the good rating of these pants.
Fit
These pants are cozy to wear and you would definitely want to wear them all the time, instead of just for practice. They fit perfectly on your thighs and butt and they are not too short as well which means that they are also suitable for taller women. They also have a waist compression which could be too much for some people. For this reason, if you prefer them not to be too tight, make sure you get a few sizes up.
Features
The most important feature these leggings possess is their ability to wick moisture. These pants also have a hidden pocket on your left front side which is very convenient for small objects such as keys or money. It can even fit a credit card however, your phone is not an option. It is important to mention that even though these pants are tight, they are not compression pants.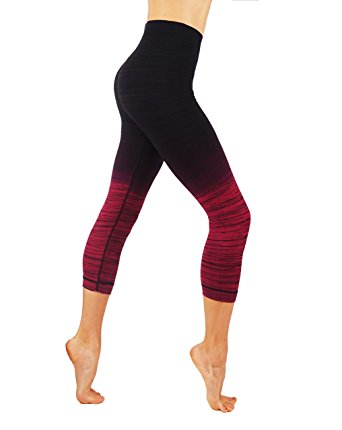 These Pro Fit shaping leggings are perfectly following the shape of your body although they are not too tight. They are darker towards the waist and lighter color going towards the feet. This makes them completely comfortable to wear to a yoga class as they are not see thru yoga pants. However, this feature might be changed if you order a smaller size and stretch them. They also don't have a waist compression which is nice for some people who don't like tightness in that area.
Read more
Materials/strong>
The material these are made of is a combination of nylon and spandex. However, there is only a small percentage of spandex so they are not too tight to your body. This makes them the ideal choice for people who are a bit self-conscious. The nylon part gives them a great moisture management system. However, it is not too breathable so you might feel sweaty if you are sweating excessively.
Fit
Since they don't have an elastic band on the waist, they are even more comfortable for wearing. However, this same feature is making them slip down at certain poses. nevertheless, this depends on the body structure of the person since they might fit perfectly if you have a little tummy. It is not recommended that you take a bigger size, particularly because of this reason. The tighter they are, the more comfortable they are.
Features
Even though they are not too stretchy, they provide you the freedom of movement in every direction and pose. Reviewers love the fact that they can wear these pants multiple times without them stretching out. What really stands out the most about this particular pair of pants is the color options. These pants are available in 40 different colors!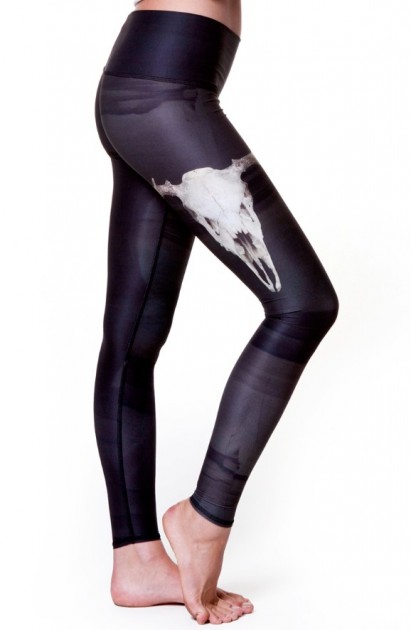 Teeki's Hot Pants are made for those yoga addicts who prefer hot yoga, but they also hold up well for regular yoga, especially if you are the type of person that winds up sweating a lot when doing yoga. These pants come designed to be both lightweight and breathable so you won't feel like you are overheating and drowning in your own perspiration as you do your workouts.
Read more
Materials
Teeki's Hot Pants are comprised out of 79% polyethylene terephthalate (also known as P.E.T., which makes water bottles and soda bottles), and 21% spandex. Their design gives them a lightweight and breathable feel, and they are also flexible so you will get the movement that you want when you are working out.
Fit
These pants offer an average fit. They don't fit as well as some of the other products we've provided on our list, and it can be difficult to tell what size you really need. Some people suggest to order a size up, but that isn't always the case with these pants.
Features
Teeki's Hot Pants have a wide range of flexibility, and they are designed to have a very stretchy fit and feel so that they don't restrict your movement no matter what you are trying to do in your yoga class. Now, while there is no compression at the waist, the waistband is designed to not restrict your movements when you do your forward bends.

Subscribe to our Newsletter