The Best Yoga Pants
In a
Hurry? Editors choice: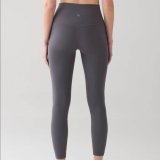 Test Winner: Lululemon Align Pant

Technically,
yoga
can be done wearing almost anything, as long as you can move freely. Heck, you can do a full Bikram session in the nude if you wish. Yoga began thousands of years ago in India, and it is part of an entire holistic health system there. However, it seems that since it has made its way across land and ocean to North America, this meditative activity has truly taken off in quantum leaps. Along with its vast popularity in the western world, it also has inspired numerous clothing lines that make yoga specific pants for you to look great in and move with complete ease throughout your practice. When you begin looking for a pair of yoga pants, you will most certainly be astonished by the incredible and colorful selection on the market. We have listed the best yoga pants on the market today below.
Standout Picks
Criteria Used for Evaluation
Materials
Like any other bit of gear, the material they are made of suggests their quality. It is the same way with yoga pants. When it comes to yoga pants' materials, the choice is limited and most brands are using the same types of materials but in different percentages. For this reason, besides looking for the material type, you should also see the percentage it is present inside.
Cotton
Cotton is a natural material that is usually avoided in sports apparel production. The reason for this is because it is a highly absorbing material. Even though it feels very soft and nice to the skin, it is soaking the sweat from the surface of your skin and the elimination part is happening extremely slow. However, as mentioned before, there are some cases where you can use this type of material and feel comfortable.
Synthetic materials
Synthetic materials are mostly being used in the production process of these particular products. However, there are many synthetic choices as well and each and every one of them are creating their own features and comfort level. The ones that are most commonly used are spandex, often used in small percentages, polyester as the main material and nylon as the main material combined with the spandex. Lycra is another type which is being used. However, that is also spandex from slightly lower quality. There is also a Supplex material which is basically nylon material with better breathability properties.
What is common for all synthetic materials is that they have excellent moisture wicking properties, and they are retaining their shape even after years of usage. However, they are not as pleasant to the skin as the naturals materials and if they are not anti-odor treated, they could create an unpleasant smell when combined with sweat.
Fit
The length of your pants is very important and it is the first feature you need to start with when looking for the best pair for you. For your yoga practice, you can choose wearing shorts, especially for the summer periods when the heat is taking over. However, for those of you who are not comfortable with the shorts length, capris are a great length as well. They are covering your thighs and this is something that will make you more comfortable if you are a shy person. However, when the temperatures drop, they are not at all useful.
The full-length yoga pants or the leggings will allow you to wear them when it is colder outside and you will also be able to go on walks with them and even go around town with them. This is why we believe they are the perfect choice for yoga and we highly recommend them.
Features
When you're getting ready to pick out your pants for your yoga classes, you need to remember that you want to focus on pants that are very specific to your sport. You don't want to buy pants that are not meant for yoga, because that won't offer a lot of help or assistance when you start exercising, and in fact, can ever throw you off.
Remember, with yoga you'll need to consider the types of movements you plan to do, so you know you'll need your pants to be flexible. Also, you want to make sure you get a pair of pants that offers plenty of breathability for extra comfort. If you sweat a lot when you do yoga and don't want to leave behind embarrassing sweat marks in embarrassing places, then you'll want to consider the breathability factor. Thinking about breathability is probably even more important if you are considering hot yoga, because there is a good chance you will sweat a lot, and you want to make sure your pants not only stay dry so it is easier for you to work out as well as more comfortable, you won't have to worry about odd little sweat marks.
Our Top Picks for the Best Yoga Pants
Subscribe to our Newsletter