Best Gore-Tex Pants – 2021 Edition
In a
Hurry? Editors choice: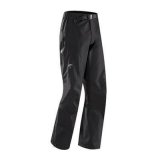 Test Winner: Arc'teryx Beta AR

If you are spending some time in the wilderness this summer, then most likely when it comes to your clothing you are going to want them to be durable,
waterproof and comfortable.
That is why the best material you can get any of your outdoor clothing in, is Gore-Tex.
The features that Gore-Tex bring to your clothing, is it will protect you from the rain and will also allow your clothing to breathe and allow for the musky air to exit and fresh air to come in. Now, one of the most important pieces of clothing that you will want to make sure is made from Gore-Tex material is your pants. Your pants are important as they are the piece of clothing that is most susceptible to getting wet, this way even if you find yourself in wet weather, you will be protected.
Standout Picks
Criteria Used for Evaluation
Fit
What these all have in common is the implementation of Gore-Tex technology.
As you already know, this is a type of fabric that is suitable to withstand all kinds of certain weather conditions. Thanks to its membrane and laminate, you can enjoy the material that is waterproof and windproof. With a Gore-Tex, licensed product, this is a guarantee. No matter the product, this is a certainty if it uses authentic Gore-Tex technology. However, past this, there are some design features that you can look for that enhance the durability and weather-resistant properties.
One of which is the reinforcement that is used in the high-wear areas (for example the instep and hems). It is a good sign when these areas have extra protection against abrasions and chafing. To do so, manufacturers can use different types of technology and fabric. Also, keep an eye out for enhancement in the waterproofness, which could include both the seams and zippers. To ensure that you are guaranteed to be kept dry, past the Gore-Tex fabric, it is a huge addition when the seams are fully-taped and when the zippers are resistant to water.
Comfort
The incredible fabric immediately delivers a breathable experience for your legs, but the comfort of these Gore-Tex pants goes way beyond that.
While there are several features that you can look out for, prioritize the pants that sport a gusseted crotch and articulated knees. If you were wondering why so many entries on this list implemented these two design features, you are about to find out why.
When you see "gusseted crotch" it is in reference to the way the crotch area of the pants is sewn. A gusset is simply a piece of denim that is shaped in the way of a diamond. When this is sewn into the crotch area of trousers, it eliminates several seams and ensures you have more maneuverability and a higher amount of comfort. Meanwhile, articulated the knees is a very similar technology.
If you closely look at a pair of pants that have articulated knees, you will notice that they closely resemble the shape of a human leg. As opposed to a straight fit, this allows you to have a greater range of movement. In times where you need to crouch or kneel down, you will immediately see the difference.
Features
It is possible that you are sitting there asking yourself how a pair of trousers could have convenient features.
Normally, you are right to think so but Gore-Tex pants are special. There are actually quite a lot of features to look out for that will deliver convenience to you. Some may even be a deal breaker in certain circumstances. For example, some will come equipped with full side zippers that give you an easy way to put them on/off with boots on. Or, with laminated powered cuffs that will easily fit over your boot to keep out any snow.
Of course, convenience does not have to be in-depth or complicated, either. Features as simple as having an elastic waistband with a drawcord for adjustability and having a standard fit to accommodate underneath clothing can play a major role in the decision process. Basically, if you come across a feature while searching through these types of products and you find yourself saying "Man, that would be convenient", you know it is a worthwhile addition.
Value
Speaking of user-preference, this personifies that with flying colors.
With any type of apparel that exists in the world, the seller options will always come into play. For Gore-Tex pants, it comes down to size and color. These are the primary options you will have at your disposal and one is optional and the other is mandatory. To explain, choosing between colors is all about your style. If the colors provided do not satisfy you, then it may force you to go in a different direction. However, if you wanted to, you could still invest in a pair where you were not in love with the color and get some use out of them.
But, the same thing can't be said in terms of size. This is critically important as though some will have an elastic waistband, you still need a general size to adapt for you. For instance, if you are a heavier individual who wears XL clothing, pants that stop at large may not work for you. The same goes for extra-small folks.
Top 10 Pairs of Gore-Tex Pants
Subscribe to our Newsletter