Best Snowshoe Boots
In a
Hurry? Editors choice: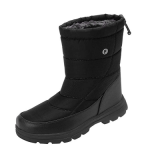 Test Winner: EQUICK

Getting out there on the trails this winter to enjoy the beautiful scenery can be incredibly miserable with cold feet and lack of snowshoe boots. If your footwear isn't designed for those plummeting temperatures of ice and slush and
snow
, your feet aren't going to be really happy with you a the end of the day. Investing in a great pair of snowshoe boots will make your feet feel like they're on a tropical island as you go about your winter wonderland adventures. Ensuring that you select something that is incredibly insulated, has a thick sole that really separates your feet from the cold ground, and a soft, waterproof lining is the key to keeping your feet warm this winter. Check out our top picks of the best snowshoe boots below.
Standout Picks
Criteria Used for Evaluation
Style
When it comes to footwear, it's hard not to take style into consideration.
While function is always going to be the most important feature that we consider, we feel that there is no reason that we cannot have the best of both worlds. To achieve this footwear utopia where style meets function, we tried to select designs that gave users the choice in the color combinations. For the most part, companies stuck to the basic neutral tones such as black and brown, but we discovered a few brands that strayed from the conventional and offered color selections such as burgundy and green. Plus, not all readers are planning to scale any mountains this winter, so we also wanted to select a few casual designs that would offer users some of the functionality of some of the more utilitarian designs, but were made to look like a casual high top.
Outsole
For cold climates, this is going to be the most important factor to consider.
Many users feel that lining and insulation are going to be the key to keeping their feet warm in the winter, but they would be wrong. The ground (not the air) is what makes your feet cold in the wintertime because it is always in constant contact. If you want to keep your feet warm, you are going to want to create a good deal of distance between your feet and ground, and you can achieve this with a thick rubber outsole. From what we found, the average outsole thickness runs at about 1.25 inches- which is considered to be the ideal thickness. Thinner options will leave your feet a little cold, and thicker options will keep your feet incredibly warm, but they can often be incredibly heavy. Finding the right outsole is a matter of finding the right balance. If it becomes too thick, it means that you are also going to lose a lot of range of motion, and it is going to feel like you are wearing bricks on your feet. While this might be great to keep your toes toasty, it means that you are going to become fatigued much faster when walking for long distances.
Upper
While the soles of each design are very important, creating a warm and watertight seal is another part of the equation.
We made sure to select designs that used high-quality materials for the upper part of the design to ensure that no moisture was able to penetrate. To achieve this, we looked at the types of materials used. We liked options that used any type of leather- whether it was synthetic or genuine. Leather creates a great moisture seal that users can feel confident about. However, it is also imported to conder how that material is stitched together. You may have the most waterproof material in the world, but if it has faulty stitching, it means that water is going to find its way in. We kept a lookout for designs that had very tight stitching or utilized double stitching in the construction of their upper. The lining was another important feature that we looked at. Ideally, you want a layer of nylon between your exterior material and your lining. We liked designs that either used a fleece-like lining or those that opted for a faux fur.
Terrain
Where you can take these was something else that we considered.
For wintertime adventures, we wanted to make sure that we selected styles that we're able to be worn just about anywhere- from ice fishing to winter trekking. To achieve this, we took a look at not only the treads for each design but also the material that it was made from. Designs that boasted an anti-skid or anti-slip rubber material has a texture that was a little tackier than typical rubber soles. While this isn't going to save you completely from potentially slipping on ice, it is going to reduce the risk significantly. It does this by creating a lot of friction between the treads and the ground, and it is going to be able to stick to any friction that exists in the ice. While it might not save you completely from slipping on icy surfaces, it will reduce the risk of those banana peel types of falls.
Value
Lastly, we want to save you a little bit of money when we can.
The cost of these products is a little tricky because there is a wide distance between the most affordable option and the more affordable brands. From what we could gather, the big difference between the two options was durability. While the more affordable options might keep your feet nice and warm, users found that with extended use, seams would begin to fray, or rubber sole would begin to crack. If you opt for one of the more affordable options like the ones found on our list, they will do their job at keeping your feet warm for the duration of the season. However, you might find that if you try and wear then for an additional season, your socks might become a little soggy. We wanted to make sure that we included brands that were affordable to many users and would still keep their feet warm, but we also wanted to include some of the higher-end designs from some of the big names to offer options that could be worn season after season without losing any strength.
Subscribe to our Newsletter