Best Hand Warmers – 2021
In a
Hurry? Editors choice: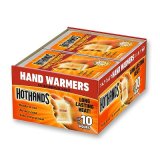 Test Winner: Hothands

Having cold hands can make your entire body feel chilly and can massively affect your mood. Whether you are working outside in the cold or are enjoying some outdoor sports activities, you must keep your hands warm. Buying yourself a good quality hand warmer will keep your hands protected from the cold. However, when it comes to picking hand warmers, there are so many to choose from.

Some only last for one use, whereas others are reusable. They also vary quite a bit in price and style. So, to help you through the buying process, we have put together this article to help you choose the best hand warmers for you. Having selected 11 of the best hand warmers available, we hope you find one you like!   
 
Standout Picks
Criteria Used for Evaluation
Ease of Use
How easily a hand warmer can be activated is important if you will be using it far from civilization.
For example, although rechargeable warmers may be the most convenient in the city, if it runs out of juice in the backcountry it suddenly becomes dead weight. Air activated warmers are the simplest to get started, and although they become trash after one use, their light weight means that they are easy to pack out of any wildness adventure.
Within the reusable hand warmer market, fuel powered warmers are the easiest and most lightweight option for activation in the backcountry. Ones that utilize liquid fuel do require you to bring more lighter fluid if you want to be able to continue using it once it has run dry.
In this section, we also noted if the hand warmer is re-usable or not. Usually, you can tell by looking at them, but with some of the more innovative products on our list, such as the charcoal sticks, it's not always clear. The primary reason to use a single-use hand warmer is that these products tend to be lighter, malleable, and very small. This makes them easy to fit into small areas in your clothing such as the inside of gloves and boots. This is ideal for aerobic activities like skiing or running. There are downsides to this style of hand warmer though. They are very wasteful, and although the individual warmers often only cost a dollar or two, they become expensive when used in bulk.
While buying a reusable hand warmer will be more expensive up front, if you purchase a quality product it will last you for years to come. This means saving money over the long haul. Reusable warmers do tend to be larger and bulkier than the single-use variety, but this can be nice if you are using it for a more sedentary activity. Whichever type of hand warmer you choose is more a matter of preference than superiority.
Effectiveness
Possibly the most important factor to consider when buying a hand warmer is how long the heat will last.
How Long the Heat Lasts
On average, most warmers will stay warm for 5-7 hours. Some last much longer than that, while others may only last for an hour or two. Hand warmers that use fuel tend to stay warm for the longest periods of time. For the rest of the styles, how long you can expect a hand warmer to stay warm varies from product to product. Think about how many hours you will need to be using your hand warmer for and do your research carefully before purchasing a product.
How Hot It Gets
Hand warmers heat up to varying degrees. The lowest temperature that a hand warmer should be able to maintain to produce the desired warming effects is 100°F; however, many get much hotter than this, reaching temperatures of 115°F to 120°F.
Fuel powered warmers tend to be the hottest, while rechargeable warmers often come with multiple settings so you can be specific about how much heat is released. The heat output of other types of warmers depends on the specific product that you purchase.
Size
Another thing to consider before purchasing a hand warmer is where you will keep it.
If you plan to keep it in a bag or large coat pocket, the size and weight of the hand warmer are not very important. However, if you would like to put it in small areas such as the inside of your gloves, boots, or a tight pocket, then you want to make sure you buy one that will be compact and barely noticeable.
Subscribe to our Newsletter