Best LED Flashlights
In a
Hurry? Editors choice: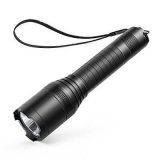 Test Winner: Anker Tactical

When the
power goes out
, or you are
camping and need to see during the night,
a great LED flashlight comes in handy. These little tools are one of the most important pieces of your gear as when the sun goes down, and you are in complete darkness the first thing you look to grab is the trusty flashlight. LED flashlights to provide you with brighter lights and use less power, which means these flashlights are your go to in a dark situation. They offer
superior battery life
and a long-lasting nature while consuming less power overall. Check out our top ten picks below so you won't be left in the dark.
Standout Picks
Criteria Used for Evaluation
Durability
There is a high chance that you could overlook this design element in your search for an elite LED flashlight. After all, in terms of design, you would think the only real aspects that would matter would be the design of the LED light, the power it provides, and its battery life. However, do not overlook the construction of the LED flashlight as a whole. In specific, this is where tactical models are nice as they are designed with military personnel in mind. As such, you will see excellent design elements such as the construction of durable aircraft-grade aluminum, gold-plated springs, a hard-anodized abrasive finish, and even having each component thread into the tube.
All these design features make up a flashlight that will hold up admirably to rough handling, drops, and overall accidents. But, even if it is not a tactical flashlight, you can also look for either water-resistance or waterproofness. In times where you need to utilize your LED flashlight in the downpouring rain, possessing this design feature will allow you to do so (depending on the standards of the water-resistance).
Potency
For many, this is where the bacon lies in flashlights. No doubt, the primary function of a flashlight of any kind is to provide you with a beam of light when you can't see otherwise. As such, it makes sense for this design feature to be so prominent. Firstly, what you need to ask yourself, is how powerful do you want the flashlight to be? Flashlights are measured in lumens, which is the SI derived unit of luminous flux. Basically, this is a measure of the total amount of visible light that is emitted by a specific source. So, the higher the lumens the brighter and more powerful the light is.
But, clearly, you do not want a LED flashlight that only has one output setting because there will be scenarios in which you do not need an excessively bright light (which can also affect the battery life). Thus, it is important to take note of the various lighting options that are provided. Some will have five, while others simply three. Extra options, such as a strobe light, may prove mute to you as you may never end up using it. But, you may want an option for high output, medium output, and low output.
Battery Life
This can be a real deal breaker for buyers and rightfully so. There are two huge factors that come into play when analyzing the battery of an LED flashlight. Firstly, is the design of the battery itself. Is the flashlight run off of lithium-ion batteries, traditional AA or AAA batteries, or a combination of both? The reason why this is important is that if it utilizes lithium-ion batteries, it can be recharged straight from flashlight itself. But, traditional AA or AAA batteries need to be replaced but the upside is you can tag along as many batteries as you wish.
Then, the battery life on one charge is also important. Clearly, this is going to vary based on the light output that is emitted. If you run the flashlight on its highest possible setting, it will die quicker than if you only used the max output when you needed it. Still, some battery lives can fluctuate by an insane amount and, depending on how frequently you intend to use the LED flashlight, you may not be interested in one with a lower amount.
Features
Flashlights are not designed as a party favor, they are not designed to be used for entertainment. Instead, they are meant to provide you with the convenience of intense light at your fingertips. But, they offer way more convenience after you scratch the surface. In short, here are some of the design features that you can look out for.
Sometimes, you need to have the power of light while also possessing both of your hands. Thus, an integrated way of hanging the LED flashlight as a lamp or standing it up on its own will come in handy. Also, the ability to switch from a spotlight to a floodlight can pay dividends to you. At times, you will require an intense beam of light and other times you will see the need for a wider range of illumination. But, this could also be as simple as an implemented design feature such as an indicator light when your battery needs to be replaced.
Subscribe to our Newsletter