Best LED Flashlights
last updated:
Feb 10, 2020
When the power goes out, or you are camping and need to see during the night, a great LED flashlight comes in handy. These little tools are one of the most important pieces of your gear as when the sun goes down, and you are in complete darkness the first thing you look to grab is the trusty flashlight. LED flashlights to provide you with brighter lights and use less power, which means these flashlights are your go to in a dark situation. They offer superior battery life and a long-lasting nature while consuming less power overall. Check out our top ten picks below so you won't be left in the dark.
In a Hurry? The test winner after 11 hrs of research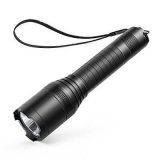 Anker Tactical
Why is it better?
A wrist strap, USB cable, guide and 18-month warranty come included
It can spot objects up to 1000 meters away
Has a long-lasting life of 50,000 hours
In a
Hurry? Editors choice: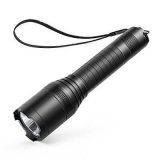 Test Winner: Anker Tactical

13
Researched Sources
13k
Reviews Considered
11
Hours Researching
13
Products Evaluated
Durability
Potency
Battery Life
Features
By Default
Criteria Used for Evaluation


Durability
There is a high chance that you could overlook this design element in your search for an elite LED flashlight. After all, in terms of design, you would think the only real aspects that would matter would be the design of the LED light, the power it provides, and its battery life. However, do not overlook the construction of the LED flashlight as a whole. In specific, this is where tactical models are nice as they are designed with military personnel in mind. As such, you will see excellent design elements such as the construction of durable aircraft-grade aluminum, gold-plated springs, a hard-anodized abrasive finish, and even having each component thread into the tube.
All these design features make up a flashlight that will hold up admirably to rough handling, drops, and overall accidents. But, even if it is not a tactical flashlight, you can also look for either water-resistance or waterproofness. In times where you need to utilize your LED flashlight in the downpouring rain, possessing this design feature will allow you to do so (depending on the standards of the water-resistance).


Potency
For many, this is where the bacon lies in flashlights. No doubt, the primary function of a flashlight of any kind is to provide you with a beam of light when you can't see otherwise. As such, it makes sense for this design feature to be so prominent. Firstly, what you need to ask yourself, is how powerful do you want the flashlight to be? Flashlights are measured in lumens, which is the SI derived unit of luminous flux. Basically, this is a measure of the total amount of visible light that is emitted by a specific source. So, the higher the lumens the brighter and more powerful the light is.
But, clearly, you do not want a LED flashlight that only has one output setting because there will be scenarios in which you do not need an excessively bright light (which can also affect the battery life). Thus, it is important to take note of the various lighting options that are provided. Some will have five, while others simply three. Extra options, such as a strobe light, may prove mute to you as you may never end up using it. But, you may want an option for high output, medium output, and low output.


Battery Life
This can be a real deal breaker for buyers and rightfully so. There are two huge factors that come into play when analyzing the battery of an LED flashlight. Firstly, is the design of the battery itself. Is the flashlight run off of lithium-ion batteries, traditional AA or AAA batteries, or a combination of both? The reason why this is important is that if it utilizes lithium-ion batteries, it can be recharged straight from flashlight itself. But, traditional AA or AAA batteries need to be replaced but the upside is you can tag along as many batteries as you wish.
Then, the battery life on one charge is also important. Clearly, this is going to vary based on the light output that is emitted. If you run the flashlight on its highest possible setting, it will die quicker than if you only used the max output when you needed it. Still, some battery lives can fluctuate by an insane amount and, depending on how frequently you intend to use the LED flashlight, you may not be interested in one with a lower amount.


Features
Flashlights are not designed as a party favor, they are not designed to be used for entertainment. Instead, they are meant to provide you with the convenience of intense light at your fingertips. But, they offer way more convenience after you scratch the surface. In short, here are some of the design features that you can look out for.
Sometimes, you need to have the power of light while also possessing both of your hands. Thus, an integrated way of hanging the LED flashlight as a lamp or standing it up on its own will come in handy. Also, the ability to switch from a spotlight to a floodlight can pay dividends to you. At times, you will require an intense beam of light and other times you will see the need for a wider range of illumination. But, this could also be as simple as an implemented design feature such as an indicator light when your battery needs to be replaced.
Expert Interviews & Opinions
Most Important Criteria
(According to our experts opinion)
Experts Opinion
Editors Opinion
Users Opinion
By Default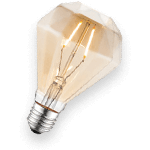 Try and Keep it Rechargeable
When looking to invest in a LED flashlight, try and find one that offers the ability to use AAA batteries but also has a rechargeable battery option as you want the option if you have no batteries on you, to charge your flashlight, so you can have some light if needed.
Other Factors to Consider


Advanced Features
In terms of seller options for LED flashlights, it can actually vary quite a bit but it still is important. For example, you may see differing options for the color design, power outputs, and lighting options, or even charging options. In general, outside of maybe the color choices, these options will affect the performance and design of the flashlight. For instance, a different charger could charge the flashlight quicker, a different model can offer a higher max output of lumens, and more lighting options can allow you to adapt to more scenarios.
Frequently Asked Questions
q:

What Do You Do If Your Batteries Leak and Damage the Flashlight?

a:

When a battery is left installed on a device for an extended period of time, they will begin to self-discharge and in more serious situations, leak. If this happens to you and the battery leakage affects the LED flashlight in any way, you may be out of lock from the manufacturer who is selling the flashlight. For example, Led Lenser, a manufacturer who made an appearance on this list, states on their FAQ page that their warranty does not cover damages from battery leakage.

So, you may be out of luck with the LED flashlight designer. However, as Led Lenser also states, many times the brand name of the battery will warrant their batteries and the devices that are being powered by them. In this case, they may reimburse you for both.
q:

Why Choose LED Flashlights in the First Place?

a:

Throughout this entire guide, you may have been wondering why LED flashlights are worth it in the first place. While it was addressed briefly in the introduction, it is worth a deeper look. There are several reasons to opt for an LED light, as opposed to an incandescent. For starters, they tend to have longer battery life and bulb life. As LED lights use battery power more efficiently than incandescent lights, they are able to maintain this power for a longer period of time without needing a charge.

But, this efficiency also lends itself to the shelf life of LED lights. The difference is astronomical as compared to incandescent lights and LED's can last at the utmost up to 50,000 hours of use. Lastly, they tend to be more durable and not as delicate as an incandescent bulb is made of glass and an LED light with plastic housing.
q:

How Should You Store Your LED Flashlight?

a:

You may not pay any mind to it, but you should be storing your LED flashlight, or any flashlight for that matter, in a specific location. As many manufacturers, including Energizer, have pointed out what you need to do is to store the LED flashlight in a dry and cool location; one in which is in a convenient and easy-to-reach location. The reason for this is one, so you can easily access it in an emergency situation and two, storing it in a hot and wet location can accelerate the defects in a flashlight. This could include battery leakage.

As such, avoid at all costs, storing the LED flashlight indirect access to the sun or underneath the car seat in your vehicle. It is not very difficult to do so; so, do not get lazy and find a go-to location that you can store your flashlight.
q:

Can You Use an LED Flashlight on a Bicycle?

a:

This is a fascinating question and one that could be of use to you. Even though you probably should install a headlight on your bicycle if you plan on riding in the darkness, a flashlight is not a bad alternative. What you could seemingly do with an LED flashlight is to secure it to the front of your bicycle, possibly with a zip tie, and utilize it as a headlight. However, if you do think that this is a good idea, you must understand that some of these LED flashlights can output extremely intense beams of light.

Clearly, you would not want to ride with 1000 lumens of light flashing ahead of you. No doubt, you will blind someone and compromise people's health. But, if you switched to the flood mode and the lowest possible lighting setting, you could really get away with this. Not only would you have enough light to see but you would not affect anyone else's vision.
q:

What is the Difference Between a Flashlight and a Lantern?

a:

Perhaps some may feel this is a question that is fairly obvious to differentiate. But, still, several people seem to ask this question so that makes it worth addressing. First off, no, lanterns and flashlights are not the same things and if you ever have any issues differentiating between the two of them, this is when you know it is a lantern.

Instead of being tube-shaped, a lantern has a handle and is primarily designed to stand up on its own. Also, it has a much larger head and reflector than any flashlight on the market has. Lastly, a lantern is typically powered by four D cell batteries and a LED flashlight should require nowhere near that amount or size of the battery. At the end of the day, they are not too hard to distinguish so do not worry too much about this.
q:

How Often Do You Need to Replace the Batteries?

a:

Unless the LED flashlight you invest in is run off of lithium-ion batteries and nothing else, you will need to replace your batteries when they run out of power. But, is this the only time you should change them? Here is the reality of the situation, as was stated earlier, batteries that are installed in devices for too long will begin to discharge. Alkaline batteries, in specific, tend to have a leaking issue and if you use them, you need to be aware of it.

Clearly, if you use your LED flashlight with any regulatory, you should replace your batteries when the light is dim and not as bright as it should be. But, if you simply use it once or twice a year, you should probably change them regardless of their charge as, again, aging batteries can lead to leaking batteries.
Subscribe to our Newsletter