Best LED Flashlights
In a Hurry? Editors choice: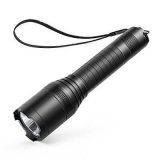 Test Winner: Anker Tactical

When the
power goes out
, or you are
camping and need to see during the night,
a great LED flashlight comes in handy. These little tools are one of the most important pieces of your gear as when the sun goes down, and you are in complete darkness the first thing you look to grab is the trusty flashlight. LED flashlights to provide you with brighter lights and use less power, which means these flashlights are your go to in a dark situation. They offer
superior battery life
and a long-lasting nature while consuming less power overall. Check out our top ten picks below so you won't be left in the dark.
Standout Picks
Criteria Used for Evaluation
Durability
There is a high chance that you could overlook this design element in your search for an elite LED flashlight. After all, in terms of design, you would think the only real aspects that would matter would be the design of the LED light, the power it provides, and its battery life. However, do not overlook the construction of the LED flashlight as a whole. In specific, this is where tactical models are nice as they are designed with military personnel in mind. As such, you will see excellent design elements such as the construction of durable aircraft-grade aluminum, gold-plated springs, a hard-anodized abrasive finish, and even having each component thread into the tube.
All these design features make up a flashlight that will hold up admirably to rough handling, drops, and overall accidents. But, even if it is not a tactical flashlight, you can also look for either water-resistance or waterproofness. In times where you need to utilize your LED flashlight in the downpouring rain, possessing this design feature will allow you to do so (depending on the standards of the water-resistance).
Potency
For many, this is where the bacon lies in flashlights. No doubt, the primary function of a flashlight of any kind is to provide you with a beam of light when you can't see otherwise. As such, it makes sense for this design feature to be so prominent. Firstly, what you need to ask yourself, is how powerful do you want the flashlight to be? Flashlights are measured in lumens, which is the SI derived unit of luminous flux. Basically, this is a measure of the total amount of visible light that is emitted by a specific source. So, the higher the lumens the brighter and more powerful the light is.
But, clearly, you do not want a LED flashlight that only has one output setting because there will be scenarios in which you do not need an excessively bright light (which can also affect the battery life). Thus, it is important to take note of the various lighting options that are provided. Some will have five, while others simply three. Extra options, such as a strobe light, may prove mute to you as you may never end up using it. But, you may want an option for high output, medium output, and low output.
Battery Life
This can be a real deal breaker for buyers and rightfully so. There are two huge factors that come into play when analyzing the battery of an LED flashlight. Firstly, is the design of the battery itself. Is the flashlight run off of lithium-ion batteries, traditional AA or AAA batteries, or a combination of both? The reason why this is important is that if it utilizes lithium-ion batteries, it can be recharged straight from flashlight itself. But, traditional AA or AAA batteries need to be replaced but the upside is you can tag along as many batteries as you wish.
Then, the battery life on one charge is also important. Clearly, this is going to vary based on the light output that is emitted. If you run the flashlight on its highest possible setting, it will die quicker than if you only used the max output when you needed it. Still, some battery lives can fluctuate by an insane amount and, depending on how frequently you intend to use the LED flashlight, you may not be interested in one with a lower amount.
Features
Flashlights are not designed as a party favor, they are not designed to be used for entertainment. Instead, they are meant to provide you with the convenience of intense light at your fingertips. But, they offer way more convenience after you scratch the surface. In short, here are some of the design features that you can look out for.
Sometimes, you need to have the power of light while also possessing both of your hands. Thus, an integrated way of hanging the LED flashlight as a lamp or standing it up on its own will come in handy. Also, the ability to switch from a spotlight to a floodlight can pay dividends to you. At times, you will require an intense beam of light and other times you will see the need for a wider range of illumination. But, this could also be as simple as an implemented design feature such as an indicator light when your battery needs to be replaced.
Top Ten LED Flashlights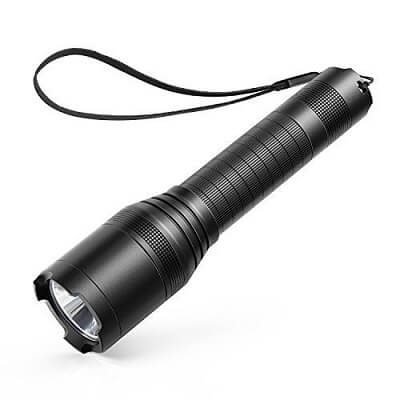 Speaking of a LED flashlight with impeccable makeup and design, how about the tactical flashlight that Anker has designed? With 900 lumens of power, an incredible distance of scope, and a durable aluminum body, this is a brilliant runner-up choice.
Read more
Overall Construction
In conjunction with the aluminum body is an overall design that is resistant to shocks, making it ideal for rough handling. In addition, it is water-resistant to IP65 standards making it suitable for use in heavy downpours.
Lighting Options
With programmable options for high, medium, low, strobe, and SOS, there are several light settings that will adapt to every scenario you have. When the need is, the maximum output is 900 lumens.
The Battery
If you were to utilize this LED flashlight on its highest power setting without stopping, it would last up to six hours. Clearly, this will increase when you use lower output settings. Then, in around six hours, it will be fully recharged.
Convenient Features
Sometimes, you need to be able to use your hands in conjunction with needing light. As such, this is designed to stand up as an emergency lamp to adapt to this situation.
Seller Options
Once again, there are no further seller options for you to choose from but, the lone model will suffice for everyone.
Overall
Even though this did not land at the top of the heap, you can make the argument that it is better than any other LED flashlight on the face of the earth. Perhaps if the beam of the light would have been narrower, it could have.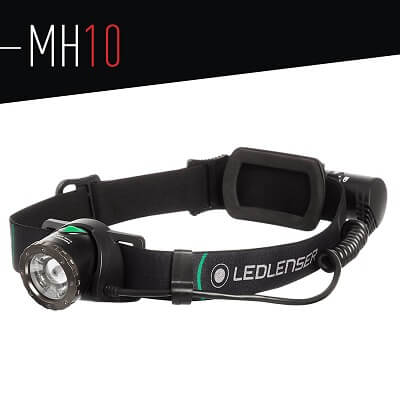 Not all flashlights are merely ones that are designed to be utilized while in the palm of your hand. For some, a headlamp LED flashlight would better suit your needs. If so, consider the version from LED Lenser as it is designed to last for hours on end.
Read more
Overall Construction
Thanks to the convenient design of the light itself, it evenly disperses the light to make your work easier. But, while it is labeled as being a lightweight strap that fits over your head, several users have claimed otherwise stating it is both heavy and bulky.
Lighting Options
With the use of only one hand, you can switch between the three different lighting modes that are present. When maxed, it will output 600 lumens.
The Battery
On a single charge, while it does vary depending on the light output you are using, this battery can last up to 120 hours. In addition, when it needs to be revamped, it can charge to 80 percent in four quick hours.
Convenient Features
No matter the frequency in which you use the light, the innovative design manages to control the temperature and prevent it from heating up. Thus, the lamp will stay cool no matter how long it is powered.
Seller Options
There are three different versions of this headlamp that are sold. This version is the MH10 but there is also the MH2 and MH6. Overall, the other two are cheaper but the MH10 is more powerful.
Overall
This headlamp LED flashlight can be perfect for car mechanics who spend countless time under the hood or even those who are walking on a trail in the pitch darkness. Plus, thanks to the five-year warranty, you are covered for a while.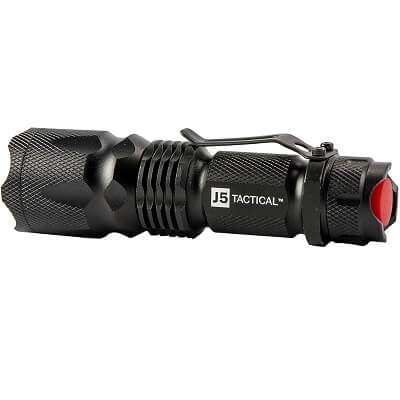 For what this LED flashlight is designed to be, it is fantastic. It has an overall rugged design built for destruction, a solid battery life, and several lighting settings to adapt to different scenarios.
Read more
Overall Construction
Overall, as this is a tactical flashlight, it is heavy-duty and rugged enough to handle most accidental occurrences.
Lighting Options
While the max output is only 300 lumens, you can select from either a high, low or strobe setting for light output. Plus, the light can reach up to 600 feet.
The Battery
The V1-Pro Flashlight will either run off of an AA battery or a rechargeable battery. If you were to use this normally, the battery would probably last for a couple of weeks.
Convenient Features
If you need to, you can zoom out for wider illumination. Of course, you can also zoom in when you need an intense beam of light.
Seller Options
Past the standard black design, there are some other visually appealing color designs including blue aqua, desert camo, hunter orange, and forest camo.
Overall
If you are looking for the brightest LED flashlight in the world, stay away from this one. With only a max output of 300 lumens, you will be disappointed if this is what you are after. But, for what it is, the V1-Pro is designed admirably.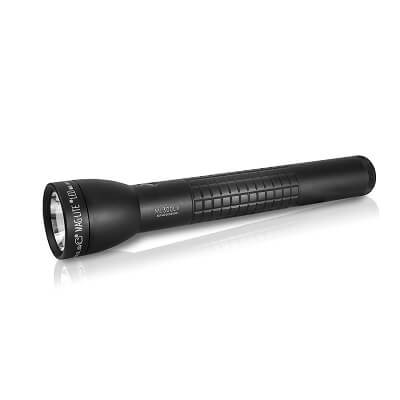 While Maglite has two different variations of their LED flashlight, this is addressing the superior 3-D Cell model. What stands out most is the excellent battery life, even when you output the highest capacity of light possible.
Read more
Overall Construction
Thanks in large part to the aggressive knurled design, matte finish, weather-resistant seals, and anodized aluminum body, you are delivered a LED flashlight that will hold up to rough handling.
Lighting Options
Compared to others, the lighting options are a little limited. You can select either full power, low power or an eco-mode. For lumens, this goes from 625 to 143 to 58, respectively.
The Battery
While the lighting options may be limited, the battery life certainly is not. In eco mode, you could really get up to 117 hours of battery life. But, even at the highest setting, you could get up to 16 hours.
Convenient Features
Both the Quick Clik push button and Quick Focus system are as convenient as it gets. The former is used as an electronic switch for choosing a functional mode and the latter, allows you to adjust from spot to flood.
Seller Options
There are different color options that you can select from (black, green, tan and gray) and also from either a 2-D Cell or 3-D Cell version. The version documented here is the 3-D Cell version and the 2-D cell version is sort of a watered-down version of the same model.
Overall
While this is limited in certain areas and not the most powerful LED flashlight out there, from an overall lens, it is superb and well worth an investment.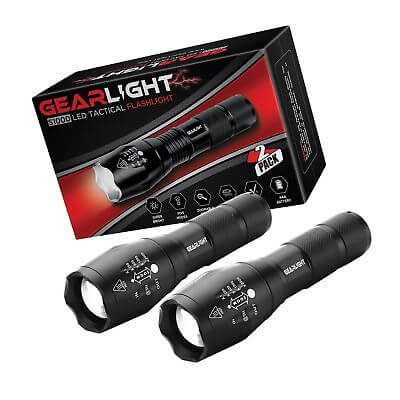 This flashlight from Gearlight is a quality unit that is built for durability and utility. Not only do you get two flashlights, but they are compact quality units that will provide you with the power to see in the dark no matter where you are.
Read more
Overall Construction
These LED flashlights are built with durability in mind and are built so toughly they can withstand a 10-foot drop and be dropped in water. You can even get this flashlight extremely cold or run over it and it will still work. If you think that this LED flashlight will be in some rough environments, then this just may be the flashlight for you.
Lighting Options
This LED flashlight has 5 settings which are low, medium, high, strobe, and SOS. These modes will all come in handy and are better than this flashlight simply having one lighting feature.
The Battery
This flashlight is powered by 3 AAA batteries or one 18650 rechargeable battery. The battery does not come with this flashlight and has to be bought separately.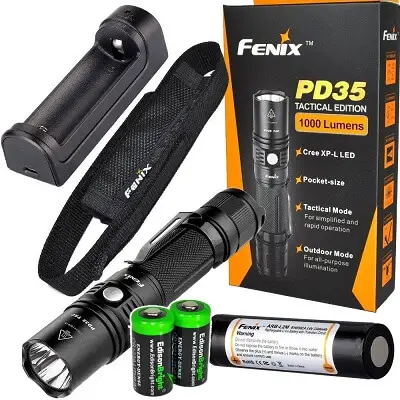 Sporting a max Lumen output of 1000, a battery life of up to 140 hours (on the lowest setting) and convenient features galore, the Fenix Tactical Flashlight reigns supreme over the competition as the best-LED flashlight on the market.
Read more
Overall Construction
Being a tactical flashlight, you can bet this is built with military standards in mind. Indeed, with its durable aircraft-grade aluminum, hard-anodized anti-abrasive finish, and slip-resistant design it is as rugged as it gets.
Lighting Options
There are five different lighting options that you can select from, with the Turbo setting producing the max output of 1000 lumens. Past this, there is also a strobe setting if you are looking for regular flashes of light.
The Battery
Depending on the light setting that you choose, you can either extend or decrease the battery life. If you run this on the lowest setting, which outputs eight lumens of light, it could realistically last up to 140 hours.
Convenient Features
When your battery needs replaced, an indicator light will come on informing you that it is time. Also, the integrated software memorizes your last output mode so when you turn it on again, it automatically sets it to it.
Seller Options
There are no further seller options available; just the lone PD35 Flashlight.
Overall
If you are looking for a highly advanced and superbly constructed LED flashlight, it simply does not get better than this. Simply put, even if you are not going to use it for tactical reasons, this is the LED flashlight to own.

7

. Lighting Ever Tactical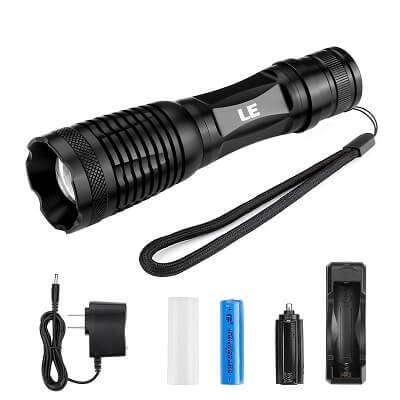 A little bit of false advertisement may be at play here but if you can forgive that, you can begin to admire the design at work here. While the manufacturer states that it outputs a maximum of 1000 lumens, users have brought this total into question.
Read more
Overall Construction
Not only is it fully waterproof, making it suitable for use in raging downpours, it is also skid-proof. What this means is that you are delivered with an uncompromisable grip and feel.
Lighting Options
Lighting Ever claims that the max output is 1000 lumens. However, this may be a bit inflated as reviewers have stated it is nowhere near this total. Still, it provides an optimal amount of light with five different output settings.
The Battery
Both a rechargeable lithium-ion battery and a 4.2V charger are included with this LED flashlight. For a single charge, you could get up to 12 hours of battery life (on the lowest setting).
Convenient Features
When the time persists, you are given the ability to adjust the beam focus, choosing from a wide or wider flood adjustment.
Seller Options
If you do not feel the need to have five separate output settings, there is an additional design option for simply a three-mode LED flashlight (if you desire).
Overall
When you see a manufacturer blatantly exaggerate a design feature of their product, it can begin to develop doubts in your mind. But, everything else that is stated is as true and good as it gets.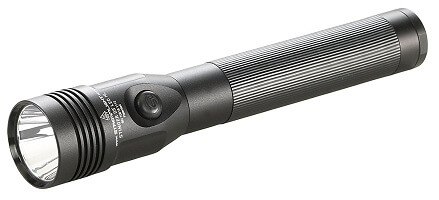 So far, most of this list has been targeting tactical flashlights but those are not the only type of excellent LED flashlights. Take rechargeable flashlights for example and the Stinger from Streamlight as it offers superior craftsmanship with superb technology.
Read more
Overall Construction
Not only is the lens crafted from an unbreakable polycarbonate lens, with a scratch-resistant coating, but the overall body is made up of a 6000 series aircraft-grade aluminum.
Lighting Options
You can independently switch between three different lighting modes and when you need it, the max setting will provide you with 640 lumens of light that can access around 300 meters.
The Battery
Admittedly, the battery life is not the greatest and somewhat disappointing. The best you will get is up to six hours on a single charge, even at the lowest setting. Recharging it, also, can take a bit longer depending on what you charge it with.
Convenient Features
Besides the main switch for the lighting settings, there is an additional multi-function tail cap switch that has been tested vigorously.
Seller Options
The model you choose is not optional but you can select from different chargers. You can either choose a 120-volt AC charger, a 12-volt DC charger or simply opt against buying one altogether.
Overall
Improved battery life would have sprung this flashlight even higher but as it stands, it is still an excellent choice. Its high-quality construction, excellent power, and multiple lighting settings prove this.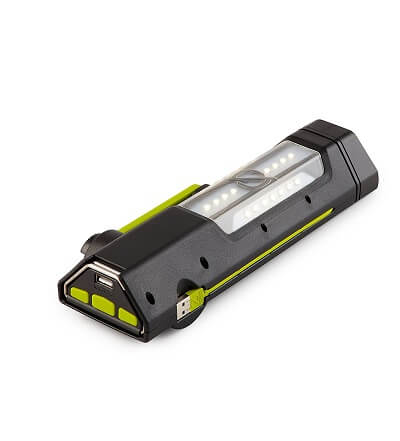 For pure innovation and creativity, this LED flashlight would take the top spot. It not only integrates a solar panel but also a hand-crank; both of which offer additional means of power and recharging capabilities.
Read more
Overall Construction
With a built-in solar panel and hand-crank, this is more than a traditional flashlight as there are other means of charging and power.
Lighting Options
You can choose between a bright mode and half-bright mode, and also between a floodlight, flashlight, or red emergency light. All in all, in total, you are delivered 250 lumens of light.
The Battery
The 4400mAh lithium-ion battery will last up to 48 hours, but it will vary based on the light output.
Convenient Features
Because there is a USB port on the side of this LED flashlight, you can charge your smartphone or other devices when it has power.
Seller Options
While there is only one seller option, you can choose a two-year or four-year protection plan in case of accidental damage or breaking.
Overall
The plethora of charging options is a nice touch, but the solar panel and hand-crank are not foolproof. But, they still give you a convenient means to charge when you do not have access otherwise.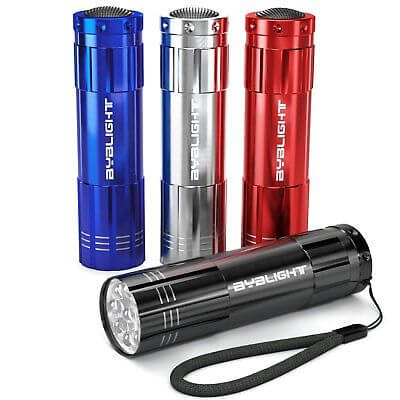 These flashlights brought to you by BYB are great if you are looking for a LED flashlight to bring with you camping or putting around the house in case an emergency arises and you need illumination. Not only does this LED flashlight come in a pack of four so you can store them in your camping supplies, at the office, in the house, pretty much anywhere you think a flashlight may come in handy, but it also is quite powerful and compact for easy transport.
Read more
Overall Construction
This LED flashlight is built compact and easy to transport, it is made from an aluminum body which means it is light but not as durable as are other flashlights on the list. But for the price and the fact that you get four of these flashlights makes this a great deal and product.
Lighting Options
This LED flashlight is pretty basic and has a solo lighting option. This lighting option will allow you to see and operate this as a traditional flashlight.
The Battery
To power this LED flashlight this unit takes 3 AAA batteries and will have a run time of 30 hours. It is a good idea to have a couple of spare batteries on hand if you plan on going on a camping trip or portage.
Seller Options
This flashlight comes in a four pack and includes a variety of color options. You will receive a blue, red, silver, and black flashlight.

Subscribe to our Newsletter