Best Pool Lights
In a Hurry? Editors choice: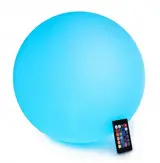 Test Winner: Loftek LED Light Ball

Buying the pool of your dreams is one thing, but buying desired lights is an entirely different beast. While, on the surface, it would appear that purchasing pool lights would not be too tricky, there is
more than meets the eye.
After all, first and foremost, several different types and styles will work in various manners. Additionally, you have to ensure that the lights you buy are compatible with the pool you have.
And, quite frankly, this is just scratching the surface. So, you may want to take a closer look at this guide to understand how to buy the best pool lights for your needs.
Standout Picks
Criteria Used for Evaluation
Effectiveness
There are many factors you need to keep in mind when assessing performance.
The most crucial function of pool lights is their ability to light up your pool effectively. As obvious as that sounds, it means that the size of your pool will play a significant role. Thus, not everyone will need the same level of performance and brightness, so you need to buy according to your needs.
Oh, speaking of brightness, this is best determined by assessing any model's lumen rating. Lumens themselves are a unit of measurement that is used to measure the total light output of any device. So, the more lumens a specific model can emit, the brighter it is going to appear.
Regarding how bright of a pool light you should look for, the best ones will be well beyond 1000 lumens (there are some on this list beyond 3000 and 5000 lumens). But, again, it does depend on the size of your pool and how much light you desire.
Of course, you also can't forget about the wattage. While watts do not equate to brightness, they do play a role in efficiency. This is why many people dislike incandescent pool bulbs as though they are bright; they also run on high wattages. Meanwhile, LEDs often run as low as 20 to 60 watts.
Compatibility
At the end of the day, you need to ensure that the lights you buy are compatible for you.
Without question, this section is of the utmost importance. After all, you need to buy pool lights that are going to be compatible with the current pool you have. Now, there are decorative lights on the market that will fit in any pool. However, for permanent lighting, you will want to get down to the specifics.
For starters, most models will either be designed to operate with 120 or 12 volts. If your house runs off of 120 volts, then you will need a transformer to convert this voltage to 12 if you plan on buying a light that runs off this voltage.
Moving on, if you want to go with light bulbs, you need to keep a few things in mind. For the record, a pool light bulb can be an excellent pool light replacement option for you. But, the model you pick needs to be a style that is compatible with what your pool accepts. The fitting also needs to fit, clearly, so do not overlook that.
Lastly, on the sidewalls of your pool, there are probably already preexisting fixtures. Well, you need to ensure that the lights you buy are compatible with whatever fixtures are installed.
Style
As you will find out, there are quite a few different styles for you to choose from.
There is a variety of different pool lights out there from in-ground pool lights to above ground models. And, they vary in multiple other areas too. To begin, you can either go with LED, incandescent, or halogen lights. And, they all have their advantages.
For incandescent lights, they are often incredibly bright. Then again, as noted earlier, they are also not very energy-efficient. As for halogen lights, they are still around and do not require too much power to operate. But, the bread and butter of this technology are LEDs.
In addition to the fact that LEDs can be highly component in the brightness department, they are incredibly long-lasting and extremely energy-efficient. It is no surprise to see why so many of the best pool lights implement LEDs.
Of course, you also have lights that come with cords and even those that are just bulbs. For the former, they are often offered anywhere from 30 to 150 feet (the length of the cable). Oh yeah, and there are also decorative light balls that you can go with as a bit of a fun choice.
Features
Do you want models that can change colors and such? If so, there are some available.
For the most part, this section is all about whether or not you want lights that offer you with control and adjustability. Some of you will merely be looking for basic and bland lighting, and there is nothing wrong with that. But, if you want to add a bit of flair to your pool, check some of these features out.
Some models will come equipped with multiple colors. Typically, via remote control, you can change the light to the color of your choosing. Adding on to this, some lights will even come equipped with special effects. Models such as this will often be able to deliver a light show as they quickly change between different colors.
Now, some sellers will allow you to program their lights via an included remote control. However, you may need to do so with a control box. If a remote is included, though, check its range. Though this is tolerable, some remotes will have dreadful wireless scales.
If you want, you can also look for pool lights that offer protection technologies. A great example of one is the overload protection technology. This can be nice in the instance the circuits are overloaded as it will protect the light from severe damage.
Durability
The longevity of any given model will come down to several factors.
No matter what you are in the market to buy, as a consumer, you will always naturally prioritize options that are going to last longer (generally speaking). Well, the same concept applies here, but there are also plenty of individual factors that you will need to take into the fold.
This is all starts with the type of bulbs that are implemented. These were discussed earlier, and if you were paying attention, you would know that LEDs rule in this area. Several of them are rated to last over 50,000 hours (which can easily be several years). Meanwhile, other types such as incandescent bulbs will not even come close to that lifespan.
What you also need to pay attention to are the exterior housing and materials. While you are not going to be toying around with the light or lights you buy, their dwellings should still be rock solid. Some of the most common materials you will see are stainless steel and plastic. Either way, ensure that the housing is durable and watertight.
Oh yeah, and some units will come with replaceable bulbs. This can be handy in the instance where you need to replace one or two of them. Then again, not all models will be designed in this manner. With these, you will need to replace the entire unit to fix any of the broken bulbs.
Our Top Picks for the Best Pool Lights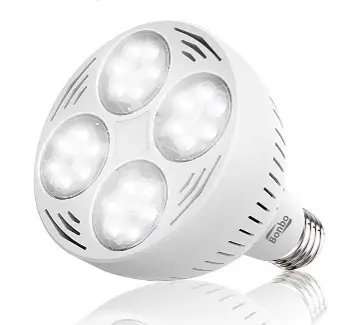 Due to the efficiency of an LED pool lights, you really can't go wrong with one. And, at 3800 lumens of brightness and with overload protection technology, this is one of the best ones out there.
Read more
Performance
In addition to the fact that this only consumes 50 watts of power, it can also emit 3800 lumens of brightness (as noted). Then again, a few buyers did think the light could have been even brighter.
Compatibility
There is a list of some of the compatible light housings associated with this pool light in its product description. In general, it is a pool light bulb that is ideal for several different types of pools.
Design Style
Indeed, this is simply a bulb that is designed to replace one of your preexisting ones. Now, for the record, it is not suitable for 120 volts and utilizes 12 volts, instead.
Features
First off, this is equipped with built-in heat overload protection technology. Additionally, the optical lens has been specially designed with a converging beam.
Longevity
The housing itself is durable but what makes this worthwhile are the LED bulbs. These are rated to last up to 60,000 hours, which is just remarkable.
Overall
From top to bottom, you will not find a better pool light on the market. Is that an audacious claim? You better believe it is but the quality of this model justifies it.

2

. Lampaous LED Pool Lights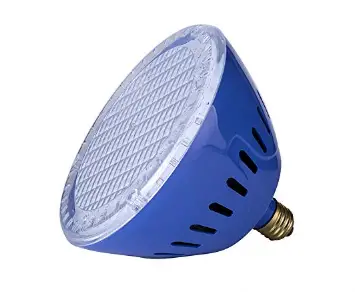 This is another option that is equipped with LED bulbs. But, as this is a bulb, you will need to ensure that it is compatible with the light fixtures that your current pool accepts.
Read more
Performance
For the most part, this emits a satisfying amount of pool light. It also only utilizes 35 watts of power, making it incredibly energy-efficient. Of course, the red color choice is quite weak.
Compatibility
This measures 170 millimeters in diameter and 140 millimeters in height. It is a bulb so you will need to ensure that the fixture on your pool is the correct size for it.
Design Style
As opposed to the previous light, this runs off of 120 volts and not 12 volts. Also, as just noted, this is a bulb.
Features
No remote control is required for this model, and you can switch between solid colors and a color show. Additionally, this has a built-in memory function to remember its last program.
Longevity
In addition to the fact that this utilizes long-lasting LEDs, it is also designed with a hollowed housing. Oh yeah, and the micro fan that is equipped is also going to last.
Overall
When you take everything into consideration (such as the build quality, performance, and functionality) it is easy to see why this model landed so high on this list.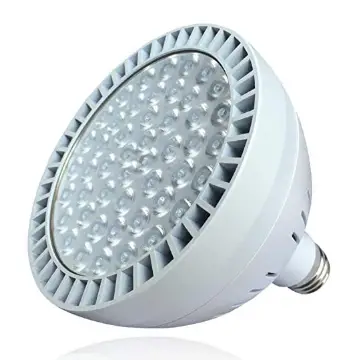 With over 5000 lumens of brightness, it is safe to say that this will light up most pools out there. Plus, this is specifically designed to replace the preexisting incandescent bulbs currently in your pool.
Read more
Performance
What is even more impressive than the fact that this can emit 5400 lumens of brightness is the fact that it only uses 60 watts of power. This can act as a grand replacement for your incandescent bulb.
Compatibility
This is a medium base and it will be compatible with light fixtures of the right size. Some examples of compatible fixtures are Pentair's Amerlite 784 Series and Hayward's Astrolite SP058 Series.
Design Style
All you will need to do is unscrew one of your bulbs in your pool to replace it with this one. The installation will be a breeze granted this bulb will actually fit in your pool.
Features
For the most part, this is pretty much devoid of many features. In fact, it can't operate with a dimmer, either.
Longevity
Even though some buyers have commented on performance issues, this model is equipped with long-lasting LED chips. The housing is also not a piece of junk so that is good.
Overall
The sheer performance, when this is working, of this light, makes it compelling. Though it is simple in its design, this pool light may be what several of you are looking for.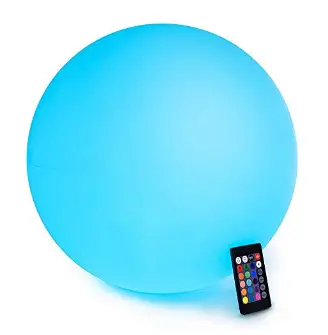 Now, talk about a different design? This is just a ball that illuminates in the water. While this is not a permanent lighting solution or anything like that, it is a fun choice.
Read more
Performance
Let's say that this is bright enough to be competent. But, one thing to note is it can be challenging to get this to remain in place. As such, you will need to buy a heavier weight.
Compatibility
As this is merely an LED light ball, there will be no compatibility issues here. Also, different sizes are available for you to choose from, which is a nice touch.
Design Style
Due to the vibrant and multicolored lighting, this is a joy to look at. Oh, and this is also completely free of certain toxic elements such as lead and mercury.
Features
This comes with a remote control that allows you to adjust its colors and lighting modes. There are several to choose from which can make things even more decorative.
Longevity
Now, this was engineered to be waterproof per IP65 standards. However, this is not the most waterproof rating, quite honestly. As such, you will not want to submerge this in the water thoroughly.
Overall
Is this more fun than it is practical? Probably but what is so wrong with that. Then again, do not expect this to be a permanent solution for your pool lighting needs.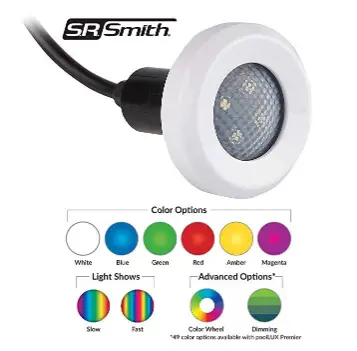 Even though some previous users have had performance issues with this pool light, the majority of buyers have had positive experiences with it.
Read more
Performance
What is impressive is this only uses five watts of power. Then again, as noted, performance issues have been documented by previous users.
Compatibility
To be clear, this will fit into 1.5-inch fittings. The body of the light is the threaded portion, and it is the portion that gets screwed into the compatible fitting.
Design Style
What is nice is you can choose between a variety of different lengths. From 30 to 150 feet, there are a few different options to choose from.
Features
Overall, there are six different colors, and two color shows that you can program. In total, this means there are 49 different color variations. Oh, and there are also four dimming controls.
Longevity
Alright, so the overall build quality of this model has been lauded. But, the LED bulbs (the ones that should last up to 50,000 hours) have been known not to last as long as they should.
Overall
There are many reasons to love pool light like this. It comes with several different lighting modes, is highly efficient and is built extremely well.

6

. Smartpool NL35 NiteLighter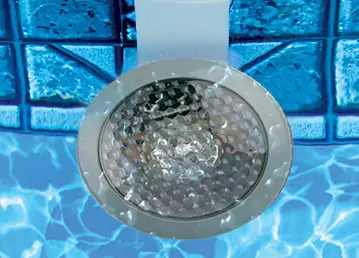 While some swimming pool lights are fancy in their design, this is not one of those instances. Instead, the NL35 NiteLighter is a watertight and ultra bright basic solution to your pool lighting needs.
Read more
Performance
If you are looking for a flood light, then you will not be satisfied with this light. It is more of a spotlight but, for the record, it does emit a bright beam of light.
Compatibility
This is only going to work for above ground pools that sport steel walls. The good news is, though, is no drilling is going to be required on your part.
Design Style
Including the plug and the transformer, this comes with an extra-long cord for enhanced convenience. Additionally, this cord has been tested to UL standards for safety.
Features
The attractive four-color design is excellent, and all but a power switch would have been even better. As such, you merely need to plug and unplug this to power it.
Longevity
In addition to the long-life halogen technology that is implemented, this is also equipped with a chemical-resistant lens.
Overall
As with most pool lights out there, this is going to be purely subjective regarding if you should buy it. For the right pool owners, it can be effective.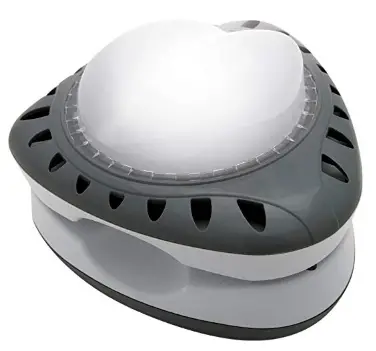 Now, this light is a little different than some of the other options on this list regarding the fact that it is not a bulb. But, it is only going to be worthwhile for above ground pools only.
Read more
Performance
What makes this work is its magnetic technology. Basically, this allows the light to operate at lower voltages without suffering its brightness. When it comes to performance, that is a lethal combination.
Compatibility
There are some things you need to know here. Firstly, this will not work with pools that have metal walls. Secondly, it can only be used for above ground pools.
Design Style
Unlike bulbs, this is actually equipped with a 23-foot power cord. Also, it sports a 12-volt transformer and a 120-volt plug.
Features
One of the best features of this design is the fact that it is designed to float in the instance it becomes separated from the pool (it attaches via a magnet).
Longevity
The good news is LEDs have been utilized. Yet, the bad news is that there have been previous buyers who have reported issues with longevity.
Overall
For the right pools, this unique light can be quite a blessing. It really is a brilliant concept. However, it is not going to work for everyone.

8

. P&LED Swimming Pool Lights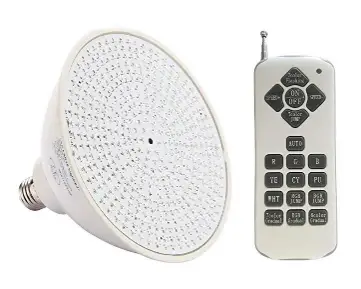 What is nice is this light bulb comes with a compatible controller. And, while its range leaves a lot to be desired, it is excellent for switching lighting modes and such.
Read more
Performance
As is noted in the product description, this can light up 25,000-gallon pools. At the same time, it only utilizes 35 watts, which is way less than incandescent lights.
Compatibility
Because this is a bulb, it needs to fit into your pool's fixtures. For the record, the correct diameter of this is 6.69 inches, and its height is 5.9 inches.
Design Style
A battery is not included with the remote, to mention. As for the light itself, it utilizes 120 volts and not 12 volts, so keep that in mind.
Features
The controller is excellent as it allows you to adjust individual settings and modes. But, for whatever reason, the range is merely dreadful. Several users have complained about it.
Longevity
Due to the simple fact that this is designed with LED bulbs, it is going to last longer.
Overall
If some of the features of this light bulb were designed better, it could have been even better. As is, though, it remains highly efficient, long-lasting, and bright.

9

. Battery-Operated Deco Balls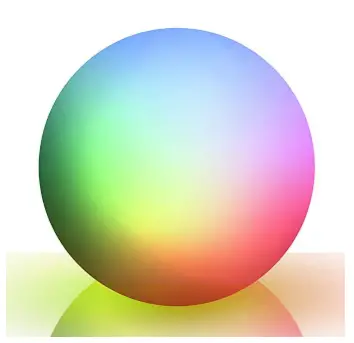 Alright, so these balls are not viable solutions if you are looking for permanent lighting for your pool. Instead, they are a beautiful decorative piece that can produce fun and colorful light.
Read more
Performance
These are just small little balls, and even though they do not emit a ton of light, collectively they can do a pretty good job.
Compatibility
These will even work for kiddie pools, quite frankly. They are tiny little balls that are ideal as decorative pieces.
Design Style
Each of the balls measures three inches in diameter and you are provided with 12 of them in total. Oh, and they are also battery-operated, to make that clear.
Features
Though these are simple, each ball comes with two buttons on the bottom. With these buttons, you can switch either between several steady colors or show off a color transition.
Longevity
Because these are made with plastic, you will not want to toy around with them too much. With that said, they do sport LED bulbs.
Overall
Yes, these rest on top of the water. So, you will swim with them if you buy them. This will not be what some of you are looking for, and that is understandable.

10

. Pentair Amerlite Pool Light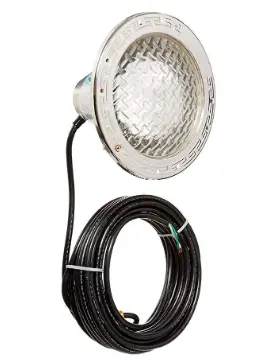 Right from the get-go, understand that this is an incandescent light. So, even though it shines incredibly bright, it consumes more power and is not as long-lasting as an LED light.
Read more
Performance
Because this runs off of 500 watts of power, it is not precisely energy-efficient. Still, it is incredibly bright, and that is why it is such a compelling choice.
Compatibility
This light is UL listed to be installed in Pentair pool products that are full in size.
Design Style
Underwater pool lights are quite popular, and this is an excellent example of why. As for the cord that comes with this, it measures 50 feet in length.
Features
For the most part, this is a pure light that is pretty much devoid of any extra features and such.
Longevity
The incandescent light bulb is not going to last nearly as long as an LED bulb would. In spite of this, though, the stainless steel shell and tempered glass lens of this light are fantastic.
Overall
The main drawback of this model is its use of an incandescent bulb. Then again, it sports an incredibly durable housing and is suitable as an underwater pool light.

Subscribe to our Newsletter