Best Outdoor Lighting
In a Hurry? Editors choice: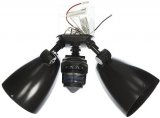 Test Winner: Rab Super Sensor

When you really stop and think about the market for
outdoor
lighting, you might be surprised by the variety. Not only can you choose
lamp posts, patio lights, string lights or floodlights, but there are also different types of power sources to consider. Whether they are powered by a traditional wall switch or gather energy from the sun, they can sometimes work in different manners. Only you can decide what will fit well in your backyard, front yard or other outdoor location - but in the guide below we have presented you with some of the best outdoor lighting fixtures available today. Take a look at our favorites and hopefully you will be inspired to illuminate your outdoor space.
Standout Picks
Criteria Used for Evaluation
Style
It is safe to assume that you have a specific type of lighting method in mind for your needs. There is a chance that none of the listed lights on this list will work for what you are thinking, as well. When you are searching for outdoor lighting, this is the number one question you must ask yourself before you begin. What exactly do you need and what type of light are you looking for? For example, are you simply looking to light up your patio during the night for elegance and to allow people to see? Or, do you want a motion detection light that will go off when someone gets close to your door? There are so many different types of lights on the market, such as floodlights, security lights, string lights, and patio lights, and not all of them will be what you are looking for. Also, pay attention to the lumen rating of the light/lights. This is the unit that is used to measure how much light a specific source can emit and obviously, the higher the number the brighter the light will be.
Durability
Under normal circumstances, you would want your lighting fixture or light source to be built with quality in mind. Yet, given that the lights you are looking for are intended to be used and installed outdoors, the issue of durability and longevity are enhanced. After all, indoor lights do not have to withstand the abuse of inclement weather. For starters, you want to ensure that the light is built with premium materials that will not break or disintegrate during windstorms. Whether this is with a powder-coated aluminum or a high-strength ABS shell, the build quality needs to be able to withstand a powerful punch.
Yet, perhaps even more important is the weather-resistance. All necessary components need to be sealed to be protected from rain and sometimes snow. Typically, an IP rating will be given out to a waterproof or water-resistant light. It will look something like IP64. Basically, the first number identifies how dustproof it is and the second number is used for liquids. The dust rating goes up to six and the water rating goes up to eight (with the higher the number indicating higher resistance).
Features
Whenever you are discussing a product that has anything to do with technology, which is most products in the world, you are going to need to assess the plethora of design features. However, to be honest, for outdoor lighting, you do not really need to be too picky with this section. It is not as if you are expecting an outdoor lighting source to have as many functions as a GPS unit or a dive computer. But, there are still some subtle features you can look out for.
For starters, how about if there are different lighting modes to work with? Some, not all, light sources will be designed with different output modes (much like a flashlight would) so you can tailor the brightness to what you need. Also, for solar-powered light sources, they may automatically turn on during nightfall and turn off at the dusk of dawn to save energy.
Power Source
This is where solar energy is going to shine for a bit. This section is not meant to debate whether solar lights are superior to other lights but a majority of the entries on this list are solar-powered. Guess what; there are several reasons for that. First off, with a solar-powered light source, you never have to worry about wires getting tangled up or chewed on by critters. Also, they will reduce your electricity bill because if you run outdoor lighting from your house's electricity, your bill will go up. With solar energy, there is no electricity being used.
Now, there is one major disadvantage to solar-powered lighting sources that no other power sources have. If the sun does not want to come out to play, your lights will not illuminate unless the battery still has power left. Even though some solar panels can charge on cloudy days, they will do so with much lower efficiency. If this is a worry, it is understandable if you want to stick with another power source.
Top 10 Picks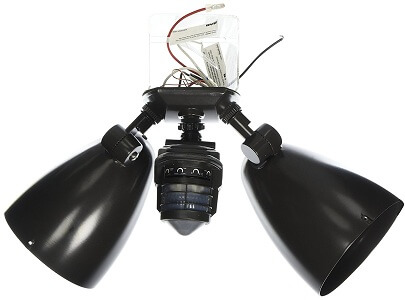 While a majority of the lighting sources on this list utilize solar energy, our top pick actually does not. Instead, it has built-in surge protection technology to prevent power surge damage and two powerful detectors that provide 360-degree motion detection.
Read more
Overall Design
There are two ultra-powerful detectors on this super-sensor that allow it to cover 360 degrees. Basically, the light is able to detect motion below it and to the sides of it thanks to its 360-degree design.
Build Quality
While the bell housing can be prone to scratches, the overall build quality of this super sensor is remarkable. If you are sick of buying cheap lights that never last, look no further.
Design Features
Up until dawn, the motion activation of this light is reverted to. But, you can control the sensitivity of this light from 30 percent to 100 percent. However, it will adjust automatically in hot and cold temperatures for consistent detection.
Power Sources
This is not run via solar energy and instead requires a traditional wall switch or power generator. What is nice, though, is in case of a power outage or surge, the built-in surge protection technology protects it from harm.
Simplicity
Right from the box, this comes assembled and basically, nothing is required on your part. In addition, it is pre-wired so all you need to decide is where you want it installed.
Overall
This is such a great choice for a wide number of applications. It can be used sufficiently as a floodlight, patio light, security light, etc. Probably the only aspect that would have made it better is if it were solar powered to eliminate the wires.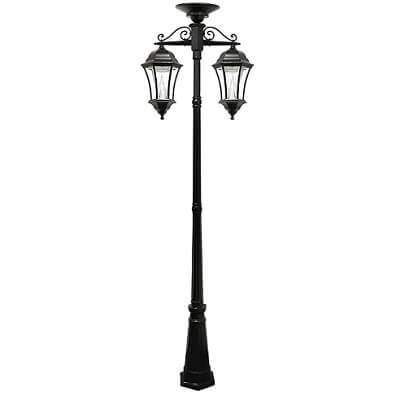 Besides the fact that this Victorian Lamp Post adds a bit of style and elegance to your outdoor décor, it also works efficiently as a solar energy source. Because of this, you merely secure the lamp post to a concrete pad and allow the sun to do the rest of the work.
Read more
Overall Design
Gama Sonic designed this lamp post to stand 101 inches off the ground with two hanging LED lamp heads. Overall, it will illuminate 400 lumens of light but according to some users, they felt it still could have been brighter.
Build Quality
It is clear that this is built for outdoor use. After all, it is made of a rust-resistant cast aluminum and has been powder-coated to add additional protection. Also, the solar panel is made of monocrystalline silicon and weather-resistant.
Design Features
Integrated on the lamp is a dual-brightness switch and an internal on/off switch. To dig deeper on the dual-brightness switch, this can extend the light duration for longer periods.
Power Sources
The lamp post itself is powered by a lithium-ion battery and thus generates its energy directly from the sun. It is designed to run from dusk until dawn on a full solar charge and the replaceable battery should last up to 1000 charges.
Simplicity
All you need to do is secure this lamp post to a concrete pad with the included bolts and hardware. Due to the lack of wiring, it can be installed anywhere you please.
Overall
A lamp post may not be what all of you are looking for but it is hard to imagine people not falling in love with this. It is elegantly designed with touch and grace, and can also perform very well.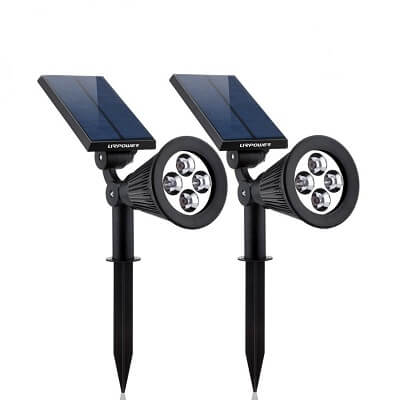 While this is another light source that is powered by solar energy, this is a little different than the previous. Instead, these solar lights pack four LED bulbs into one light and due to their design, they can be stuck in the ground or mounted on a wall.
Read more
Overall Design
In each individual LED bulb, there are 50 lumens and there are four LED bulbs in each light (as this is a pack of two). Totaled up, each light illuminates 200 lumens of light.
Build Quality
One particular user claimed these lights break easily if knocked over; yet, they are able to withstand all types of weather conditions as they are waterproof per IP64 standards.
Design Features
Besides the fact that both the light source and the solar panel can be adjusted from top to down, you can either stick these lights in the ground or mount them on the wall. Additionally, there is both a high and low output mode.
Power Sources
Once again, the lights are powered by a rechargeable lithium-ion battery that generates its energy from sunlight. This helps to significantly reduce your energy bill for outdoor lighting.
Simplicity
Literally, if sticking it in the ground, all you need to do is adjust the solar panel so it receives optimal sunlight. While the process is a little tougher when mounting it on a wall, it still should be fairly simple.
Overall
One of the better aspects of these types of solar lights is there is no limit on how many you can get. Each one outputs 200 lumens of light and, clearly, the more you get the brighter your backyard or front yard area will become.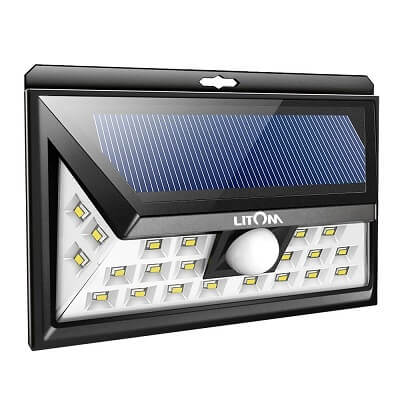 Next up, we have a perfect outdoor light for this looking to add a bit of security to their home. Of course, due to the brilliance of the new wide-angle design, this motion-sensor could easily be used for your own personal benefits.
Read more
Overall Design
As compared to other solar lights on the market, Litom made sure to make theirs shine brighter, literally. Thanks to its wide-angle design, its 24 LED lights offer around 2.5 more coverage than the average solar light.
Build Quality
This sucker is not just impressive because of its lighting but also its build. It features a high-strength ABS shell with a flameproof battery and a waterproof exterior (to IP65 standards).
Design Features
You can mess around with the three different lighting modes on this solar light. Each one, with options for a medium light mode, sensor mode, and dim light sensor mode, is useful.
Power Sources
Due to this being a solar-powered light source, you need to mount it in direct sunlight to receive optimal results.
Simplicity
All the hardware is provided for you to quickly mount this to any outdoor wall or fixture of your choosing. Granted you secure it to a stable foundation and in direct sunlight, you should be good.
Overall
There are some minor details that users wished Litom addressed but all-in-all, most users are left impressed with their design. Rightfully so, as the illumination capabilities of this light speak for themselves.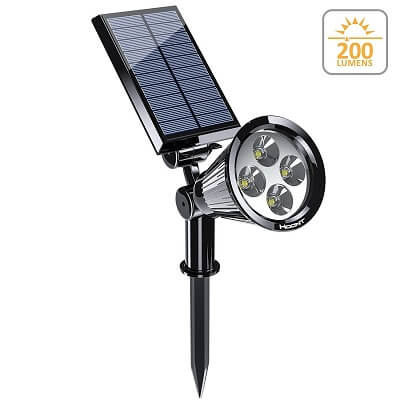 This is yet another solar-powered spotlight that is designed to be stuck in the ground. If you are looking to light up your garden or patio at night, it is tough to think of a better light source than this solar spotlight.
Read more
Overall Design
Hoont's solar spotlight will properly illuminate gardens, driveways and pathways. Each LED bulb, with there being four in total, is bright in its own right.
Build Quality
This spotlight has been made of solid, hard plastic and is able to withstand the punishment of snow, rain, and wind. Also, it is waterproof.
Design Features
During the daylight, this has an auto-off feature and an auto-on feature during darkness. Plus, the light and the solar panel can both be adjusted up-to-down, but not left-to-right.
Power Sources
The 1200mAh battery integrated into this light is designed to hold a full charge for up to nine hours. Again, it gathers its energy straight from the sun.
Simplicity
It really does not get any easier than this. As soon as you take the light out of the box, go outside and stick it in an optimal place in the ground. Wala, your work is done.
Overall
It is not difficult to see why these types of lights are so popular. Not only do they save on your energy bill but they also provide enough light to serve several purposes. Plus, you can always install more in your yard.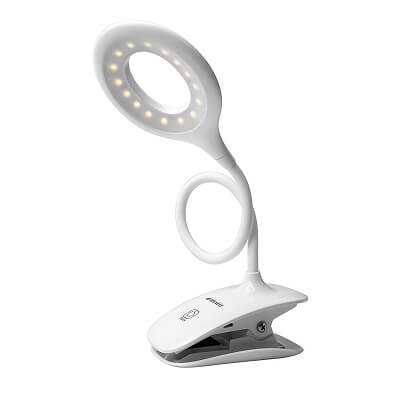 Moving away from solar lights for a brief second, let's talk about these patio lights from Raniaco. They work very similarly to Christmas lights and can completely illuminate your backyard patio area.
Read more
Overall Design
These are string lights and that means they can't be installed just anywhere. However, with a hanging area for them, each individual bulb combines to form a wonderful way to illuminate your lawn.
Build Quality
The string lights themselves are made of heavy-duty rubber and designed with durable hanging loops. But, they are also fully weatherproof thanks to the rubber seal around the bulb.
Design Features
Because these are open-ended, you can connect up to nine strings at once. If you have a larger area you are looking to cover, this can come into play.
Power Sources
No, this is not run on solar energy. Instead, it comes equipped with a 45-foot black commercial cord. Take note, the maximum wattage per socket recommended is 40 and per light string recommended is 600.
Simplicity
According to one reviewer, installing these lights can be problematic. Specifically, they make mention of the fact that there is no way to lock the connection of the lights. Because of this, they could accidentally fall and break.
Overall
Even though you may only be used to hanging string lights outside for the Christmas season, they can actually be an ideal way to illuminate your outdoor décor. In particular, these string lights.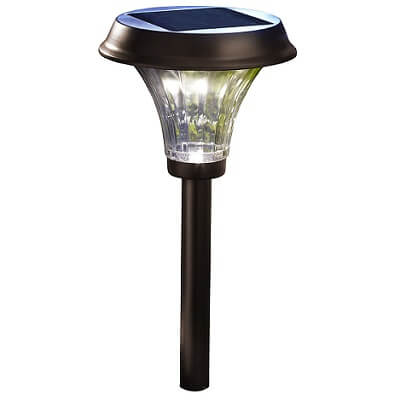 It is not as if this next solar light is going to light up your entire front yard but they could be exactly what you are looking for. Moonrays' Richmond Solar Light works tremendously as a path light from your driveway to your front door.
Read more
Overall Design
According to the product description, this light outputs 30 lumens of warm white LED light. Yet, numerous reviewers have noted that this is not the case so be aware of that fact.
Build Quality
Despite the various reviews that have taken issue with slight build issues, for example, the plastic portions that connect the glass to the metal stem, this solar light is weatherproof and built with durable bronze plastic.
Design Features
To give you peace of mind and ensure light is not emitted when it is not needed, this is designed to automatically switch on at dusk for up to eight hours.
Power Sources
The included AA NiMH batteries get their juice and energy from the sunlight. Each time the sun is out, the battery begins recharging and this cycle will continue granted the solar panel gets enough exposure to the sunlight.
Simplicity
Much like other stake lights, this is as simple as pushing it securely in the ground. There are no wires to work around or mechanical components to wrap your head around.
Overall
Yes, there are some slight areas of concern that could come into play in your decision making. Clearly, though, they are not enough to deter the overall quality of this product.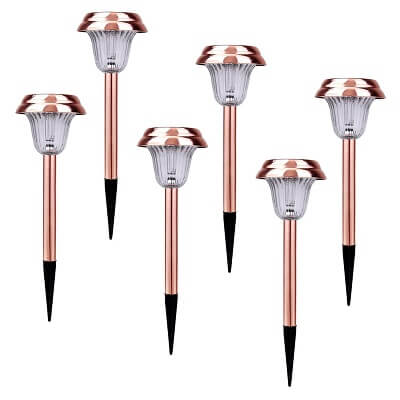 What is really nice about Ohuhu's garden solar lights is they come in a pack of six. While each individual light does not produce an astronomical amount of light, all together, they combine to adequately illuminate your garden or driveway.
Read more
Overall Design
As a whole, these lights are rated to shine up to a 12-inch radius. While this is not an immense number, it is nice that they come in a pack of six so you can maximize this amount as much as possible.
Build Quality
Outside of the black portion of the stake, which is what sticks into the ground, which is a bit flimsy, the rest of the light is top-notch and properly sealed for weather-resistance. Also, it is made of glass and stainless steel.
Design Features
At the peak of dawn, these lights are programmed to shut off to save their energy. Then, when nightfall hits, they will automatically illuminate with their stored energy.
Power Sources
With every charge that the battery endures, granted it is fully charged, it can last anywhere from six to eight hours. Thanks to the polysilicon solar panel, the sun is all you need to power these lights
Simplicity
Directly out of the box, installation is a snap. Even your children could install these bad boys, assuming they have the strength to push them far enough in the ground.
Overall
If you are only looking for one light to rule them all, this is not up your alley. Because these are sold in six-packs, there are several different manners in which you can arrange them which is a huge bonus.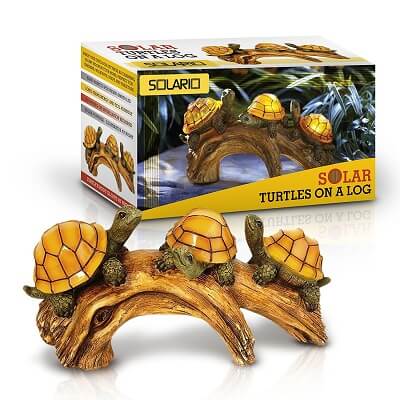 This next lighting source is certainly not going to be for everyone and is more of a décor ornament than anything. Still, with the power of solar energy, this could add an essential piece to your garden that could put it over the top.
Read more
Overall Design
There are three individual turtles sprawled out across a log and their shells illuminate with the power of the sun. They will glow at night and provide an excellent ornament for your garden.
Build Quality
Solario designed their turtle ornament with the toughest polyresin that they could find. Because of this, it is completely dustproof and waterproof making it ideal to withstand all types of inclement weather.
Design Features
Thanks to the built-in photocell, this is designed to automatically shut down at the first light of dawn.
Power Sources
Much like the other lights on this list, solar energy is the method of madness here. For up to eight hours on a single charge, the built-in 300mAh battery can illuminate the turtle shells.
Simplicity
Believe it or not, this is even easier to install than a stake light. This time, you do not even need to stake this in the ground. Merely place it anywhere your heart desires that experiences sunlight exposure.
Overall
Truthfully, this is only going to appeal to a specific demographic of people. If you are looking for a combination of style and illumination, though, this could fit the bill.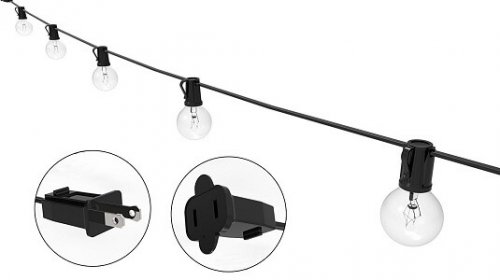 Capping off this list is another set of string lights and while you do need to be careful when installing them, they certainly work like a charm. No matter where you want them, granted you have the means to hang them up, they will perform admirably.
Read more
Overall Design
This string of lights measures 25 feet long and there are 25 G40 bulbs that are included.
Build Quality
Overall, the build quality is one of the few issues some consumers have taken issue with. Due to the thin glass, if they fall, they are all but done for as the bulbs are going to break.
Design Features
While these are not smart lights or built with loads of technology, each strand has end-to-end connections meaning you can attach up to three to cover larger areas.
Power Sources
There are six inches of space from the male plug to the first light and the same distance is available from the last light to the female connector. Each string totals 125 watts of power, also.
Simplicity
You hang up string lights, in the same manner, you do Christmas lights but due to the thin glass bulbs, you do need to be cautious when doing so.
Overall
Perhaps more durable bulbs would have propelled this even further up our list. As it sits, though, if you are careful with the installation, you should be able to get by with no broken parts.

Subscribe to our Newsletter