Best Travel Wallets
In a Hurry? Editors choice: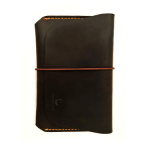 Test Winner: Genuines Leather

Traveling
is a great way to celebrate life and to unwind from the demands of daily life. Most people who love to travel use
portable
and functional items. This makes it easy for them to move from one place to another.
Organizing your things
is one of the most important things to consider when traveling. You have to put your essential items in one place to avoid delays and hassles while on the go. Some of these items are your cash,
passport
credit cards etc. This is why it is a must to find the best travel wallet for these items. Trips inside and outside the country will be a breeze when you have a functional wallet in hand.
Standout Picks
Criteria Used for Evaluation
Style
Of course, we want something fashionable and convenient at the same time. We want a product that will complement our style and serve its purpose as well. These items can be bought in different styles.
One of the most convenient and commonly used wallets are folding wallets. There are some that are bi-fold and there are also tri-fold wallets. These types of wallets are easy to open and you can get what you need inside it without any hassle. Most two-fold wallets are smaller in size an can only accommodate credit cards, ID and cash. This may not accommodate your phone or keys like other wallets. This is perfect for those who are into a minimalist approach in keeping their stuff. There are also envelope style wallets. These types may make use of a button or a magnetic closure. With the right color, this can be very classy and elegant. Other wallet styles depend on their type of closure. One of the most secured is zippered brands as they offer more security when it comes to enclosing your important travel items.
Use
The main reason why we purchase wallets is we want to enclose our essentials especially our card, passport and cash on it. There are wallets that may offer extra functionality such as, it can be used as a phone holder or it can accommodate your keys and pen. While there are also wallets that are minimalists and offers only the main function of wallets, which is, of course, to hold cash and cards.
Depending on your need you may choose a wallet with fewer slots while there are also wallets with slots for your sim card, boarding pass, and can accommodate a number of passports. If you are an avid traveler, a highly functional wallet can be your best option. With this in hand, you can minimize the time of looking for important items in your bag. Instead of keeping a number of wallets, you can choose one that can also accommodate your travel documents and other essentials. This will also avoid delays especially if you are going to travel internationally. You will also feel secure since all your items are intact in one place.
Size
There are wallets that are small in size and can fit on your front and back pockets, and there are also bigger ones that can be carried as a clutch or placed inside the bag. The size of the wallet you choose comes hand in hand with its functionality. Some wallets are bigger in size because they offer more room for extra cards, passport, boarding pass, and cash.
If you are a minimalist traveler you can opt for a smaller wallet size. These may only accommodate your credit cards, ID and cash. Depending on your needs you can also opt for the two wallets. You can use a smaller one for your daily activities, and a bigger one to organize all your travel essentials. If you will be going out for nearby walks outside your hotel you can opt for a handy wallet and smaller ones.
Value
Budget is one thing that we all consider in buying any types of product, but the budget is also affected by the functionality, make and material and design of your wallet. As mentioned, leather wallets can be more expensive as it offers durability. Other materials may cause less. Comparing prices and features is advisable as this will help you find the most suitable wallet for your needs. You can do more research online and read product feedback to help you know whether it the right item for your money.
Top Ten Travel Wallets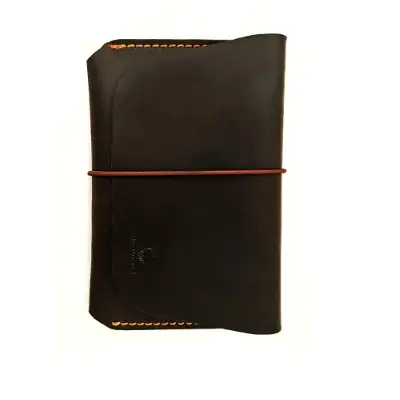 This item may look small but this is a durable and perfect companion for travels. This is made from quality material made from Europe.
Read more
Design: This product conveniently organizes travel items without compromising its style. It may be small but it offers a lot of room for your passport, cash, credit cards etc. It can be a perfect gift idea and you can get it in four different colors.
Make and Material: The product is made of genuine leather (100%) and manufactured under high-quality standards and craftsmanship in Europe. This item is sure to stay with you during trips for a long time.
Functionality: It offers space for 2 passports. It also has slots for your ID and credit card. It is also secured and kept closed by a durable strap. And it can be easily opened especially when in rush to avoid the hassle.
Size:
This product has a dimension of 6 x 3.9 x .4 inches. It may be small but it will surely last a long time.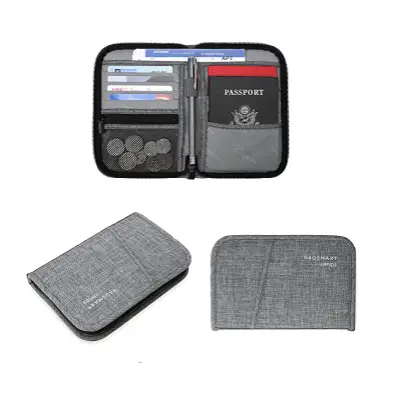 This wallet matches travelers and commuters. It can be placed inside your bag or inserted in your pocket. It offers convenience with its simple design and several compartments.
Read more
Design
If you need a wallet that will meet your commuting or traveling needs, this is the right one for you. It is designed to keep all your essentials intact in one place. This also makes it easy to find your passport, credit card, and Identification cards. So you will not get interrupted at the airport, bus or train station. It is also zippered to make sure that contents will not fall off.
Make and Material
This item is made of high-quality polyester fabric. The material is water repellent and can prevent items from getting wet. It also has a protective lining that is Rfid blocking. This will secure your information and prevent theft.
Functionality
This item is very convenient to use with its front pocket that can be used to keep tickets or boarding passes. It also has a compartment for the passport. It has six slots and a pocket that allows easy storage of keys, cards, and coins. It has a main compartment for cash or paper bill.
Size
It has a dimension of 4.7x 7x .8 inches and it weighs .12kg. It has a slim design and can be carried anywhere you want to go.

3

. Travelambo Rfid Blocking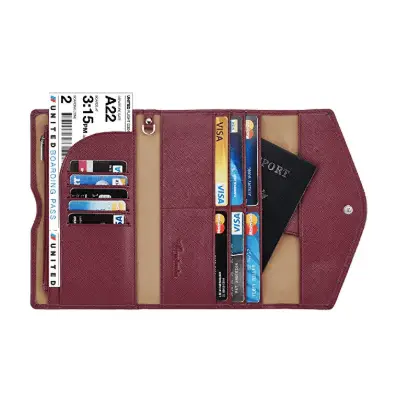 If you are looking for a cost-effective and functional wallet, this product can be in one of your options. It has a sleek design and will best fit a practical traveler.
Read more
Design
It comes in different colors. It boasts its high-quality craftsmanship which is handmade with the use of traditional methods and tools. Before this product is delivered, it goes through strict quality control to ensure that the customer receives non-defective items. It also has a Rfid blocking capacity that protects your information and secures your privacy.
Make and Material
This product is made from polyurethane material. This is soft to touch and can be easily carried around because of its lightweight feature.
Functionality
It offers a lot of room for travel items. It has a passport pocket that can accommodate a max of 3 passports. It also offers slots for your ID, credit cards, sim, and ticket. It also has a compartment for your coupons and holder for keys and a pen. It features a zippered pocket for your coins and cash. It can also accommodate a Smartphone with the max size of 5.8in.
Size
It has a product dimension of 7.4 x 4.5 x 1 inch.

4

. Travelambo Minimalist Leather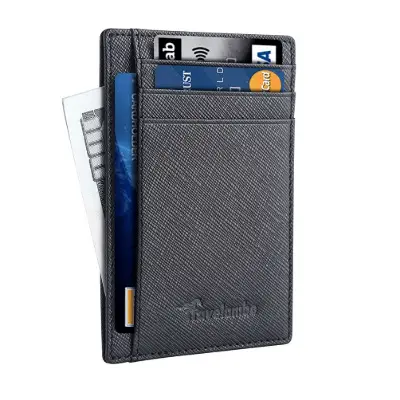 This item is the best item for the on the go minimalist. It offers a simple design but still keeps your items safe.
Read more
Design
This product has a unisex design that is available in different colors. It can be easily carried around. It has a soft texture and offers durability as it is made from 100% leather. This product has Rfid blocking feature and offers protection from theft of confidential information of your credit cards and other travel essentials.
Make and Material
This product is made of cowhide and is available in three different type of style: Oil wax, crosshatch, and napa leather. This product is also handmade by expert hands and went through strict quality control.
Functionality
For those who want a simple wallet they can use during travels, this would be a perfect match. It has 6 slots for your identification cards and credit cards and a separate compartment for your paper bills. It offers functionality but it can't accommodate your phone, unlike any other wallet.
Size
The item has a product dimension of 3.3X 4.1 X .12 inches. It has a thickness of .12 inches.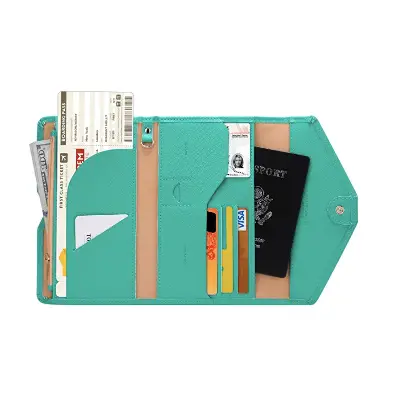 This elegant looking wallet will surely bring class into your travel. It is not only nifty but it will surely make organizing your important stuff, a whole new level.
Read more
Design
This is a lightweight product is made from quality and eco-friendly materials. It is available in different color options that will match your style. It has a Rfid blocking feature that keeps your identity and bank information secured. It offers a lot of room that can accommodate different travel essentials. It has vintage look and feels soft when touched.
Make and Material
This offers durability with its faux suede and high-quality polyurethane material. It offers better gripping as a clutch and at the same time, it protects your items when placed inside your bag.
Functionality
You can easily organize your travel items in this wallet. There are different pockets that could fit your passport credit cards, coupons, cash, pen boarding pass, and even your phone. It has 1 pocket for your passport and slots for your credit card, sim card, a coupon ticket, and ID. It also has a zippered pocket for cash and coins. It has a key holder and can accommodate the size of a Smartphone.
Size
It has a product dimension of 7.5x 5 x 1 inch. Although it offers a lot of space, it is very portable and handy. It can be hand carried or can fit inside your bag.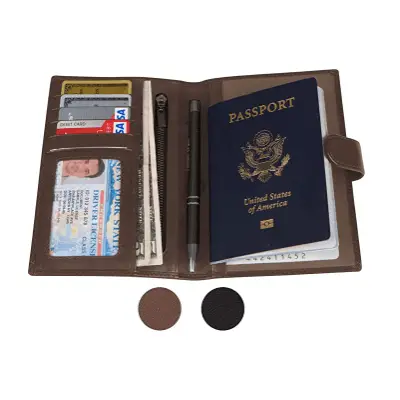 This is an all in one travel essential keeper. Its luxurious design would definitely make you look and feel better.
Read more
Design
It is slim and handy which can perfectly fit inside the pocket or coat. It is also composed of Rfid blocking layer that protects your information from theft.
Make and Material
This item is made from 100 percent pure leather material. Because of that, it boasts a classy and elegant look. It is soft to touch and comfortable to hold. It is also very durable as it is made of leather.
Functionality
This product offers functionality giving enough room for its user. They can fit a pen, passport, boarding pass, ID, credit cards and cash all in one place. It has different slots and compartments.
Size
Measures 6.5 x 4.3 inches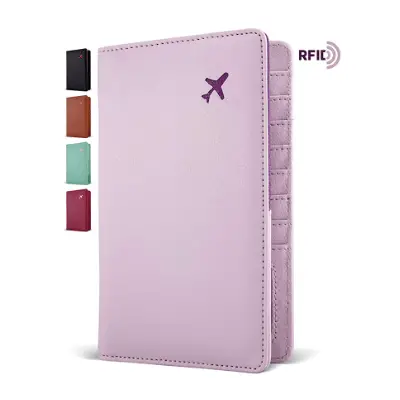 You can get this item for yourself or for a loved one. It has so much room that traveler will surely appreciate.
Read more
Design
The wallet features a fashionable design with a selection of colors. This will also secure your important information from theft with its Rfid blocking feature. It has slots for boarding pass, sim card, credit cards, passport, and pen.
Make and Material
This product is made of polyurethane leather which makes it soft and comfortable to touch and hold. The different color options can match any traveler's own style. It also comes with a classy gift box for those who intend to give it as a gift.
Functionality
This product is a great organizer for every journey. This is also suitable for those who are traveling with kids and other members of the family. Its compartments will allow you to secure a number of passports and boarding passes. These will keep your travel essentials organized so there's no need to rummage on your bag when at the airport.
Size
It has a product dimension of 7.4 x 4.5 x 0.4 inches. It can be hand carried as a clutch or placed inside a pocket or bag.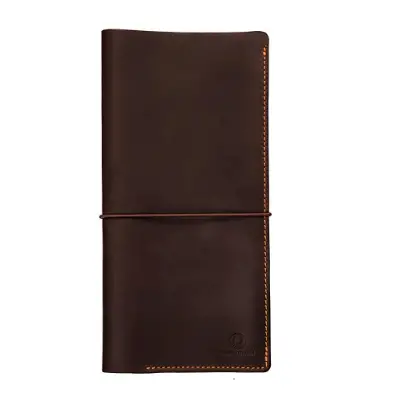 This item will help you save time while you are traveling as all your travel documents can be easily found inside this product. It is also a great deal for the budget-wise people.
Read more
Design
The design of this item is perfect for both man and women. It is slim and handy and can fit your pocket. This can also serve as a gift for an avid traveler.
Make and Material
This item looks durable as it is made of leather, it also offers style and class. It made from materials that are soft to touch. It can also come with a pouch with a velvet design.
Functionality
This product can easily keep your valuables such as passports, credit cards, and cash. You can also keep it in your pockets at all times for easy access. It can accommodate 1 or more boarding pass which makes it a good item for traveling couples and family. This is convenient as all the passes can be kept in one place securely.
Size
This product is .6 x 4.1 x 8.5 inches in size. It's handy and slim.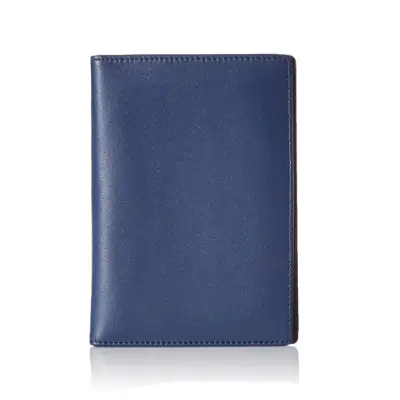 This item has a compact design matching every traveler. Its slim design makes it easy to fit in your pocket or securely hold it in your hands.
Read more
Design
This item is created from durable leather. It is soft when touched and strong with its top-notch stitching for dependable strength. It is available in three colors: red, black and blue.
Make and Material
This item is made from a genuine leather material that ensures its quality and strength. Its sophisticated and slim design is perfect for those who want to go for a less complicated wallet. This also gives you the peace of mind that your personal information is safe as it is equipped with Rfid blocking features.
Functionality
This quality item can fit your passport, credit cards, identification cards, and cash. The product consists of a slot for your passport, slots for your cards and compartment for paper bills.
Size
The product measures 5.9 x4.1x .2 inches. It is smaller than other wallets and can fit your pockets.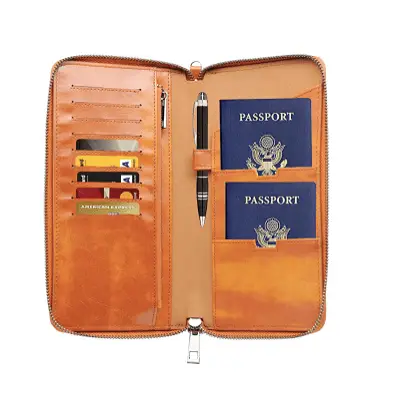 This handy item can hold all your travel essentials in one place. With its color and elegant design, this makes it an ideal wallet for travels and also as a gift idea.
Read more
Design
The design is very functional unlike other wallets that are closed with buttons or folding, this one is zippered for maximum security. It has an attractive color of coffee brown and durable material. It also includes a neck lanyard, perfect for those with kids and people who have their hands full all the time.
Make and Material
This is made from faux leather. Aside from its durability it also offers style. It can keep all your important travel documents such as your passport intact and secured. The package also includes a gift box, for those who intend to give this item as a gift.
Functionality
This item offers functionality as it can accommodate two passports and card slots that can fit 9 cards. It also has a sleeve for paper bills and a pocket outside that can fit a boarding pass.
Size
This product is quite handy and can fit in your pocket or inside your bag. It has a dimension of 10 x 6 x 1 inch.

Subscribe to our Newsletter