Best RFID Wallets Reviewed & Rated
In a Hurry? Editors choice: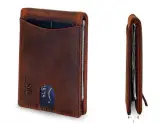 Test Winner: Serman Brands Leather Wallet

Did you know that your credit cards can be at risk of having their information stolen even when they are secured in your
travel wallet
? The risk comes into play if your credit cards have RFID chips. RFID (radio-frequency identification) is pretty much a wireless communication protocol, and it can be used to identify objects.
If your card or cards have RFID chips, hackers with RFID readers can gather the information they need. That is where RFID wallets come into play. You see, these types of wallets can block the signals of RFID readers (preventing them from getting your information).
As you will see, though, not all RFID wallets will be the same. Their materials, effectiveness, and overall capacities will differ and sometimes differ significantly. This makes it essential for you to pay close attention to all the critical details. Don't worry; we are here to help.
Standout Picks
Criteria Used for Evaluation
Materials
Your first line of business is going to be to determine the material you want.
When it comes to choosing RFID wallets, the first thing you need to assess is the type of material that you will prefer them to be made with. The most popular, as seen on this list, is going to be leather as this is a staple for billfolds. If you know anything about leather, though, you know that it is not all created equally.
The two most sought-after types of leather will be full-grain and top-grain. These types are very similar, but they are also a bit different. Full-grain, though, is the most durable leather you will find as it will not be snuffed, buffed, or sanded.
However, top-grain leather will have a more uniform finish as the top will be sanded and buffed. Then again, this type of leather is going to break down quicker because of it. Of course, you do not have to go with a leather wallet. You could also go with one made out of metal or even carbon fiber. If you are looking for other leather products check our guide on the best leather shoes.
It sounds odd to have a wallet that is not made out of fabric, but it works when it comes to blocking RFID signals. Keep in mind, though, while carbon fiber and aluminum RFID wallets will be incredibly durable, they will also not resemble traditional billfolds in the slightest.
Effectiveness
Not all wallets are going to be as effective as each other at blocking radio waves.
The good news with all of this is radio waves are not that hard to block and interrupt. If someone is going to try to read your credit card information, they will need to do some with an RFID reader (which will use radio waves). The question is, how do most RFID wallets block these signals?
As you saw in the above list, most engineers will have proprietary composite materials to get the job done. Keep in mind that this material will need to be present in each slot for each one of them to block RFID signals. Regarding which company's content works the best, most blocking materials are going to work incredibly well.
But, this is one of the advantages of buying an all-metal or even a carbon fiber model. This type of wallet is going to block RFID signals at will. Granted, the portfolio itself covers your credit cards; they will be safe from RFID readers.
Features
This all comes down to the storage compartments and slots that you want your wallet to have.
What you are going to realize is outside of their RFID blocking technologies, buying RFID wallets is going to be very similar to how you would buy a regular wallet. So, what is one of the essential functions of one? How about storing all your money, credit cards, identification, etc.?
Unless you plan on carrying two wallets with you, you may want to replace your old one with your new one. If you're going to go with a metal RFID wallet, however, you will find that they are not quite as practical and versatile as traditional billfolds. These will typically be limited in the number of cards and cash that you can hold.
Traditional leather wallets of this nature can come with all the goodies. You can get them with tons of different card slots, picture sleeves, coin pockets, and even ID windows. What you need to do is identify just what you want your new wallet to carry. And, decide if you wish to an individual slot for each of your cards, as this will make your life a bit easier.
Style
Is there really anything wrong with buying a wallet that you find stylish?
Who says something can't be both practical and stylish? Heck, some of the best products out there offer the best of these two worlds. So, why should RFID wallets be any different? The answer is there is no reason why they should, which leads directly to this next section.
And, a lot of what determines the style of an RFID wallet (or a regular one, for that matter) is the materials that have been utilized. This is one of the reasons why leather is such a popular material when it comes to billfolds. Not too many people will disagree that leather is quite striking in its appearance.
Again, however, not all leather is created equally. This is where top-grain leather does hold an advantage as it is going to remove the imperfections of the leather. What you are left with is a more polished and uniform finish. But, as noted earlier, this does come at the expense of the leather's durability.
It is also not as if full-grain leather looks terrible, either, as it does not. Additionally, some sellers will design their wallets and sell them in different shades of brown, black, etc. With that being said, if you do go a different route, note that carbon fiber and aluminum wallets look pretty good (and sleek too).
Advanced Features
There are just a few extra features that need to be covered in this section.
For the most part, these types of wallets are going to be quite simple in their respective designs. That does not mean that there are not some features that should be brought to your attention. Firstly, some models will come equipped with clips. While traditional leather options will not often sport this feature, you will see them on metal wallets.
Regarding their usefulness, they can be used to secure cash or cards that you want quick access to. Do keep in mind, though, that if you have a credit card with an RFID chip attached to the clip, it will not be protected while outside of the blocking material.
Often, you will also find options with snap closures. This can make them feel more secure as a whole, but they are also not precisely that necessary to have. After all, your classic bi-fold and tri-fold wallets will need to be folded to be shut.
And, as for the difference between these two types of billfolds, bi-folds will only open once while tri-folds will open twice (each section will open up). The latter can offer more room but can often add unnecessary bulk and weight.
Our Top Picks for the Best RFID Wallets
1

. Serman Brands Leather Wallet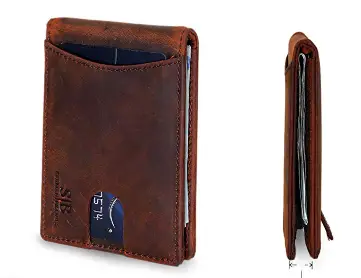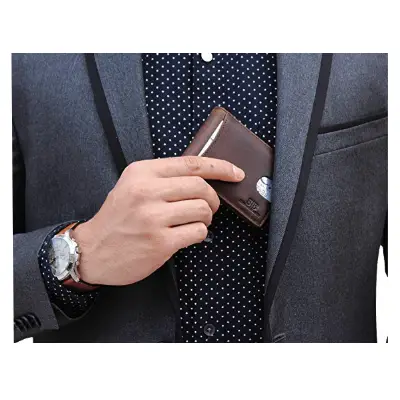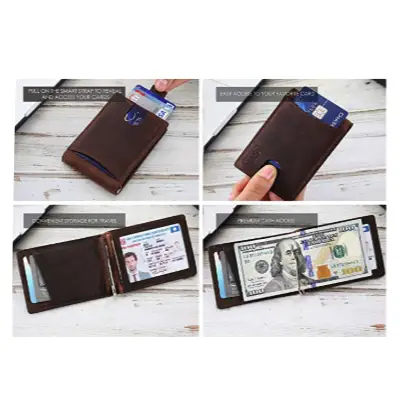 Even with an RFID blocking wallet, you are going to find leather to be an ideal material of choice. And, this is not some cheap leather as this is full-grain leather.
Read more
Materials
As noted, this has been designed with full-grain leather. What is also fantastic about this leather is it will look better as it ages (as it will absorb your natural oils and richen the color).
Effectiveness
With a unique metal composite, this has been designed to block RFID signals of 13.56 megahertz or higher. This advanced technology allows it to be very efficient in this regard.
Compartments
There are not a ton of slots in this sucker, but there will be enough for most of you all the same. With bills included, you could feasibly fit around six to eight cards in this billfold.
Style
There are different shades of brown and black leather available. All of which look utterly tremendous and, as noted, will look even better over time.
Features
For quick access to your everyday cards, this comes equipped with a smart pull-strap. It is quite lovely to have, that is for sure.
Overall
This is as traditional as traditional is going to get for an RFID wallet. Even though it sports this incredible technology, it presents the look and feel of an everyday billfold.

2

. Itslife Women's RFID Wallet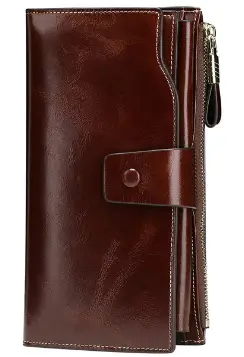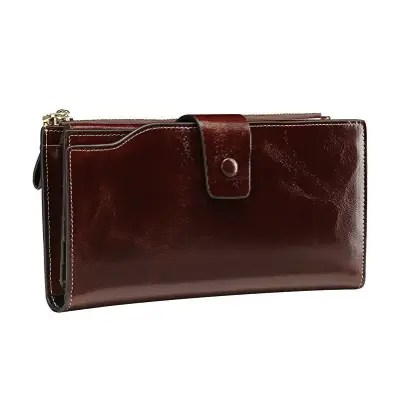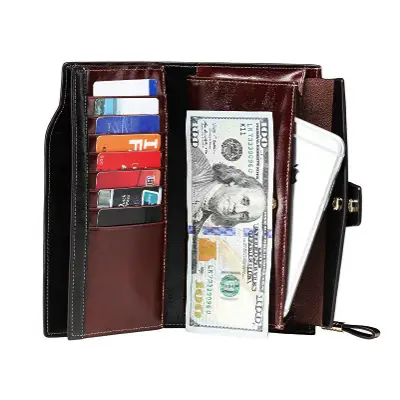 This is an absolutely gorgeous RFID women's wallet that is luxurious and smooth. With over 20 different card slots, however, it is also incredibly practical.
Read more
Materials
The leather that was utilized to engineer this wallet is top-end. It is prime grained leather, and it also sports a wax finish (which adds to its luxurious appeal as a whole).
Effectiveness
Do not be fooled; this is not only for looks. With its proprietary blocking material and military-grade shielding technology, this is one of the best in the business at blocking RFID signals.
Compartments
So, while it would have been nice to have cards going both directions, the amount of card slots present here is admirable. There are 21 in total and also various compartments for your other items.
Style
Not only is the waxed leather on full display here, but there are also a plethora of different colors to select from. All of which are striking in their appearances.
Features
The snap that closes this wallet could have been a bit more secure. It is not designed, but it is something that some buyers have made a note of.
Overall
For RFID protection without comprising the style you look for in a well-designed wallet, look no further than this brilliant design. Not enough can be said about it.

3

. Pitaka Carbon Fiber Wallet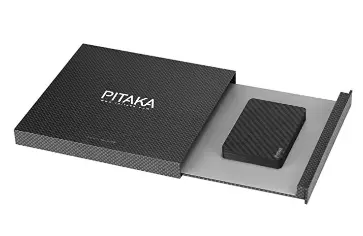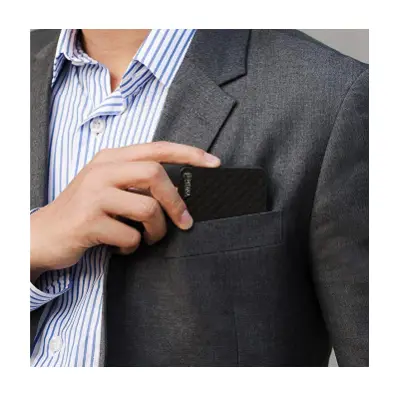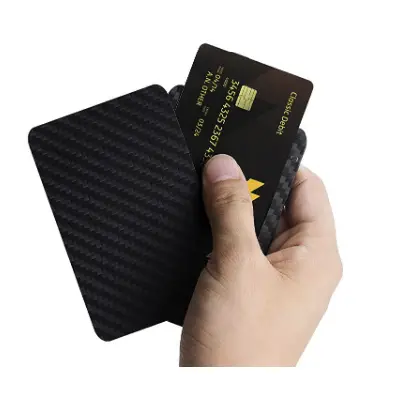 As opposed to the top two options, this is totally different. Instead of leather, this wallet has actually been made of carbon fiber. Sound quite interesting does it not?
Read more
Materials
Yes, this is a wallet that is designed out of carbon fiber. In addition to its slim and lightweight nature, this material is also known for its sensational durability.
Effectiveness
The carbon fiber comes into play when blocking RFID signals. It was part of the reason why the material was chosen for this particular design.
Compartments
Due to the sleek design, this is not going to be a workhorse wallet. It can hold around six chip cards (it will not work with magnetic strip cards) and perhaps some dollar bills.
Style
The matte finish is well done, and it adds to the style of this wallet as a whole. It will not resemble a traditional billfold, but the carbon fiber build still looks good.
Features
How this opens is unique. It makes it easy to operate with just a single hand. Then again, it could open a bit easier, for what it is worth.
Overall
Unique would be the best way to describe this particular model. It is not an everyday wallet but can work great in airports or any other highly congested area.

4

. Flipside Wallets RFID Wallet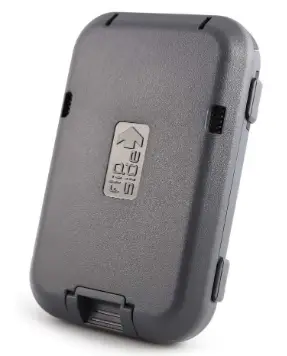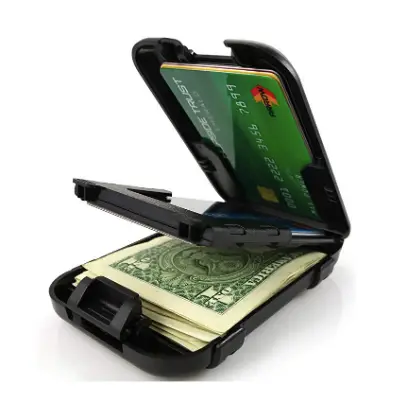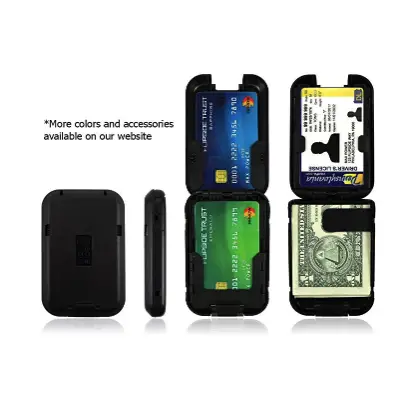 Now, this is not your normal bi-fold or tri-fold wallet. Instead, it is actually a polycarbonate and aluminum alloy creation that makes for an excellent card and money holder.
Read more
Materials
As just noted, this does sport a polycarbonate and aluminum alloy (which is aircraft-grade) build. This makes it incredibly durable and rugged as a whole.
Effectiveness
In addition to preventing RFID readers from accessing the chips on your credit cards, this wallet is also going to prevent your cards from being either cracked or crushed.
Compartments
For those curious about what this has the potential to carry, it can handle up to eight different cards and also ten cash bills. It does not have individual compartments, though, so be aware of that.
Style
There are a few different color options that you can go with. Some of which include orange, blue, green, and black.
Features
First off, this comes equipped with a detachable clip, and this can allow you to carry other types of items. Additionally, when you close this, it will automatically lock itself.
Overall
For organizational buffs, you may not appreciate the lack of individual compartments with this design. It is different but incredibly practical and durable.

5

. The Ridge Minimalist Wallet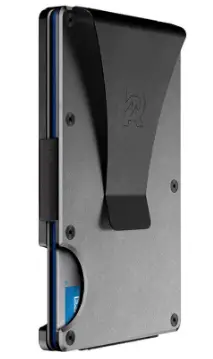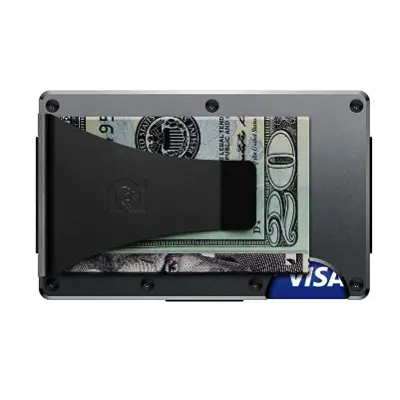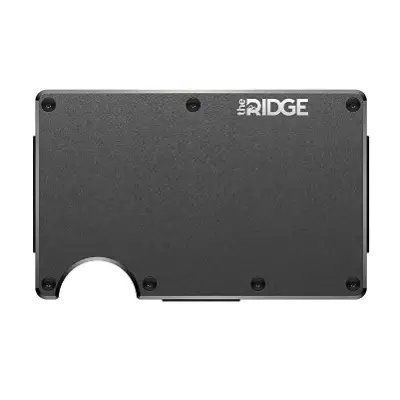 For all you minimalists out there (you know who you are), you will probably fall in love with the design of this wallet. It is made out of high-quality aluminum and is a joy to look at.
Read more
Materials
Indeed, this is not an old-fashioned leather wallet. Instead, it is metal. As noted, it has been made from 6061-T6 high-quality aluminum. This makes it both light and durable.
Effectiveness
Even the most powerful RFID chip readers will not get through the metal of this wallet. You need to make sure that your cards are surrounded by the metal body, and you will be good to go.
Compartments
No, this does not provide the most user-friendly experience possible, but it will fit up to 12 cards without stretching. You can also carry other types of things, as well.
Style
All the available finishes are just fantastic. The gunmetal finish is a personal favorite as it is going to blend into just about anything flawlessly.
Features
With the integrated money clip, you can clip additional items to this wallet. Of course, you can also buy this same wallet with a cash strap instead of the money clip, if you prefer.
Overall
Sure, this is not the same as a traditional billfold, but its effectiveness when it comes to blocking RFID readers is too hard to pass up. It is also incredibly sleek, which helps too.

6

. Bryker Hyde RFID Wallet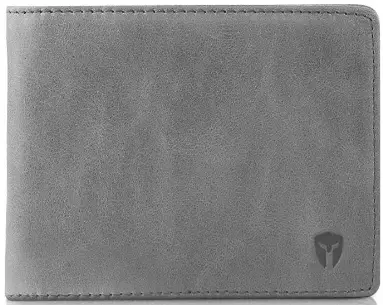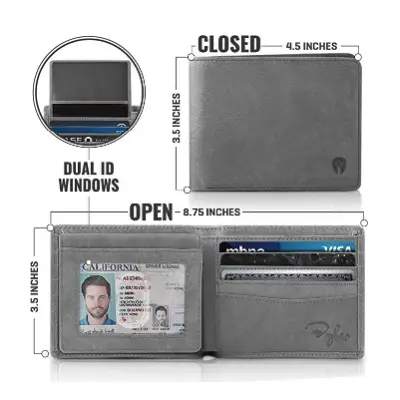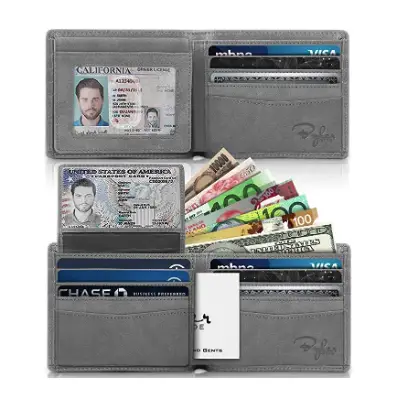 This is another premium wallet that does not skimp on its quality. That you can take comfort in and it can also block both low and high RFID frequencies.
Read more
Materials
As this has been hand-crafted out of full-grain leather, you can expect only the best from this wallet. In addition to its stylish nature, it is also going to last you quite a long time.
Effectiveness
Thanks to the unique blend of composite metals that have been integrated into this wallet, you can take comfort in knowing that it will block both low and high RFID frequencies.
Compartments
Though the slots for the cards are a bit loose, there are 10 of them along with two ID windows and also a place to hold your physical cash.
Style
The full-grain leather provides a striking appearance. For the record, there are also different shades of both brown and black available.
Features
This is just a classic and traditional wallet that sports a bi-fold closing system. It is devoid of many features, but that is not too much of an issue.
Overall
Crisp and clean is the best way to describe this well-designed billfold. No one is even going to know that it has the capability of blocking RFID readers.

7

. ID Stronghold Tri-fold Wallet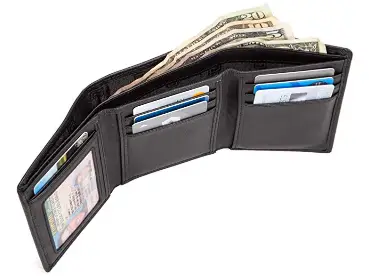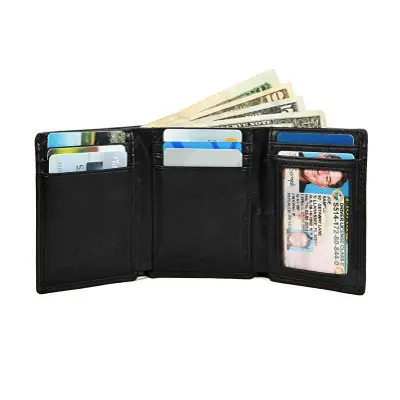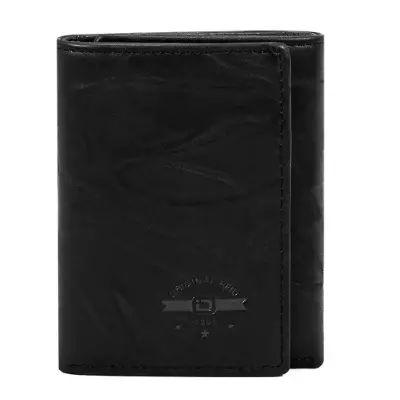 As a tri-fold wallet, this is a little bit on the bulkier side of things. With that being said, even while it is opened, it can still block unwanted RFID readers from obtaining your information.
Read more
Materials
The craftsmanship here is just fantastic. This tri-fold wallet has been designed with real cowhide leather. In addition to its comfortability, this leather is also built to last.
Effectiveness
While not all frequencies will be shielded by this wallet, the most common (13.56 megahertz) in chips is going to be. Also, this technology has been implemented into every single card slot.
Compartments
In addition to the seven-card slots (and the ID window slot), there are also three hidden compartments that you can utilize. Let's say there is a lot of room for your cash and such.
Style
Dark brown and black versions of the cowhide leather are available. At this point, you should know the appeal that leather has.
Features
Yes, this is a tri-fold wallet (not a bi-fold one), meaning both of the flaps are going to need to be closed. This makes it thicker and provides you with more room.
Overall
When it is said that this sucker is extensive, it is not an understatement. The benefit is there is plenty of room for your credit cards and cash. The cowhide leather build is also excellent.

8

. iPulse Minimalist Slim Wallet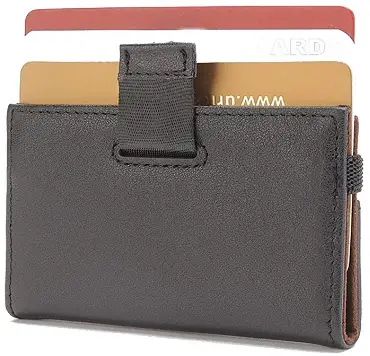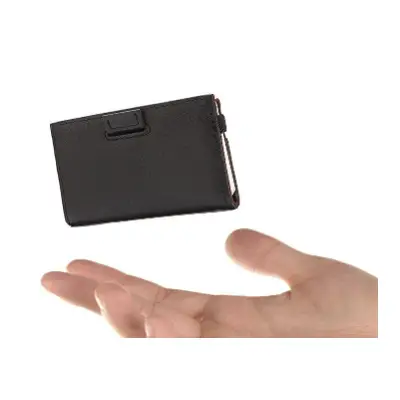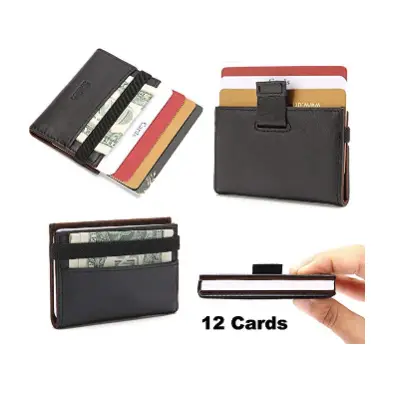 Alright, so what if you are a minimalist but you still want to enjoy the luxury of a leather wallet? Well, this option right here pretty much combines the best of both worlds.
Read more
Materials
Not only has this been made of high-quality full-grain leather, but there are also handmade details everywhere. This just adds to the premium feel of this model as a whole.
Effectiveness
You better believe that this works great at blocking RFID signals. This is thanks to the advanced anti-theft technology that has been implemented.
Compartments
This is known as one of the slimmest card sleeves in the world so that should give you an idea of its capacity. It can carry up to 12 credit cards, though, which is not bad at all.
Style
Both the color options are quite lovely, but the carbon fiber model adds an entire extra layer of appeal. You have to check it out for yourself.
Features
The smart pull tab is nice to have, but it is also not incredibly tight. With this band, however, you can easily grab and pull the cards you need access to.
Overall
This is not the largest or the most premium option on the market, but it is terrific all the same. Its hand-crafted nature adds to its overall appeal tremendously.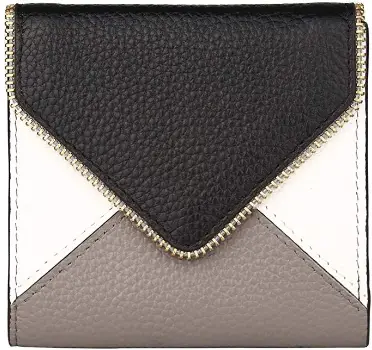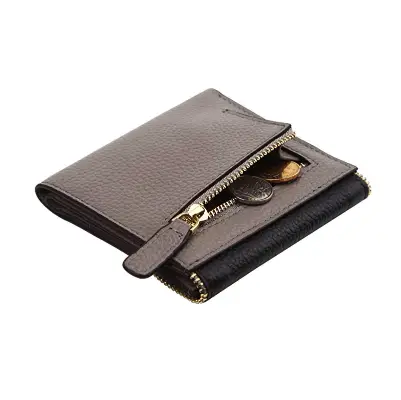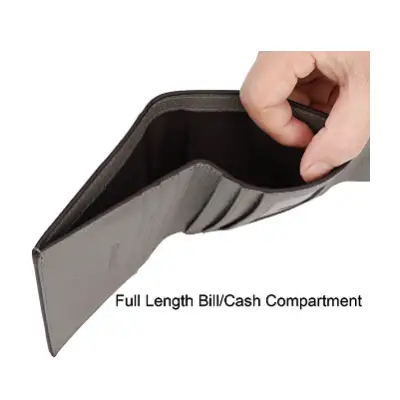 For all you women reading this right now, you are probably going to really like this next option. In addition to providing the style that most women will love, it also sports proprietary blocking material.
Read more
Materials
This sports a full-grain leather construction so you know you can count on it to last for you. The pebbled finish also adds a sense of style which most women will adore.
Effectiveness
As with most companies, proprietary blocking material has been utilized in this wallet. While it may not necessarily be vastly superior to other materials, it gets the job done quite well, and that is all that matters.
Compartments
There is not a ton of space in this bad boy, as it is a miniature-sized wallet. With that said, there is a zippered compartment for coins and also eight card slots to work with.
Style
Past the natural style of leather, there are also several color options available. What is unique about some of them is that they feature color block patterns (with different colors).
Features
Honestly, if you do not use the zippered slot for coins, then you may find the zipper itself to be somewhat of a nuisance.
Overall
This is not necessarily an all-purpose billfold, but it is also not trying to be, either. If you do not need to carry around a ton of cards and identification, you should love this.

10

. Buffway Front Pocket Wallet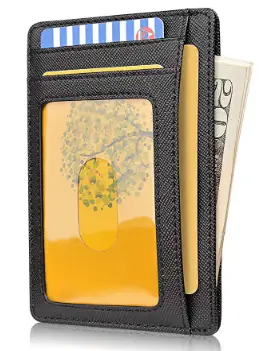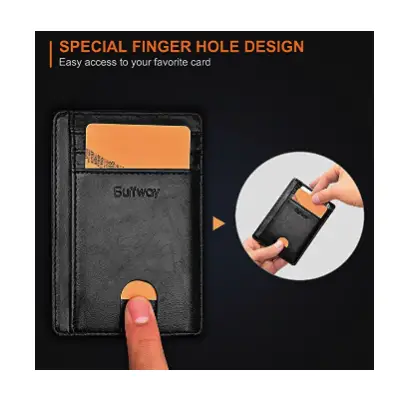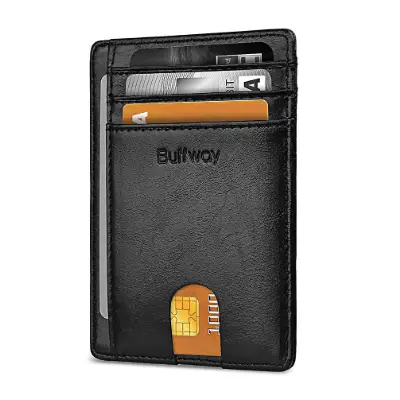 It does not matter if you are a man or a woman; this wallet is going to work great for just about anyone. It is designed to be as compact as possible while also not losing its ability to hold your cards and money.
Read more
Materials
This is not the most authentic leather ever, but it gets the job done. It does not quite feel and look like premium leather (but it is still far from bad).
Effectiveness
Thanks to its advanced RFID blocking technology, this is going to be able to block 13 to 14 megahertz electronic signals that will be sent out by RFID readers.
Compartments
All in all, you could probably get up to 12 cards and some cash in this thing, but anything more would be pushing it. But, there are not individual slots for each of the cards.
Style
This is still a good-looking model that is for sure. There are even quite a few different colors available for your convenience.
Features
What is nice is the front card pocket does come with a finger hole, and this makes removing your card a lot easier. The other slots, on the other hand, have no such feature.
Overall
If you want a cheaper solution that has been loved by thousands, then this is an excellent choice here. Does anything else need to be said?

Subscribe to our Newsletter