Best Leather Shoes
In a
Hurry? Editors choice: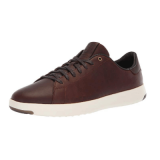 Test Winner: COLE HAAN GRANDPRO

There are just certain articles of
clothing
that everyone should own and a high-quality pair of
leather
shoes might be one of them. It is not really a surprise that this
footwear
is so popular because it has several advantages. These types of shoes are incredibly stylish, very easy to maintain and can last quite a long time. Of course, as with everything else, there are certain engineers who have mastered their craft better than others. Not all leather shoes will be the same and that means you need to know a thing or two before you go to buy a pair.
Standout Picks
Criteria Used for Evaluation
Fit
Whether it is leather or whether it is any other type of footwear, ensuring a proper fit is always going to be priority number one.
Is the notion that size is everything one that you are constantly annoyed with? Well, if it is, then our apologies, as that is the case here (as it is with any footwear you ever buy). However, it can be difficult to ensure a proper fit when you are ordering online as you can't physically try any of them on. So, you need to rely on consumer feedback and also the knowledge of how to ensure a proper fit to maximize your success. The former is subjective as you need to gauge if you can order the size you normally do. However, knowing what to look for to ensure a proper fit, is stable information.
Whether you go with casual or dress-oriented leather shoes, the basis of what you will be looking for will be very similar. It really comes down to the fit in the toe box, heel, and the width. With the toe box, you want your toes to have a bit of breathing room. Yet, at the same time, your heel needs to be secure as you do not want to deal with heel lift. As for the width, while you should not have an excess amount of space, the sides should not be placing pressure on the sides of your foot.
Comfort
The last thing you want is for your feet to ache with your new pair of shoes.
There are certain types of footwear where the arch support and the cushioning will be absolutely paramount. However, in this case, you will not see an extensive amount of both as you would see with running shoes, for example. That does not insinuate that the provided comfort is not going to be important. Any shoe you ever wear should be comfortable. But, it also depends on your usage. If you need a leather shoe for work and are required to wear it for upward of eight to nine hours daily, then you should prioritize cushioning and overall comfort (as there will be models that place a decent emphasis on the two characteristics). For example, look for models with integrated EVA midsoles.
What is also nice about most models is they will be breathable. This is due to the advanced technologies that have been adapted as interior leather linings can be very breathable. Speaking of the material, most dress shoes will sport leather soles. Yet, these are not exactly optimized for comfort and are more so for an enhanced appeal.
Durability
Naturally, leather is an incredibly durable material but not all models will be the same.
One of the reasons why this footwear is so popular is due to the fantastic properties of leather (which does include abrasion resistance and overall toughness). However, what you need to know is not all leathers are created equal and not all construction methods are created equal. And, chances are, you will be paying top-dollar for the better instances of both. It will be money well spent, though, so remember that. Now, you will see most engineers design their models via hand sewing construction. Virtually all engineers of this technology will take great pride in what they do. But, again, it may come at a price.
As the buyer, it is also never a bad idea to see what others have had to say about the durability of a specific model. And, do not forget to address the sole. Most frequently, you will see models sport either leather or rubber soles. The former can be extremely durable but it depends on how many layers are utilized. Meanwhile, rubber soles are as tough as they come. But, with rubber, you do have to worry about it cracking.
Style
Much like with its longevity, leather is known for its amazing and unique appeal.
To be honest, this is the main reason why this footwear is revered. If you need a classy pair of sneakers or a dressy pair of work shoes, leather is going to be a top choice each and every time. Without question, it is a material that has cemented its status as one of the most fashionable out there. Now, you remember when it was claimed that not all leathers are made the same? Well, that can come into play here. You see, there are different types such as full grain, corrected grain, and smooth leather.
The most common of those is smooth and it is also an ideal choice for formal wear as it holds a shine extremely well. As for full grain, this is top-of-the-line leather as it is virtually free of any blemishes. And, as far as corrected grain goes, it needs to be chemically treated. This can result in an unnatural appeal which you may not be fond of. Also, and this goes back to the soles, if you are going for a more formal look, you may want to opt against rubber soles. For appearance, stick with leather soles.
Traction
Though it is not as important as it is for other footwear, you should still keep the traction you achieve in mind.
In the midst of this guide, there has been a small debate between rubber and leather soles (remembering that this is referencing the bottom layer of the shoes). That debate is going to continue here as it is time to discuss the traction. Before this, you should know that the traction of a normal pair of leather shoes is not going to be as important as it is for other footwear. For example, when you go to buy hiking boots, you need rugged soles that will provide superb traction (and protection) on rough and rugged terrains.
Yet, that is not much of an issue here. So, do not worry about finding soles that are extremely rugged. But, does that mean that the traction is rendered useless? Not at all and that leads to the issue with leather soles. On slick surfaces, you will have little to no grip with these soles. With rubber, on the other hand, it can be a little better. Plus, in general, for the best traction in all types of weather, you will want to stick with rubber.
OUR TOP PICKS FOR THE BEST LEATHER SHOES
Subscribe to our Newsletter