Best Leather Shoes
In a
Hurry? Editors choice: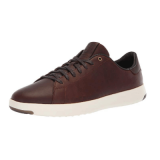 Test Winner: COLE HAAN GRANDPRO

There are just certain articles of
clothing
that everyone should own and a high-quality pair of
leather
shoes might be one of them. It is not really a surprise that this
footwear
is so popular because it has several advantages. These types of shoes are incredibly stylish, very easy to maintain and can last quite a long time. Of course, as with everything else, there are certain engineers who have mastered their craft better than others. Not all leather shoes will be the same and that means you need to know a thing or two before you go to buy a pair.
Standout Picks
Criteria Used for Evaluation
Fit
Whether it is leather or whether it is any other type of footwear, ensuring a proper fit is always going to be priority number one.
Is the notion that size is everything one that you are constantly annoyed with? Well, if it is, then our apologies, as that is the case here (as it is with any footwear you ever buy). However, it can be difficult to ensure a proper fit when you are ordering online as you can't physically try any of them on. So, you need to rely on consumer feedback and also the knowledge of how to ensure a proper fit to maximize your success. The former is subjective as you need to gauge if you can order the size you normally do. However, knowing what to look for to ensure a proper fit, is stable information.
Whether you go with casual or dress-oriented leather shoes, the basis of what you will be looking for will be very similar. It really comes down to the fit in the toe box, heel, and the width. With the toe box, you want your toes to have a bit of breathing room. Yet, at the same time, your heel needs to be secure as you do not want to deal with heel lift. As for the width, while you should not have an excess amount of space, the sides should not be placing pressure on the sides of your foot.
Comfort
The last thing you want is for your feet to ache with your new pair of shoes.
There are certain types of footwear where the arch support and the cushioning will be absolutely paramount. However, in this case, you will not see an extensive amount of both as you would see with running shoes, for example. That does not insinuate that the provided comfort is not going to be important. Any shoe you ever wear should be comfortable. But, it also depends on your usage. If you need a leather shoe for work and are required to wear it for upward of eight to nine hours daily, then you should prioritize cushioning and overall comfort (as there will be models that place a decent emphasis on the two characteristics). For example, look for models with integrated EVA midsoles.
What is also nice about most models is they will be breathable. This is due to the advanced technologies that have been adapted as interior leather linings can be very breathable. Speaking of the material, most dress shoes will sport leather soles. Yet, these are not exactly optimized for comfort and are more so for an enhanced appeal.
Durability
Naturally, leather is an incredibly durable material but not all models will be the same.
One of the reasons why this footwear is so popular is due to the fantastic properties of leather (which does include abrasion resistance and overall toughness). However, what you need to know is not all leathers are created equal and not all construction methods are created equal. And, chances are, you will be paying top-dollar for the better instances of both. It will be money well spent, though, so remember that. Now, you will see most engineers design their models via hand sewing construction. Virtually all engineers of this technology will take great pride in what they do. But, again, it may come at a price.
As the buyer, it is also never a bad idea to see what others have had to say about the durability of a specific model. And, do not forget to address the sole. Most frequently, you will see models sport either leather or rubber soles. The former can be extremely durable but it depends on how many layers are utilized. Meanwhile, rubber soles are as tough as they come. But, with rubber, you do have to worry about it cracking.
Style
Much like with its longevity, leather is known for its amazing and unique appeal.
To be honest, this is the main reason why this footwear is revered. If you need a classy pair of sneakers or a dressy pair of work shoes, leather is going to be a top choice each and every time. Without question, it is a material that has cemented its status as one of the most fashionable out there. Now, you remember when it was claimed that not all leathers are made the same? Well, that can come into play here. You see, there are different types such as full grain, corrected grain, and smooth leather.
The most common of those is smooth and it is also an ideal choice for formal wear as it holds a shine extremely well. As for full grain, this is top-of-the-line leather as it is virtually free of any blemishes. And, as far as corrected grain goes, it needs to be chemically treated. This can result in an unnatural appeal which you may not be fond of. Also, and this goes back to the soles, if you are going for a more formal look, you may want to opt against rubber soles. For appearance, stick with leather soles.
Traction
Though it is not as important as it is for other footwear, you should still keep the traction you achieve in mind.
In the midst of this guide, there has been a small debate between rubber and leather soles (remembering that this is referencing the bottom layer of the shoes). That debate is going to continue here as it is time to discuss the traction. Before this, you should know that the traction of a normal pair of leather shoes is not going to be as important as it is for other footwear. For example, when you go to buy hiking boots, you need rugged soles that will provide superb traction (and protection) on rough and rugged terrains.
Yet, that is not much of an issue here. So, do not worry about finding soles that are extremely rugged. But, does that mean that the traction is rendered useless? Not at all and that leads to the issue with leather soles. On slick surfaces, you will have little to no grip with these soles. With rubber, on the other hand, it can be a little better. Plus, in general, for the best traction in all types of weather, you will want to stick with rubber.
OUR TOP PICKS FOR THE BEST LEATHER SHOES
1

. COLE HAAN GRAND HORIZON OXFORD II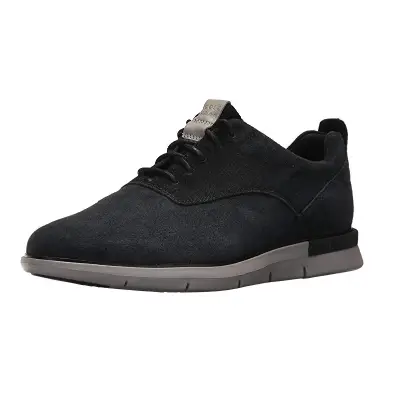 If you anything about this technology, then it should not shock you that Cole Haan has landed so high on this list. Their Oxford II is a luxurious hybrid sneaker with an exceptional look and an even better feel.
Read more
Fitting
Feelings have been mixed in regard to the fitting of this model. There are some buyers who have claimed it has fit them true to size while others claim it runs too big.
Comfort
Though this is not going to be extremely comfortable out of the box (it will take time to break in), it is outfitted with a dual-density EVA midsole and is cushioned with Grand.OS technology.
Durability
Based on consumer feedback, it appears that durability is not going to be an issue. Several buyers have raved about the top-notch quality and craftsmanship of this sneaker.
Style
As with most leather shoes, this model has been designed to be fashionable. Each and every one of the options is stylish in their own right.
Traction
Due to the rubber outsole that has been integrated, your traction will be enhanced. While you will not be able to trudge through the woods safely, you will have traction on most surfaces.
Overall
At the end of the day, this right here may be the most complete leather shoe on the market. It is designed from a quality manufacturer, is extremely durable and sports fantastic style.

2

. SPERRY AUTHENTIC ORIGINAL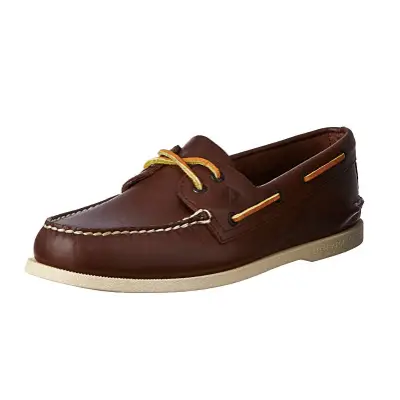 It certainly is never a bad thing when you are a number one seller on Amazon and that is the case here. While this does not always insinuate that a product is exceptional, this one just happens to be.
Read more
Fitting
Sperry engineered their model with a 360-degree lacing system and this allows you to achieve a secure fit. However, according to various users, the fit is a bit narrow.
Comfort
Even though there have been naysayers who have had negative remarks about the comfort of this shoe, it does sport Ortholite underfoot cushioning that adds shock absorption and a beveled heel.
Durability
Make no mistake about it; this is designed with genuine leather materials. Oh yeah, the entire shoe has also been hand-sewn to ensure maximum quality.
Style
No matter which style option you select, you really can't go wrong. Each one has an authentic appeal that will really help you stand out from the rest of the crowd.
Traction
The outsole that has been engineered here is designed with razor-cut Wave-Siping. This is going to enhance your traction on both dry and wet terrains.
Overall
Can you see why this model is so popular? In spite of the narrow fit, the craftsmanship is superb and the cushioning is adequate. Not a bad combination, all things considered.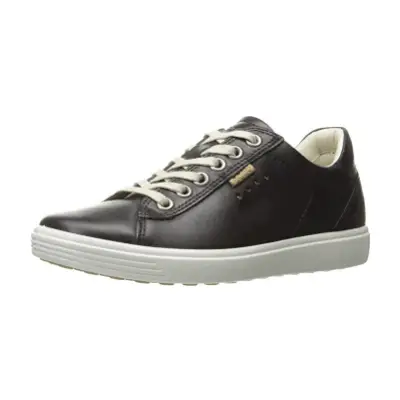 Most leather shoes will not be engineered with an overabundance of comfort. And, while the Ecco Soft 8 Sneaker is not, either, it is notable for offering adequate comfort with an unbelievable look for women.
Read more
Fitting
Thanks to the removable inlay sole that is provided to you, you can achieve an enhanced width with this model. Of course, a few previous buyers have felt that this was too big, ironically.
Comfort
Not only has the interior of the Soft 8 Sneaker been anatomically designed to provide enhanced support but the premium leather lining enhances the breathability.
Durability
Indeed, this is crafted with nothing but leather and it also sports a synthetic sole. All in all, not too many previous users have complained about longevity.
Style
ECCO is a premium brand and they take great pride in the richness of their leathers. It shows with each and every style option available that much is for sure.
Traction
Being equipped with a direct-injected, thick outsole, you will be able to achieve an optimal grip on most surfaces.
Overall
Much like with the top entry on this list, above all else, you need to ensure you get the right size here. If you do then the rest is going to be history.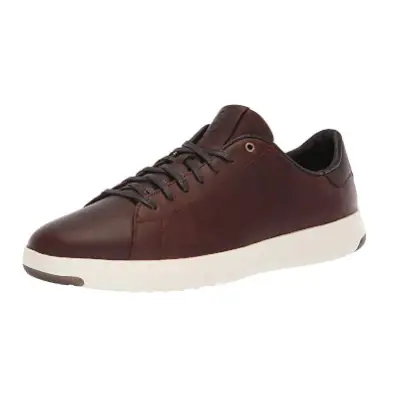 Cole Haan is back on this list and they present their Grandpro Tennis Sneaker this time around. What is really nice about this particular sneaker, though, is it can be worn casually and to business-oriented events.
Read more
Fitting
It is essential to have some breathing room in the toe box and that is what makes the tight toe box of the Grandpro Tennis Sneaker more problematic. This is only going to be an issue for some of you, though.
Comfort
Though not much arch support is present here and though the insole is not the thickest, this does equip an EVA outsole and a textile-covered footbed for improved comfort and breathability.
Durability
Given the brand, it is not too much of a surprise that the craftsmanship is elite. Nothing more needs to be said, right?
Style
Being optimized for both dress wear and casual wear, you really can wear this for any event (generally speaking). Plus, there are loads of color options available to choose from.
Traction
In addition to the rubber sole, this also comes outfitted with rubber pods in the heel and forefoot area. These rubber pods will improve your grip and traction drastically.
Overall
With some products, you know you can't go wrong with a specific brand (for example, with Garmin and GPS watches). Let's just say the same can be said with Cole Haan and footwear.

5

. ALLEN EDMONDS CARLYLE OXFORD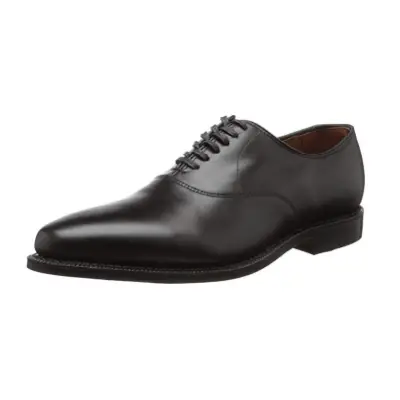 Without question, the best word to describe this next shoe is premium. The attention to detail from Allen Edmonds is utterly marvelous here. Though, they could have optimized their model for comfortability a bit more.
Read more
Fitting
Do note that there have been previous wearers who have documented the large fit of the Carlyle Oxford Shoe. As such, you may want to order a size (or a half-size) down from what you normally would.
Comfort
As mentioned, Allen Edmonds did not exactly optimize their model for maximum comfort. It has virtually no arch support and the soles are quite hard.
Durability
Here is where Allen Edmonds stands above the rest of the competition. If you want the most premium option out there, this might be it.
Style
All of the color options are marvelous but the walnut style is a sight to behold. Again, you can really notice the attention to detail here.
Traction
One user did make mention of the fact that they slipped a little too easily with this shoe on. For the record, it sports a leather sole and not a rubber one.
Overall
Answer this, are you willing to spend this much money on footwear? One thing is for sure, though the comfort is not the best, you pay for the craftsmanship.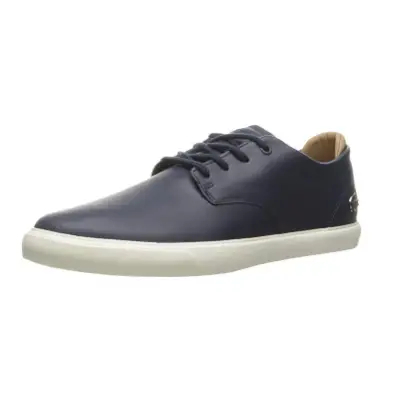 Now, this is a sight for sore eyes that much is for sure. While the interior cushioning is all but non-existent (according to a few users) the style is unbelievable and the durability is even better.
Read more
Fitting
This is another example of footwear that is narrow. What this means is if you have wider feet, you will find it much harder to find a comfortable fit here.
Comfort
At the heel, there is cushioning present, for the record. As other users have documented, however, there is not much interior cushioning present elsewhere.
Durability
Due to the vulcanized outsole and the premium canvas uppers, you really can't go wrong with the quality that is present from Lacoste. In other words, durability is not going to be a concern.
Style
The three color options that are available (navy, white and black) all offer an exceptional style. In fact, this sneaker is going to be a staple for any season.
Traction
Once again, a rubber sole has been integrated here and it is going to provide solid traction on most surfaces.
Overall
Granted you are not looking for a model to wear for eight hours a day, this right here can be a great choice. It sports casual appeal but it is not exactly optimized for comfort.

7

. BOSTONIAN BOLTON FREE OXFORD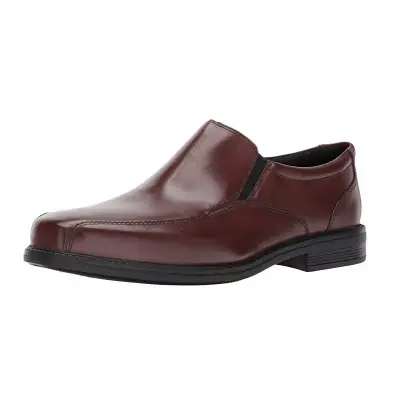 Even though Bostonian does not offer there Bolton Free Oxford in a wide range of style options, various consumers have raved about the comfortability and that can be rare sometimes.
Read more
Fitting
If you have wide feet then you may want to look elsewhere. The reason for this is because various reviewers have made mention of the narrow fit of this model.
Comfort
Yes, comfort has been lauded. Given the shock-absorbing outsole, breathable interior, and soft leather at the top of the heel, this is not at all shocking.
Durability
While there has not been an abundance of users to criticize the durability, one specific buyer did report that within six months of use their model had become unwearable.
Style
Bostonian actually only engineers this model in two colors (black and brown). In spite of the lack of variety, both the black and the brown styles are great.
Traction
Though you should not expect to remain stable on ice, the rubber sole will at least provide you with enough traction on most terrains you walk on.
Overall
Some leather shoes on the market are ideal for casual wear but this is not one of them. Yet, for business-oriented events and appropriate celebrations, this is a tremendous option.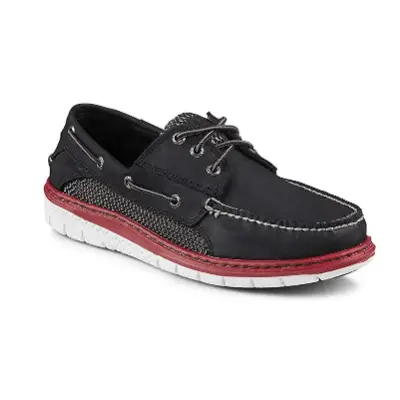 In spite of the fact that a few previous buyers have had longevity issues with this next model, it still combines superb style with a lightweight feel. In fact, this is 28 percent lighter than its predecessor.
Read more
Fitting
Sperry offers this boat shoe in a wide range of sizes and widths and that is a big plus. Be wary, however, previous wearers have claimed that this runs small.
Comfort
As was just mentioned, this is much, much lighter than its predecessor. Although, in spite of this, the arch support is minimal and the overall comfort is not overly impressive.
Durability
The hand-sewn construction that is outfitted here makes for a really nice shoe, in theory. Yet, various reviewers have mentioned that this does not hold up extremely well over time.
Style
Everyone should be able to find a color option that they find appealing. Sperry makes sure of that with their wide variety of styles.
Traction
The razor-cut texturing that has been equipped on the non-marking outsole is going to improve your grip on a wide range of terrains.
Overall
The longevity concerns prevent this from landing higher on this list, so that is a bit of a disappointment. But, hey, nothing is perfect, right?

9

. SKECHERS CITYWALK MALTON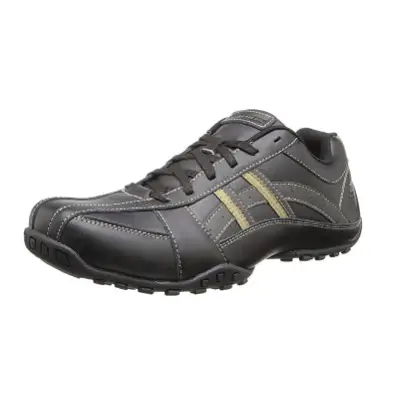 Several of you are probably familiar with Skechers shoes and many of you have also probably had positive experiences in the past with this brand. Well, Skechers also happens to make a fabulous 100 percent leather shoe.
Read more
Fitting
One way or another, various buyers have noted that the fit of this sneaker is off. Admittedly, this makes it a bit hard to gauge what you should do as the buyer.
Comfort
Right away, a unique feature of this option is that it sports memory foam cushioning. Now, it is worth noting that it is only located at the back half of the shoe.
Durability
While Skechers can be trusted to design high-quality footwear, a few previous buyers have reported issues with the laces coming apart.
Style
For a leather, casual sneaker, this is about as good as it gets in regard to the style. Each of the color options (black, brown and charcoal) are all superb, quite frankly.
Traction
When the rubber sole of this sneaker gets wet, things will get slippery. There really is no other way to say it so be wary about it.
Overall
Not all leather footwear needs to be tailored for dress wear and this is a prime example of such. And, with the memory foam cushioning, this sneaker can be worn longer than other options on this list before experience discomfort.

10

. CONVERSE CHUCK TAYLOR ALL STAR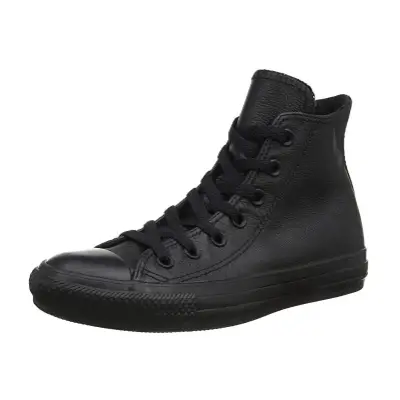 Converse is one of those shoe brands that has garnered a cult following for the unique styling of their footwear. It just so happens that their Chuck Taylor All Star Sneaker implements that same style with an all-leather construction.
Read more
Fitting
Here is what is interesting; there are users out there who have made mention of the fact that this runs true to size. Yet, then there are those who claim it runs large.
Comfort
To enhance the comfort of their Chuck Taylor All Star Sneaker, Converse designed it with Ortholite cushioning.
Durability
The sheer amount of users who have had issues with early signs of wear with this shoe makes it clear that this is not a long-term model.
Style
Yep, this sports that classic Converse appeal that so many of you are fully aware of. Also, there are a vast array of color options available to choose from.
Traction
The good news is the Chuck Taylor All Star is updated with a durable, rubber outsole. However, the provided traction is solid but nothing exceptional.
Overall
Look, all shoes are meant to be worn out but some will wear down quicker than others. This is an example of that but while this sneaker lasts, it is a joy to wear.

Subscribe to our Newsletter