Best Diving Wetsuits
In a Hurry? Editors choice: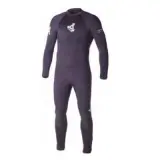 Test Winner: Xcel Thermoflex

If you are a professional, recreational, or even an up-and-coming
diver
who wants to explore the vast wonders of the ocean, you either will find out or already understand how many pieces to the puzzle that there are. It just so happens that owning a
diving
wetsuit (or drysuit) is another one of the seemingly infinite numbers of pieces in the giant puzzle known as diving.
A wetsuit will completely alter your diving experience as they are designed to keep you warm, comfortable, flexible and protected while
under water
. There are some key design features to keep an eye out for, however, and that is why you are here today. Enjoy, as you learn all you need to know about diving wetsuits.
Standout Picks
Criteria Used for Evaluation
Top 10 Picks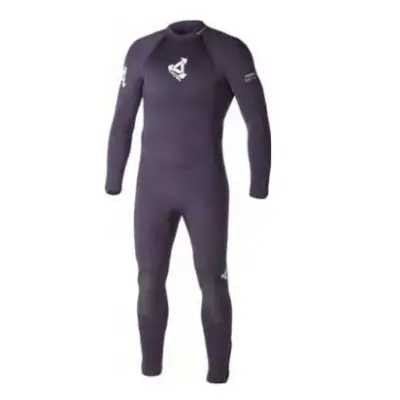 Not all wetsuits are tailored to cold and deeper waters but the 7/6mm Thermoflex Wetsuit most certainly is. From top to bottom, you would be hard-pressed to find a more impressive wetsuit for either warm water or cold water.
Read more
Materials
Due to the 7/6mm makeup, this is an ideal wetsuit for deep water diving. The 7/6mm is made up of ultra-stretch neoprene and this provides you with the freedom of movement you crave.
Durability and Protection
To ensure no cold water can seep into your suit, the semi-dry back zipper and seamless drylock waist are integrated. Additionally, the suit is designed with DuraFlex knee panels to help minimize wear-and-tear.
The glued and blind-stitched seam design keeps water out and the seamless drylock wrist seals are an exclusive technology to enhance comfort.
Comfort
Adequate padding has been designed around the legs and the midsection. Coupled with this is a plush liner and this combination increases the overall comfort. Also, the ankle zipper system implements inner flaps for even more comfort.
Overall Fit
One user, who noted he was quite tall, pointed out that the fit of this wetsuit was a bit tight in the elbows. No matter, there are a wide number of sizes to select from (from small to 4X-large).
Overall
It is not a real surprise to see so many diving enthusiasts rave about the design and performance presented by the Thermoflex Wetsuit. Taller folks may have to put up with some tightness around the elbow, but that is about it.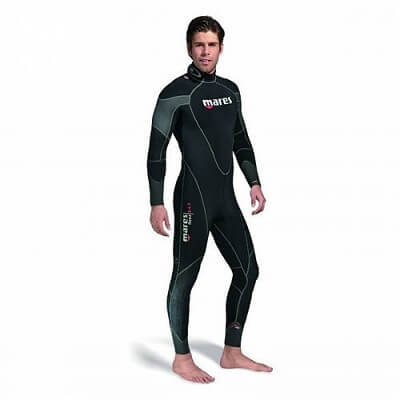 The Flexa Wetsuit has a long list of incredible features but what will have divers enamored is the varied thicknesses of neoprene that are used throughout. This allows the Flexa to increase the flexibility and warmth in necessary locations.
Read more
Materials
Throughout the body of the Flexa, there are variable thicknesses of the Trilastic material. The reason this is dubbed the 5.4.3. Wetsuit is there are five, four, and three-millimeter thicknesses of neoprene in specific locations.
Durability and Protection
An additional layer of neoprene has been stitched into the back of this wetsuit for added protection against leaking water.
A rather ingenious design is at work here. Mares uses a glued and blind-stitched seam and they do so with a hooked needle. Basically, it does not fully penetrate the neoprene and prevents a passage for water to go through.
Comfort
The new zipper on the Flexa is not going to dig into your skin and it even comes with a smooth neoprene flap for additional comfort and pleasure.
Overall Fit
There are sizes available from small all the way up to XXX-large. Now, be wary, one user pointed out the inaccuracies of the measurement guide and noted it was two sizes wrong.
Overall
While you need to be careful with the fitting as the measurement guide may be misleading, the strategically placed levels of thickness allow this suit to deliver flexibility and warmth where it is needed the most.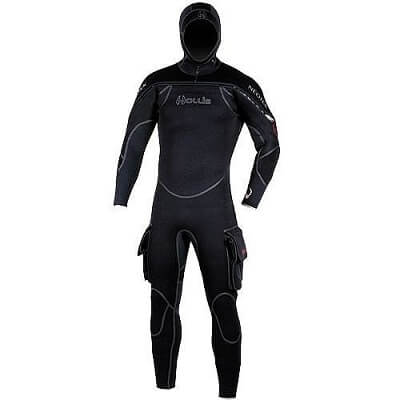 Right from the get-go, it is obvious that this is not a normal wetsuit. First off, it sports gusseted pockets that can hold your essential items. However, it also sports seams that are quadruple glued and covered with a liquid seam.
Read more
Materials
This is one the thickest wetsuits on this list; at least, in certain areas. Much like the previous wetsuit, this has neoprene thicknesses of eight, seven, and six millimeters throughout. Overall, the neoprene used is compression-resistant.
Durability and Protection
Both the arms and the legs are properly sealed to prevent water from sneaking through. In addition to this, the tight barrier around the neck also assists in keeping water out.
All the seams that have been sewn into the Neotek Wetsuit have been quadruple glued and then butt joined with a blind stitch. All of which is covered by a unique liquid seam.
Comfort
One experienced diver of 15 years left a review of the Neotek and they claimed it was the most comfortable wetsuit that they had ever owned. Wow, that is saying something.
Overall Fit
Sizes are available from small to XXX-large and there have not been too many buyers who have complained about sizing inconsistencies. All in all, it seems true-to-size.
Overall
What makes this wetsuit tick are its unbelievable neoprene construction and its high-quality seams. Other factors are involved, such as its comfort and fitting, but that is reason enough to make a serious push for this product.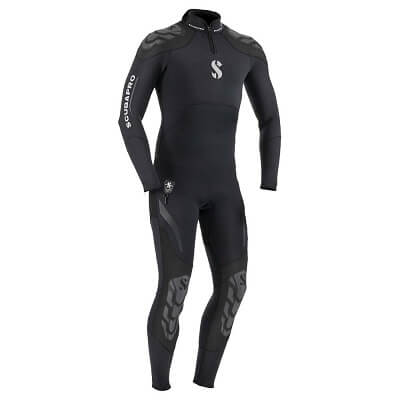 Although the Everflex is one of the thinner wetsuits on this list, it still remains one of the best because of its all-out performance. Plus, as ScubaPro uses fewer seams and panels than other wetsuits, it allows for maximum flexibility.
Read more
Materials
Right from the start, it is worth bringing up the solvent-free water-based glue that this wetsuit is assembled with. But, it gets better, as the Everflex utilizes an X-foam formulation of 100 percent neoprene.
Durability and Protection
Do not let the 3mm construction confuse you; this is capable of providing excellent thermal protection. In fact, thanks to the superior materials and construction, it can rival the water protection of other thicker wetsuits.
Double blind-stitched seams are used for the outer portion of this wetsuit for enhanced water-tightness. However, the single blind-stitched inner seams provide the comfort you need against bare skin.
Comfort
The multi-thickness panels deliver a superb combination of flexibility and warmth. On top of this, the aforementioned single blind-stitched inner seams feel great against your skin.
Overall Fit
Amazingly, there are sizing options from small to 5X-large with options for tall and short for some of the options. Truth be told, you would be hard-pressed to find a size that is not suitable for you.
Overall
Some may be scared off by the slightly thinner neoprene material but the reality is, this performs better than you would expect it to. Plus, as it uses fewer seams than other designs, it manages to provide outstanding flexibility.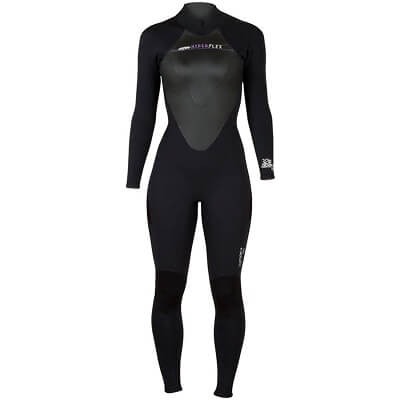 Women around the world will quickly fall in love with the Cyclone Wetsuit as it not only is crafted of four-way stretch neoprene but it also features a new water barrier along the back zipper to prevent water from seeping through.
Read more
Materials
Hyperflex could have simply designed their wetsuit with normal neoprene and called it good. But, they decided to go all-out with their Quantum Foam neoprene which provides 100 percent four-way stretch capabilities.
Durability and Protection
Another fantastic and noteworthy feature of the Cyclone is the new water barrier along the back zipper. As the name suggests, this enhances the water protection of the zipper. Plus, the zipper is made with a corrosion-resistant metal slider.
With the glued and double-stitched seams, Hyperflex has ensured that water will have a tough time entering this suit.
Comfort
Several users have raved about the comfort delivered from this wetsuit. With that said, though, there was a buyer who was not fond of the neck attachment of the Cyclone.
Overall Fit
It seems like you may need to go a size or two up, maybe even more. One specific reviewer kindly pointed out that the included sizing chart may be a bit inaccurate and misleading.
Overall
There really is so much to love and be fond of that it is hard to summarize the Cyclone. It could just be the best women's wetsuit in the world today and it is headlined by its double blind-stitched seams, water barrier zipper, and advanced neoprene.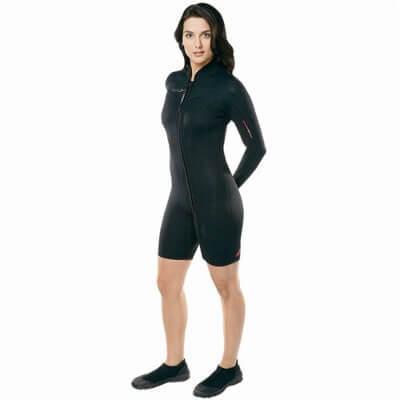 Henderson proves that a wetsuit does not need to be outrageously priced to be of high-quality. Their Thermoprene is not going to break your bank but it will perform as well or better than other wetsuits of higher price. Is there anything more you could ask for?
Read more
Materials
This is the 3mm version of the Thermoprene but all of them utilize Henderson's own thermoprene neoprene. As opposed to traditional neoprene, this boasts 180 percent more stretch.
Durability and Protection
Overall, the exterior of this wetsuit holds up well to wear and tear and part of the reason why is the neoprene is laminated with abrasion-resistant fabric. Plus, the flap of neoprene behind the zipper provides enhanced water protection.
Each and every one of the seams has been glued and blind-stitched to prevent any water from even thinking about penetrating the core of this wetsuit.
Comfort
As opposed to standard neoprene, Henderson's advanced material provides enhanced flexibility and comfort. In addition, the edges of the cuffs are Lycra trimmed which eliminates chafing.
Overall Fit
While a few buyers have expressed their opinions that the wetsuit was too snug for them, the suit is designed with a front zipper for easy access and comes in a plethora of different sizes.
Overall
For some people, they will completely dismiss a product like this because they automatically assume the lower price represents a cheaper and lower-quality item. However, Henderson proves this "theory" to be nothing more than user paranoia.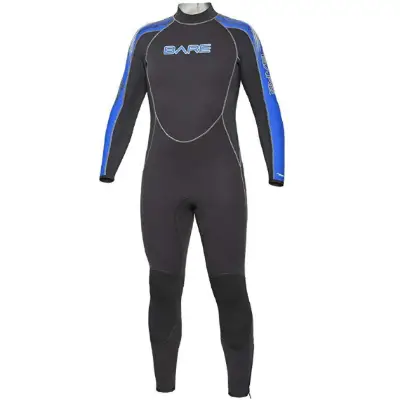 Yet another highly impressive wetsuit is the Velocity from Bare. The company uses full-stretch technology to achieve excellent durability and also utilizes seamless underarms for enhanced comfort.
Read more
Materials
Bare utilizes what they dub progressive full-stretch technology for their Velocity Wetsuit. Basically, this construction method combines three different types of full-stretch materials to deliver a mid to cold-water suit.
Durability and Protection
The 5mm contoured and ultra-comfortable glide-skin collar of the Velocity, with a 360-degree neck seal, minimizes the amount of water that can enter in. On top of this, the integrated knee protection provides wear and abrasion-resistance.
Seam Design
Underneath the arms have been left seamless for enhanced comfortability but the main seams are double glued with a Secure-Lock construction.
Comfort
Not only do the seamless underarms aid in the comfort of the Velocity, but so does the back knee flex panels. Basically, these panels are designed to add comfort whenever you are kicking or squatting.
Overall Fit
Mares engineered their Velocity Wetsuit with an anatomically correct pattern and this improves the overall fit. Not only that but the heavy-duty ankle zippers aid in donning and the Velcro collar is adjustable. Oh yeah, it also comes in several different sizes.
Overall
It is quite amazing how a wetsuit of this caliber lands so far down on this list. It truly goes to show the level of competition as all things considered, the Velocity Wetsuit is one of the most consistent and impressive designs out there.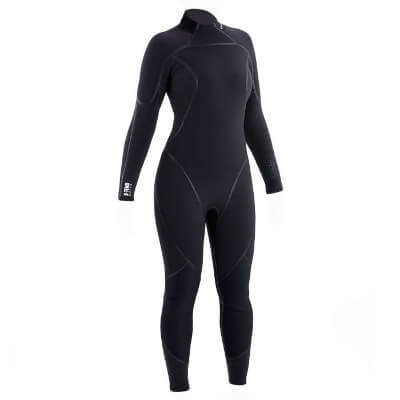 This is another ideal wetsuit for women looking to go diving. Now, one special note about the HydroFlex is that it tends to fit slender women better. It is not too forgiving to women who are slightly bigger (not taller), so keep that in mind.
Read more
Materials
When Aqua Lung claims that their HydroFlex Wetsuit can stretch, they are certainly not exaggerating in the slightest. Their material is dubbed a super-stretch material and it is capable of stretching 250 percent more than traditional neoprene.
Durability and Protection
Both the back zipper, which is built with a water shield, and the hook-and-loop adjustable neck work together to provide added water protection for the HydroFlex. Also, the screened rubber knee pads aid in durability.
From top to bottom, the entire suit utilizes what is known as a flatlock stitch. While it can be prone to water penetration because of this method, it does aid in comfort and flexibility.
Comfort
To be honest, this wetsuit is so comfortable because of the flatlock stitching method incorporated throughout. In addition to this, the screened rubber knee pads also add comfort on top of durability.
Overall Fit
Here is the deal; this wetsuit is better tailored for slender women. The general consensus amongst users and buyers is that the larger sizes accommodate taller women. As such, the fit is going to be too tight for some of you.
Overall
While the HydroFlex is not going to be suitable for all women in the world, it still remains one of the best for those who can properly fit inside of it. Still, it would have been nice if Aqua Lung accounted for a wider demographic.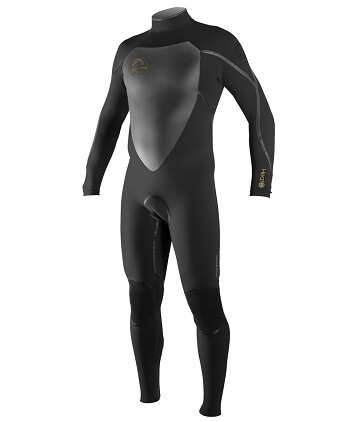 O'Neill certainly knows how to make a fantastic wetsuit and they actually close out this list with the final two. First up is their Heat Wetsuit and this has been engineered with superior technology that provides awesome protection underwater.
Read more
Materials
For a great combination of flexibility, warmth, and flexibility, O'Neill integrated 4/3mm UltraFlex DS neoprene fabric throughout their wetsuit. As such, it is suitable for early spring and late fall diving.
Durability and Protection
Both the chest and back panels add a necessary boost of insulation and the Covert Code Red back entry utilizes a ¾-length zipper that has been coated with urethane. To top it all off, the silicon-based urethane seal blocks all water out.
The Heat has been constructed with a fluid seam weld construction and this attempts to block all water out. Also, the seamless paddle zones manage to increase the amount of flexibility you are provided.
Comfort
That aforementioned silicone-based urethane seal manages to block out water without feeling restrictive or uncomfortable. Additionally, the double Super Seal neck offers soft comfort.
Overall Fit
From small all the way up to XXX-large, there are several sizing options available that should allow you to find the right fit for your body.
Overall
The Heat Wetsuit from O'Neill may not be a flawless or perfect model, but it delivers enough quality for the average diver to be more than satisfied. Hardcore perfectionists may not be satisfied as there are some slight flaws present, though.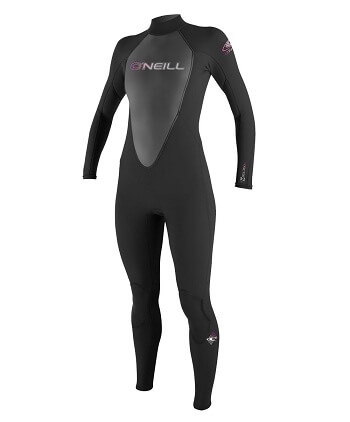 This version of O'Neill's wetsuit, the Reactor, is intended for women. Granted you only dive in relatively warm temperatures, the Reactor will be a terrific addition to your diving ensemble.
Read more
Materials
To be clear right off the get-go, this is not a cold-water suit. Instead, the 3/2mm neoprene construction throughout allows this to be better suited for, as O'Neill recommends, temperatures of 69 degrees Fahrenheit to 79 degrees Fahrenheit.
Durability and Protection
To enhance the insulation of the Reactor, the chest and the back feature thicker neoprene panels. Furthermore, the knee pads supply much-needed abrasion-resistance.
The flatlock stitching used in this wetsuit enables it to all-but eliminate chafing against the skin. However, it is prone to water penetration; hence, O'Neill recommends it strictly for warmer waters.
Comfort
Outside of the natural comfort that is delivered with the flat-seam construction, the neoprene sleeves are incredibly flexible and the internal flap also shields your skin from abrasions.
Overall Fit
O'Neill supplies women with several sizing options to choose from. With increments of two, you have the option of size 4 through size 16. Now, it is important to bring to your attention that several women found the fit to be too tight and stiff.
Overall
The Reactor is a terrific warm water diving wetsuit but if you are going to be traversing in colder and deeper waters, this just is not going to cut it. Either way, though, be wary of the sizing issues and make sure you order a size you are confident will not be overly stiff or tight.

Subscribe to our Newsletter