Best Scuba Gear
In a Hurry? Editors choice: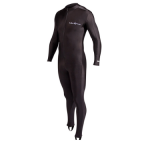 Test Winner: NeoSport Full Body Sports Skin

It's not every day you get to explore the mysteries of the ocean, so if you ever get the opportunity you want to make sure that you are equipped with the right
gear
. The first and foremost thing that you are probably looking at when it comes to this type of equipment is what will allow you to have the most fun and allow you to stay down in the water longer observing the beautiful scenery that awaits under the sea. Products such as GoPros, flashlights, and duffel bags will certainly boost the enjoyment of your time underwater. Making sure you select excellent products such as
masks
, fins,
vests
, and bodysuits will also ensure that you will have a really great time and are safe while exploring the depths.
Standout Picks
Criteria Used for Evaluation
Use
Getting the most out of your dive is the most important thing. It is likely going to cost you a good chunk of money to even make it to the ocean this summer, so we wanted to select tools to help you get the most out of it. A waterproof flashlight, for instance, isn't something that is required before you hit the water, but having one equipped will let you see more things in the water than you could before. Plus, a water torch will allow you do go on night dives- which is an incredible experience that every diver should have at least once.
Safety Hazards
While some of the tools we selected make swimming and exploring more enjoyable, there were some tools that just made things safer. The diving computer, for example, is something that all divers should have. It allows you to keep a keen eye on all of the numbers that are important to keep you safe- such as water pressure, oxygen, and time in the water. Bad things can happen to divers that come up too quickly, and sometimes it's difficult to gauge if you are surfacing too fast or not.
The diving computer might sport a pretty hefty price tag, but it is something that you will get a lot of use out of. The diving knife, on the other hand, might be something that you never even need to use. The benefit of strapping one to your leg is so that you will have the tool you need to cut yourself free if you ever get caught in anything. It might be something that never happens to you while swimming, but knowing that you are equipped with the proper tools for every possible problem will make you feel more confident in your underwater explorations.
Safety is the number one thing that you need to keep in mind while you are off on all of your ocean adventures this summer. Finding all of the right tools that are used by even the most seasoned of divers is one of the first things that you can to do ensure that you are safe, and we hope we have provided you with some really great suggestions. It's not often that you might have the opportunity to explore the ocean, so you need to make sure that you have everything that you need as soon as you hit the water.
Style
No one wants to look like an obvious tourist when they are on vacation, so we tried to select styles that are neutral, or have sharp and trendy accents. The full body sports skin we selected is perfect because it is offered in many different sizes to ensure that you will get the size that fits you perfectly, and it comes in a basic black color with the option of sharp electric accents on the arms.
All of the gear that we selected is offered in a basic black design, but they also have various color options available for divers looking to stand out a little bit. When it came to the duffel bag that we selected, we wanted something that was designed specifically for diving equipment. The bag that we landed on was perfect because it had a clever design on the ends, and it was also made from lightweight mesh materials that were as functional as they were stylish.
Value
We know- diving gear is expensive. While you should never skimp on some of the important things such as tanks, BCD vests, and regulators- it's completely understandable to want to save a little bit of money on the non-essentials such as torches and duffel bags. While selecting the important tools, we made sure that we made sure that they were made out of quality materials, and that they had been tested and reviewed positively be previous users.
Top Ten Gear for Scuba diving
1

. NeoSport Full Body Sports Skin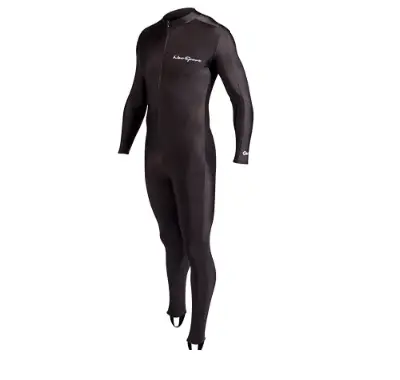 One of the first things that you might want to buy when building up your diving gear is a suit. There are so many good reasons to buy one, and the good news is that they are a great benefit to pretty much any type of water sport- making them a really great investment.
Read more
Design:
This suit is meant to be worn to serve as a second skin. The base model of this suit is offered in a solid black with a modest NeoSport logo printed in white letters on the left breast. If you want a little more pop of color, they also offer designs that have electric yellow, white, or blue strips that run down the top of the arms starting at the shoulders.
Features:
The most important feature of this suit is that it regulates your body temperature. It might be hot outside on the day that you dive, but as you travel deeper, the temperature of the water will continue to plummet. The suit serves to keep a thin layer of body heat between the suit and your skin. It also is made from a material that has been treated with a UV protectant to keep the sun off of you completely. This makes this suit perfect to wear while engaging in any water activity- like surfing- and ensuring you can stay out for longer without suffering in the evening with a terrible sunburn.
Value:
The cost of the NeoSport model is surprisingly affordable, and shouldn't set you back all that much money. Considering the modest price point, it is definitely something that you will want to add to your gear list for all of your tropical outdoor adventures this summer.
Summary:
If you want to get your diving gear collection started off right, a good suit will keep the sun off your back when you are on the boat, and it will keep your body temperature regulated as you dive deeper under the water.

2

. Promate Stainless Steel Knife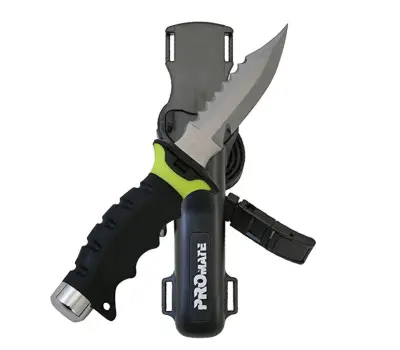 Contrary to what you may believe- this knife isn't used to protect yourself against sharks. Divers can utilize knives in a myriad of ways, but the most important way is to be able to untangle themselves if they get tangled up in lines or sea life. It's always better to be prepared- especially when you are underwater!
Read more
Design:
The design of this knife is incredibly sturdy and has a grip that will fit comfortably in your hand. The base color for the handle is black, and users can select from a list of different color accents. Colors that are available include pink, green, blue, red, yellow, and white.
Features:
The way that this unit works that the blade is concealed in a sheath that straps to your leg for easy access. If you ever find you are in a situation where you need to untangle yourself, simply unsheath the knife and use the blade to cut yourself free. After you are done using it, all of the components come apart to make cleaning it incredibly simple and easy so that it will last you many trips under water.
Value:
The price of this knife will in no way break the bank. It will likely set you back the same amount of money that you will likely spend taking a friend out to dinner after a fun day out on the water. Considering that it is offered at a really affordable price, and it can really save the day if you find yourself tangled up- it is well worth the price tag.
Summary:
It is always better to be prepared for the potential of getting tangled, rather than not having all of the tools to free yourself. Even if you strap it to your leg and never use it- just knowing that it is there just in case makes it well worth the price.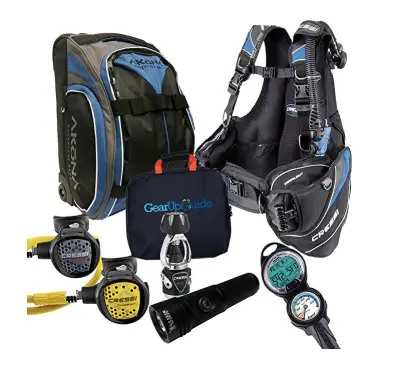 If you have the extra money, you can buy pretty much everything that you will need to expertly explore the ocean in one convenient package that is brought to you by Cressi- one of the leading companies in water gear. Everything is incredibly lightweight so nothing is holding you back from exploration.
Read more
Design:
All of the gear comes in a solid black color, and it has sharp blue accents with the classic Cressi logo printed on it. The carrying back that is included with this purchase is able to fit all of the tools that are included with purchase, as well as some additional items such as a wetsuit, fins, and masks. The bag has a long retractable handle and wheels for easy travel.
Features:
What makes this product great is that it comes with all of the things that you need to ensure that you have a travel dive. It comes with a regulator set that is ready to hit the water with the hoses that are included. The jacket has a lot of extra padding to ensure a nice and secure fit without rubbing up against you too much. It also comes with a diving computer that calculates PSIs, and a waterproof flashlight for easy exploration.
Value:
We hope you are sitting down because this set costs quite a bit of money. However, if you are looking to get pretty much all of the gear that you need- this set will be well worth the padded priced tag. Plus, you won't have to worry about buying additional gear with this convenient kit. All of the gear has been tried and tested, so you know you are buying products that will last you a long time.
Summary:
If you are in the market to start building your diving gear collection, and you don't really know where to start, this kit- despite its high price tag- will be an excellent jumping off point, so to speak. It will ensure that you will be ready for all of your underwater adventures this summer.

4

. Cressi Aquaride Pro BCD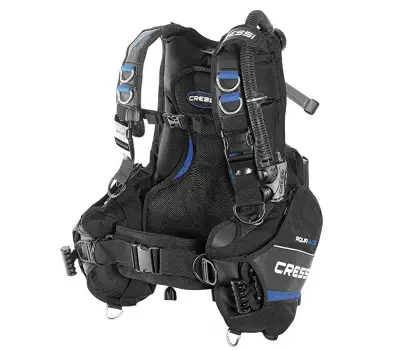 Ever wonder how divers stay underwater without floating to the top? The answer to that question is because they are wearing a BCD vest. BCD stands for Buoyancy Control Device. This type of vest makes it really easy to control how deep you sink and will prevent you from drifting up to the top. For any diver, it's a must-have.
Read more
Design:
This model is made of all black materials with sharp blue accents and a lot of places to strap on additional tools and equipment. It has a lot of different sizing options for both men and women to ensure that you get a really comfortable fit that is perfect for you, and will work well with keeping you buoyancy neutralized for your build and body weight.
Features:
The thing that makes this not just an ordinary vest is that it has inflatable bladders that can be adjusted based on your weight and the water pressure that you are swimming in. It has all of the tubes that you will need to hook your regulator to your oxygen tank built right into the vest.
Value:
The cost of these vests is not going to be very easy on the wallet. In fact, this is one of the most expensive items to be found on this list. However, once you have paid for the vest that you will need, that is generally one of the most expensive items, so all of the other equipment that you buy after this will be substantially less.
Summary:
If you have the extra cash to spend on a pretty expensive piece of equipment, this is a really great BCD vest that comes with the confidence that comes from a Cressi product.

5

. Cressi Leonardo Dive Computer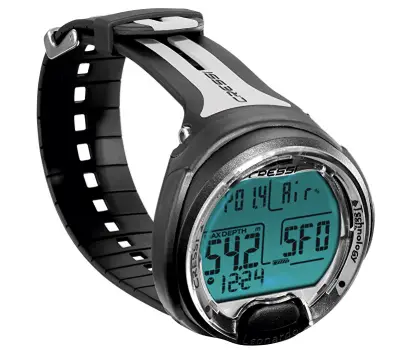 There is something that happens when divers come up to fast, and it's called decompression sickness. It is considered to be a one-way ticket to spending the rest of your vacation painted onto the floor of your hotel room for the remainder of your trip. To avoid coming to the surface too fast, you can monitor your pressure levels with this handy Cressi dive computer.
Read more
Design:
This unit is incredibly sharp and fits on your wrist like a wristwatch. It has a soft adjustable rubber band for a perfect fit for any size wrist, and it has a sharp silver accent running down the middle. The face has a large round display that is easy to read even when you are underwater. If you don't like the black and gray design, it is also available in many different colors such as blue, pink, yellow, orange, and white to match the colors of your wetsuit.
Features:
What makes this diving computer great is that it offers you more information rather than just your depth. In addition to having a depth gauge, it also shows you your air percentage, nitrous levels, max depth, and- of course- the time. It is also able to time how long you have been underwater so you can be sure you don't lose track of time a swim right through dinner. It has a backlit screen that is perfect for when you are really getting down there and visibility is lower than when you are closer to the surface.
Value:
Due to the fact that it shows you much more than simply the pressure for which you are diving, this packs quite the price tag. It will likely set you back the same amount of money that you spend on your smartwatch that you use every day. However, if you want to ensure that you dive safe and monitor all of your important levels- this is well worth the price.
Summary:
For those that want to ensure that they have a keen eye on all of the important information that they will need to stay safe while diving this summer, the Cressi Dive Computer is a must have for your next dive.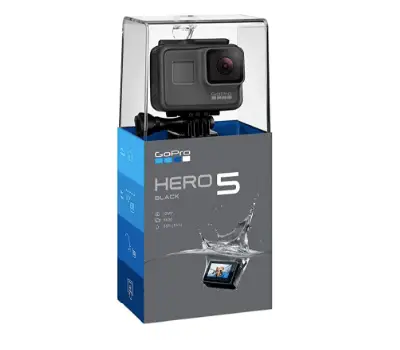 If you have noticed when shopping around for masks, a lot of the newer models come with a GoPro mount. It is pretty standard for most masks lately. We felt it would be a missed opportunity if we didn't suggest that it might be in your best interest to include one of these handy little devices to your diving equipment. The things that you will discover in the water are so interesting that you will want to take a video to look back on after you return back home.
Read more
Design:
The design of this model is incredibly small and lightweight so that you might even forget that you have it mounted on your mask. When holding it in your hand, it barely covers the palm of your hand, it is just that small. This model comes in a matte black design with a battery display and a runtime on the front next to the lens, and a full screen on the back to replay video that you have taken.
Features:
Using a GoPro is really simple and easy. Simply mount it to a hand mount (sold separately) or affix it directly to your mask so that your hands can be free for other things. It is able to be used underwater and in the most extreme conditions and continue to run perfectly. When it is time to go home, simply plug it into your computer and upload the video to share it with all of your friends and family.
Value:
While the cost of this unit has quite the heavy price tag- it's not an expensive as you may think. This particular model will set you back about the same amount that you would have spent on the Cressi Dive Computer. Considering that you can use this unit for tons of things outside of the water- it is well worth the padded price tag.
Summary:
If you want a way to remember your underwater adventures forever, and revisit them after you get back home in the middle of winter- this is the best way to do it. Underwater cameras are a good alternative, but they don't capture the essence of your explorations the same way a GoPro can.

7

. Kraken Aquatics Mesh Duffel Gear Bag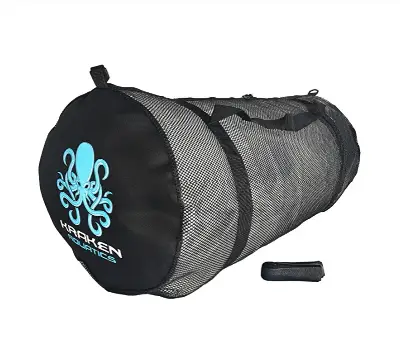 It's hard to find a bag to carry all of these items in because most duffel bags aren't designed specifically for items made for diving. The Kraken Aquatics design, however, offers divers a perfect place to hold all of the things that they will need for a successful dive and looks good hanging off of your shoulder.
Read more
Design:
The design of this is what makes it stand out from a lot of the other similar designs out there on the market. It is long enough to be able to hold pretty much everything with the exception of the oxygen tank. It is only offered in a gray and black mesh design, and it has the Kraken Aquatics logo on the ends of the bag.
Features:
What makes this bag special is that it is made from mesh that makes in incredibly lightweight, and it has an adjustable shoulder strap to be able to take a lot of the weight off of your back and distribute it evenly. It uses high-quality zippers that won't fail you in the middle of your trip, and it is big enough to hold pretty much all of your stuff, with a little extra room to spare for snacks and water.
Value:
Considering the high-quality materials that come from a trusted brand such as Kraken Aquatics, this bag comes at a really reasonable price point that won't break the bank. If you want something light that will be able to comfortably carry all of your things- this will be a really great addition to your next trip. It also comes with a 2-year warranty if it doesn't fit your needs perfectly.
Summary:
If you have already collected a good amount of diving equipment and need something to carry it effectively in a stylish bag- this is a really great option.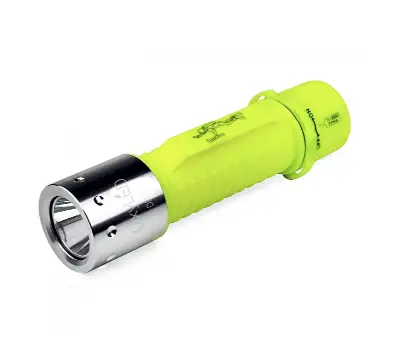 The deeper that you dive down into the water means that the less sunlight that will light your way. If you are excited to really get down there this summer and discover all of the hidden creatures and plants that are living below the surface, you are going to want something to light your way. OxyLED makes a really great and affordable underwater torch that is easy to use and is incredibly effective.
Read more
Design:
This unit comes in a bright yellow shell so it is really easy to spot when you are underwater. To turn it on, all you have to do is twist the base. The shell is made from a high-quality alloy that is aircraft grade, and it is coated with a substance that makes it shock proof as well as waterproof. The entire unit comes with a sharp hard shell black carrying case.
Features:
To use this tool, you can hold it loosely in your hand as you dive down, but you also have the option to strap it to your wrist so that you can light your way while keeping both hands free. It uses an LED bulb that offers an impressive 50,000 hours of light. It is powered by a single battery, and the battery is able to be recharged with the charger that is included with purchase.
Value:
This is by far the most affordable item to make this list and will set you back about the same amount that you would spend on breakfast in the morning before heading out. Many divers find that the use of a flashlight is a really important tool to get the most out of your trip underwater- making this tool offered at an incredible value.
Summary:
If you want to get the most out of your trip, and really want to explore deep into the ocean- this is an excellent tool that you will get a lot of use from. Plus, it is bright and durable enough not only to be used diving, but it can be used on camping, and fishing trips as well, or can just be stored in your glove box in case of an emergency.

9

. Cressi Everlasting Family Fins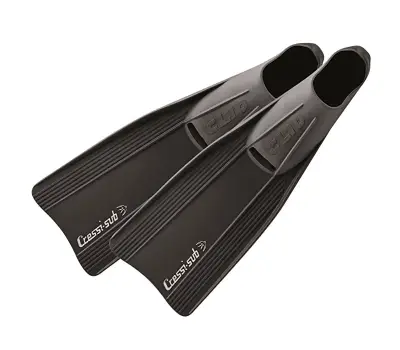 When you want to have a nice afternoon swimming with fishes, it is important that you dress like the fishes. The reason divers equip fins rather than swimming shoes is because of the fins that a lot of strain off of your legs. That's important because the longer you can be in the water without getting tired means you will have more time to discover interesting sea life.
Read more
Design:
Cressi did not set out of reinventing the wheel with their Family Fins design. It sports a classic design that fits on the foot like a glove. Instead of keeping it in place with buckles or straps, you buy a model based upon the shoe size that you wear, and it suctions to for your like a natural extension of your leg. It is available only in black, and with a subtle Cressi logo in white letters at the top of each fin.
Features:
This product doesn't come with any addition bells and whistles. It sports a simple design that is both simple but effective. The purpose of this product is to make it just a little bit easier for you to tread water and navigate from one place to the next. When you swim without fins, the muscles in your legs will become tired pretty fast, and it will limit the time that you can be under the water. With a good pair of fins, the muscles in your legs won't get tired as fast and you will be able to stay down there longer.
Value:
The cost of these fins is pretty affordable, and will likely set you back the same amount that you would spend on a good pair of casual sneakers. Considering how important they are to allow you to really navigate your way through the ocean, they are well worth the price point.
Summary:
If you are in the market for a new pair of fins, but you don't want to spend a whole lot of money on a pair that has a lot of extra features that just aren't needed- Cressi makes a great pair that is offered at a price that won't break the bank.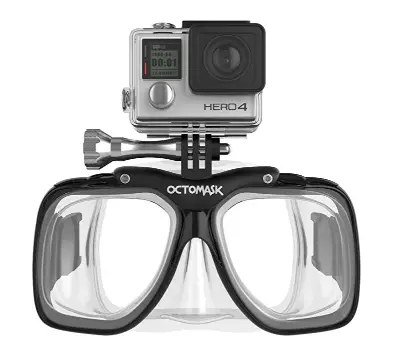 No diving trip is possible without the addition of a good mask. This mask is made from high-quality materials that create a great suction, and it also comes with a GoPro mount on the top so that you can share your maritime adventures with all of your friends after you get home from your summer vacation.
Read more
Design:
OCTOMASK offers this design in two colors- solid black and clear. It has a split strap that runs along the back of the head that distributes the pressure to the top and bottom of the crown on your head to sit comfortably and tightly, without creating so much pressure that it becomes uncomfortable.
Features:
There is a simple mounting hardware off the top of the mask that allows you to simply screw the GoPro in place securely without the need of any extra tools. It is just as simple to remove it as it is to mount it. This mask has a comfortable head strap, and it also creates incredibly suction to ensure that no water will infiltrate the mask while it is in use.
Value:
The cost of this mask is slightly more expensive than a lot of the other models out there on the market, but it's use of high-quality materials and comfortable fit make it well worth the padded price tag. Plus, it comes with 100 percent money back warranty in case you are not happy with its performance.
Summary:
For divers that want something that sits really comfortably on your face, and also have the mounting hardware to record all of your adventures on your GoPro- this design is well worth the cost.

Subscribe to our Newsletter