Best Waterproof Running Jackets
In a
Hurry? Editors choice: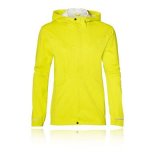 Test Winner: ASICS ACCELERATE

Whether you enjoy running in the rain or not, there may be occasions where you experience unexpected rainfall during one of your runs. Of course, if you are someone who has a specific routine and you notice that rain is in the forecast, you may still want to complete your run. One of the
best pieces of apparel
that you can own in a time such as this is a waterproof running jacket. Now, do be aware that ensuring the model you buy is actually waterproof is only step one. There are several other factors that you need to keep in mind that will end up weighing heavily on your final decision. So, without a moment's hesitation, let's get started with this bad boy.
Standout Picks
Criteria Used for Evaluation
Water Resistance
If a waterproof running jacket can't handle the rain, you will be wasting your money on it.
To be honest, the term "waterproof" tends to be a term that gets misunderstood. When any one product is dubbed with this term, it is easy to assume that it can handle any amount of water and any depth of submersion. Well, that is simply inaccurate and while some designers will include a rating with their product, in this case, you need to pay attention to the outer shell and the seams. Starting with the shell, it is ideal to look for designs that feature more than one layer. Typically, there will be a layer of fabric and then an actual membrane with the best models. For example, take a look at Gore-Tex. The fabric itself is waterproof but there will also be an ePTFE membrane to enhance the waterproofness.
As far as the seams are concerned, these are just as vital as the outer shell. Whether you see it labeled as seam sealing or seam taping (they are the same), this process allows for all the tiny holes to be sealed that were formed during the sewing process. Ideally, look for fully taped seams as all it takes is one hole to leak for your jacket to allow water inside.
Breathability
If the waterproofness is the most important feature, the breathability is 1A.
The best combination of fabric out there will also be breathable. You see, this is the key. It can be hard to find running jackets (or products of any kind, quite frankly) that have a perfect balance of water protection and breathability. Once again, Gore-Tex is a prime example of a fabric that is able to find that perfect balance. The reason Gore-Tex is breathable is that it contains a layer of PTFE. This layer contains tons of pores (which are simply tiny holes) that allow the water molecules from your sweat to release out. But, at the same time, these same pores are small enough to prevent any water droplets from entering inside. It really is an ingenious design.
In addition to the layering of the fabrics, though, you can also look for specific design integrations to increase the airflow while you run. Most commonly, you will see designers implement vents underneath your arms. With these, you can unzip them to allow ample airflow to circulate throughout your body. This really comes in handy when you want to protect yourself from rain during the summer (as you will overheat very quickly otherwise).
Fit
Without question, the fit is everything and will dictate how much you enjoy the model you pick.
It is so hard to order products such as this online because you can't physically try one on before you buy it. This makes it even more crucial to take the time to conduct some research of your own. Because as you are fully aware, not every single model is going to fit you in the same manner (though it would be nice if clothes did that). So, in addition to glancing through user feedback to see what other buyers have reported about the fitting, analyze the style and the type of materials that are used.
For example, some running jackets will be athletic fitting and form-fitting. This means that the fit will be tighter and if you merely want a looser fit, you would then want to explore other alternatives. Along the same line, though, you may want to buy a model that implements four-way stretch material. This will make the jacket much more comfortable during your runs as your body will not feel as restricted.
Features
While there is not an abundance of features to look out for, there are some important ones.
In terms of importance, this section can't quite compete with the others that have been documented thus far. Do not think for one second, though, that everything that is about to be claimed can be thrown out the window. Why else would it be on here, after all? The reality is there are some specific features that you can look for that will be nearly mandatory for some of you and simply a bonus for others. One of those features is the pockets. The two main areas that pockets are often found on running jackets are at the chest and near the bottom (for your hands). Whether you want a place for some of your essential items or merely want pockets to rest your hands or keep them warm on colder runs, looking for these pockets can be vital.
Another common feature is the hood. Now, do not simply automatically assume that the model you buy will have a hood (as some will not). If they do, look for one that is adjustable and possibly even detachable (in instances where the hood is more of a nuisance than anything). Along the same line, some models will be designed with Velcro cuffs and this can help to seal in warmth during cold-weather runs.
OUR TOP PICKS FOR THE BEST WATERPROOF RUNNING JACKETS
Subscribe to our Newsletter