Best Waterproof Running Jackets
In a Hurry? Editors choice: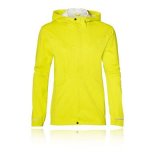 Test Winner: ASICS ACCELERATE

Whether you enjoy running in the rain or not, there may be occasions where you experience unexpected rainfall during one of your runs. Of course, if you are someone who has a specific routine and you notice that rain is in the forecast, you may still want to complete your run. One of the
best pieces of apparel
that you can own in a time such as this is a waterproof running jacket. Now, do be aware that ensuring the model you buy is actually waterproof is only step one. There are several other factors that you need to keep in mind that will end up weighing heavily on your final decision. So, without a moment's hesitation, let's get started with this bad boy.
Standout Picks
Criteria Used for Evaluation
Water Resistance
If a waterproof running jacket can't handle the rain, you will be wasting your money on it.
To be honest, the term "waterproof" tends to be a term that gets misunderstood. When any one product is dubbed with this term, it is easy to assume that it can handle any amount of water and any depth of submersion. Well, that is simply inaccurate and while some designers will include a rating with their product, in this case, you need to pay attention to the outer shell and the seams. Starting with the shell, it is ideal to look for designs that feature more than one layer. Typically, there will be a layer of fabric and then an actual membrane with the best models. For example, take a look at Gore-Tex. The fabric itself is waterproof but there will also be an ePTFE membrane to enhance the waterproofness.
As far as the seams are concerned, these are just as vital as the outer shell. Whether you see it labeled as seam sealing or seam taping (they are the same), this process allows for all the tiny holes to be sealed that were formed during the sewing process. Ideally, look for fully taped seams as all it takes is one hole to leak for your jacket to allow water inside.
Breathability
If the waterproofness is the most important feature, the breathability is 1A.
The best combination of fabric out there will also be breathable. You see, this is the key. It can be hard to find running jackets (or products of any kind, quite frankly) that have a perfect balance of water protection and breathability. Once again, Gore-Tex is a prime example of a fabric that is able to find that perfect balance. The reason Gore-Tex is breathable is that it contains a layer of PTFE. This layer contains tons of pores (which are simply tiny holes) that allow the water molecules from your sweat to release out. But, at the same time, these same pores are small enough to prevent any water droplets from entering inside. It really is an ingenious design.
In addition to the layering of the fabrics, though, you can also look for specific design integrations to increase the airflow while you run. Most commonly, you will see designers implement vents underneath your arms. With these, you can unzip them to allow ample airflow to circulate throughout your body. This really comes in handy when you want to protect yourself from rain during the summer (as you will overheat very quickly otherwise).
Fit
Without question, the fit is everything and will dictate how much you enjoy the model you pick.
It is so hard to order products such as this online because you can't physically try one on before you buy it. This makes it even more crucial to take the time to conduct some research of your own. Because as you are fully aware, not every single model is going to fit you in the same manner (though it would be nice if clothes did that). So, in addition to glancing through user feedback to see what other buyers have reported about the fitting, analyze the style and the type of materials that are used.
For example, some running jackets will be athletic fitting and form-fitting. This means that the fit will be tighter and if you merely want a looser fit, you would then want to explore other alternatives. Along the same line, though, you may want to buy a model that implements four-way stretch material. This will make the jacket much more comfortable during your runs as your body will not feel as restricted.
Features
While there is not an abundance of features to look out for, there are some important ones.
In terms of importance, this section can't quite compete with the others that have been documented thus far. Do not think for one second, though, that everything that is about to be claimed can be thrown out the window. Why else would it be on here, after all? The reality is there are some specific features that you can look for that will be nearly mandatory for some of you and simply a bonus for others. One of those features is the pockets. The two main areas that pockets are often found on running jackets are at the chest and near the bottom (for your hands). Whether you want a place for some of your essential items or merely want pockets to rest your hands or keep them warm on colder runs, looking for these pockets can be vital.
Another common feature is the hood. Now, do not simply automatically assume that the model you buy will have a hood (as some will not). If they do, look for one that is adjustable and possibly even detachable (in instances where the hood is more of a nuisance than anything). Along the same line, some models will be designed with Velcro cuffs and this can help to seal in warmth during cold-weather runs.
OUR TOP PICKS FOR THE BEST WATERPROOF RUNNING JACKETS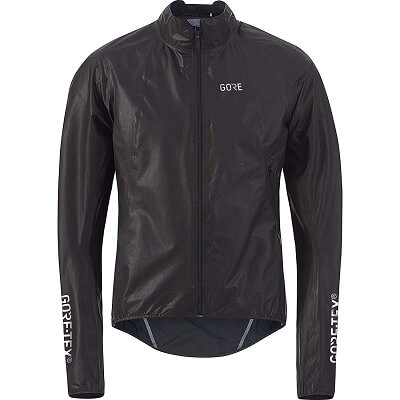 If you anything about waterproof garments then you have probably heard of Gore-Tex fabric. Without question, it is one of the most premium waterproof membranes out there but it comes at a price.
Read more
Waterproofness
Again, this is designed with Gore-Tex fabric and this makes it waterproof for sure. In fact, this revolutionary material is also windproof for those colder runs.
Breathability
Gore-Tex works in two ways. It manages to create a waterproof shell by also remaining breathable. Also, a mere shake of the jacket will release any water remains and will dry it off in no time.
Fitting
Now, this is a form-fitting design and that means that there probably is not going to be much wiggle room for you. At the same time, this is extremely light so that is a plus.
Features
Even though this is devoid of many pockets, there is a zippered front pocket and it doubles as a stow-away pocket. In addition to this, the ergonomically shaped stand-up collar offers enhanced protection in colder weather.
Visual Style
There are a couple of color options available and both of them are darker. There are reflective elements, though, so you can still be seen at night.
Overall
Is it asinine to spend this much money on a garment that you may wear only a few times a year? That really depends on you because if you want a truly waterproof and breathable jacket, it will not get better than this.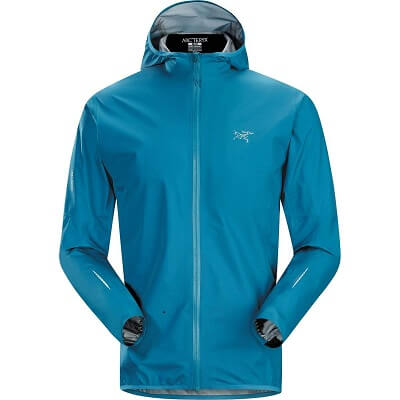 This is another model that utilizes Gore-Tex. And, in fact, Arcteryx is one of the leaders of the technology. Again, you are going to pay for this but the benefits of the Gore-Tex membrane will be worth it.
Read more
Waterproofness
As mentioned, the Norvan is another model that is designed with Gore-Tex fabric. Due to this, you will not need to worry about most rainfalls (granted it is not a torrential downpour outdoors).
Breathability
In addition to the Gore-Tex fabric itself, this is also engineered with Venturi style vents under the arms. With these vents, air will be pulled through the openings and provide you with continuous airflow.
Fitting
Let's just say that the fit can be odd. Some users have noted that it can fit snug in the waist but roomy in the shoulder area. It is a slim fit style, though, so the waist is to be expected.
Features
While the Norvan is not outfitted with loads of pockets, it is designed with an internal pocket and also reflective blazes on the back and the sleeves.
Visual Style
Though there are not a ton of color options available for you to choose from, the few that are selectable are quite nice (such as black, magma and deep cove).
Overall
Only serious buyers will be interested in this model and that is due to the price alone. It is tough to justify a purchase of this magnitude unless you plan to use it often.

3

. CRAFT SPORTSWEAR REPEL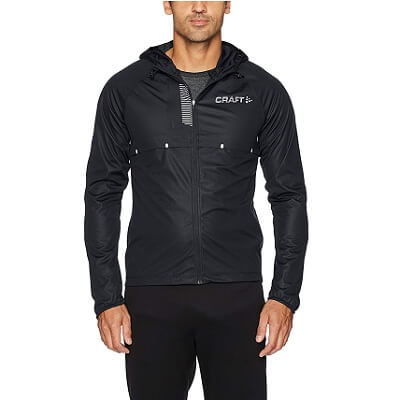 While this model gets away from the Gore-Tex membrane, it is still waterproof with taped seams and four-way stretch material. And, this is a bit cheaper which will be a plus for you.
Read more
Waterproofness
The outer shell is waterproof, for the record. What helps with the waterproofness of this garment is also the weather-mapped taped seams.
Breathability
Overall, the Repel Jacket is very good at managing your body temperature and this enhances the breathability. Plus, there are chimney ventilation openings at the sweat zones.
Fitting
Due to the fact that this is an athletic fit, it is not going to be suitable for everyone. The fit will be on the tighter side and if this is an issue, you may want to consider ordering a size up.
Features
To secure some of your smaller items, there is a zippered side pocket. Adding on to this is the adjustable hood and the gaiter that is inside to help block the wind.
Visual Style
The color choices are on the darker side but the good news is there are reflective details on each of them (to be better seen at night).
Overall
Craft Sportswear proves that a waterproof running jacket does not have to integrate Gore-Tex fabric to be superb. Granted you are okay with an athletic fit, you will love this option.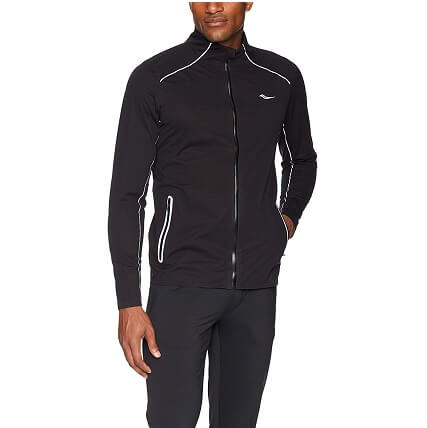 What is very interesting about this next garment is the fact that it does not sport a hood. While it is designed with Flexshell fabric that is going to provide waterproof performance, some of you will not be able to live without a hood.
Read more
Waterproofness
As mentioned, the Vigor is made up of Flexshell fabric making it both waterproof and windproof. Adding on to this is the sealed seams and the sealed barriers making this impervious to rain and wind.
Breathability
Considering the sealed seams and the waterproof barrier, the Vigor is quite breathable.
Fitting
As opposed to other brands, this is not a form-fitting model. It seems that you can order your regular size but do not expect an athletic fit with this one.
Features
There are integrated hand pockets for your essentials and also your hands in the cold. But, there is a noticeable omission here and it is the hood. For some of you, this could be a deal breaker.
Visual Style
Can you really go wrong with black? Heck, even if you want to go for a stroll at night the strategically placed reflective detailing allows you to be seen.
Overall
Is it egregious to design a jacket without a hood? Well, that is debatable but it all comes down to your preferences. The proof is in the pudding everywhere else, for the record.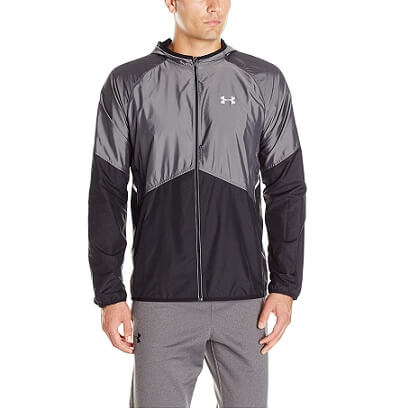 Under Armour is a top-name brand and their Storm Jacket is fantastic. With that said, it is not going to protect you during downpours and will not keep you warm in colder climates. During warmer months, though, it is great.
Read more
Waterproofness
Thanks to the built-in UA Storm technology, this is able to repel water. However, it can't keep up with downpours and is more suitable for lighter rains.
Breathability
Not only is there a lining engineered into this garment that is breathable but there are also back vents that enhance the breathability even further.
Fitting
There have been a few buyers who have reported that this jacket fit them as they expected it to.
Features
In addition to the integrated hand pockets, there is also a right-side power-mesh internal pocket that can be used for your phone (or any other essentials that will fit).
Visual Style
There is actually an adequate amount of color options available. But, do be aware that most of the options implement some shade of blue.
Overall
While some models on this list are not optimal for summer use, this is the opposite. With that said, do not expect this to keep you dry in torrential downpours as it will not hold up.

6

. THE NORTH FACE VENTURE 2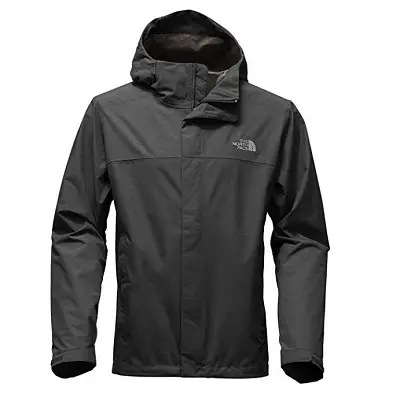 The Venture 2 is another classic example of a great waterproof jacket that is not breathable. So, it makes it suitable for use in colder weather but not so much during warmer months.
Read more
Waterproofness
Being designed with a waterproof and seam-sealed DryVent outer shell, The Venture 2 is able to provide a waterproof core.
Breathability
Now, the good news is there are pit-zip vents that have been integrated for increased airflow. However, one buyer noted that the Venture 2 was not breathable even with the aforementioned vents open.
Fitting
With someone of average weight and height, this is going to be a typical fit (meaning it will not be snug). However, be cautious that a few buyers reported this ran large for them.
Features
The Velcro wrists are nice touches as this can help to seal in warmth during colder runs. As for other features, this can pack away into its own pocket and there are also zippered hand pockets on each side.
Visual Style
Wow, what an awesome variety there is for the Venture 2. If you can't find a style that suits you then you need to lower your standards.
Overall
Perhaps improved breathability would have helped the overall quality of the Venture 2. But, you know what; it secured a spot on this list for a reason and that is due to its weather protection.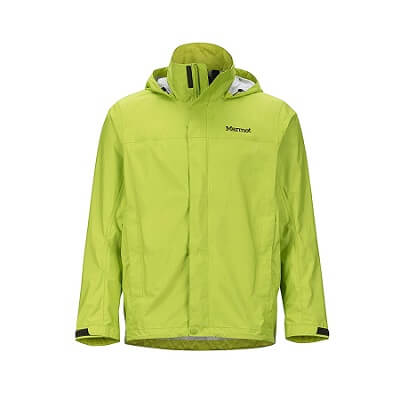 At least for the women's version, the Precip can fit a little small so be aware of that. As for the quality, it is made of a waterproof and breathable NanoPro fabric.
Read more
Waterproofness
First off, the NanoPro shell that the PreCip sports is quite fantastic as it will prevent water droplets from soaking through. Of course, the taped seams also help to prevent leaks.
Breathability
The same NanoPro fabric that ensures waterproofness also ensures that you will not overheat in this. That is due to the 2.5-layer lamination that creates dynamic air permeability to improve the circulation.
Fitting
The general consensus seems to be that this runs small. As such, if you order your normal size, you may find it too snug in the hips.
Features
When you do not want to use the attached hood, it can be rolled into the collar and effectively stowed away. Also, there are Velcro cuffs that aid in leak prevention.
Visual Style
Speaking for the women's version, there are several fantastic color options for you to choose from. Each of them offers a unique style.
Overall
The Precip offers a fantastic combination of breathability and waterproofness and that can be hard to find at a good price. Though it is not flawless, it certainly is top-notch.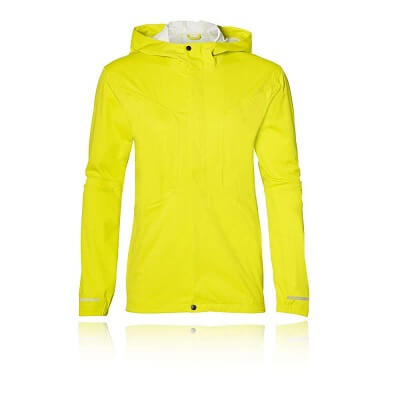 ASICS deserves a lot of praise for their design here. However, as great as it is, it is worth noting that the breathability could be improved. So, on warmer days, this is not going to be the best option.
Read more
Waterproofness
Overall, this lightweight article of clothing is going to protect you from most rainfalls. It is also windproof, too, just so you know.
Breathability
Admittedly, ASICS could have designed their Accelerate with improved breathability. As it sits, though, moisture can build up internally, thus, making this suitable for cooler runs.
Fitting
Two buyers who mentioned the fitting in their respective reviews noted how this fit to their standards.
Features
Well, would you look at that? This is another option without a hood but it does sport two zippered hand pockets which can come in handy from time to time.
Visual Style
Sleek and stylish would be the best way to describe the Accelerate Jacket. No matter which color option you go with, you should be pleased with the result.
Overall
Due to the lack of breathability of this model, it is going to limit the number of consumers that will have interest in it. On warmer, rainy days, this is probably not going to be the best option.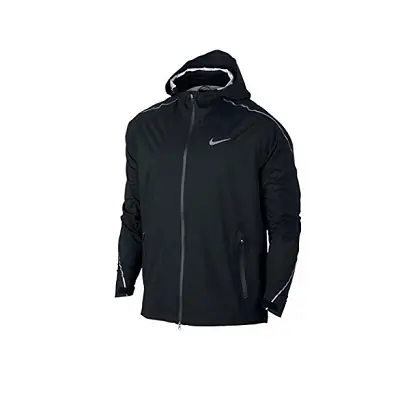 Nike, much like Under Armour, is a top-name brand that will turn heads just because of their name. Now, speaking of turning heads, the HyperShield is a bit outlandish with its reflective detailing (but it is great).
Read more
Waterproofness
First off, Nike designed their HyperShield with specific fabric that makes the shell waterproof. To enhance the waterproofness, also, this also has sealed seams and a waterproof zipper.
Breathability
Although the outer layer itself is not the most breathable, there are zippered vents under the arms and this helps to increase the airflow to improve the ventilation.
Fitting
One user who wrote a detailed review claimed that this jacket was large in the arms. So, ensure that you can return your size if you need to switch for another one.
Features
All sorts of worthwhile features are integrated here such as a detachable hood, reflective details for improved visibility, and dual zippered pockets on the sides and a chest pocket.
Visual Style
Let's just say that the reflective detailing can attract some attention. The main shell is black but the shoulders and arms sport the reflective detailing and it lights up the entire area at night.
Overall
Without question, Nike is a top-name brand and makes any garment compelling. That is the case here but do note that the breathability could be improved.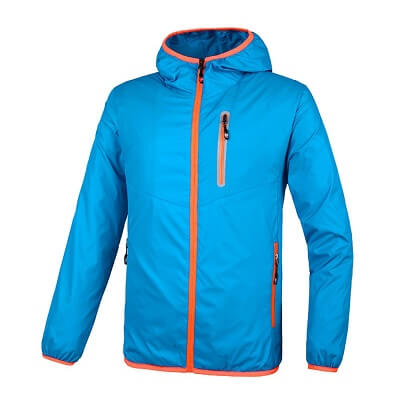 Are you possibly looking for a more adorable option? If you are, then you should check out this last entry on this list. No, it is not flashy and it can't compete with the top-end models but it is competent in its own right.
Read more
Waterproofness
For light rain, this will be great. However, the same can't be claimed for heavier rainfall. The water protection is just not extensive enough to handle this type of abuse.
Breathability
Do note that there are no arm vents that have been integrated here. Due to this, your airflow can be limited while you are running.
Fitting
Get one thing straight, this is an Asian-sized model. What this means is it will run two to three sizes smaller than usual. So, for example, if you typically wear a small, you may want to order a large.
Features
What is nice about this garment is there are two zippered hand pockets and a zippered chest pocket. Oh yeah, the elastic sleeve cuffs and hems will also keep cold breezes at bay.
Visual Style
There are a few color options available and do note that they do run true to their color. Each one of them features bright colors for enhanced visibility in low-light conditions.
Overall
Does this seem out of place? Well, it should not because it is a competent model that can deliver protection to your during lighter rains. It just so happens that it is sized much differently than other options.

Subscribe to our Newsletter