Best Winter Running Jackets
In a
Hurry? Editors choice: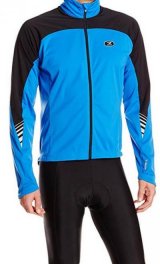 Test Winner: Sugoi 180 Firewall

Some runners hang up their
running shoes
when the weather starts to get colder, while others are hardcore about keeping their training going year-round.
Regardless of whether you are a trail, marathon, or casual runner, you will need the necessary
winter gear
to continue to run in the cold weather, and the most important piece of gear aside from your running shoes is a great winter running jacket. Our inclusive list includes a few lightweight options for those chilly spring or autumn mornings, as well as more insulated jackets for frigid temperatures.
Standout Picks
Criteria Used for Evaluation
Comfort
You want to focus on comfort when selecting your winter running jacket because chances are, if you don't think the jacket is comfortable, you won't wear it—and you might not run in the winter weather, so you've defeated the whole purpose of buying one and wasted your money. To avoid this, make sure you get a winter running jacket that fits well—and that means streamlined with some flexibility to move as you move, so you don't feel the jacket slows you down at any point of the run.
Warmth is another factor that adds to the comfort and as far as warmth is concerned, there are three different insulation types you'll usually find in winter funning jackets. Many jackets come with layered thermal insulation, while others use fleece and still others use down.
With insulation, remember that when down gets wet, it tends to bulk up and won't dry out as easily. So unless the jacket has decent exterior weather-proof and water-resistant protection, down might be an insulation type to avoid.
Fleece and thermal insulation materials typically dry out quicker if they get wet, and also don't bulk up if moisture builds up. So, with either one of those insulation types, you'll have an advantage and probably feel more comfortable as you run.
However, a key thing to remember when you're testing out the warmth and comfort of your winter running jacket choices, all of this is really subjective. What one of your friends or family members thinks is warm and comfortable may not feel warm and comfortable for you.
So, a jacket that's preferred by a friend may simply not feel great to you, since warmth and comfort, in many ways, depends on personal preference. The best thing you can do is create a list of the winter running jackets you are interested in, go to a local sports store, and try the jackets on. Move around in the jackets and feel them out, and you should be able to tell if the fit, warmth, and comfort is just what you need.
Weather Resistance
When the weather gets cold, rainy, icy, windy, or snowy, you don't want those types of days to deter you from hitting the trails. What's nice nowadays about most winter running jackets is that most brands have figured out ways to create jackets that protect you from bad weather conditions, like wind and moisture protection features.
Different brands have different methods for providing weather protection in their winter running jackets, but the concept is basically the same—they all want to create some level of weather protection in their jackets. For instance, Nike uses what's called its Shield technology, Saucony uses DWR (Durable Water Repellent) finishes on their jackets, and many other brands use Gore-Tex, a well-known way to weatherproof a jacket. Regardless of what the manufacturer calls their weather-proofing technique, the goal is basically the same—to keep moisture and wind out so that you stay warm.
The best types of running jackets usually have a unique membrane on the exterior of the jacket that's made to repel rain out of the jacket, and it's almost always better for a runner when that membrane is waterproof instead of simply water-resistant. A water-resistant jacket will help keep moisture away from you, but can't fully repel all water and can, still, get wet. A waterproof jacket, on the other hand, is built to keep you warm and dry, and moisture won't absorb into the jacket.
The highest-quality running jackets usually have flat, taped seams and a hood included with them that uses a built-in visor for runners—all of these maximize the jacket's ability to keep water out. Flat seams and waterproof zippers help seal you into the jacket so moisture won't creep inside, and hoods with visors help to protect your head and eyes (keeping your vision clear) if you encounter rain or snow on your run.
The type of weather protection you decide you need will depend a lot on when you'll be running, where, and what the weather will be like. The better the weather protection is in your jacket, the more expensive the jacket will be.
So, if you're shopping for a winter running jacket on a budget, you want to consider how much weather protection you really need. If you know you don't run on windy days because you simply don't like it, for instance, you could skip worrying about a drop tail hem. So, review what you'll be doing, and use that to make your selection so that you can save a little bit on cost.
Features
Ventilation
While you certainly want a nice winter funning jacket that makes you warm and keeps you protected from the elements, you still need something that can breathe so you don't overheat or find that your sweat is trapped inside your jacket, making you less than comfortable during your run. Good winter running jackets come with air vents that let air flow through so that the jacket can effectively regulate your temperature.
As most runners know, you're going to sweat when you're running since the activity level is high, and you want to make sure you get a jacket that can push that moisture away from your body and to the outside of the jacket so that you don't overheat. Purchasing a jacket that's able to breathe decently while you run is going to be a huge factor in your comfort level.
While the idea of finding a jacket that can breathe and ventilate might sound easy, a lot of jackets offer ventilation properties but sacrifice levels of weather protection. You want to make sure you buy a jacket that balances out both features well so that your jacket can breathe while still giving you the weather protection you need.
Versatility
Versatility is a nice feature to have even when you're in the middle of the coldest winter because you might need to adjust your jacket to feel comfortable. A lot of winter running jackets nowadays come with 2-in-1 construction, meaning they function as a standard jacket when you need it, but also include removable features—like removable hoods, sleeves, and other items.
Jackets that are more versatile also tend to be a bit pricier, so it's yet another feature you'll have to decide upon. If you feel you'll need to be able to remove parts of the jacket, then this might be a great feature to have for you. But if you don't feel that way and are shopping on a budget, then you can overlook this feature as a necessity.
Fit
Another important feature that we looked into when choosing each jacket is the way the jacket fits. Knowing if it is typically long or short in the arms is useful before buying so that you can size accordingly. If you are specifically looking for a long jacket to ensure keep your bottom warm as well, you'll see that in the fit description as well.
The fit of a jacket is also important to avoid chafing. To determine how the jackets fit, we took a look at the customer reviews. Some jackets had complaints of feeling tight across the chest, which in turn becomes tight in the armpit area. While running and moving your arms, you are an easy candidate for chafing and a tight-fitting jacket won't help you to avoid that. Check out the fit of each jacket to save yourself time and money and avoid ordering the wrong size.
Subscribe to our Newsletter