Best Winter Running Gear
In a
Hurry? Editors choice: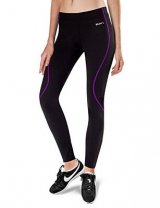 Test Winner: Baleaf Thermal Fleece Tights

While many of us begin to settle into our
flannels
, Netflix routine and start sipping on hot cocoa-like it's our job during the colder winter months, there are those special outdoor enthusiasts who keep their work out routine going strong and enjoy the beauties of nature during the winter. Just because the weather outside has become colder and the clouds begin to drop down beautiful white
snowflakes
, does not mean that you should pack your gear away and quit running for the year. In fact, as long as you invest in the correct type of gear, you will barely even notice that you are
running in colder and wetter climates
. So before you pack up your gear to avoid dropping temperatures, remember, you can definitely keep up your running routine with the proper equipment.
Standout Picks
Criteria Used for Evaluation
Insulation
When the weather begins to shift outside and you begin to develop goosebumps when you step outdoors, you know that winter is here. For running enthusiasts, this is not going to be enough to deny you the satisfaction and pleasure in going for your daily run. But, normal running gear is not going to suffice as midway through, you will be freezing your tail off and unable to continue. So, you must switch out all your normal gear with gear intended for winter use. This accounts for everything from your shoes all the way up to the top of your skull.
However, what makes gear suitable for winter running? First off, the obvious answer, the warmth. Even though you will be sweating while you run, the cold air will require you to have warm gear. Past warmth, gear that has a natural resistance to both water and the wind are also ideally suited for winter. Howling winds can transform a cold day into an unbearably freezing climate. Blocking as much of the wind as possible is essential, but water-resistance is just as. When the snow melts, it turns into water and if your gear does not have a resistance to it, it will begin to absorb the water and become damp.
Comfort
Size and warmth are not the only aspects you must analyze when it comes to comfort, as there are plenty of others. As a whole, comfort ends up being the most important aspect to look for in running gear (let alone winter running gear). In addition to what has already been said and addressed, add these two to the list: breathability and the fabric.
The single most important factor to address for a fabric to be breathable is its ability to wick away moisture. It does not matter how cold the air is outdoors, after running for a while you will begin to work up a sweat. If the fabric wicks away this moisture, it will not build up inside and decrease the breathability. But, the fabric itself is also important. Fabrics such as wool and cotton have a coziness and comfort factor that can't be ignored.
Overall Fit
Running can be difficult enough as it is, as it requires a great deal of stamina and fitness. As such, there is no reason to make the activity harder by running in gear that does not properly fit you. Improper clothing can add a great deal of discomfort and make the run less enjoyable than you wanted. Of course, you already know this as you have been wearing garments your entire life. Whether it is a base layer, hat, pair of pants, shoes, or gloves, size is everything and even the slightest tightness or looseness can bother you.
With some gear, manufacturers will design their product to run small or large. Whether they do this purposely or not is irrelevant, as your normal size may not be what you actually want. The best step you can take is to glance over customer feedback to see if there are any issues with size. This also comes into play with gear that is designed to be one-size-fits-all. Unfortunately, this is a little misleading as bigger and smaller people may not find that it fits properly.
Style
No matter if you are sufficient at running or even enjoy doing it, as long as you look good while you do it then you are good to go, right? Okay, so maybe this is not your primary concern when you are running. But, it is not arbitrary to say that you probably are fond of gear that you find visually appealing. Or, if nothing else, a design that you do not think is appalling. As you have seen with the products on this list, typically, sellers will create their product in a variety of colors. Thus, satisfying their consumers as not everyone enjoys the same color design and color schemes.
Subscribe to our Newsletter