Best Merino Wool Base Layers – 2021 Edition
In a
Hurry? Editors choice: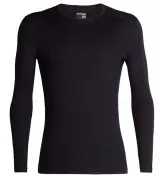 Test Winner: Icebreaker Oasis 200

Base layers lock in your body heat and keeping you warm when exposed to extremely cold temperatures. If you love your outdoor winter sports or simply feel the cold over the winter months, base layers are a great way of keeping you warm and allowing you to get outside without feeling the chill. The best base layers on the market are made from Merino wool. The material is comfy, lightweight, and contains many natural properties.

Merino wool is also a fantastic insulator! With so many merino wool base layers to choose from, we have reviewed and selected the best Merino wool base layers on the market now and have listed them below for you to see. 
 
Standout Picks
Criteria Used for Evaluation
Materials
We discussed the materials in all of the products on our list, since some of them are made out of 100% Merino wool, and others feature Merino wool and a blend of other materials.
The blend of materials can make for a warmer embrace or can make the item more comfortable. Materials become important to the overall quality and design of the product, so it is important to take a look at that.
Merino wool is one of the warmest and most comfortable materials that you can wear, and if you live in colder climates than this material is a must have in your clothing arsenal. It is made from sheep's wool and is not the typical itchy wool that first comes to mind when you think of wearing wool. This wool is comfy and feels great against your skin, if you have never worn Merino wool, give it a try and you won't be disappointed.
Features
We analyzed features for each product on our list by looking into what makes the item stand out from the rest.
We investigated features such as breathability, as well as overall protection and durability. Another feature that Merino mool is well known for is its wicking power and ventilation. Depending on the environment that you will be in, this can make or break an article of clothing. Make sure you take a look at your product's features so you wind up getting the product that is right for you.
Some great features that come with all Merino wool clothing are that it is soft, feels cool on your skin as it reacts to your body temperature, it is odor resistant to ensure no matter what you are doing the wool will not retain any odor, and it is quite breathable. This is good as when you are participating in winter activities, your skin is able to breathe and you will not feel uncomfortable while you are wearing your Merino wool base layer.
All of these features make Merino wool the best for any base layer clothing, so when you are shopping for your next pair of base layers make sure they feature at least a percentage of Merino wool.
Durability
Durability is always important when you purchase something, and most clothes made with Merino wool in them offer a lot of durabilities.
It is inevitable that these clothes will be washed, and it is important to have confidence before you purchase something that will hold up in the washing machine. Sometimes with wool products, it is hard to avoid pilling, but some articles pill more than others. We discussed what we felt made each product on our list durable.
Wool is known for being a tough material and Merino wool is no exception. Merino wool is strong and resilient and that is why it the number one choice for winter athletes. It is the perfect material for the job of keeping you warm and also holding up over time so when you buy a pair of Merino wool base layers that they will last multiple seasons.
Value
When we analyzed the value, we considered the price of each product along with how long it would last.
We also took a look at the benefits and features the product offered and factored that in. Merino wool is known to last for a long time, so even if the price is slightly higher, we believe that the products on our list are well worth the investment.
When it comes to any clothing you always want to justify the price to the quality of the clothing and how long it is going to last you. When it comes to Merino wool which is a durable material, the cost is going to be a bit higher but will be worth it as it will most likely be the last pair of base layers you will need for some time.
It is best to check out the customer reviews if you see a pair of base layers you like to see how they held up for other consumers and if they were worth what they are valued at.
Top 14 Merino Wool Base Layers
Subscribe to our Newsletter