Best Hiking Socks – 2021's List
In a
Hurry? Editors choice: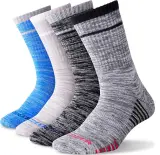 Test Winner: FEIDEER

We all understand the importance of wearing a good pair of
hiking boots
when walking; however, sometimes we forget about hiking socks. These play a crucial part in protecting your feet and keeping them warm, dry, and reducing the risk of blisters.
When it comes to choosing your hiking socks, there are so many to pick from so to help you, we have selected some of the best hiking socks on the market at the moment.   
Standout Picks
Criteria Used for Evaluation
Style
Liners
Most people who hike or backpack in cold weather are familiar with glove liners. It's amazing how much extra warmth you get out of your winter gloves when you add a wafer-thin, weighs-as-much-as-a-penny 100% Merino glove liner.
The same logic is true of sock liners. They're simple in construction: thin and uniform, without any cushioning. There's a bit of compression, but no patches of extra thickness<, reinforced sections or elasticated support panels. Because of this, they're pretty cheap, even the ones made of the highest quality materials by the best designers. Yet adding one of these liners to an average pair of hiking socks makes a world of difference, increasing the performance (and therefore the value) of the sock. You can wear liners by themselves in a pinch, on a warm day, but be aware that you'll wear out the heel in no time. Ultra-lightweight
Best for easy treks and summer weather, ultra-lightweight hiking socks are basically sports socks like any other: they stress airflow and moisture-wicking over the warmth or the ability to perform well in cold, wet weather. Ultra-lightweight socks tend to be cushioned only under the sole, leaving the rest of the foot covered by a thin breathable material. Slightly more sock than a liner.
Lightweight
Lightweight socks are a little warmer and more cushioned than ultra-lightweights and suitable for multiple-day hikes on a decent terrain in nice weather. They're often nicely fitted and supportive feeling though, even without thick fibers or dense weaves all over. It can be worn with or without a liner.
Mid-weight
Midweight hiking socks offer more warmth, and are ideal for extended hiking in three or four seasons, depending on where you're traveling to. They usually have some extra cushioning thickness around the top of the foot and the ankle as well as underfoot. They should have durable, reinforced heels and toes, but, worn by themselves. aren't so bulky as to push your hiking boot size up a level.
Mountaineering socks
Mountaineering socks or full-cushion socks are the thickest, warmest, most protective socks you can get. They are made for extended trips, rough trails, and alpine or arctic conditions. In anything milder, they are hot and heavy and you will regret carrying them around in your pack after you realize it's way too hot to wear them. Usually tall enough to sit over the calf or under the knee, and thick enough to deflect lots of trail debris and blackberry snags.
Insulation
Pairing a durable synthetic cushioning 'outer' sock with a luxurious, wafer-thin Merino liner can be a great way to enjoy the best of both.
Layering your socks can also prevent blistering, i.e. two lightweights socks prevent blistering better than one thick sock that weighs as much as both put together. This is because of the layers of sock rub against the shoe and each other, and rarely your feet. If you're breaking in new hiking boots or expecting a particularly slippery hike, consider using a liner or layering lightweight socks. There's no rule that says you can't layer with an ultra-lightweight sock instead of a cushion-less liner.
If you're really pushed for space in your pack, liners are your friend: take seven pairs of liners and two pairs of thick socks instead of seven pairs of thick. Overall you want a pair of socks that will offer you the comfort you expect when going on a hike as without proper insulation you will have a comfortable time and could put yourself in harm's way in cold climates.
Materials
You'll probably experiment for a few years with different blends before you're confidently picking the right socks for every hike with no regrets. In the meantime, it's great to travel with options and layer/swap out as needed. You'll get to know what performs better in your conditions, and which materials your feet like to have on them.
Wool
A very popular choice for hiking socks, wool provides fantastic all-round performance in terms of comfort, warmth, breathability, moisture-wicking, and durability, with the added advantages of being anti-microbial and odor resistant. It can be heavier than synthetics and take a little longer to dry.
Many people remember wool as itchy, but new Merino blends are incredibly soft and wearable. Some brands even offer an itch-free guarantee. Icebreaker has been making merino underwear for over a decade now, so it must be ok!
Although 100% Merino thermals can be found, pure Merino isn't quite as durable or as stretchy as 90% wool blends. As a result, most high-performance hiking socks incorporate 30-50% synthetic to increase elasticity and durability.
Synthetic
Dries fast, weighs less than wool, and is cheaper to produce. Synthetic blends made from propylene, nylon, and acrylic do a good enough job of mimicking wool or cotton, with the advantage of being longer-lasting.
Bamboo
Silky smooth and naturally insulating, bamboo is lightweight and comfy. Blended with synthetics or cotton, it makes hiking socks feel softer and better fitting. A fast-growing, lower-resource-intensive renewable resource. Bamboo-blend hiking socks are a good choice for vegans looking for extra comfort but wanting to keep clear of silk and wool blends.
Cotton
Not recommended for hiking socks, cotton tends to absorb sweat instead of wicking it away and gives no insulation whatsoever when wet (have you ever tried to grab a hot oven tray with a wet kitchen towel?). Cotton takes ages to dry, and due to a combination of all these factors, cotton socks can cause blisters if worn when hiking.
Silk
Exceedingly comfortable and lightweight, silk socks are superb at wicking away sweat. Silk is often used in high-end sleeping bag liners to trap extra warmth without the sweatiness that contact with synthetics can induce, and silk does just as well in sock liners. Not durable enough to feature in 'outer' socks very often.
Fit
You may have to (and want to) wear a sock liner, meaning you can't feel how silky smooth the sock does or doesn't feel against your skin, but you do get a sense of how much compression you'll get, how much underfoot cushioning, how snugly the end sits on your toes, how high the sock comes up your leg and how well it sits on your calf. Obviously, it will be a fraction looser without the liner, but remember that feet do tend to swell up within a couple of hours of activity.
Overall, when it comes to fit check to make sure the socks you are interested in are available in a variety of sizes as if you decide to get a pair of socks that do not fit, they will be useless. Another way to check the sizing of the socks is to check the customer reviews as this will give you an inside look at if the sizing is accurate and if they fit well for other customers.
Subscribe to our Newsletter