Best Winter Socks – 2021 Edition
In a
Hurry? Editors choice: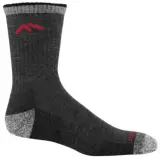 Test Winner: Darn Tough - Hiker Crew

You undoubtedly have that classic top drawer that is overflowing with a surplus of socks. You might have all sorts of finds in there (such as Christmas socks, value pack purchases from bulk stores, and simple black socks for work). But do you have a few pairs of quality winter socks?

If not, it's worth investing in some, and for reasons that you may not have realized. Finding the best winter socks when it's snowing and cold outside is important for maintaining good health since socks can protect you against the cold helping to prevent problems like hypothermia while you are outside.
Standout Picks
Criteria Used for Evaluation
Materials
Most winter socks are made from more than one fabric and blend several types of materials together to provide your feet with comfort, warmth, durability, and protection against moisture.
There are a few materials you'll find often in winter socks, and we've listed them below.
Wool
Wool is probably the most common material you'll find in socks, and it's the material most footwear specialists prefer above others. Wool helps to keep your foot temperature where it needs to be without creating more sweat or locking moisture in. Plus, wool provides a lot of effective cushioning. Most types of wool are naturally antimicrobial and antibacterial, so odor won't build up and you'll have fewer health problems with your feet when compared to some other materials.
Socks made from wool are usually comprised out of merino wool, which is itch-free and very comfortable. Still, most socks are not completely made of wool and use blends of other materials to make the socks dry out faster and help create better durability.
Polyester
As a synthetic material, polyester helps to create insulation and warmth in socks while keeping moisture out and making the socks dry out quickly. Polyester is often mixed with nylon or wool to create a feeling of warmth and comfort that adds features of durability and moisture protection.
Nylon
Nylon, like polyester, is also a synthetic fabric, and it's usually combined with other materials although sometimes it is the primary material you'll find in the socks. Nylon helps to lock out moisture, makes the socks dry out quicker, and also helps make the socks longer-lasting.
Silk
Silk is not a durable material and is usually not the primary material in socks, but it does work well to add insulation and comfort. Silk is a lightweight material that helps create a nice sock lining and works well to wick out moisture.
Spandex
Some socks have a small percentage of spandex in them, and the elastic in this material helps to hold socks up, as well as giving them the ability to retain their shape more easily.
Insulation
You can't talk about winter without talking about insulation. The insulation of an item is something that we will investigate for just about every single layer that we put on in the wintertime and sock are no exception.
Doesn't it seem like your toes are sometimes the most difficult body part to warm up? A well-insulated pair of socks will not only keep your feet warm, but they should also have moisture-wicking abilities and keep your feet dry. Some winter socks come with temperature ratings while others can only be rated by customer reviews. Either way, it's an important piece of the puzzle.
Comfort
The most comfortable types of winter socks available on the market today are typically comprised out of some percentage of Merino wool.
Merino wool is very popular for outdoor socks in general, and the soft comfort, foot health protection, and insulation this material provides makes it extremely popular for winter outdoor socks.
Some of the best quality Merino wool socks on our list are made by Darn Tough, who know to lead the outdoor footwear market in producing the best hiking and winter wear socks. Darn Tough's sock designs all focus on comfort and performance and run slightly thicker than some other sock designs on our list. The nice thing about the thickness of Darn Tough's socks is that it increases their durability.
Another manufacturer known for making great outdoor and winter weather socks is Smartwool, a brand that has been popular for many years because of its high-quality products. Most of Smartwool's socks also focus on comfort and fit, but these socks aren't quite as durable and can wind up with holes.
Comfort, however, will depend a lot on personal preference. The best thing you can do here is to figure out what features you really feel you need, then narrow down the choices you like, and go to a store to try them on. Make sure you bring your winter weather footwear or boots to dry on with the socks. When you're in the store, take them for a spin with your winter boots on, and focus on what you feel is most comfortable for your needs.
Durability
Merino wool isn't known to be the most durable fabric, and since most winter socks are comprised out of some percentage of this material, you'll need to keep this in mind.
However, a lot of winter sock manufacturers know that your outdoor winter socks need to last a while and remain durable, and combine other materials into their Merino wool to make the socks last for a long time.
For instance, both Darn Tough and Smartwool make socks comprised out of Merino wool, but these socks are all designed to be tough and can handle several washes before you'll notice any wear. Durability with winter socks often depends on the brand of the socks, since some winter sock manufacturers focus more on durability than others. The company that makes the most durable socks today is Darn Tough, with Smartwool a close second.
Still, most winter socks, no matter what their brand is, are made to last quite a while. If you manage to rotate out a few pairs of good winter socks, you'll probably be able to make it through several seasons before you'll have to replace them.
If you really are worried about how long your socks might last, plenty of manufacturers on the market today make winter socks that come with lifetime guarantees so you may want to opt for one of those pairs.
Our Top Picks For The Best Winter Socks
Subscribe to our Newsletter