Best Shoe Deodorizers
In a
Hurry? Editors choice: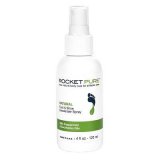 Test Winner: Rocket Pure Mint

If you are an
avid runner
or workout quite a bit and have a pair of running shoes that don't have the best ventilation, you know first hand that when your feet sweat, your shoes can get quite stinky. Even with the most expensive or
top of the line shoe
, it is not possible to insert a tiny air conditioning in the shoe to
keep your feet fresh and dry.
The dreaded musk that no one likes to talk about is due to your feet sweating. The sweat has nowhere to go, therefore it remains in the shoes and creates a rather unpleasant smell. The best way to deal with this unpleasant smell and make your shoes smell fresh again is a shoe deodorizer.
Standout Picks
Criteria Used for Evaluation
10 Best Shoe Deodorizers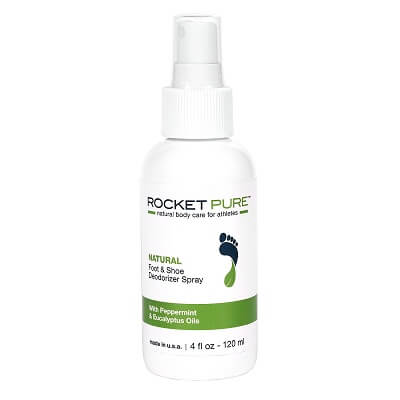 With over 2,000 Amazon reviews, there was no way we could leave this shoe deodorizer off our list. That being said, this shoe deodorizer spray is not perfect, but depending on what you're looking for, it is close. Also, with the 100 percent satisfaction guarantee, you could feasibly return it if you hated it.
Read more
How It Works
Overall, Rocket Pure created a formula that will help fight bad foot odors and eliminate sweat and bacteria. However, some users have taken note of its short-lasting nature. You may have to re-apply the spray every three or four hours.
The Execution
This works like you would expect a spray-based solution to work. But, besides the obviously designed use of spraying directly inside your shoe, you can also spray it on your feet as well.
Harsh Materials
Only being made of essential oils including mint, tea tree, thyme, and eucalyptus (and no toxic chemicals of any kind), you need not concern about harsh materials.
Seller Options
With packaging options for either one or six, you are not provided with a wide variety of options. You are either going to invest in a ton or just one.
Other Noteworthy Features
When you invest your hard-earned money into this product, you are given a 100 percent satisfaction guarantee for the lifetime of the shoe deodorizer.
Overall
In a world that is filled with top-of-the-line deodorizing sprays, Rocket Pure simply adds to the fold. The need to re-apply so frequently, though, may end up being the deciding factor for some.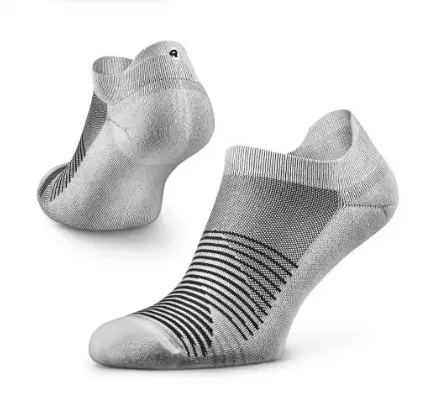 Thinking outside the box when it comes to foot odor may be the best way to tackle this malodorous issue. Being proactive, rather than reactive often yields better results. These are odor preventing socks. This is a different approach, but we wanted to include this option so you could incorporate it into your routine, whether it is by itself or in conjunction with another product.
Read more
How It Works
Unlike some of the other options on our list, we wanted to include a great preventative option, as well. This option is even easier than a powder, cream, or spray. The 20four7 feature breathable mesh that will keep your feet cool and dry. To further improve their function, this garment is finished with Polygiene, made from silver chloride.
The Execution
Socks are something that you are going to put on anyways, making this a great choice that is incredibly simple. You do not need to take any extra steps or precautions, just replace your go-to socks with these. They are comfortable enough for everyday use and ideal for sports.
Harsh Materials
Nothing to worry about here! The Polygiene material utilizes silver chloride to prevent odors and the socks are made from 100% recycled materials, including nylon, polyamide, and elastane.
Seller Options
While this is an impressive pair of socks, the color options are currently lacking. They are only available in gray with black accents. As for size, there is something for everyone. The 20four7 is available in sizes Small, Medium, Large, and Extra Large.
Other Noteworthy Features
In addition to the odor-controlling features of these socks, they are also known to be incredibly comfortable. They are durable high density knit that provides cushioning in all the right places. The seamless toe leaves less room for chafing or blisters and the compressive elastane material improves circulation.
Overall
What's not to love? These socks feature are priced affordably and feature a lifetime guarantee. The Polygiene technology protects your shoes from odor and bacteria build-up without sacrificing comfort. This is an innovative and easy to use option.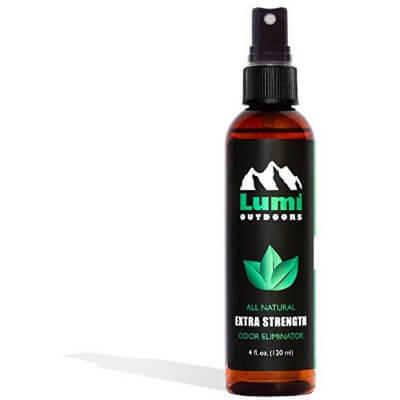 This spray combines a mixture of five essential oils with apple cider vinegar and witch hazel. While the company itself hasn't had any official testing done to have the ability to claim antibacterial and antifungal properties, all of the carefully selected essential oils used are known to possess these properties themselves.
Read more
How It Works
Each ingredient was specially chosen for maximum potency. The essential oils used are all well known for their antibacterial properties: including Peppermint, Eucalyptus, Tea Tree, Lemon, and Clove oil. While some users do not appreciate the smell of the spray, if you use it the night before and let your shoes sit, the smell will have significantly faded by morning.
The Execution
Because of the all natural ingredients, the spray separates when not used. It is recommended to shake well before each use and spray about six pumps into each shoe. While you could spray this directly onto your skin, people with sensitivities may feel a burning sensation.
Harsh Materials
This is an all natural, made in the USA product. You do not need to worry about any harsh chemicals in this deodorant spray.
Seller Options
While there is no package deal available, you could order up to 99 bottles of this spray at a time.
Other Noteworthy Features
Aside from being a shoe deodorizer, this spray works in a number of different places. It can be used in the bathroom, in the trash can, or even as a car air freshener.
Overall
If you're looking for a natural shoe deodorizer to ward off bad odors in your shoes, house, or car, this is a great deodorant spray. If you are more concerned with keeping your feet dry and preventing new odors, this may not be the ideal deodorizer for you.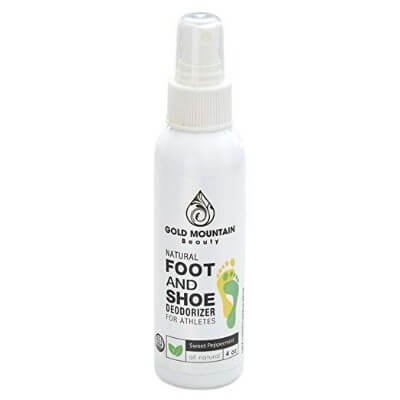 Here we have another spray deodorizer that functions similarly to the others. Some may be put off by the potentness of the peppermint odor that is emitted, but for pure performance sake, it is masterful.
Read more
How It Works
It does not matter which shoe you utilize this spray on as it will work all the same. It's designed to leave your feet smelling clean and fresh throughout the entire day.
The Execution
Gold Mountain Beauty recommends that you shake the bottle before each use, to increase the efficiency of the solution. You can spray the deodorant solution both in your shoes and on your feet before you put your shoes on. With daily use, spray it in your shoes and, if you have time, leave them outside to dry and allow the natural oils to do their job.
Harsh Materials
Because the manufacturer only used plant-based ingredients in their solution, you are left with a formula that is not harsh to your skin. Instead, this can be applied directly to your feet with no ill effects at all.
Seller Options
Although it is nothing special or extraordinary, you can select the quantity that you want on Amazon (one to ten).
Other Noteworthy Features
Gold Mountain Beauty is a small family company and they manufacture all their products in the United States and only use the purest of materials.
Overall
For a deodorizer spray, this is quite fantastic. One of the ultimate put-offs, looking at the glass half-empty, though, is the peppermint odor that is emitted from this formula. It may prove overbearing for a select few.

5

. Mini Moso Air Purifying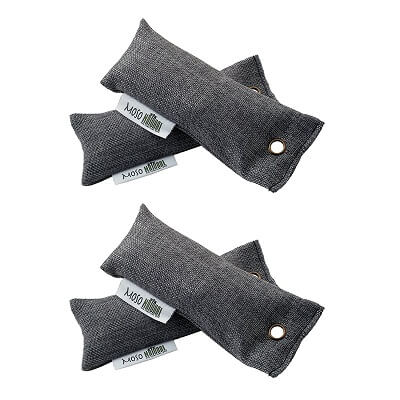 This is a shoe deodorizer that is completely different than anything on this list. The Mini Moso Natural Air Purifying Bags achieve the same result as the others with a slightly different design.
Read more
How It Works
Being crafted from porous Moso bamboo charcoal, this manages to absorb the moisture in the shoes while also eliminating any odors that are present. Also, it will prevent mildew and bacteria from forming.
The Execution
With the manner in which these are designed, they can be used with shoes, luggage, gym bags, and various other equipment. For shoes, simply place the bag inside of your shoes.
Harsh Materials
This is 100 percent environmentally safe and also safe for you. There are no chemicals, fragrances and everything is non-toxic.
Seller Options
By default, these come in packs of two. However, you have the option for either one, two, or three packs.
Other Noteworthy Features
These are designed to be reused for up to two years, which will vary depending on the frequency of use. But, you can place the bags outside in the sun to rejuvenate them.
Overall
This is a terrific alternative if you are sick and tired of sprays or powders, but maybe do not want something as extravagant as a deodorizing machine. But, some have noted that these bags may not be as effective in preventing odors as others.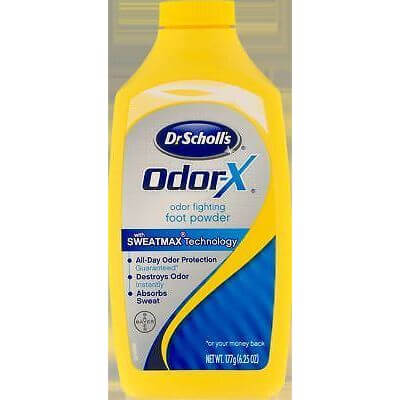 Despite its excessive messiness at times, the Dr. Scholl's Odor X Powder Deodorizer is the absolute finest of its kind. Not only does it kill the bacteria in your shoes it also leaves your feet cooler and with a nice soft feeling underneath.
Read more
How It Works
Cornstarch and baking soda combine forces in odor-eliminating matrimony to keep your feet dry and fresh. You can use this shoe deodorant at any time of the day, there is no way to over-do it. Odor X can be used to eliminate an existing odor or to prevent one from appearing.
The Execution
When you apply the powder directly to your feet it works throughout the day to keep you from sweating. When you put it directly in your shoes it absorbs the wetness and moisture inside those little caves. Due to its triple-action formula, it does so instantly and you do not have to wait for it to soak in.
Harsh Materials
While there are no technically harsh materials present here, because of the cornstarch this may not be suitable for those who struggle with athlete's foot.
Seller Options
You can either select one individual bottle or, if you believe you will need more, you can opt for a pack of three.
Other Noteworthy Features
Due to the convenient design of the bottle, you can easily transport it without worrying about powder spilling everywhere. The bottle has a "sure-grip" and the top will not come off accidentally if you seal it properly.
Overall
Perhaps the only reason you would want to avoid this deodorizer is if you do not want to deal with the messiness of a powder. But, its effectiveness is too enormous to ignore and this is a no-brainer.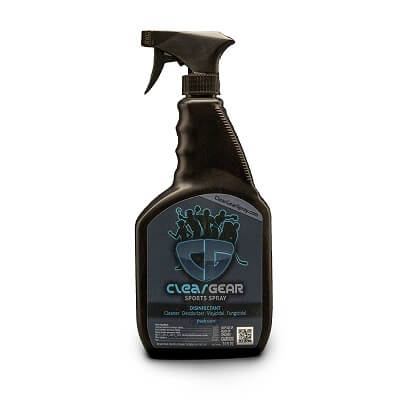 If professional athletes all around the globe are realizing the effectiveness of a shoe deodorizing spray then maybe you should too. Indeed, several professional associations utilize this spray from Clear Gear and it is ideal not only for shoes but for all sorts of equipment.
Read more
How It Works
This works similarly to the other sprays in this category. You simply spray the solution inside of your shoes (or other equipment you wish to use it on). However, be sure to fully saturate the area as this produces the best results.
The Execution
All sorts of nasty bacteria and viruses are killed with this formula including MRSA, strep and staph. Additionally, it will eliminate all athletic odors that are present on whatever you apply the spray on.
Harsh Materials
The key to this EPA-approved formula is that it is water-based. This ensures that it is perfectly safe to use and that no skin irritation will result. Plus, if need be, you could apply it to workout machines without worrying about corrosion.
Seller Options
There are actually no additional seller options for you to glance through. But, Clear Gear does offer different sizes that you can look for including four ounces, eight ounces and one gallon (with this specific version being 24 ounces).
Other Noteworthy Features
Whether you want to believe it or not, this shoe deodorizer is used by over 20 professional organizations and associations from the NFL to the MLB.
Overall
The water-based formula ensures that the solution is safe for your skin, it can be utilized on various shoes and equipment, and it kills over 100 viruses. Is there really anything more you could ask for?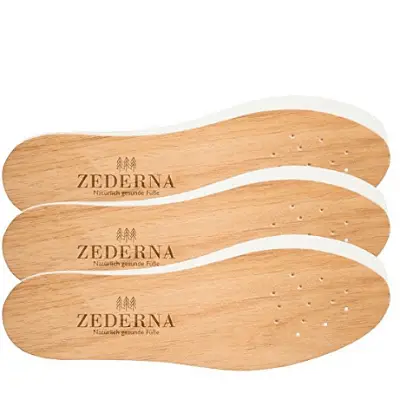 This one may come as a surprise to you. Indeed, you are reading the product title correctly. Zederna has crafted an act of genius here as their cedar wood shoe insoles are specifically designed to prevent and cure odors.
Read more
How It Works
When your feet begin to sweat, the cedar wood and cotton blend of the insole begins to absorb all the moisture. This keeps your feet dry and fresh all day. Plus, the oils of the cedar wood give off a pleasant fragrance.
The Execution
Instead of a spray or a powder, all you need to do is slide the insole into the shoe of your choosing. The insole will do the rest of the work for you and you can do so with any type of closed shoe.
Harsh Materials
This entire insole is crafted from a 100 percent blend of cedarwood and cotton. Thus, no chemicals or other harsh materials were utilized in the slightest.
Seller Options
As all feet sizes are different, there are many varying size options (from 3.5 all the way to 13.5) available for both men and women.
Other Noteworthy Features
Ridding odor and keeping your feet fresh is not all that these insoles are good for. In addition, the thin and flexible makeup makes them very comfortable underneath your feet.
Overall
At first thought, you probably would not peg an insole as a remedy for bad foot odor. But, not only is that completely wrong, Zederna proves that it can be as great as any spray or powder on the market.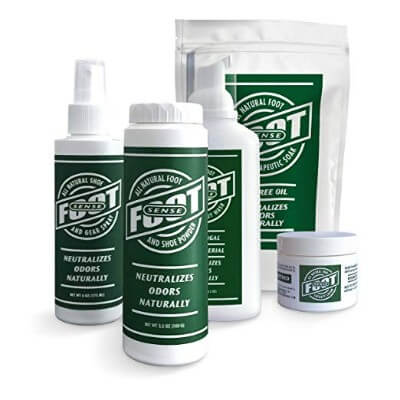 With only seven ingredients and three of them being scents, this 100% natural deodorizer is a wonder in itself. This powder can be used directly on feet, in shoes, and also on sports equipment.
Read more
How It Works
Arrowroot is the first ingredient in this powder. When you apply this to the stinky area, it quickly neutralizes the smell and disinfects the area. The second ingredient in the powder is zinc oxide, which can help prevent blisters.
The Execution
Recommended use is daily for several days, and then only once or twice a month, as you see fit. While this works well for many users, a few continue to use a little bit in their shoes every day.
Harsh Materials
This shoe deodorizer is made with 100% natural ingredients. You do not need to worry about this powder causing any harm to your skin, shoes, or equipment.
Seller Options
This deodorizing spray is actually available in many different forms. You can purchase it as a powder, cream, soak, spray, or mousse. With the powder, you have the option to buy up to thirty units at a time.
Other Noteworthy Features
Foot Sense claims that their shoe deodorizing powder/spray will last four times longer and treat four times as many shoes as similar deodorizers in the same price range. While this may be true, it all depends on how liberally you use it.
Overall
There's really no reason not to give this item a try. With all the different options from a powder to a soak, you'll be able to find what works for you. The company also backs its products with a 100% money back guarantee.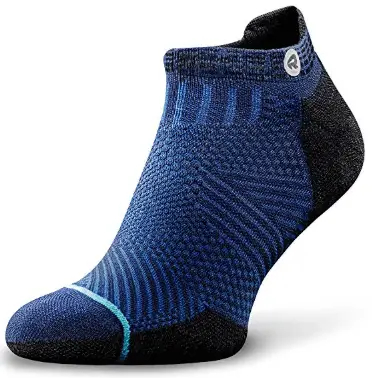 These socked are packed with positive surprises.
Merino Organic Wool is a natural source for a material that has very good anti-bacterial abilities.
Through regularly wearing these your feet and shoes are supportively protected from the growth of odor-causing bacteria.
Enjoy the full review and find out more about these impressive socks.
Read more
How It Works
The socks are a weaved organic high-performance wool, which has naturally occurring anti-bacterial prevention qualities occurring in the fibers.
The Execution
Simply wear these socks regularly and they will work towards the build-up of bacteria in your running shoes, this will dramatically reduce and odor build up in your shoes.
Harsh Materials
The socks are soft Merino wool and therefore no harsh feeling fibers or other variables that can cause odor build-up.
Other Noteworthy Features
These socks have a set of impressive sock features, compression support for the foot-arch, reinforced areas for the toes and for the heels.
Cost.
Well within the medium budget range.

Subscribe to our Newsletter