Best Insoles For Running
In a
Hurry? Editors choice: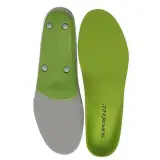 Test Winner: Superfeet Green

Running is not exactly the easiest recreational activity in the world. Sure, it isn't complicated and doesn't require a lot of brainpower, but that doesn't mean it's easy. In fact, running can take a toll on your body and especially your feet. This makes it vitally important for you to not only invest in a
proper pair of running shoes
but also insoles. Whatever you do, never overlook something so simple as the inserts inside of your shoe because as you will soon find out, high-quality insoles can make all the difference in the world. We've done the research for you and made this list of the top ten best insoles for running on the market today.
Standout Picks
Criteria Used for Evaluation
Comfort
For such a simple design, there is truly a lot that goes into insoles. But, it all starts with the comfort and cushioning. First off, and this is important, do not get too caught up in how soft or stiff the insole is. After all, if the support and pressure are not in the correct locations for you, it does not matter if it is hard or soft. As such, when you hear people claim an insole is too stiff for them or not comfortable, they may think it is simply because of the stiffness itself. Of course, you may even have your personal preference when it comes to stiff insoles or soft insoles.
However, the cushioning is there to make your feet feel comfortable and then, in turn, start helping and alleviating some of the common pains that your feet feel every single day. Also, you want the cushion to last a decent amount of time. If there are common complaints that the cushion is not long-lasting and within no time it is flattened and reduced to nothing, you may want to veer on a different path.
Shock Absorption
Truthfully, the cushioning and shock absorption of an insole do go hand-in-hand. A lot of times, the cushioning will be directly responsible how much shock absorption an insole will provide for you. But, no matter how it is accomplished, it is vitally important. You may not even think about it at first, but do you realize how much stress and work you put on your feet when you go for a run? Each time you strike the ground, your feet are being abused and over time, this can become downright unbearably painful. Unless, of course, you have an insole that will absorb those blows and reduce the amount of stress your feet endure.
While many insoles will sport this technology, this seems to be where gel insoles and inserts shine so much. Due to the nature of the gel, it does a phenomenal job of absorbing all the impacts you take within a run. Not only that but they usually specifically target certain pressure points on your feet while you are running. All in all, this results in a better and more comfortable experience for you.
Support
When it comes down to it, the best insole in the world may still not have a good effect on you. Why so? It comes down to your foot arch. See, insoles are designed to contour to a certain type of foot arch. Whether this is for low arches and flat feet, high arches, or neutral and medium arches. Now, some insoles will work efficiently for a wide range of arch types. But, you need to ensure that you understand what that is before you invest your money in one. Also, understand your own arch type as choosing a wrong arch type can completely diminish the effectiveness.
But, besides that, also pay attention to the different types of support provided by the footbed. For example, semi-rigid, rigid, or cushioned. This is entirely up to you and once again, make sure you know what you are looking for. As you may guess, a semi-rigid footbed is going to be more flexible and less stiff than a rigid version. What the latter is recommended for is those looking for aggressive arch support.
Size
When you glance at the size options for an insole, they will remind you a lot of shoe sizes. As such, you should be fairly familiar with them and understanding of your size. Now, some insoles are actually designed to be trimmed or can be if they do not properly fit inside of your shoes. But, there is no way to add-on so in a time of indecisiveness, you may want to order a size up and not down.
Past the size, you will also need to take note of how it fits. More specifically, if it is tailored to be used as a "solo" insole. In other words, do you need to have a shoe with a removable insole? Granted it is not too thick or bulky, you will find that most full-length insoles work better without an existing insole in the shoe, and is not too tight, you can get away with simply placing it on top of the other insole.
Subscribe to our Newsletter